A Perfect Gift for the Guitarist!
By
Ellen M.

(Fort Worth, TX) - June 20, 2013 (
See all reviews by this customer
)
You can't go wrong with these personalized guitar picks! Another excellent quality product delivered fast! Whomever you gift these to will be more than thrilled. I had never purchased from here before, but I went all "in" and purchased 4 personalized gifts for my musician hubby. Needless to say, I was shocked! Everything was perfect! Not only that, but excellent quality and the gifts were shipped much earlier than expected. I opened the box and wrapped the gifts, but even I could not wait to give the gifts because I was excited that I made the right choice.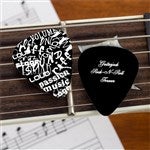 Wonderful gift for the music lover
By
Tammy P.

(Mount Vernon, WA) - June 17, 2013 (
See all reviews by this customer
)
Very quick turnaround and the product looked great!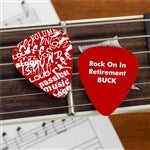 Fast delivery
By
charles S.

(malden, IL) - May 23, 2013 (
See all reviews by this customer
)
This is a great addition for our band to hand out for promoting our tour.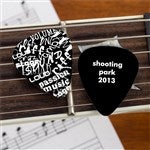 Fantastic
By
Matthew L.

(Brewerton, NY) - March 13, 2013 (
See all reviews by this customer
)
These pics are of great quality, and totally exceeded my expectations. They are exceedingly well crafted, and of a fairly good price. I asked my girlfriend to prom with one of these, beautiful work!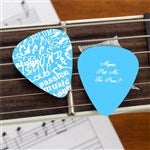 Great and fast
By
Starla M.

(Newcastle, WY) - February 12, 2013 (
See all reviews by this customer
)
I loved these they were just like the preview picture. The shipping time was very fast and I was very happy with the overall service. Thank you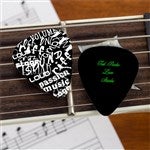 Guitar pics
By
Paulla S.

(Saint Albans, WV) - September 18, 2012 (
See all reviews by this customer
)
Although I thought these pics were a bit pricey (I know nothing about the value of these things) I know my granddaughter is going to love them. I'm happy I ordered them and would do it again.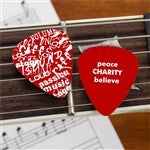 personalized guitar picks
By
Linda J.

(Bluefield, WV) - August 31, 2012 (
See all reviews by this customer
)
I was very disappointed in this product because you are unable to read the personalization it is too small. I'm not sure why they offer personalization on this product. I feel like I wasted my money buying them.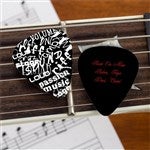 Personalized guitar k
By
Debra R.

(East Rockaway, NY) - June 24, 2012 (
See all reviews by this customer
)
These were great looking, great quality & just as ordered with super fast shipping. Just gave them to my nephew today for his HS graduation along with a check; hoping he thinks they are cool when he opens them.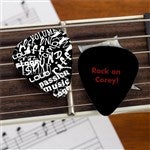 Guitar Picks
By
Shopper

(Southaven, MS) - May 1, 2012
These were a good quality, medium-heavy pick. They arrived quickly and looking exactly as Id hoped they would!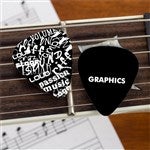 EXCELLENT PICK SAYS GUITAR PLAYER
By
Melissa M.

(Southampton, NY) - February 13, 2012 (
See all reviews by this customer
)
My daughter is an avid guitar player.. We ordered these to include them with her party favor at her Sweet 16.. She said they were of excellent quality and she would use the extras when she played..

* ONE SIDE NOTE * : Order them in advance, for they SMELL terrible when you get them.. We had to air them out for several days and they still smelled when we wrapped them with the favors..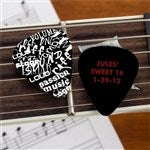 Party Personalization
By
Shirley H.

(Palm Harbor, FL) - February 11, 2012 (
See all reviews by this customer
)
What a great way to add a personalized touch to a party! It added just the right touch that fit the theme perfectly.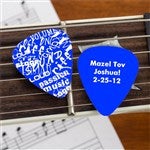 Nice!
By
joshua K.

(Fremont, CA) - January 31, 2012 (
See all reviews by this customer
)
Great, solid gift. I was expecting a cheap pic, but was medium firmness and for 20 of them, its an awesome deal for a very cool personalized pic.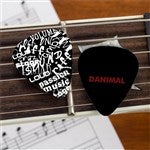 Much smaller than the photo
By Shopper (Amory, MS) - August 19, 2013
Got our picks in Saturday. Great turnaround time. HOWEVER, they are much smaller than your basic guitar pick. You have to squint to see what is printed on them because they are so small(about the size of a quarter). Very disappointing to me. Don't know whether to return then and find something else to get OR just consider it a lesson learned.

Smelly
By
Shopper

(Prairieville, LA) - January 27, 2012
The order arrived quickly, and my brother in law loved them. They looked as expected, but had an intensely odd smell. We tried to air them out for days before his birthday, and they still smelled, somewhat like chemicals. Hopefully they will lose the smell someday, and he will be able to enjoy them!

What I didn't like
By
Shopper

(Kieler, WI) - December 11, 2011
I ordered a black background with white letters. the script was hard to read.I would not buy these again.

small font
By
Shopper

(Sitka, AK) - December 23, 2011
I was very happy with everything about my guitar pick except for the fact that the font was so small I could barely read it! There was definitely some more room for bigger font.

Nice pick!
By
Shopper

(Atlanta, GA) - May 20, 2011
My son really liked this gift, and said the weight and feel of the pick was also good quality. I find his picks everywhere, so the idea was for him to really leave his "calling card" behind. He really got a kick out of this.

pleased
By
Sharon G.

(Gardners, PA) - December 12, 2011 (
See all reviews by this customer
)
I was very pleased with this company and my purchase.

So Lucky
I love the guitar picks idea. They're so cute and beautiful.

EXCELLENT PRODUCT
By
Shopper

(PADUCAH, KY) - March 12, 2012
EXCEEDED MY EXPECTATIONS. VERY QUICK SHIPPING. WILL BE ORDERING MORE. CAN'T WAIT TO GIVE THIS GIFT TO MY NEPHEW.

pink guitar picks!!
By
julie W.

(Elton, WI) - December 8, 2011 (
See all reviews by this customer
)
well...she ASKED for a new guitar...she is GETTING new guitar picks! (maybe she won't notice the difference!) totally cute with her name on them..thanks!

Sooo great!
Very high quality and easy to design. It is so unfortunate that I cannot buy any. Well, one. I think you should be able to just buy one =( No present for my boyfriend.

Kids LOVE em!
By
Erin B.

(Austin, TX, TX) - July 2, 2011 (
See all reviews by this customer
)
I taught a "Rock Band" Summer Camp and the students LOVED these little picks that promoted my children's theatre business--they say "I Rocked at Theatrikids!" I'm ordering some more soon! This time I think I'll go with the Red writing on black picks!

Awesome Picks!
By
Shopper

(San Ramon, CA) - January 5, 2014
The personalized guitar picks are incredible. They look terrific and they were shipped fast!