pink guitar picks!!
By
julie W.

(Elton, WI) - December 8, 2011 (
See all reviews by this customer
)
well...she ASKED for a new guitar...she is GETTING new guitar picks! (maybe she won't notice the difference!) totally cute with her name on them..thanks!

Marvelous give away for gigs
By
Rhonda B.

(Weed, CA) - August 2, 2011 (
See all reviews by this customer
)
Attractive and practical.. the fans loved 'em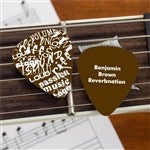 Great value and excellent quality!
By
Elizabeth M.

(Phoenix, AZ) - July 25, 2011 (
See all reviews by this customer
)
Ordered these for my son's 16th birthday and he loved them. These are a great way to celebrate his sweet 16 without the typical sweet sixteen theme. Thanks!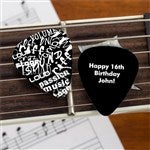 Kids LOVE em!
By
Erin B.

(Austin, TX, TX) - July 2, 2011 (
See all reviews by this customer
)
I taught a "Rock Band" Summer Camp and the students LOVED these little picks that promoted my children's theatre business--they say "I Rocked at Theatrikids!" I'm ordering some more soon! This time I think I'll go with the Red writing on black picks!

Sooo great!
Very high quality and easy to design. It is so unfortunate that I cannot buy any. Well, one. I think you should be able to just buy one =( No present for my boyfriend.

EXCELLENT PICK SAYS GUITAR PLAYER
By
Melissa M.

(Southampton, NY) - February 13, 2012 (
See all reviews by this customer
)
My daughter is an avid guitar player.. We ordered these to include them with her party favor at her Sweet 16.. She said they were of excellent quality and she would use the extras when she played..

* ONE SIDE NOTE * : Order them in advance, for they SMELL terrible when you get them.. We had to air them out for several days and they still smelled when we wrapped them with the favors..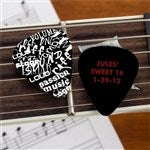 Nice pick!
By
Shopper

(Atlanta, GA) - May 20, 2011
My son really liked this gift, and said the weight and feel of the pick was also good quality. I find his picks everywhere, so the idea was for him to really leave his "calling card" behind. He really got a kick out of this.

Much smaller than the photo
By Shopper (Amory, MS) - August 19, 2013
Got our picks in Saturday. Great turnaround time. HOWEVER, they are much smaller than your basic guitar pick. You have to squint to see what is printed on them because they are so small(about the size of a quarter). Very disappointing to me. Don't know whether to return then and find something else to get OR just consider it a lesson learned.

Smelly
By
Shopper

(Prairieville, LA) - January 27, 2012
The order arrived quickly, and my brother in law loved them. They looked as expected, but had an intensely odd smell. We tried to air them out for days before his birthday, and they still smelled, somewhat like chemicals. Hopefully they will lose the smell someday, and he will be able to enjoy them!

small font
By
Shopper

(Sitka, AK) - December 23, 2011
I was very happy with everything about my guitar pick except for the fact that the font was so small I could barely read it! There was definitely some more room for bigger font.

What I didn't like
By
Shopper

(Kieler, WI) - December 11, 2011
I ordered a black background with white letters. the script was hard to read.I would not buy these again.

A little off
By
sherry M.

(Shelby, MI) - May 23, 2011 (
See all reviews by this customer
)
I ordered three different personalized picks. Photo picks, black picks, and then these purple ones. They are really fun, and ship super fast, but my complaint is that it did print out as shown in the preview photo. Instead of the "2011 Grad" being centered on the last line, the 2011 is centered and the Grad is scrunched up off to the side. So, my request is that you would somehow make your online design center match what is really going to be done during the printing session. The photo picks and the black picks turned out great but I used a different font.
Because this was just one glitch of three orders and because of the speed and turn around of the item I will still give it a three star.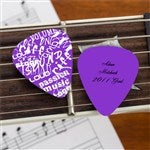 personalized guitar picks
By
Linda J.

(Bluefield, WV) - August 31, 2012 (
See all reviews by this customer
)
I was very disappointed in this product because you are unable to read the personalization it is too small. I'm not sure why they offer personalization on this product. I feel like I wasted my money buying them.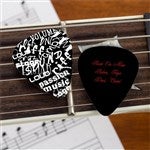 Font issue
By
Shopper

(Lincoln, NE) - June 20, 2011
Enormously disappointed! Ordered as a wedding favor for my future son in law. Poor, poor quality and imaging. Purchasers be aware this is a SMALL item. Preview shows close up of item, which shows item as expected. Upon arrival, the personalized side is barely legible. It will be printed in the manner you selected, but if you want to promote an event or your band forget it. Even our teenagers couldn't read it.