Would totally recommend these awesome picks!!
By
Jim B.

(Fort Wayne, IN) - June 15, 2012 (
See all reviews by this customer
)
Ordered these personalized guitar picks for my daughter's graduation. They were a big hit. My daugher loved handing them out to all her guitar playing friends.

Great quality. Better than I expected. THANKS

Picture Guitar Picks
By
Zana K.

(Riverside, CA) - June 15, 2012 (
See all reviews by this customer
)
This item was the hit of our graduation party. They were high quality and delivered very quickly. Everyone loved them especially the graduate. Thank you so much!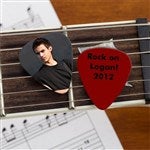 Custom Guitar Picks
By
Shopper

(springfield, MO) - May 17, 2012
Perfect! Just what I was looking for.

Guitar Pick
By
Sue H.

(Kane, PA) - February 6, 2012 (
See all reviews by this customer
)
My son thought this was awesome! And what a cool mom I was because I found something like this! :)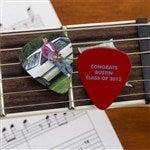 Cute and practical!
By
Shopper

(Hanson, MA) - December 19, 2011
I ordered these for my boyfriend for Christmas, and they came out so good. They are also a medium thickness (the kind he plays with) so he's been playing with them ever since he got them. These were great!

The quality was great
By
Shopper

(Brooklyn, NY) - July 12, 2011
We loved it, the quality was great, one of the best present ever.

Fun gift
By
Shopper

(Livermore, CA) - June 21, 2011
This was a fun gift for my son's 18th birthday. We hosted a big party for him and most all of his friends are musicians like him. We placed the picks around the room and they were a popular item for everyone to find. Now we see them being used at different venues.

Big Hit!
By
Shopper

(Canada) - June 20, 2011
My daughter is absolutely thrilled with your guitar pick. She's excited to be able to hand these out to her friends instead of the usual photos.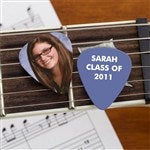 Wonderful gift
By
Jennifer T.

(Clover, SC) - June 19, 2011 (
See all reviews by this customer
)
This was a gift for my husband he loved it!! Very nice and different.

Great Grad Gift
By
Shopper

(SIERRA VISTA, AZ) - June 14, 2011
I bought this for my sister who graduated from under-grad. She plays the guitar, and I thought this would be a unique gift. I used a picture of her in her cap and gown and the picture came out very clear. They were on the thicker side, but I don't know if they're too thick for guitar playing. Even if she doesn't use them, I thought they were cute and not expensive for 20 of them. I would definitely order these again.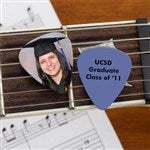 Very cool
By
Shopper

(North Plains, OR) - June 13, 2011
This turned out really awesome!! High quality too!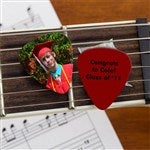 grade guitar pick
By
william G.

(chicago, IL) - June 11, 2011 (
See all reviews by this customer
)
perfect gift for any guitar player much better then expected photo image was flawless will be buying for other guitarist i know

Awesome guitar picks
By
Mike P.

(Greensburg, PA) - May 31, 2011 (
See all reviews by this customer
)
My wife ordered the custom picks with my son's face on one side and "Congrats" message on the back instead of buying formal graduation announcements. We sent some to family and he gave the rest away to his friends (everbody knows him as a guitar player), and they were a big hit! Definately a cool product, and they arrived within a few days of ordering!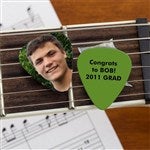 What a unique gift!
By
Lucy L.

(Weston, FL) - May 30, 2011 (
See all reviews by this customer
)
These guitar picks were a perfect gift for my younger children to give to their older brother for his high school graduation. This is something nice that can be taken to college. We did a photo of the 2 younger siblings on one side and a short message on the other. They are so cute and everyone loved them. We will definitely be ordering more! Thank you!

Great Pick!! :)
By
Myra B.

(Downey, CA) - May 23, 2011 (
See all reviews by this customer
)
I personalized this photo guitar pick to celebrate my son's college graduation, and am extremely glad that I chose this one. When I received my order and opened it, I was extremely pleased with the quality and care taken to make this a very memorable gift. My son is a musician and lead guitarist, so I know that when he sees it, he will be greatly pleased and appreciative that I chose this as a remembrance of his special day! I recommend this to anyone looking for something unique, as it's truly memorable for that special someone.

Very Cool!
By
sherry M.

(Shelby, MI) - May 23, 2011 (
See all reviews by this customer
)
I ordered these to use as confetti on the tables at my sons graduation open house. They are amazing! My son was so surprised and they are a huge hit. If you have a guitar player in your life, these are perfect. The picture is clear and it looks EXACTLY like the preview photo. Super fast printing and shipping as well. ZERO complaints. They even arrived in a velvet bag. Well done! I will be back for more.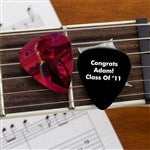 meaningful memories
By
Caroline C.

(Dallas, TX) - April 30, 2011 (
See all reviews by this customer
)
this is an awesome way to make someone feel special! picks, for guitar lovers, are practical ways of showing that someone loves you and appreciates your talent. these picks are very thick (seems like they're about 1mm) and don't come in any other size, so that is the only drawback, but they were definitely worth the money.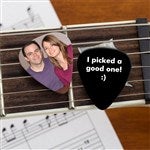 excellent picks, with one problem
By
Gwen S.

(Redding, CA) - April 30, 2012 (
See all reviews by this customer
)
Love the thickness of the picks, right amount of characters, and the quality of pictures is good. The problem is that you can't scale the picture, re-size or rotate the pictures to fit the picks.
I would buy again if they offer a few more tools to edit my pictures.