outstanding service
By
Sarah P.

(Greensburg, IN) - March 11, 2013 (
See all reviews by this customer
)
Quality is excellent. Loved seeing a picture of the completed item--with engraving, prior to final ordering. Received my item in 2 days.

Great retirement gift
By
Shopper

(Crystal Lake, IL) - December 17, 2012
The beer mug was a perfect gift for our friend who was retiring. it was a big hit at the party and he said he hopes to get many years of use out of it.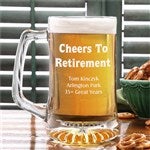 Best retirement gift ever.
By
Kevin N.

(Humboldt, TN) - November 28, 2012 (
See all reviews by this customer
)
To me, this is one of the most thoughtful gift I have ever come across.

Love it
By
Diana L.

(Blue Rapids, KS) - November 27, 2012 (
See all reviews by this customer
)
our office staff all LOVED IT when it was received - will be a CHEERS to Retirement Party for sure ! THANKS, quality was AWESOME!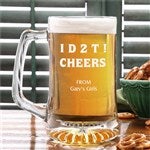 gift
By
Christine B.

(Forked River, NJ) - October 28, 2012 (
See all reviews by this customer
)
have found your products to be very good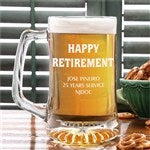 Cheers to Retirement Mug
By
Shopper

(Jefferson, SD) - October 6, 2012
Awesome gift for a retirement party. Retiree immediately filled up the mug with his favorite brew!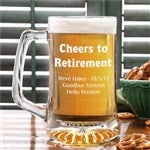 Very satisfied
By
Michael C.

(Joliet, IL) - September 2, 2012 (
See all reviews by this customer
)
I needed a retirement gift quickly. The site allowed me to design the mug and see how it would look. When it arrived, I was pleasantly surprised that the mug looked exactly as shown on the sight. Often times the font and display look different when the item arrives. The mug was nice quality. In my situation the item arrive a day earlier than the estimated date. Overall I was very pleased and will use Personalization Mall again.

Quality product
By
Shopper

(Stafford, VA) - August 7, 2012
This product was good quality and the engraving was beautiful. It really turned out great.

Beer Mug
By
Harold L F.

(Seabrook, NH) - June 20, 2012 (
See all reviews by this customer
)
This was a great site very easy to use and order your items and get to seethem before placing the order. Item was exactly as it looked on the site upon arrival. I will recommand this site again.

Great buy!
By
Shopper

(Duluth, GA) - May 17, 2012
So worth the money! Everything expected and then some!

Great gift for a special person
By
Shopper

(elyria, OH) - May 10, 2012
I was very pleased with the quality of the mug, the engraving and the whole transaction. My boss is going to love it. I would recommend this company to anyone that is looking for that special gift.

MOST IMPRESSIVE
By
Shopper

(Fresh Meadows, NY) - May 8, 2012
I was very pleased with this mug. It was very well made. It was just like a beer mug you would get in a bar or resturant.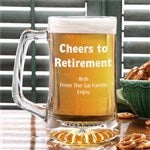 Unique Toasting "Goblets"
By
Susan G.

(Lincoln, CA) - April 20, 2012 (
See all reviews by this customer
)
I had two of these made for my daughter's upcoming wedding--one for the bride and one for the groom. They are toasting with beer instead of champagne! I will give them to them at their couples shower.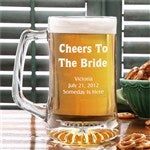 wonderful service
By
Shopper

(Detroit, MI) - March 25, 2012
I have used this company quite a few times and each time I have always been satisfied. I would most definitely recommend them to everyone! Thank you so much for a quick delivery.

CHEERS TO MY BROTHER
By
AURORA B.

(EL PASO, TX) - February 13, 2012 (
See all reviews by this customer
)
GREAT MOMENTO. HE HAD SOME RINKY DINKY MUGS FOR DECORATIONS BUT THIS CAN GO IN HIS GLASS CASE. LOVED IT. JUST FORGOT TO FILL IT UP W/YELLOW TISSUE FOR A BETTER EFFECT.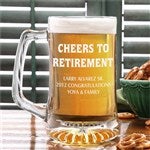 Groomsmen Gifts
By
Katelyn F.

(Lakemoor, IL) - July 31, 2011 (
See all reviews by this customer
)
I was looking for a good Groomsman gift for my upcoming wedding. The other mugs were nice, but I wanted something a bit bigger. This was perfect. We put each person's name on the mug and then wrote a little quote or something special about each one. They were better than I had imagined. Great Product.

Beer Mug
By
Shopper

(Rancho Palos Verdes, CA) - May 17, 2011
This item is as nice if not nicer than pictured. The glass is thick and crystal clear. The engraving is perfect. This item came quickly. I'm very happy with it.

Retirement Gift
By
Shopper

(Charlotte, NC) - January 14, 2013
I like that the mug is heavy and the engravement makes it special


Second Chance
By
Shopper

(Saint Paul, MN) - November 5, 2012
I recently purchased this Mug for Customer of the Year at the bar. After a 1-2 months of mild use, the mug handle broke as it was removed from the glass chiller. The mug was handle with standard care when it was removed from the freezer.

I was very disappointed since I did not find any indication that this mug was sensitive to cold temperatures. However, after about 6 months, I thought the mug should be replace, so I am giving this product a second chance. This time, I will not have it stored in the glass chiller, and hopefully this mug will not share the same fate as the previous mug.