Great Product
By
Shopper

(Miami, FL) - May 1, 2013
Loved it just as I wanted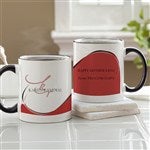 great gift
By
Shopper

(ashland, OH) - January 1, 2013
I had broken my ankle and had to rely on friends to drive me to appts.. I ordered these mugs as thank you gifts since they wouldn't accept any gas money. They were all thrilled and really enjoyed the fact that they were personalized. The shipping time was very fast and the mugs were beautiful.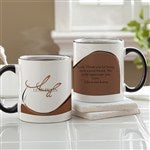 nice gift
By
Shopper

(Casco, ME) - December 27, 2012
people love this smaller mug with their monogram; recipients loved the colors and the sentiment expressed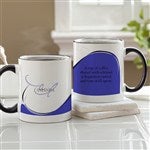 Personalized Coffee Mug!!!Great
By
amber G.

(gilroy , CA) - December 27, 2012 (
See all reviews by this customer
)
I purchased this cup and loved it. It was perfect and looked amazing. You would never know I paid only $10. Great GIft!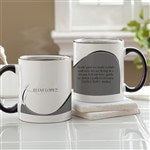 Personalized mug
By
Cynthia F.

(Elma, NY) - September 5, 2012 (
See all reviews by this customer
)
This is a beautiful, thoughtful gift and the person I gave it to was so thrilled. It's nice you can write what you want and it can be used for any occasion. Very good quality and I would do this again!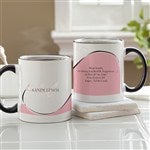 Reunion giveaway
By
Shopper

(Kennesaw, GA) - August 13, 2012
Everybody love this personalized mug with their names on it. It was well praised. Nice remembrance for reunion.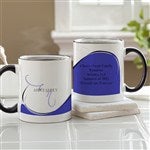 inside joke
By
Shopper

(high point, NC) - August 3, 2012
This mug was a birthday gift for a mate of mine, and I thought it would be awesome seeing as she is a one of those caffeine addicted people. I put a funny quote/inside joke on the mug, but was disappointed with the color options (her favorite color is purple). I chose the brown background in the end because on the computer screen it came across as this smooth espresso color. It came out too cartoon-ish looking for my taste though. Also, the cup is a bit smaller than expected, and I really didn't have many different choices of bigger mugs if I wanted the quote on the mug. Overall, its a good product, but if I had to do it again I'd have probably spend more money on a different product. Still a mug, but bigger, (and more expensive, more like).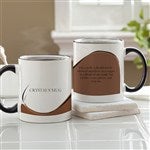 Very nice gift
By
mary S.

(youngstown, OH) - January 20, 2012 (
See all reviews by this customer
)
Purchased as a Birthday gift for a wonderful Lady. She loves it because I was able to put her favorite saying on it. Delivery was very fast, the cup looks great. I would recommend this to everyone !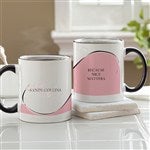 I couldn't have asked for better!
By
Shopper

(Pembroke Pines, FL) - December 2, 2013
My item arrived promptly, and it was exactly what I had envisioned. I am very pleased.

Monogrammed Mugs
By
Shopper

(Ellicott City, MD) - November 1, 2013
The mugs were so perfect and special for the recipients.
The personalization made them extra nice.

Thoughtful Gift
By
Dorothy D.

(Sarasota, FL) - August 19, 2011 (
See all reviews by this customer
)
This is a beautiful cup, and when it's personalized and in the color of your choice, it makes a very thoughtful gift. I got it for my son with his name and his company name on it as a birthday gift. I know he will love it!

Excellent Product, Great Price, Fast Service!
By
Shopper

(Sacramento, CA) - October 28, 2013
I ordered a number of monogramed/personalized mugs ... with names as well as a short thank you note ... on 16 mugs. Each one was done very well, correct, and the mugs and work is good quality. I've ordered from Personalization Mall.com before, and will certainly do so again.

Mom went CRAZY for her mug!!!
By
Beth B.

(Daniels, WV) - February 20, 2013 (
See all reviews by this customer
)
My mom is a character, and she loves personalized things-I'm always looking for new things for her kitchen or bathroom or bedroom, and I've gotten her various cups before with her name or occupation or a picture of my daughter on them, but this one was so fun! I had fun choosing what to say on the mug, and she just cracked up! I am very happy with the quality and the quick delivery too! I'll be back!

Beautiful design.
By
Shopper

(Miami, FL) - December 2, 2011
High quality, carefully packed and well printed.

Perfect Congratulation Gift for New Job
By
Ann H.

(Melbourne, FL) - October 22, 2011 (
See all reviews by this customer
)
I gave this pretty mug to my daughter-in-law, an R.N. She had just accepted a great new nursing job. I ordered it in pink. She LOVED it! She called me as soon as she received it and was so very grateful. Even though it was inexpensive it showed how happy I was for her accomplishment. It arrived quickly. I would definitely recommend it.

GREAT Product & Fast Shipping
By
Shopper

(West Mansfield, OH) - September 23, 2011
The mugs were great and the shipping was very fast, quicker than we expected. Highly recommend!!

perfect gift
By
evelyn S.

(marble falls, TX) - September 14, 2013 (
See all reviews by this customer
)
This was the perfect gift for my granddaughters band buddy! It arrived exactly as ordered and very quickly. Price was fair, too! Instructions are very easy to follow and I like the fact that I can change something and see it immediately.

He loved it
By
Shopper

(houston, TX) - June 28, 2011
Have ordered gifts from this company before. The shipping is fast and every recepient loves them

She Loved It
By
Shopper

(New Iberia, LA) - July 11, 2014
The mug turned out really nice. No complaints. My friend loved it. That pretty much says it all.

Great Gift and so artistic
By
Karen F.

(GreensborodrG, NC) - March 17, 2014 (
See all reviews by this customer
)
Very nice idea and beautiful gift for anyone! Personlized and not expensive!

personalized mug
By
Janice P.

(Chicago, IL) - December 26, 2011 (
See all reviews by this customer
)
My Mom really loved the mug except the greeting is written in the blue part of the mug and very hard to read. Perhaps the print should be slightly bigger or bolder or a different font to help make it easy to read

Not that exciting
By
Shopper

(East Hampton, NY) - November 6, 2011
The mug that I ordered is brown in color. However, the words are in black color. As a result, it is very hard to read the words that are on the mug due to the almost same tone of colors.

watch our colors
By
Shopper

(voorhees, NJ) - November 29, 2011
Purchased a mug in blue. The 'personalized quote' is in black and does not show up well. wishing i'd picked a different color. Otherwise, I was pleased with all other purchases.

These mugs were a hit!
By
sonia M.

(far rockaway, NY) - January 14, 2013 (
See all reviews by this customer
)
I had 2 mugs personalized with a Bible verse in English and 1 in Spanish, and they were beautiful!

Great Look
By
Shopper

(Aurora, IL) - December 30, 2013
Great product and great service.

Nice Quality
By
Shopper

(Hixson, TN) - November 4, 2012
Nice cups, although a bit smaller than anticipated. Creating my own personalized message was easy and I received the cups promptly. Great shopping experience.

Nice product
By
Shopper

(Pace, FL) - January 13, 2014
Very nice product. Very professional.

Cup
By Shopper (Hyattsville, MD) - January 27, 2012
Ive been shopping around and this is great

Simple way to share the thought about a person
By
Shopper

(Rego Park, NY) - February 16, 2013
I purchased coffee mug for my friend. She was amazed with simplicity of it design, but yet, graciousness of that simplicity. She is absolutely love it.
This a good quality ceramic and could be a good present for any occasions.
Highly recommended.


Great
By
Shopper

(Decatur, GA) - December 11, 2012
Love it. The grey looks great on this mug!

Monogram Personalized Quote Coffee Mug
By
Shopper

(White Plains, NY) - December 11, 2012
The mugs are stunning! Purchased as a gift. It is great to be able to create your own personal message.

Considerate and helpful service
By
Shopper

(Evanston, IL) - October 28, 2012
I have been a customer of Personalization Mall for some time, and so it should have been no surprise to me that when I had some difficulty with my order, the service I received was prompt, professional and I was thoroughly satisfied. The mugs I ordered were beautiful, created to my specifications and I know the recipient will be very pleased. Thank you again for your consistent and thorough attention to my requests.

Great purchase
By
Karina M.

(Nashville, TN) - December 30, 2012 (
See all reviews by this customer
)
I bought this mug for my husband because it was on sale, and the quality turned out great. He loves it. The shipping was very fast. I am very satisfied. Thank you

Very nice quality
By
Shopper

(Milton, FL) - September 30, 2012
I ordered 17 of these mugs with individual personalization (names, initials, and quotes) for everyone in my office. Each mug was great looking, of good quality, and had perfect personalization. The mugs were packaged carefully in individual boxes which were in turn well wrapped in the larger shipping box. I will definitely use personalizationmall.com for future gifts.

Great Gift !
By
Shopper

(Braintree, MA) - December 13, 2012
friendly service, fast shipping and great price.Will order again !

Absolutely Beautiful!
By
Shopper

(Durham, NC) - December 29, 2012
Perfect gift! Everything I ordered was packaged safely and arrived ready to wrap.

Great coworker gift
By
Shopper

(McHenry, IL) - December 28, 2012
I ordered these for each of my coworkers. A great personal, practical gift.

Great Gift
By
Shopper

(Milwaukee, WI) - December 26, 2012
Nice mug bought it as a Secret Santa gift for a co-worker, was well received.

Gift Item
By
Shopper

(Davenport, IA) - December 14, 2012
I like the qulity of the monogram on the cofffee mug.
Received the item very quickly.
I would recommend this to any one looking for gift on personalized coffee mug

coffee mug
By
Shopper

(Buena Vista, VA) - December 26, 2012
Turned out perfectly. Fast shipping. Good customer service. I'll be back!