The best gift
By
Shopper

(Walnut Creek, CA) - February 17, 2012
I got two of this mugs for my sons. The quality of the mugs is really good, they came in perfect condition, Shipping was on time, and we loved it. The only thing I would change is that I got them in blue and the written on blue is not quite visible. Maybe a lighter blue would make it even better. I also got one in pink and it is LOVELY. Thank you Personalization Mall!

Excellent Service!
By
Shopper

(San Francisco, CA) - February 14, 2012
The company called to check that my address was correct. The person on the phone was really nice! Cup came on time for Valentine's Day and product was as described.

Very nice gift
By
mary S.

(youngstown, OH) - January 20, 2012 (
See all reviews by this customer
)
Purchased as a Birthday gift for a wonderful Lady. She loves it because I was able to put her favorite saying on it. Delivery was very fast, the cup looks great. I would recommend this to everyone !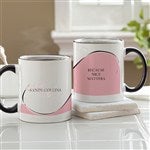 Great Gift!
By
Pamela T.

(Scotts Hill, TN) - December 29, 2011 (
See all reviews by this customer
)
Lovely gift; great idea. The ability to provide one's own quote is a definite plus!

Perfect Gift
By
Terri H.

(Olympia, WA) - December 28, 2011 (
See all reviews by this customer
)
This is an awesome product for any gift if you have a quote or saying you want to convey on a gift to someone(family, friend, teacher...etc)! The cup itself is high quality, being heavy and very durable! My only recommendation would be that you get one of the lighter colors. I got the blue and with the black print it makes it a little harder to read. With a lighter color I believe it would have been more visible. But, still was very happy with the results and my best friend absolutely loves it!!!

things I liked about the product
By
Shopper

(west bend, WI) - December 25, 2011
Good quality, it was perfect. It was for my sons girlfriend, who loves coffee and reads as much as I do, which is alot. My mom ordered a mug for my daughter also for her Birthday, it came out perfect, and delivery was fast.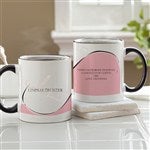 great personal touch
By
Shopper

(bristol, PA) - December 7, 2011
I ordered 4 different mugs and each one was perfect. I especially like the way one can set up and preview each item before sending it to your cart. GREAT SITE!

Great item! Highly recommended
By
Denise H.

(Mexico, NY) - December 5, 2011 (
See all reviews by this customer
)
Outstanding quality on this product! I was just blown away with how well it came out.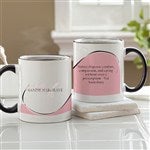 Great Quality
By
Shopper

(Bellflower, CA) - December 4, 2011
Love the quality of the product and the personalization.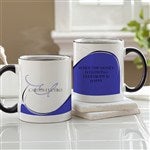 Great gift for business or family
By
Sarah G.

(Atlanta, GA) - December 3, 2011 (
See all reviews by this customer
)
These mugs are an amazing value and being able to personalize not only the name but what ever you want them to say is wonderful. I ordered mugs for each of my sales leaders and personalized the quotes. I ordered more of the red, but I preferred the gray and brown colors as some of the red looked pink - so not a good color choice for men.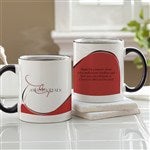 Beautiful design.
By
Shopper

(Miami, FL) - December 2, 2011
High quality, carefully packed and well printed.

Perfect Gift
By
Shopper

(North Highlands, CA) - November 7, 2011
My best friend loved her personalized coffee mug. The writing was very clear and neat.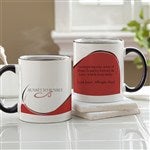 Perfect Congratulation Gift for New Job
By
Ann H.

(Melbourne, FL) - October 22, 2011 (
See all reviews by this customer
)
I gave this pretty mug to my daughter-in-law, an R.N. She had just accepted a great new nursing job. I ordered it in pink. She LOVED it! She called me as soon as she received it and was so very grateful. Even though it was inexpensive it showed how happy I was for her accomplishment. It arrived quickly. I would definitely recommend it.

Great gift!
By
Kay T.

(Miami, OK) - October 21, 2011 (
See all reviews by this customer
)
I ordered numerous mugs for all the birthdays coming up. Although the grey one had black initials that covered up the name, customer service was there to help, and was outstanding. The PINK one had the lightest initials, which I preferred the most, but they all turned out great. I can't wait to give them to all my sisters, even those who may not drink 'coffee', I'm sure they will enjoy them for hot chocolate. I also chose to write my own saying, which turned out beautifully. This is a great gift for any occasion!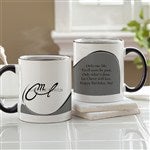 GREAT Product & Fast Shipping
By
Shopper

(West Mansfield, OH) - September 23, 2011
The mugs were great and the shipping was very fast, quicker than we expected. Highly recommend!!

Lovely Red
By
Norma L.

(Ontario, CA) - August 29, 2011 (
See all reviews by this customer
)
I loved the mug and the fact that it will forever have my personalized message to the recipient.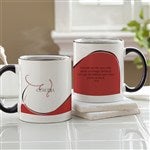 Thoughtful Gift
By
Dorothy D.

(Sarasota, FL) - August 19, 2011 (
See all reviews by this customer
)
This is a beautiful cup, and when it's personalized and in the color of your choice, it makes a very thoughtful gift. I got it for my son with his name and his company name on it as a birthday gift. I know he will love it!

Bought for a gift
By
Nelda C.

(Jack, AL) - July 25, 2011 (
See all reviews by this customer
)
Very pleased with my purchase, the shipping was very fast and the cup was engraved beautifully. I will definitley be ordering from here again.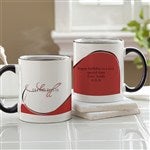 happy shopper
By
Dianne F.

(Lebanon, PA) - July 9, 2011 (
See all reviews by this customer
)
I bought a personalized mug for my daughter-in-law and she loves it! It arrived right on time. Thanks for great service.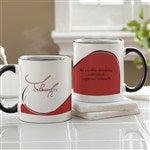 He loved it
By
Shopper

(houston, TX) - June 28, 2011
Have ordered gifts from this company before. The shipping is fast and every recepient loves them

nice mugs
By
Shopper

(Mililani, HI) - December 21, 2013
Mugs looked so nice and professionally done. I would order again.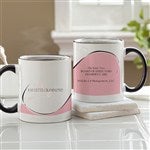 These mugs were a hit!
By
sonia M.

(far rockaway, NY) - January 14, 2013 (
See all reviews by this customer
)
I had 2 mugs personalized with a Bible verse in English and 1 in Spanish, and they were beautiful!

Nice Quality
By
Shopper

(Hixson, TN) - November 4, 2012
Nice cups, although a bit smaller than anticipated. Creating my own personalized message was easy and I received the cups promptly. Great shopping experience.

Reunion giveaway
By
Shopper

(Kennesaw, GA) - August 13, 2012
Everybody love this personalized mug with their names on it. It was well praised. Nice remembrance for reunion.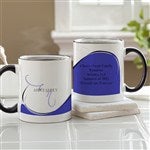 Cup
By Shopper (Hyattsville, MD) - January 27, 2012
Ive been shopping around and this is great

Great gift idea
By
Raquel W.

(South Jordan, UT) - December 2, 2011 (
See all reviews by this customer
)
My cousin and I love hot chocolate so I decided to personalize a mug for her and write a little poem with it! I love how it turned out.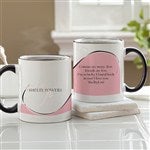 Lawdy Lawdy Miss Claudy!!!
By
Shopper

(Fort Worth, TX) - August 28, 2011
She was so excited to receive this cup for her retirement gift. She is a big fan of Elvis and being able to write some of the words to one of his songs on the side made it a very personal gift than just her name. Just wish I could have enlarged the lettering.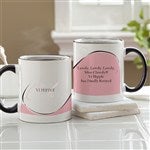 Cute Idea
By
Geri T.

(Orchard Park, NY) - August 7, 2011 (
See all reviews by this customer
)
Handsome mug but I subtracted one star because I thought we should have gotten a choice of font and print size.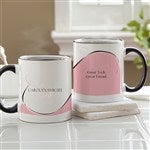 inside joke
By
Shopper

(high point, NC) - August 3, 2012
This mug was a birthday gift for a mate of mine, and I thought it would be awesome seeing as she is a one of those caffeine addicted people. I put a funny quote/inside joke on the mug, but was disappointed with the color options (her favorite color is purple). I chose the brown background in the end because on the computer screen it came across as this smooth espresso color. It came out too cartoon-ish looking for my taste though. Also, the cup is a bit smaller than expected, and I really didn't have many different choices of bigger mugs if I wanted the quote on the mug. Overall, its a good product, but if I had to do it again I'd have probably spend more money on a different product. Still a mug, but bigger, (and more expensive, more like).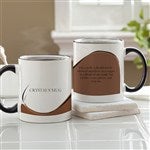 personalized mug
By
Janice P.

(Chicago, IL) - December 26, 2011 (
See all reviews by this customer
)
My Mom really loved the mug except the greeting is written in the blue part of the mug and very hard to read. Perhaps the print should be slightly bigger or bolder or a different font to help make it easy to read

watch our colors
By
Shopper

(voorhees, NJ) - November 29, 2011
Purchased a mug in blue. The 'personalized quote' is in black and does not show up well. wishing i'd picked a different color. Otherwise, I was pleased with all other purchases.

Not that exciting
By
Shopper

(East Hampton, NY) - November 6, 2011
The mug that I ordered is brown in color. However, the words are in black color. As a result, it is very hard to read the words that are on the mug due to the almost same tone of colors.