Never disappointed
By
Shopper

(Barnegat, NJ) - August 16, 2014
Great memento, classy good quality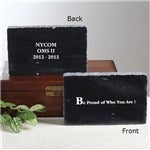 Preserved our toddler's cute phrases!
By
Lori B.

(Stambaugh, KY) - December 27, 2013 (
See all reviews by this customer
)
Had our son's unique words placed on one side with a note to my husband on the other. Looked for months and tried other stores in the mall but their prices were closer to $70-$80! Marble slab for desk was perfect, excellent weight and superb quality. Being able to preview item first allowed me to make changes before placing the order. As our son gets older we will still have his sayings preserved. May need to make a couple more of these to document his language development :)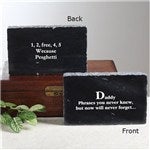 Great gift!
By
Shopper

(Canada) - December 18, 2013
I personalized this to for my mother's kitchen. It was smaller than I expected but that was my own fault - the website has the dimensions of the product I just didn't pay attention to it. Overall it is a great gift. It's heavy so if you plan on shipping again to whoever you are giving it to it may be expensive.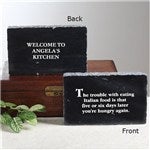 Engraved Marble Keepsake
By
Elaine E.

(Bayville, NY) - August 3, 2013 (
See all reviews by this customer
)
This is not the first time I purchased this item (bought 3) It an everlasting gift, the opportunity to write your own verse truly makes it a one-of-kind personal item expressly made for the individual. I love buying this item for special people/occasions and hope it will also be available. I always purchase from Personalization Mall for my gifts, every item I select is beautiful, perfectly engraved and outstanding customer service.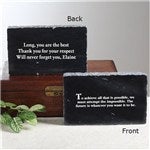 Beautiful!
By
Rebecca C.

(EULESS, TX) - April 8, 2013 (
See all reviews by this customer
)
Very beautiful addition to my quote collection. Solid & quality stone. I bought mine for myself, but would recommend for a gift. Perfect for graduation, wedding, or other life event.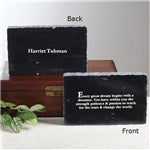 I Am Thrilled !
By
Margie W.

(Bristol, FL) - November 23, 2012 (
See all reviews by this customer
)
I was thrilled to open my package, engraved for my son-in-law, after the General Electon in November. The work is quality and when he gets sworn in as sheriff on January 7,2013,I will present it to him and am sure he will be as happy with it. Thank you. My only regret is not waiting for the neat price cut on this item.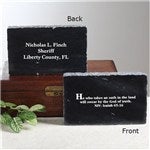 Nice Gift
By
Rachel C.

(Elk Grove, CA) - July 18, 2012 (
See all reviews by this customer
)
This piece was a very nice, well constructed piece. It was a little smaller than I expected and the gift box was not worth the money but the stone was a definate good buy.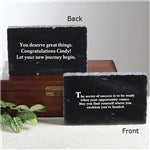 Very nice!
By
Shopper

(Arlington Heights, IL) - September 25, 2012
I ordered this for a friend headed for retirement. It was exactly as pictured on the site, very good quality - a nice keepsake, for sure! I requested priority delivery which brought it to my door 2 days after I placed the order! All in all, I was very pleased with the entire process. Thanks!

Classy memorable gift
By
Donald M.

(Barnegat, NJ) - August 17, 2012 (
See all reviews by this customer
)
Great gift or memento, very expensive looking, great quality ! A timeless piece !

Personalized marble
By
Shopper

(Des Moines, IA) - June 11, 2012
Beautiful and easy to create a meaningful message.

product- likes and dislikes
By
Shopper

(Clifton, NJ) - September 20, 2011
very nice gift. well received.

hope we will be able to pick from different sizes.

Wonderful Purchase
By
Shopper

(Little Elm, TX) - March 22, 2014
I was extremely pleased with the quality of this. It turned out really nice. It looks extremely expensive. Very impressive to display.

For husband graduation gift
By Shopper (Wappingers Falls, NY) - April 12, 2014
A wonderful heavy duty and presentable marble keepsake. He loved the quote and our own kind words on the other side from the entire family.

Memorable Gift
By
Jane Z.

(Mastic, NY) - August 7, 2014 (
See all reviews by this customer
)
After finding an awesome quote for a colleague who always loved to use quotes in his correspondence, I ordered this as a parting gift for him. He was moving on to other endeavors and truly loved the gift. I would highly recommend this product. In fact, I'd like to receive one myself! That's when you know the gift is a good one!

My Husband' 20thyear on his job!
By
Cheryl T.

(Chowchilla, CA) - May 1, 2013 (
See all reviews by this customer
)
My Husband really like it . Made his 20th anniversary at work pretty speical.

Classic and dignified
By
Shopper

(Lansing, MI) - December 15, 2012
Gave this as a retirement gift. Was very impressed by the weight and feel especially in comparison to what other companies charge. Also appreciate that there was no cost per letter, just a flat price that was included in the price of the item. My only suggestion is there should be an option for engraving in a glass version. The gift was perfect and shipping was fast.

Perfect showpiece
By
Rose D.

(Downingtown, PA) - January 11, 2013 (
See all reviews by this customer
)
The perfect gift for my professor daughter. Elegant and weighty with 2 sides for text. A showpiece.

More than pleased
By
Shopper

(Canon City, CO) - January 14, 2013
Not only was I pleased with the item, but the recipient was extremely impressed.