Great Retirement Gift
By
Shopper

(Wiggins, MS) - April 16, 2013
This is a great gift for a retiree, not too serious but a great reminder of days past.

perfect gift
By
Fred/cindy N.

(Pride, LA) - March 30, 2013 (
See all reviews by this customer
)
the cup was great. it was exactly what i ordered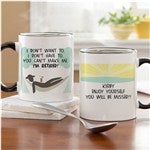 Can't beat this mug
By
Shopper

(Canada) - March 23, 2013
The coffee mug came in good quality packing, a really solid mug. Everything on the mug is there, just like in the demo picture they give you. I got my place for personalized mugs now.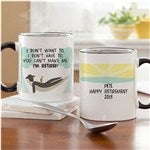 I'm Retired" Personalized Retirement Mug
By
diane H.

(dunedin, FL) - March 8, 2013 (
See all reviews by this customer
)
I ordered ten of these mugs for my co-workers with various individual personalized messages to them regarding, "I'm retired you're not" etc plus being able to thank them for their friendships as well as being my co-workers throughout the years. it was a lot of fun when each person opened their box and a lot of laughs. The sayings on the mugs were fantastic and perfect in every way. Craftmanship excellent, I would recommend this gift to anyone you have in mind. Turnaround time was great, from ordering to delivery. Very well satisfied.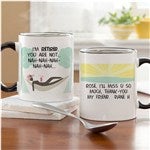 Reitrement Mug
By
Juliet B.

(Cheverly, MD) - March 4, 2013 (
See all reviews by this customer
)
It was amazing how I was looking for a retirement gift and I found your site. I love the website, the mug was done perfectly and looked absolutely gorgeous. If I need any thing personalized, I will diffidently use your site again. Thanks!!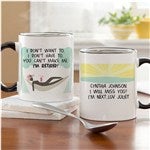 fun retirement gift...
By
Lynn S.

(Elgin, IL) - February 25, 2013 (
See all reviews by this customer
)
I wanted to find a small gift for a co-worker that was retiring and thought this coffee mug would be perfect. The mug is fun & colorful and of good quality. I also liked that you could personalize both sides of the mug if you choose. My co-worker loves to golf, so I am sure he will really like the mug. I will put confetti and a small package of coffee inside the mug to make it more special. A nice gift for anyone retiring.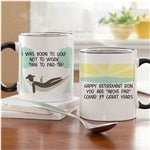 Great Retirement Gift
By
Shopper

(Lake Katrine, NY) - February 22, 2013
I purchased this mug for a co-worker who is on the opposite coast from where I live. It's the perfect gift and it's wonderful that you can personalize it. My friend told me that she is waiting to use it for her first day of retirement, which is now only five working days way. Don't drink coffee or tea? then you can use it for a pencil cup. Good gift for the Retiree to use or just "shelf" and look at knowing that you thought of them.

Great gift!
By
Shopper

(Willingboro, NJ) - January 25, 2013
The mug is as depicted. Colorful picture. Clear print. Solid construction. My recipient appreciated the personalization.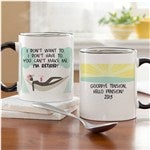 Personalized mug
By
Shopper

(Orlando, FL) - January 18, 2013
I ordered a personalized coffee mug for a wonderful friend who recently retired. She really likes it and uses it every day - and, of course, thinks of me, who lives many miles away.
I'll be ordering a birthday mug soon. They're sturdy, just the right size and the printing is perfect - done correctly the first time!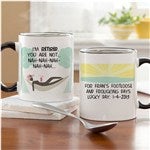 Excellent
By
Nicole C.

(Saginaw, MI) - December 21, 2012 (
See all reviews by this customer
)
I ordered this item for my grandma! It arrived very quickly. It's exactly what I was expecting and it is wonderfully made. I can't wait to give it to her :)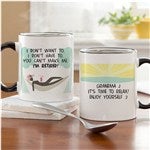 Perfect token retirement gift
By
shari B.

(lawrenceville, GA) - December 16, 2012 (
See all reviews by this customer
)
Recipient loved it!

Perfect gift
By
Amanda B.

(Marlborough, MA) - October 1, 2012 (
See all reviews by this customer
)
Gift appeared exactly as it did online when previewed. Great job and the recipient loved it!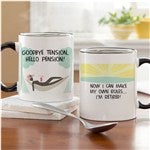 thrilled to be retired
He loved the mug, and said he was enjoying drinking his coffee leisurely now while reading the paper instead of rushing to get to work.

Extremely Pleased
By
Rose H.

(Louisville, KY) - September 1, 2012 (
See all reviews by this customer
)
The quality was as good when I received it as it appeared and stated it would be on line. The receipent was pleased and loved his cup. I would recommend this site to all my friends and family.



Great Gift
By
Lauren V.

(Sanford, NC) - August 18, 2012 (
See all reviews by this customer
)
This mug is great! I love the saying and the fact that you could say anything and make it truly personal. The mug is a little small but was priced very well. I would defiantly recommend for any retiree!

present
By
Shopper

(Fenwick, MI) - June 11, 2012
he liked the cup it was just what I ordered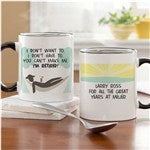 Retirement Personalized Mug
By
Shopper

(Upland, CA) - June 3, 2012
The mug was exactly what I was expecting! Excellent quality! Everyone loved it! They mailed it via UPS, and it arrived one day ahead of time! I highly recommend PersonalizationMall.com

Great Cup!
By
Shopper

(Aurora, CO) - May 4, 2012
We are going to add this personalized cup to a basket with coffee to give to our Executive Director who is retiring and who always had a cup of coffee with her at all times! The cup came quickly and looks great - the sentiment is perfect.

cup
By
Shopper

(fort lauderdale, FL) - April 30, 2012
perfect

VERY HAPPY!
By
Shopper

(FREMONT, OH) - April 29, 2012
I ordered 2 retirement personalized coffee mugs. I was very happy
with the personalization message choices and especially with the opportunity to see the finished product before buying! In addition, the turnaround time on receiving my order was fantastic! Good price, good service - Thanks!

I'm Retired Cup
By
CAROLYN P.

(GROVE CITY, OH) - April 28, 2012 (
See all reviews by this customer
)
Again, another great product from Personalization Mall.com. I ordered this cup for my brother's retirement from the hospital where he has worked for 30 years. My brother loves the coffee cup and all the other employees at his Retirement Party at the hospital liked it very much. It arrived in just a few days after I ordered it. I really like the fact that I was able to choose the exact personal sentiment which my brother really appreciated.

Memorable gift for boss...
By
Lynn S.

(Elgin, IL) - March 26, 2012 (
See all reviews by this customer
)
I have been searching for a fun but memorable gift to present to our boss who will be retiring shortly. When I came across this mug I knew it was the "one". It arrived shortly after I ordered it and was even nicer in person. I hope my boss will look back fondly when she reaches for this mug when drinking her morning coffee. Tip: If possible order multiple items at one time to save on shipping costs. I also used the economy shipping and it shipped as quickly as the standard shipping.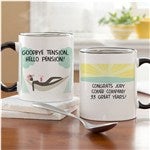 Love this website!
By
Kristen R.

(Monticello, FL) - March 16, 2012 (
See all reviews by this customer
)
This is just my second pruchase from this great site but I will certainly be back for more. I bought this mug for my employee who retired this week. I filled it with her favorite candy and bought some very special Godiva coffee to accompany the mug. She loved it! Thanks for the rapid delivery too! I'll be back whenever I need a special gift!

Great retirement mug!!
By
Elizabeth J.

(Duluth, MN) - February 22, 2012 (
See all reviews by this customer
)
I created my own saying on the mug: "Retirement: World's longest coffee break!"

Great Idea
By
Shopper

(Roanoke, VA) - February 16, 2012
Great present!

Perfect mug!!!
By
Michelle F.

(Brookfield, CT) - January 25, 2012 (
See all reviews by this customer
)
My father-in-law absolutely loved his mug. It was the perfect size and the fact that all of his grandchildrens names were on the back of the mug definitely made it extra special. It is a great gift and I love this website!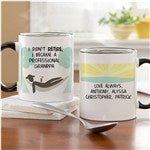 retirement mug
By
Donald L.

(Middletown, NY) - December 27, 2011 (
See all reviews by this customer
)
Best mug i ever was given

Great retirement gift
By
Shopper

(Sterling Heights , MI) - December 22, 2011
Great quality, just as expected from this site! Very happy with it.

Perfect
By
Shopper

(Lawrenceville, NJ) - December 13, 2011
This was one of a number of gifts we presented to our friend at her surprise retirement party. It was the only gift that was personalized. I am sure she will use it for years to come and remember all the laughter and love on that day. The mug was exactly what I expected. Delivery was right on time. Highly recommend this company!

Very Happy
By
Shopper

(Little Rock, AR) - November 16, 2011
Great product
Wonderful Gift
Outstanding Price
Very Happy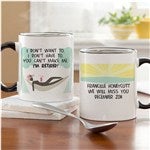 great purchase!
By
Shopper

(lansing, MI) - November 9, 2011
Bought as a cute retirement gift but was presently suprised it was a good quality mug and personalizion! One of the only sites I found with free personalization for more than just a monogram or something!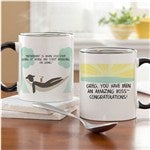 Great price for a personalized item!
By
Shopper

(Mt. Arlington, NJ) - November 4, 2011
A REALLY personalized item for the money!
Everything could be on the mug with any wording you wanted.
No other company that I looked at had this feature.
The delivery was exceptionally fast and the item came in perfect condition!

I'm retired personalized mug
By
Corinn G.

(Horace, ND) - November 1, 2011 (
See all reviews by this customer
)
My friend loved her retirement mug. She loved the personalized touch. She'll be drinking her favorite coffee in it for a long time. Arrived so fast. Thank you!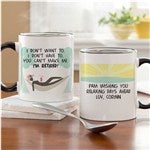 Great quality
By
Susan B.

(Fairfax, IA) - October 31, 2011 (
See all reviews by this customer
)
I got this for a friend who was retired and she loves it! I was able to really make it personal so she felt very special (knowing that i had taken the time to order her something just for her) I have never been disappointed in the quality of any of my purchases! Thanks for helping me make my friends and family feel special, because they are! My friend is an actress in Community Theatre so this was perfect!

Perfect Gift !!!
By
Shopper

(Selkirk, NY) - October 11, 2011
This mug was just right, I liked it so much I ordered three. Each person seemed very pleased with their mug.

Practically priced
By
Shopper

(Elmsford, NY) - October 5, 2011
It was the perfect gift for a coworker. The personalized sentiments made it special.

Gift for a Teacher
By
Shopper

(Bangor, PA) - August 14, 2011
Quick delivery. Great retirement present for a well deserving teacher. Who doesn't love a coffee mug? Made an excellent gift.

Great gift!!!
By
Shopper

(Glendora, NJ) - August 8, 2011
This mug is an awesome gift. It was personalized for a friend that retired. It looked more expensive than it was. Great quality merchandise. I would purchase from here again.

Perfect Retirement Gift
By
Margaret L.

(Port Jefferson, NY) - July 22, 2011 (
See all reviews by this customer
)
My order arrived very quickly, perfectly customized, and carefully packaged in a gift box. I found it to be exactly as described. Everyone at the retirement party was amazed and the recipient was delighted.

Great gift!
By
Shopper

(Bakersfield, CA) - July 17, 2011
This was a great retirement gift. Fun coffee mug. Great personalization. Great price and fast shipping. (Also purchased the retirement afghan, which was also an excellent product). Very satisfied customer!