for d boss
By
reuben H.

(houston, TX) - December 27, 2011 (
See all reviews by this customer
)
My boss absolutely loved it. Thought it was so cute and pretty! Also i thank you guys for having her colors. I didnt buy off another site because they didnt have her colors! Awesome!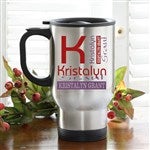 travel mugs
By
susan T.

(hazlet, NJ) - December 21, 2011 (
See all reviews by this customer
)
I never got to Physically see them, but my sister and brother-in-law both loved them, they live in Florida and carry drinks with them so they were perfect. thank you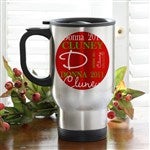 Mother in law gift
By
Shopper

(Holtwood, PA) - December 21, 2011
I got this mug as a gift for my mother in law to take to work with her. I absoulutely love it! She will not get it until Christmas, but Im sure she is going to love it as well.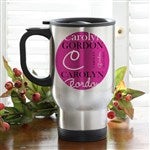 Awesome!
By
Kathy M.

(Lees Summit, MO) - December 17, 2011 (
See all reviews by this customer
)
Looks great! A bit smaller than anticipated, but still a good quality mug!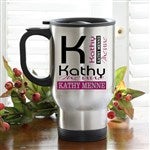 OMG,He simply loved it!!!
By
Shopper

(Aurora, CO) - December 12, 2011
I'm always on his Mind!!!!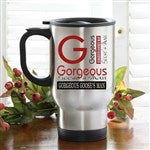 Great Christmas Gift!
By
Shopper

(Aurora, CO) - December 4, 2011
Perfect For Work,Travel and the Car! He Loved It!!!!!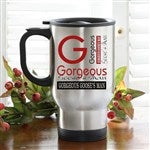 Cute
By
Shopper

(Newnan, GA) - November 26, 2011
Not too big and not too small...Great Christmas present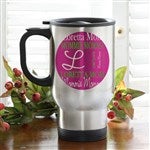 Good
By
Shopper

(Binghamton, NY) - July 5, 2011
Very nice it is shorter than a normal size mug.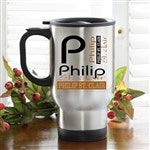 Exactly as shown
By
Shopper

(Lawton, OK) - June 18, 2011
i purchased this travel mug as a gift for Fathers Day. It was exactly as shown. I really like that you can view the product before ordering. Perfect for the cup holder in our truck. The colors were a great contrast (I chose green and navy).
Good quality. I highly recommend.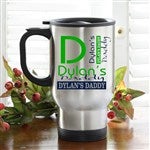 personalized travel mug
By
Patricia H.

(Tiverton, RI) - February 11, 2014 (
See all reviews by this customer
)
Love the mug! Will probably buy more as gifts.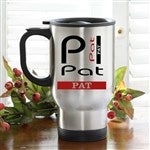 Personalized Coffee Mug
By
Shopper

(Olathe, Kansas, KS) - February 11, 2014
I like the design on the coffee mug. The only thing I'm concerned about is the plastic bottom of the mug. Just wondering how long it will stay on the mug before coming apart or accidentally dropped.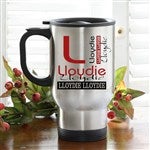 Stainless Steel Travel Mug
By
Patricia M.

(Morgantown, WV) - December 30, 2013 (
See all reviews by this customer
)
Just getting out of the hospital today from Colon Cancer Surgery, I have not seen the finished mug. I am quite sure it will meet my expectations when I do see it and give it to my friend as my family is celebrating out family Christmas together this weekend. Every day is a celebration of Jesus.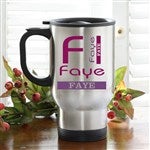 Cool coffee mug
By
Arlene W.

(Flowery Branch, GA) - December 23, 2013 (
See all reviews by this customer
)
Nice looking and I could get in UGA colors!!! Bought for sons for Christmas....hope they
Ike as much as I do!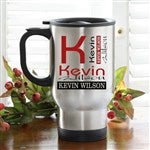 Great Teacher Gift
By
Noelle P.

(Lemont, IL) - December 11, 2013 (
See all reviews by this customer
)
For the past several years we have bought this for our kids teachers.It was easy to add the teachers name, school and grade they teach. In fact the other teachers said they wished our kids were in their class!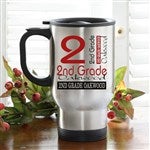 Great Product!
By
Shopper

(SALEM, MO) - May 14, 2013
My mom loves her travel mug!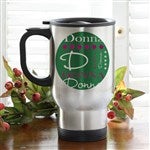 Great Graduation Gift
By
sharon C.

(savannah, GA) - March 4, 2013 (
See all reviews by this customer
)
I bought this mug for my neice as a graduation gift. She can use it at college for her drinks!!! I could choose the colors and it is so pretty that I want one also. Great idea and you can put whatever you want in whatever color. Thanks personalization.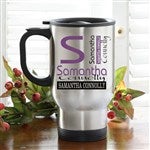 Mug
By
JERRY L.

(HOUSTON, TX) - January 3, 2013 (
See all reviews by this customer
)
Mug looks better than anticipated,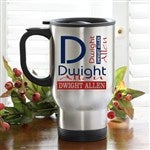 GREAT COFFE MUG
By
Shopper

(Uxbridge, MA) - December 28, 2012
THIS WAS A CHRISTMAS GIFT FOR MY HUSBAND. I WANTED SOMETHING UNIQUE BUT USEFUL. HE WAS THRILLED TO RECEIVE THIS VERY PERSONAL GIFT. HE WILL BRING IT TO WORK AND THINK ABOUT ME EVERY TIME HE DRINKS HIS COFFEE!!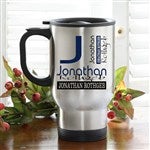 Gift for our manager
By
Shopper

(Chesapeake, VA) - December 11, 2012
This gift was great, bought it for our manager thought it was a little pricey at first but when we recieved it the day before her birthday it was worth it. She loved it so much she sent a picture of it to her whole family. RECOMMEND IT!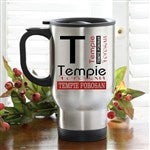 Nice coffee mug.
By
Katarzyna J.

(Schaumburg, IL) - December 9, 2012 (
See all reviews by this customer
)
I really like this coffee mug, it's very cool. The only thing is that I thought it would be bigger.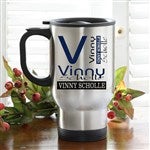 Stainless Meg
By
Shopper

(Schererville, IN) - December 8, 2012
This mug is VERY nice. High quality, well made. Very pleased with my purchase.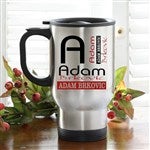 For the entire family
By
Jesse & Jessenia P.

(Kings Park, NY) - September 11, 2012 (
See all reviews by this customer
)
I got 3, one for my husband, for my brother in-law and for me, my brother inlaw loved it, his has #1 uncle on it we all are #1 dad, mom or uncle with our names on it we love it. I'm so happy with my purchase! Will definately shop all the time here!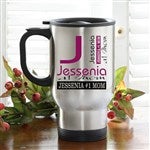 Good travel mug!
By
Shopper

(Jersey City, NJ) - August 1, 2012
Purchased for my aunt, whom is also my childrens' god mother and she travels a lot for business and personal. She opened her box and she LOVED it!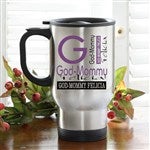 Bepa
By
Shopper

(Oyster Bay, NY) - June 1, 2012
My family and I got this product for my father, because he always leaves his coffee in the car...at least now he can't forget this mug. He loves it. He never travels without it.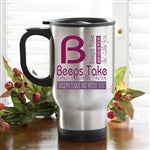 Travel mugs
By
Linda P.

(Lawton , OK) - January 20, 2012 (
See all reviews by this customer
)
I ordered two of these travel mugs for birthday gifts. Received them on time when I requested. The font and sizes of the names are true to be sure, some names are cut off as shown. No problem really. Wasn't to pleased with the colors only. Some colors don't show up on the actual item, but looked really great on pc screen. Had no problem with replacing the item, the young lady who helped me was very courteous even when I had gotten a bit testy with her. I apologize for my rudeness. She had then given me a store credit which I appreciate and used immediately to order a new mug for my gift. I really like personalization mall, I and my family have enjoyed the items I have bought here. A thank you to, and I hope I have her name correct, Bridgette.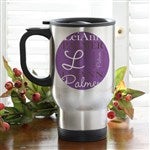 Great Gift Idea
By
Erica B.

(Effingham, IL) - December 2, 2011 (
See all reviews by this customer
)
I bought this for a friend and absolutely loved the outcome. Thanks for a great product!

Personalized Mug
By
Shopper

(Circleville, OH) - December 19, 2011
This is so cute! My Mom loved it! :-)

Great Gift for Christmas!
By
Jan C.

(Birmingham, AL) - December 8, 2011 (
See all reviews by this customer
)
Ordered 10 of these on a Sunday and was amazed when they arrived by Tuesday! Great personalized gift for $16.

excellent product
By
Shopper

(Miami, FL) - October 14, 2011
Very nice mug, the colors are nice, good quality for the price.
This is the second one I ordered. It arrived in 6 days after ordering, good job.

not happy with color reproduction
By
Shopper

(Erie, PA) - December 17, 2012
I purchased one of these for my wife last year and my daughter wanted one too. So I chose the Red / Orange color scheme cause it looked good on the website. When I received the product the orange which looked more gold online was washed out and almost not there. Daughter wanted the mug anyway, so I didn't return it.

Great Value
By
Shopper

(Arlington, TX) - December 19, 2011
I ordered this item for a co-worker who always has a cup of coffee in hand. I haven't given it to her yet, but I was pleased with the design and the personalization. I was able to play with the colors until I got just what I wanted. It's a good size mug and I think she'll love it. Thanks!

Super Special
By
Janice A.

(Lawrenceville, GA) - December 31, 2011 (
See all reviews by this customer
)
I purchased two of these in different color specs for my daughters. I like that I could fit their individual personalities and color choices to get them a unique gift. They were thrilled.

new business travel mug
By
Shopper

(East Brunswick, NJ) - November 10, 2012
Out of all my items ordered, this is the only one i'm not happy with - the mugs bottom is plastic but in the pic it looks rubber & i like them larger inside so it was a little deceiving for me personally. The lid is very cheaply made & i'm sure it's going to fall off when trying to drink out of it.....so i'm not going to use it for drinking hot items unfortunately...i'll be store shopping to find a replacement lid or just use the mug as a desk item for advertising only...not happy with this choice but don't feel like returning 1 item.

Very Disappointed
By
Shopper

(Beaumont, CA) - December 8, 2012
My first time ordering from this company. I ordered several different mugs for gifts and assumed incorrectly that the imprint would be on both sides - esp since the handles on the photos face both left AND right.

Am embarrassed to gift most of these, however, they are personalized so I'm out of luck. Some right-hand designs are only on the rear side (facing away) of the drinker and blank on the front. DO call prior to ordering to inquire as to whether the imprint wraps or on which side the imprint will be placed.

Cheap Travel Mug
By
Shopper

(Orlando, FL) - December 28, 2011
For $22 I was disappointed in the quality of the mug. Feels cheap due to the light weight of the metal used. Just a little better grade metal would have made a big difference in the overall quality. Size was great and I loved the printing, but would like to suggest that the print wrap around the mug instead of just on one side.

High Quality
By
Shopper

(Chandler, AZ) - August 2, 2012
I bought this for my grandma's 90th birthday in July. She's pretty picky when it comes to these type of mugs and she ended up loving it! The only reason why I give the product 4 stars is because it ended up being smaller than I had envisioned, other than that the personalization and mug were perfect.

For The Java Deprived!!!
By
Melanie J.

(Endicott, DE) - June 20, 2011 (
See all reviews by this customer
)
The recipient of this personalized mug loved the gift. He is a busy owner of five businesses and often complained of being java deprived. Now he no longer has excuses, he has the mug and a 6 cup single coffee maker so that he can enjoy a few cups before heading out the door. It was the perfect Father's Day gift!

Nice Gift
By
Shopper

(Santa Fe, TX) - June 28, 2011
I was very pleased with the travel mug that I ordered. The personalization was precise and I liked the way the colors were used. Thank you!

very cute
By
Shopper

(Aurora, IL) - August 29, 2011
makes an adorable gift - very quick turnaround!

cup
By
Claudette P.

(Bronx, NY) - June 12, 2013 (
See all reviews by this customer
)
this cup is nice with the personalized name, it will be a nice xmas gift