Better than I imagined!
By
Kathrine L.

(Chicago, IL) - December 28, 2011 (
See all reviews by this customer
)
The Lil' Cupcake Nap Mat is better than I was expecting! It is extremely soft and very roomy which is great because my niece has many years to grow into it. I love the straps on the back which turns it into a little backpack...that's ingenious! The pillow is nice and plush, not flimsy and flat. Overall, I couldn't be more pleased with this purchase...and so was everyone else in my family!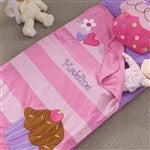 Nanite
By
Shopper

(Plympton, MA) - December 24, 2011
My little on loved it. She lays on it and says na nite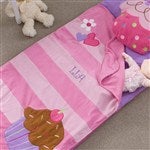 Absolutely adorable!
By
Shopper

(Conklin, NY) - November 12, 2011
This is such a cute nap mat. The colors are pretty and the cupcakes are adorable. Kids enjoy having their own "special" mat with their name on it. (It may help your little one go down for a nap a bit easier).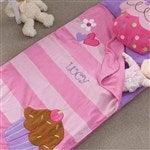 Product features that I like.
By
Lorraine B.

(Cutchogue, NY) - July 28, 2014 (
See all reviews by this customer
)
Product is made very well. Fabric is very soft and very colorful. I love how everything is one piece. Pillow is attached to the blanket. Very easy for my 3 and 4 year old grandkids to carry into day care. Very highly recommended. Great item for the price.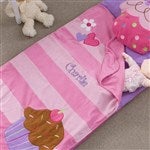 Nap Mat
By
Shopper

(Boonton, NJ) - January 19, 2014
Great quality - a gift for every little girl!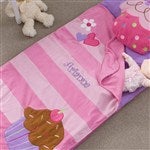 a real winner
By
Shopper

(Woodmere, NY) - November 22, 2013
Bought both my grandkids the nap mat. The girl received the lil'cupcake and the
boy got the athletic one. They simply love resting on or in the mat. The mats have some cushioning and the detailing is great. Both kids enjoy being on the floor in the nap mat watching tv and love the comfort of the pillows that are part of the mat. Cannot go wrong with this as a gift. Highly recommend it and the kids will love you even more for this gift.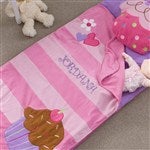 What a joy!
By
Shopper

(Kansas City, KS) - July 1, 2013
This nap mat was a gift for my little niece. She was so excited.... Perfect gift.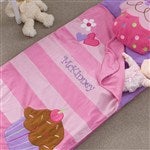 Nap Mat
By
Venilda C.

(Santa Cruz, CA) - April 15, 2013 (
See all reviews by this customer
)
Item described perfectly. Worth the money!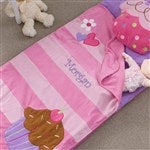 Worth the cost - especially for school!
By
Shopper

(Arab, AL) - January 22, 2013
I loved this thing so much, I ordered a second one. Due to the price I was a little worried at first because there are ones cheaper you can pick up at retail stores. This was money well spent! Not only is it longer compared to the lengths from cheapo ones, this gave my child plenty of room to grow. It is extremely soft and cushy, even after several washes. My daughter has used and abused this thing, and the only thing she was able to ruin was the seams came undone near the pillow which was easily fixable (I just saftey pinned it) Also, I don't have to worry about it getting lost or mistaken for someone else's nap mat because it has her name on it. Plus the added bonus of not that many kids will have this nap mat, so it sets her apart and makes her feel special. I plan on buying more when my other 2 kids need nap mats in the near future. I highly reccomend it. Don't let the price discourage you... it is a worthy investment for your child!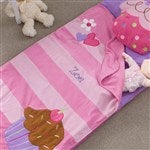 Great for Christmas
By
Jackie K.

(Wendell, NC) - November 18, 2012 (
See all reviews by this customer
)
My daughter is a year and a half and she doesn't like to take naps in her crib. I got this nap mat for her naps plus I figured she can use it later for sleep overs because it looks big enough.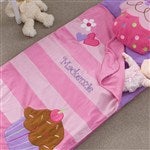 Christmas present for my daughter
By
Shopper

(forrest city, AR) - November 22, 2011
This is just as cute in person as it was online and will be perfect for my almost 3 year old to take to preschool for nap time!

Outstanding!
By
Anna B.

(Pineville, LA) - December 25, 2012 (
See all reviews by this customer
)
This mat is unbelievable! It is for my granddaughter's first birthday and my daughter, who is very particular, just loved it! Can't wait for the birthday party to give it to her.