Classy for Men
By
Shopper

(Downers Grove, IL) - December 26, 2011
These are great gifts for men....very good quality leather and holds a lot. The only thing I'll say wasn't worth it was the high price charged for the gift box...that was absurd. But the case itself is very, very nice.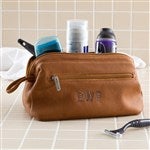 Very nice!
By
Shopper

(Wise, VA) - December 21, 2011
Purchased one of these for my hubby. When it came in we were pleasantly surprised and ordered three more for Christmas gifts. Good quality and seems to be durable.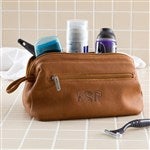 Beautiful travel case.
By
Della N.

(Santa Rosa, CA) - December 18, 2011 (
See all reviews by this customer
)
I was delighted with the quality and monograming of the travel case. I'm sure my son will be pleased with his gift. I highly recommend this item.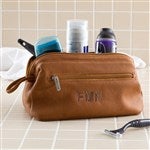 Nice Leather Quality
By
Shopper

(Brigham City, UT) - December 15, 2011
I am very pleased with the quality and craftmanship of this product. It is a high quality that I am very excited about giving as a gift. It's a nice size - will be very addaquate for what my boyfriend usually packs for trips, and the personalization on it looks so nice. It's an item that I think I will order again for other men in my life that are so hard to buy for (Like my dad and son in law).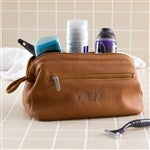 Travel Case
By
Michelle V.

(Elk Grove, CA) - December 15, 2011 (
See all reviews by this customer
)
Nice gift, well made, looks great!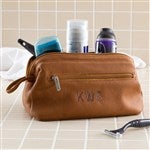 great quality product
By
Brent J.

(Cordova, TN) - December 12, 2011 (
See all reviews by this customer
)
Beautiful, was very pleased with the quality. Fast delivery and the leather quality is excellent.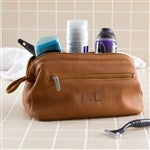 Not as nice as I thought it would be
By
Shopper

(abingdon, MD) - November 16, 2011
I ordered this for my husbands birthday. When I received the bag I was disappointed in the quality. It also had a scratch in the front of it. I did call the company and they worked with me. It wasn't a bad experience but if I knew the way it looked in person I would not have order it.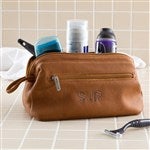 Excellent value
By
Doreen A.

(Canada) - November 13, 2011 (
See all reviews by this customer
)
We were looking for a travel bag for a gift and could not find anything that we liked or of the quality we were looking for.

When we finally found this travel case on line we ordered it immediately and was extremely pleased with the leather, the way it was made and the overall quality of the product.

Our Grandson will be delighted to receive this for Christmas with all his personal toiletries included inside.

Thanks again for a great product.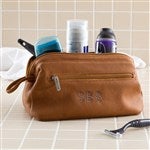 Perfect gift
By
Mary S.

(Malvern, PA) - October 21, 2011 (
See all reviews by this customer
)
I purchased this travel case for my husband and he liked it so much I got one for each of our sons. It is made of a top quality leather and the momograming adds that extra special touch. If you order this you will not be disappointed.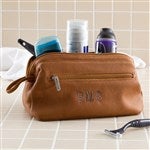 My son is a groomsmen
By
Silvia L.

(Canada) - October 13, 2011 (
See all reviews by this customer
)
This leather travel case is absolutely beautiful, there is a lots of room inside, very high quality and the personalization makes it even more special. I am very happy with my purchase and will definitely recommended to my friends!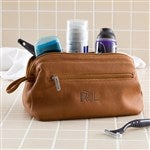 Personalized Travel Case
By
Mark K.

(Marlton, NJ) - October 7, 2011 (
See all reviews by this customer
)
My wife and I bought this as a gift for my brother on his 60th birthday. When someone receives a gift that is monogrammed, it seems to add more value then standard well intentioned gifts, i.e.., cards, money, gift certificates. He is thrilled with our gift and the quality of the case.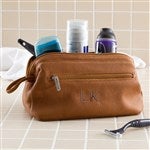 Nice but small
By
Shopper

(Orlando, FL) - August 20, 2011
I purchased this for my husband who is a Pilot so he uses frequently, so far it is holding up well! He was very pleased with the gift as with his former travel case was in pieces! He can fit a full shaving cream can, his eletronic toothbrush and all of his other travel essentials in the case. The leather is nice but I was dissapointed that it is smaller than most travel cases but it does open up fully. If you are getting it as a gift, I recommend getting the gift box because with the travel case stuffed with tissue paper, it makes for a real nice presentation.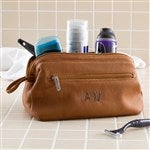 repeat buyer
By
Sandy L.

(Floyd, VA) - July 25, 2011 (
See all reviews by this customer
)
ordered this travel bag for my son in law and he loved it!!!!!! the quality of of the travel bag was excellent- really beautiful and having it personally engraved with your initals is a plus- really makes it special- sometimes its hard to buy gifts for people when they have everything or can buy anything they want so something like this is really special and what man doesnt need a travel bag- even if the have one- they can always use another one- once again I am so happy with personalzations malls products and service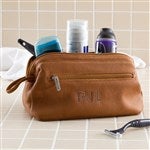 excellent quality; better than expected
By
Shopper

(Millis, MA) - July 17, 2011
The quality of this travel case is far better than I expected.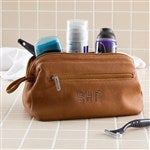 Very nice!
By
Shopper

(Stockton, CA) - July 16, 2011
Good job on the embroidery. Very nice for gift giving! The only thing I would recommend is to stuff it yourself (it comes flat/folded) with tissue paper for a better presentation! Sturdy to last for years!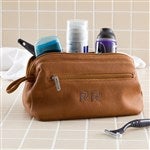 The Best
By
John B.

(Rocky Mount, VA) - July 9, 2011 (
See all reviews by this customer
)
Looked for months for a shaving kit that I would not have to replace on a yearly basis. Finally gave up and checked your web site and read some of the reviews and that is the reason I purchased your product!
Also, I was told by all the department store chains that these were only Christmas items.
Best ever. Wish I had tried your products sooner!!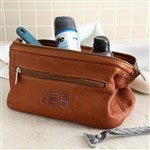 I like the quality of the leather
By
Shopper

(Columbia, NC) - July 5, 2011
I like the leather and the embroidery, but it is a little smaller than I expected. Over all, it is good quality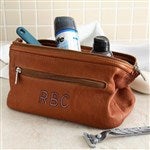 Disappointed in the quality of the lining
By
Shopper

(Bulverde, TX) - June 24, 2011
Looks great until you open it. The lining is very cheap, probably won't last very long. Ended up purchasing another one from another company, 3rd anniversary gift-Leather travel bag- for husband. Was hoping for it to last him a very long time........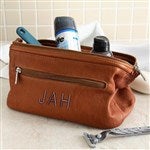 great little travel bag
By
Shopper

(Worcester, MA) - June 22, 2011
I purchased this for my husband as a Father's Day gift. He was talking about trying to find a leather travel case and really liked this one and loved the fact that it was personalized.

Good for travel size items, razor and toothbrush.

(note: picture on review is the review picture provided by site, it looks much better in person)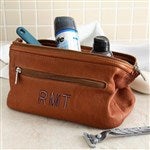 Milano© Personalized Leather Travel Case
By
Beth G.

(Rosemount, MN) - June 21, 2011 (
See all reviews by this customer
)
It was well made my husband loved it for Father's Day. I thought it was going a bit bigger but that's really the only thing I would change.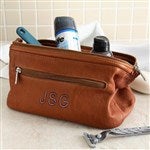 Soft leather, great case
By
Callie W.

(North Syracuse, NY) - June 21, 2011 (
See all reviews by this customer
)
Couldn't have asked for anything better. It's a beautiful case with extremely soft leather and a great design. The personalization looks great and makes it a really wonderful gift.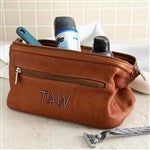 Great gifts for groomsmen!
By
Noah R.

(Chicago, IL) - June 20, 2011 (
See all reviews by this customer
)
My fiancee bought this item for me years ago and now I have the pleasure of gifting my 7 groomsmen with these high quality lovely items. Great leather, quality embroidery and sturdy construction make these a favorite!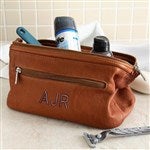 Quality products with fast service
By
Jason A.

(Bolingbrook, IL) - June 15, 2011 (
See all reviews by this customer
)
I purchased these bags for my Groomsmen and ushers and was thrilled with both the quality of the bags, the craftsmanship of the embroidery and also the ease of ordering. The bags arrived very quickly and neatly packed. Would highly recommend to anyone.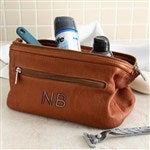 Great High School Grad Gift
By
Shopper

(Layton, UT) - June 6, 2011
My son loved this monogrammed travel case as a gift for his high school graduation. I filled it with all the essentials so he's set for heading off to college. The only draw back is that it was a tad bit too small. But otherwise it was a great gift (my husband wants one now)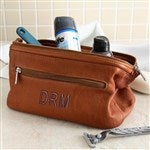 repeat buyer
By
Sandy L.

(Floyd, VA) - June 1, 2011 (
See all reviews by this customer
)
what can i say that i have not already said about personalization malls's products!! this travel leather case is beautiful the inside is roomy with a zippered compartment one on the outside too. the leather is beautiful love the color and the engraving came out awesome- price and turn around time again incredible. great gift for the any man.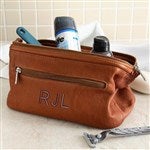 good travel kit
By
Shopper

(Saint Louis, MO) - May 31, 2011
A great graduation gift, the kit looks nice, has a great feel to it and appears more expensive than it is. Prompt shipping too!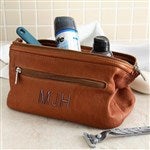 great graduation gift
By
Shopper

(Denver, CO) - May 29, 2011
very nice quality leather, monogram stitching and design.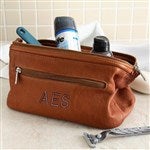 Graduation gift
By
Shopper

(Simi Valley, CA) - May 21, 2011
This product is very nice. The case remains open so the contents can be accessed easily. It did smell very strongly of leather when it arrived but I am hoping that fades over time.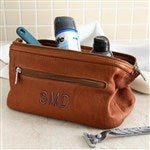 Very nice quality
By
Shopper

(Metairie, LA) - May 16, 2011
only draw back is it's smaller than the usual size. My husband loved it through and is stil, using it after many years now. Nice buy....great fathers day gift.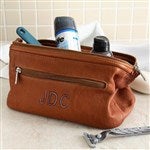 Great Men's toiletry bag
By
Shopper

(Driftwood, TX) - December 7, 2013
Quite pleasantly surprised by the quality! Soft leather, nice job on the monogram - I looked elsewhere at some other more expensive brands - and am very satisfied with this one. Some of the mid line toiletry bags are made of vinyl - need I say more? I would purchase this again!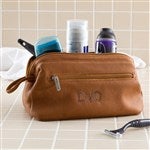 Great
By
sherrie M.

(Sanibel, FL) - November 20, 2013 (
See all reviews by this customer
)
My husband is going to love it. Thank you for a great product.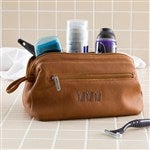 Awesome quality
By
Shopper

(RALEIGH, NC) - November 12, 2013
The leather is super soft and the mongramming is subtle enough not to be feminine. It is going to make an awesome gift for my new beau who travels regularly for work! This is a GREAT item and I'm blown away by the quality!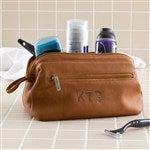 Fabulous
By
Shopper

(Canada) - October 29, 2013
Very elegant with the initials! Great size and quality.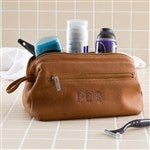 Soccer Mom
By
Shopper

(Delmont, PA) - October 25, 2013
I bought them as banquet gifts for Sr. High School boys to take to college and they are beautiful and will carry them into their career life. Good purchase.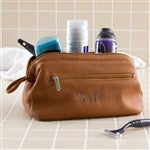 Great Value and Fast Shipping
By
Amanda C.

(Louisville, KY) - October 11, 2013 (
See all reviews by this customer
)
I was looking for something similar to an item I had seen on etsy.com for my brother for Christmas but I didn't want to spend over $85, I found this to be comparable in quality and style And an overall great value.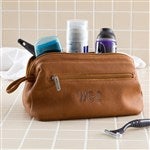 Perfect Groomsmen Gift
By
Brett D.

(Clarksville, TN) - September 15, 2013 (
See all reviews by this customer
)
These made perfect gifts for my groomsmen. I was a little worried about the quality of the bags and leather when I ordered them, but was pleasantly surprised when they arrived. The bags are very well made out of quality leather (I don't know the exact type, but it had an excellent supple but firm feel and rich leather smell). My groomsmen all loved them and I'm sure they'll get years of use out of them. The initials embroidered onto the leather was also well done. Not too tacky or anything like that. The size and color of the lettering was perfect.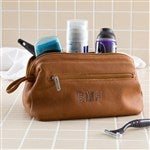 Great gift for men
By
Shopper

(Lempster, NH) - September 3, 2013
Excellent product for hard to buy for men. Great quality and perfect size.
My goof when ordering, so both were monogrammed with the same initials. So if ordering more than one be sure to review lettering before submitting your order.
I just applied a self sticking label on one and it looks fine.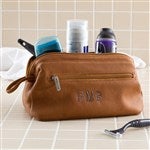 Great Quality
By
James S.

(Hickory hills, IL) - July 30, 2013 (
See all reviews by this customer
)
Great quality, soft leather bag. Can't go wrong with this.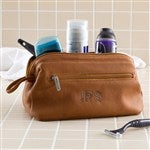 Just perfect!
By
Shopper

(Stony Brook, NY) - July 23, 2013
I needed an elegant looking gift for a male and this looked perfect on the website. Not only is this of the highest quality and looks beautiful, the monogram added just the right personalized touch. I was amazed at how great it looked and at the unbelievably great service. I needed the gift in 2 days, and while I was skeptical - everything worked out perfectly. I have bookmarked this site and will order again and again.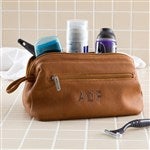 Very Nice & Good Quality!
By
Shopper

(Cypress, TX) - June 23, 2013
I bought this bag for my husband and he absolutely loves it! The quality is very good and the bag is perfect for traveling. I would highly recommend this toiletry bag.