Nice Looking
By
Bonnie M.

(Thousand Oaks, CA) - October 15, 2009 (
See all reviews by this customer
)
The leather quality is pretty nice on this case and the size is pretty good to. Looks like alot will fit into the case. Overall, a good purchase for the price.

Great travel bag
By
Donal M.

(Mill Vallley, CA) - October 11, 2009 (
See all reviews by this customer
)
We were very happy with these bags for the groomsmen. We filled them with products from the Art of Shaving. The initials were done very well and it was a quality product overall.

Great Travel Case
By
Michelle B.

(Canada) - October 9, 2009 (
See all reviews by this customer
)
My Husband loved this and it got rid of his old ratty one so I love it.

Thanks

Nice bag - but smaller than I thought
By
Shawna U.

(Tomball, TX) - October 8, 2009 (
See all reviews by this customer
)
This is a really nice bag, but it was much smaller than I imagined it should be...I guess I just expected it to be larger and hold more items. Otherwise, it's really nice looking in person.

I love this travel case!
By
Maureen K.

(Lakeville, MN) - October 2, 2009 (
See all reviews by this customer
)
This travel case is a beautiful, richly colored, soft leather case. I had my boyfriend's initials embroidered on it and he absolutely loved it! Very well made, durable, 1 zipper on top and 1 on the side. If I could change anything is that it would be a little bigger, but as is, holds about 3 big products and a few smaller ones. It makes a perfect birthday gift especially if you fill it with his favorite products and maybe some cute pictures of you!

Smaller than you think!
By
Joelle B.

(Tucson, AZ) - June 14, 2013 (
See all reviews by this customer
)
The leather seems good quality, but it's small and expensive for the size.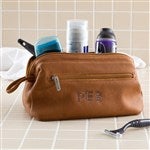 Man's Dopp KIt
By
Shopper

(Tulsa, OK) - November 30, 2012
It's a nice item and is satisfactory.

Not as nice as I thought it would be
By
Shopper

(abingdon, MD) - November 16, 2011
I ordered this for my husbands birthday. When I received the bag I was disappointed in the quality. It also had a scratch in the front of it. I did call the company and they worked with me. It wasn't a bad experience but if I knew the way it looked in person I would not have order it.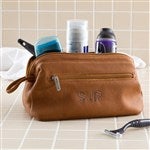 Nice but small
By
Shopper

(Orlando, FL) - August 20, 2011
I purchased this for my husband who is a Pilot so he uses frequently, so far it is holding up well! He was very pleased with the gift as with his former travel case was in pieces! He can fit a full shaving cream can, his eletronic toothbrush and all of his other travel essentials in the case. The leather is nice but I was dissapointed that it is smaller than most travel cases but it does open up fully. If you are getting it as a gift, I recommend getting the gift box because with the travel case stuffed with tissue paper, it makes for a real nice presentation.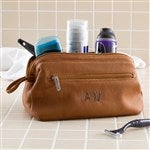 the perfect gift
By
Shopper

(milwaukee, WI) - March 7, 2011
when i received this item it was excatly what the picture showed the quality is great, it was a need so it turned out to be the perfect gift and it can be used for multiple things.

OK, but not great
By
Jody P.

(Greenwood Village, CO) - November 10, 2010 (
See all reviews by this customer
)
I ordered this travel case for my husband. From the picture, I thought the top of the case would open as if hinged (like most dob kits) but this one folds over to one side which makes the storage space smaller. Since I got it monogramed, I'll have to keep it but I'm not sure there will be enough space for all of his things.

Also, the leather is OK but not as soft as I had hoped. So, I give it a 3 out of 5.

color
By
cindy K.

(Aurora, OH) - December 24, 2009 (
See all reviews by this customer
)
I was very disappointed with the color of this item. It did not match up to my expectations based on the photo.

Leather Travel Case
By
James D.

(Carlsbad, CA) - November 28, 2009 (
See all reviews by this customer
)
It is a nice case for the price. A little smaller than I would have liked but nice leather. The one drawback is that has a plastic vinyl lining, I would have preferred cloth.

Inside needs improvement
By
Shopper

(Anaheim, CA) - July 19, 2012
This is a very attractive leather bag. Color beautiful, leather soft, lettering really adds the special touch for a gift. But the inside fabric is cheap and crinkly and I'm not sure how it will hold up. Too bad because I will definitely not be ordering this again for anyone else.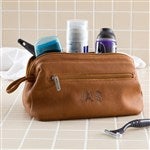 Disappointed in the quality of the lining
By
Shopper

(Bulverde, TX) - June 24, 2011
Looks great until you open it. The lining is very cheap, probably won't last very long. Ended up purchasing another one from another company, 3rd anniversary gift-Leather travel bag- for husband. Was hoping for it to last him a very long time........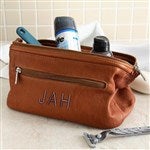 Unsatisfactory for the Price
By
Barbara L.

(Ellicott City, MD) - January 4, 2010 (
See all reviews by this customer
)
This travel bag looked beautiful online..leather looked plush.."real"..soft like a high-end leather. IT WAS NOT. The inside looked like cheap plastic of some sort, one that won't last long..the bag was small (even after I'd stuffed it full of papers to "fluff it out" from being in a very chinzy plastic bag somewhere on a forgotten shelf in some warehouse!) This travel bag was VERY DISAPPONTING..only thing half-way decent was the monogramming; of course, because of this monogramming, the item is not returnable. I DO FEEL MY MONEY SHOULD BE RETURNED OR CREDITED TO A FUTURE PURCHASE. Advice on how to do this is most welcome.

Not as good as it looks...
By
J. David C.

(Savannah, GA) - August 31, 2012 (
See all reviews by this customer
)
I was disappointed in this Dopp kit. It is not as large as I had hoped. The lining of the main compartment is not lined with a waterproof fabric, not does the zippered side pocket have waterproof lining. It has a cheap look to it, which I did not expect. Were it not monogrammed, I would return it for a refund. Sorry for this negative review.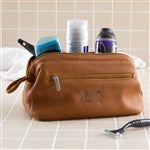 very satisfied
By
jacqueline C.

(philadelphia, PA) - November 22, 2011 (
See all reviews by this customer
)
very satisfied