Great quality
By
Shopper

(Weston, CT) - August 20, 2012
Soft, supple leather toiletry bag. Great value. Well made.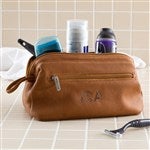 excellent for my son-in-law
By
Shopper

(Crystal Beach, TX) - August 1, 2012
I was very pleased to be able to give my son-in-law this exc ellent quality bag.

EXCELLENT QUALITY!
By
LisaRae R.

(Oakland Gardens, NY) - August 1, 2012 (
See all reviews by this customer
)
MY BOYFRIEND TOLD ME HE NEEDED A NEW TOILETRY BAG SO I SAW THIS AND THOUGHT IT WOULD BE A CUTE GAG GIFT. IT ENDED UP BEING ONE OF THE BEST GIFTS! THE BAG IS LEATHER AND EXCELLENT EXCELLENT QUALITY I WAS SO SURPRISED! PERFECT GIFT FOR A DAD! I CANT WAIT TO GET ONE FOR MY DAD HES GOING TO LOVE IT! IF YOU WONDERING ABOUT SIZE OR QUALITY DONT HESITATE. THIS IS THE BEST WEBSITE IVE NEVER BEEN DISAPPOINTED!!

Great!
By
Shopper

(Royal Oak, MI) - July 17, 2012
These look great, are reasonably priced, and arrived sooner than I expected.

For my Father!
By
Jessyl D.

(New York, NY) - June 29, 2012 (
See all reviews by this customer
)
I purchased this Toiletry Bag for my father right before his trip to Dominican Republic, he loved it! It was about time he got rid of his old plastic one. :)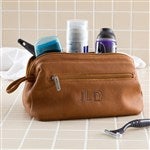 He loved it!
By
Shopper

(SAN JOSE, CA) - June 18, 2012
My Dad loved it. He says he'll use it all the time.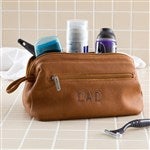 Amazing Graduation gift
By
Shopper

(Chagrin Falls, OH) - June 12, 2012
My son received this leather toiletry bag for a graduation gift last year. We couldn't wait to give them as presents this year. The quality is amazng and the leather is beautiful. My son used it all year at college and it is still in perfect condition. One of his friends uses his to keep all of his electronics in and another uses it to store medications. It is something they boys will have and use for a long time!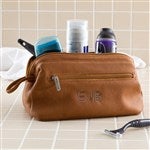 Very Nice Quality
By
Shopper

(Canada) - June 7, 2012
Good quality, very soft leather. Embroidery looked much nicer in real than in the photos. The stitching is a closer match to the leather so it looks more elegant was slightly worried about that instead of branding but it is quite nice. Good sized bag. Shipping to Canada was fast and no hassles. The price they quote for shipping was all I paid. Some companies charge you duty after the shipment comes to you but there was no problems at all with that. Thank you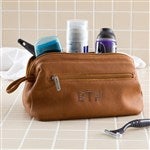 Very Nice!
By
Cynthia M.

(Hollywood , FL) - May 21, 2012 (
See all reviews by this customer
)
Bought these for our groomsmen and loved them. Great quality and style.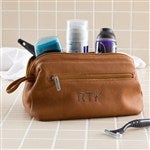 Very elegant and traditional
By
Gabriella R.

(Louisburg, KS) - May 15, 2012 (
See all reviews by this customer
)
Quality soft leather, classic color and shape, very elegant and right shape for traveling.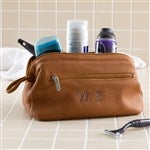 Great product
By
Jannah G.

(League City, TX) - May 14, 2012 (
See all reviews by this customer
)
My husband loved it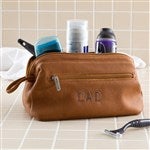 Love this!
By
Shopper

(Newtown, PA) - May 9, 2012
I was so pleased when I received this item! It is real leather!!!! It is so beautiful and sophisticated. I gave it to my husband for our anniversary and he loved it. So glad I decided to purchase this. I would recommend it to anyone who is looking for a thoughtful gift, you won't be disappointed.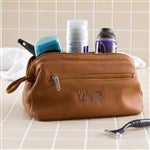 travel bag
By
Patricia A.

(Bolingbrook, IL) - May 8, 2012 (
See all reviews by this customer
)
I gave this leather bag to my son as part of a graduation gift. I used it as a base to stuff other gifts/cards as well as the personalized graduation chocolate bars offered through this site. The product was of nice size and quality. My only regret was that I prefer the black leather over the brown. It would have been nice knowing that it was an option during my original purchase.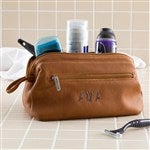 great quality. good price
By
Ornette F.

(Roslindale, MA) - May 5, 2012 (
See all reviews by this customer
)
I bought 5 of these for my groomsmen. They loved them. I am very satisfied. The quality is great and the price was perfect. I have no regrets. The personalization looks good too.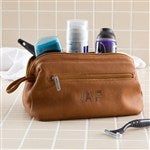 just right
By
Nerissa L.

(San Jose, CA) - April 15, 2012 (
See all reviews by this customer
)
My husband has been looking for a toiletry bag forever and when i saw this this i knew it was perfect. Great quality and great color. I think this bag might be x-mas presents for my brother and dad :-)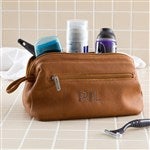 Homerun Again!
By
Kelley S.

(Jackson, TN) - April 15, 2012 (
See all reviews by this customer
)
This is the fifth leather toiletry bag I have bought as gifts for my sons and nephews. They have all been top quality and wonderful!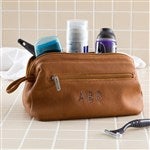 Satisfaction Guaranteed!!!
By
Glenn M.

(Montgomery, AL) - March 28, 2012 (
See all reviews by this customer
)
This item makes a great gift. It's made of quality leather, and the craftsmanship of the product and the intricate monogramming are outstanding.

In addition, PersonalizationMall.com fully stands behind its products. When the item first arrived, there was a small tear in the leather and a minor stitching defect. I was not 100% satisfied, and I let the company know. The company quickly addressed my concern and replaced the monogrammed item at no additional cost to me. I am now 150% happy and satisfied with this purchase.

Overall, it's a wonderful item and an even better value. This product has my highest recommendation.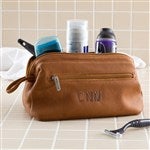 Success
By
Shopper

(Chicago, IL) - March 27, 2012
Great quality, better than I expected.

Leather travel kit
By
Carole S.

(E. Fallowfield, PA) - March 20, 2012 (
See all reviews by this customer
)
Excellent product. I have bought for all our grandsons for their
18th birthdays.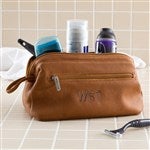 Leather Toiletry Bag for Travel
By
Cassi W.

(Las Vegas, NV) - March 18, 2012 (
See all reviews by this customer
)
Amazing quality and thanks for getting it ti me so quickly!!!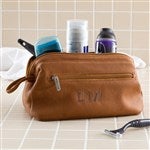 Excellent
By
Anna R.

(Magnolia, DE) - February 29, 2012 (
See all reviews by this customer
)
The Toilet bag was exactly as I expected. Thank you very much. Made a perfect gift for my husband.

Would definitely recommend it to anyone.

Thank you very much.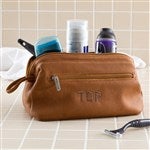 Great Gift for Dad's!
By
Shopper

(Millburn, NJ) - February 26, 2012
Perfect gift for your Dad. It arrived within a few days. It was nicer then I expected. The case top stays open when the zipper is opened. It holds a lot!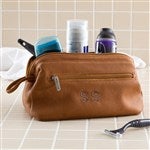 Quality bag that is also Functional
By
Shopper

(Tempe, AZ) - February 8, 2012
This was a gift for my boyfriend who travels for business 50% of the time. When the bag first came I was impressed by the quality of leather, but worried about staining. Also thought the bag looked smaller then in the picture and wasn't sure all the items would fit. All my worries were for nothing! It fit all of his shaving and hair times, vitamins, face wash, cologne, toothbrush+paste,qtips etc with no problem. Plus there hasn't been any staining with the water splashes from the sink. There is a wire frame in the zipper that keeps the bag open when unzipped so he can have a clear view of whats inside. Its functional, elegant & manly. Overall, glad I purchased it!!

No Greater Gift
By
Gwendolyn V. M.

(Washington, DC) - January 1, 2012 (
See all reviews by this customer
)
Could not have a chosen a better Christmas gift. Nothing extragavant just right.
Thank you so much.

Classy for Men
By
Shopper

(Downers Grove, IL) - December 26, 2011
These are great gifts for men....very good quality leather and holds a lot. The only thing I'll say wasn't worth it was the high price charged for the gift box...that was absurd. But the case itself is very, very nice.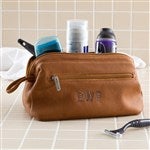 Travel Case
By
Shopper

(Wayne, PA) - December 24, 2011
This case is perfect! The right size, the right color and the initials are great. I would buy this again and highly recommend it.

Beautiful travel case.
By
Della N.

(Santa Rosa, CA) - December 18, 2011 (
See all reviews by this customer
)
I was delighted with the quality and monograming of the travel case. I'm sure my son will be pleased with his gift. I highly recommend this item.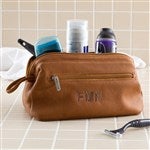 Excellent quality
By
Shopper

(North Charleston, SC) - December 17, 2011
I am more than happy with this product. The leather is top notch; size is perfect; and the whole item
is better than I expected.

Nice Leather Quality
By
Shopper

(Brigham City, UT) - December 15, 2011
I am very pleased with the quality and craftmanship of this product. It is a high quality that I am very excited about giving as a gift. It's a nice size - will be very addaquate for what my boyfriend usually packs for trips, and the personalization on it looks so nice. It's an item that I think I will order again for other men in my life that are so hard to buy for (Like my dad and son in law).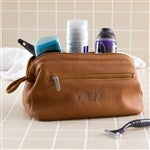 Travel Case
By
Michelle V.

(Elk Grove, CA) - December 15, 2011 (
See all reviews by this customer
)
Nice gift, well made, looks great!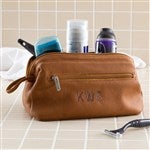 TRAVEL IN STYLE
By
Shopper

(POWDERLY, TX) - December 13, 2011
BOUGHT THIS FOR MY FRIEND WHO TRAVELS ALOT....I LOVE THE FEEL OF THE LEATHER AND THE LETTERS.....AWESOME!!!!!!!!!!!!!

great quality product
By
Brent J.

(Cordova, TN) - December 12, 2011 (
See all reviews by this customer
)
Beautiful, was very pleased with the quality. Fast delivery and the leather quality is excellent.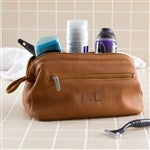 Holds Up Well
My husband knows how to use and abuse his travel bags, and this thing holds up!!! It gets filled to the brim, thrown around and has seen many business trips and vacations through... the zipper still works, the stitching stays strong and the leather only gets softer and better with time! Excellant product, highly recommend!

Excellent value
By
Doreen A.

(Canada) - November 13, 2011 (
See all reviews by this customer
)
We were looking for a travel bag for a gift and could not find anything that we liked or of the quality we were looking for.

When we finally found this travel case on line we ordered it immediately and was extremely pleased with the leather, the way it was made and the overall quality of the product.

Our Grandson will be delighted to receive this for Christmas with all his personal toiletries included inside.

Thanks again for a great product.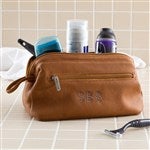 Beautiful travel bag
By
Lori C.

(Spokane, WA) - November 13, 2011 (
See all reviews by this customer
)
This is the second travel bag I've ordered and it is well worth the price - lovely leather, great personalization, I LOVE THIS SITE!!!

Perfect gift
By
Mary S.

(Malvern, PA) - October 21, 2011 (
See all reviews by this customer
)
I purchased this travel case for my husband and he liked it so much I got one for each of our sons. It is made of a top quality leather and the momograming adds that extra special touch. If you order this you will not be disappointed.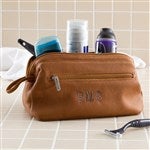 My son is a groomsmen
By
Silvia L.

(Canada) - October 13, 2011 (
See all reviews by this customer
)
This leather travel case is absolutely beautiful, there is a lots of room inside, very high quality and the personalization makes it even more special. I am very happy with my purchase and will definitely recommended to my friends!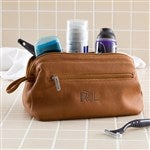 Personalized Travel Case
By
Mark K.

(Marlton, NJ) - October 7, 2011 (
See all reviews by this customer
)
My wife and I bought this as a gift for my brother on his 60th birthday. When someone receives a gift that is monogrammed, it seems to add more value then standard well intentioned gifts, i.e.., cards, money, gift certificates. He is thrilled with our gift and the quality of the case.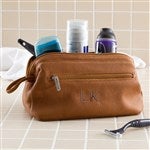 Perfect Gift
By
Shopper

(Centerville, GA) - September 24, 2011
When I previously ordered this travel case, it was only available in the cloth version (the leather was out of stock). I was very impressed with it and the personalization was perfect. My husband loves it and uses it constantly. I ordered the leather version for a Christmas gift and I know he'll love it, too.

Returning Customer
By
Shopper

(Jackson, TN) - September 6, 2011
This is my second travel case to purchase as a gift for special men in my life. The first was for a nephew that was graduating and this one was for my son's 16th birthday. I purchased many others prior to these from other sources but now only purchase from personalizationmall.com. The quality is excellent and I am very happy with my purchases.