Gorgeous
By
Shopper

(Lester Prairie, MN) - December 7, 2011
Needed a retirement gift for a very special friend. Decided on getting a frame with a special message written on it. Came across this frame and was hesitant on purchasing it but for the price I figured I could always buy something else if this didn't work out. I am SO GLAD I bought this. It's BEAUTIFUL!!!!!! The color of the wood makes it go with any decor. I love it for the fact that it's different from your typical gold, silver or wood frames. Very nice frame, you'll be very happy with it!!!!!!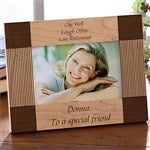 Perfect for Work!!
By
Shopper

(Bedford, MA) - December 5, 2011
I've been purchasing these frames for work for the past 2 years and they're just great. If you are looking for a nice gift that's affordable then I would definitely recommend this frame.

Personalize to individual events and create picture memories
By
Shopper

(Oklahoma City, OK) - November 16, 2011
I love being able to take a simple frame and personalize it any way you want. Adding a quote at the top can relate to why a particular picture is an important event. At the bottom you can give the persons name, date, your name etc. By creative.... it is a unique gift that is always appreciated because you took the time to design it yourself.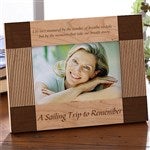 Beautifully done!
By
Shopper

(Elizabeth City, NC) - November 15, 2011
The picture frames arrived exactly as I had ordered and looked great! Very nice details. I am extremely pleased with my purchase.

Wood Photo Frame
By
Karen D.

(Omaha, NE) - September 26, 2011 (
See all reviews by this customer
)
I was very pleased with the wood photo frame. The wood is very pretty and the engraving is outstanding. Overall, the frame is very expensive looking and is very well made.

Very fast, looks great
By
Holly L.

(Woodbury, MN) - July 4, 2011 (
See all reviews by this customer
)
i have been very impressed with the personalized frame. They allowed me to put a large number of words and the wood, wood burnt lettering looks very nice (not at all chinsy as I was worried about.
My frame states: "what we have once enjoyed and deeply loved, we can never lose. For what we have loved deeply becomes apart of us" Helen Keller. Bottom: 'My beloved Gin'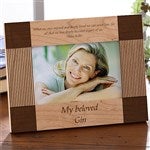 Perfect!
By
Kristen B.

(Groves, TX) - June 24, 2011 (
See all reviews by this customer
)
I ordered this frame for my husband from our kiddo's for Father's Day. Found a quote I liked and it fit perfect! Couldn't have looked any better! Another awesome purchase from Personalizationmall.com.

Perfect gift!
By
Roni H.

(Marietta, GA) - June 21, 2011 (
See all reviews by this customer
)
My in-laws can't wait to see what's inside the box when I order from this company! The gifts are always perfect. This frame was for Father's Day. He just returned from a trip to Israel, so he loved the frame.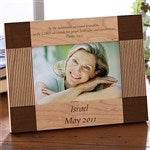 Awesome wedding gift
By
Shopper

(Shelton, CT) - June 12, 2011
I put a verse from our wedding song on the top with the last line of the song and our wedding date on the bottom. It came out so beautiful! I cannot wait to give it to my fiance for a wedding gift! LOVE IT!!!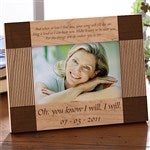 great gift... great price!
By
Shopper

(Morganville, NJ) - June 11, 2011
With this frame I was able to create my own words!! They gave you more than enough space to write whatever you wish!! It was a great gift and the price was amazing considering all that I wrote was free!! I looked around in personalization stores and online. No one can beat the quality of these wood frames or the price!!

Perfect Retirement Gift
By
Lois C.

(Placentia, CA) - June 3, 2011 (
See all reviews by this customer
)
This was the perfect gift for the girl who has everything! We added "A career spent taking care of hearts while taking care of business" and her name. She loved it. Thanks for the opportunity to provide such personal gifts at a reasonable cost.

We love it!
By
Shopper

(Colorado Springs, CO) - May 14, 2011
This frame turned out so perfect! We were able to add a quote meaningful to the occasion and add the individual's name to the lovely frame. It really looks great. Thank you for such fantastic service. So happy we found you.

great gift
By
Dianne J.

(Brentwood, NY) - August 6, 2012 (
See all reviews by this customer
)
it's really a great gift they just love it well done

beautiful and you can add lots of letters
By
Candace G.

(Cumming, GA) - June 7, 2011 (
See all reviews by this customer
)
I'd been looking for someway to engrave the Christopher Robin quote onto something for my daughter, who is on her way to college. I wanted to let her know that I think she's wonderful, and to remind her that we're always with her. I couldn't fit the saying on other items, but I managed on this, and it is beautiful! The price is right for such a wonderful keepsake. Here is the quote:"If ever there is tomorrow when we're not together.. there is something you must always remember. you are braver than you believe, stronger than you seem, and smarter than you think. but the most important thing is, even if we're apart.. i'll always be with you."