Met Expectations
By
Shopper

(Rocky Face, GA) - March 16, 2014
Purchased for law professors.

The mugs look just like what is on the site. The personalized labels have clear and crisp fonts with good colors. There are other sites that offer luxury items, but the price is much higher. This is a good product at a good price. Thanks!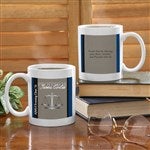 Beautiful
By
Shalene L.

(Spring Hill, FL) - December 30, 2013 (
See all reviews by this customer
)
This is the perfect gift for the graduating attorney. My boyfriend loved it. Adding a quote to the other side made it uniquely special. Something so small yet something they will use every day.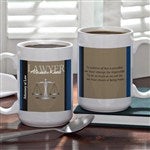 very happy
By
Paulette N.

(Reedley, CA) - October 20, 2013 (
See all reviews by this customer
)
I bought two of these as Boss's Day gifts. I was very happy with the quality of the items . I could tell the recipients were pleased as well!

Visually Appealing
By
Rebecca S.

(Ooltewah, TN) - August 27, 2013 (
See all reviews by this customer
)
I was very happy with the overall look of the product. The colors and the contract with the text was very readable.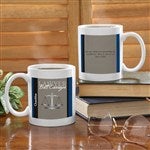 Thank you Personalization Mall
By
Regina O.

(Berlin, NJ) - August 11, 2013 (
See all reviews by this customer
)
I was really struggling for a grad gift for a family member when I found this site and Im so glad I did!! I found the perfect gift at a reasonable price, and it was personalized. It is truly one of a kind and she loved it!!! Oh and did I mention that I (of course) waited until the last minute to look for a gift and the shipping was so fast it made it here on time for the party!!! Officially love this site!!

loved it
By
Shopper

(dayton, NV) - June 26, 2013
the company I gave this to for a thank you really loved the coffee mug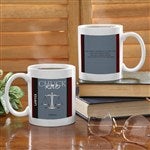 Perfect gift for a Legal Department
By
Shopper

(Burnet, TX) - June 8, 2013
I purchased these for each member of my legal department, with the Agency name on the side, the Legal Department at the bottom, and their name and title on the top. They were a gift to my employees as I left the Agency. I was impressed with the quality of the mugs and SUPER fast shipping. Everyone loved them. I even bought one for myself as a memory.

Great gift idea!
By
Christine R.

(Malta, NY) - May 5, 2013 (
See all reviews by this customer
)
I actually bought this as a gift for my son who recently opened a new law practice. He loved the item and definitely will have it sitting on his new desk!
I have always been pleased with the items I've ordered from PersonalizationMall.com. The items always look like I spent more than I did and I love the way you can actually put in your personalization and then see exactly what the item will look like when completed. Very happy with this purchase as I am with every purchase I've made with this company!

Commemorative item
By
Shopper

(Houston, TX) - April 13, 2013
Excellent quality. Ordered 37 mugs as a party gift!

Great place for buying gifts!
By
Shopper

(Gilbertsville, PA) - January 2, 2013
I was not only pleased with the low price but I was very impressed with the quality, as well as how quickly I received my order. I will definitely shop there again.

Great gift !
By
Shopper

(slidell, LA) - December 12, 2012
I bought this for my law student son. The colors are really nice and the mug looks classy.

Great Personalized Birthday Gift
By
Shopper

(Lincoln, CA) - April 20, 2012
I purchased this as a birthday gift for my boss (his team goes together each year for gifts). Being called "the honorable" has been an inside joke for several months. This was just perfect; he loved it!

http://www.personalizationmall.com/ProductReviewWrite.aspx?productid=12322&itemI
By
Shopper

(Plano, TX) - April 9, 2012
Shipping was super fast and my mugs look terrific!

Legal Ease Personalized Legal Quote Mug
By
Shopper

(Longmeadow, MA) - December 8, 2011
I have ordered two of these mugs within the last two months. After purchasing the first mug for a new attorney who really loved this personalized, unique, well made mug, I bought a second one as a gift for another law professional. What a great useable mug!

Great Gift
By
Lesa V.

(Faribault, MN) - December 7, 2011 (
See all reviews by this customer
)
Great product! Came just as I ordered and just as described.

Legal Ease Personalized Legal Quote Mug
By
Shopper

(Longmeadow, MA) - November 26, 2011
I bought this mug as a gift for a new lawyer and he loved it! It is well made and the personalization really made it uniquely his. It is a great practical gift that I'm sure he will enjoy his morning coffee in for years to come.

Great Way to Acknowledge the Hard Work of Others
By
Deborah C S.

(Fort Myers, FL) - November 26, 2011 (
See all reviews by this customer
)
These are beautiful gifts for Board members. Can't wait to give them out. They arrived so quickly, looking as beautiful as they appeared in the displayed photograph. Each one was PERFECT in the spellings and requested quotation. They are such a great way to personalize feelings for people in our lives that we really care about. Thank you so much!

Personalized mug
By
Laura H.

(Raleigh, NC) - October 18, 2011 (
See all reviews by this customer
)
The mug I received was very nice. It was a great gift and very professional looking. I would definitely order from this company again.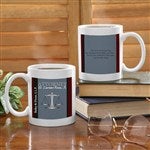 National Boss Day Gift
By
Shopper

(Welsh, LA) - October 18, 2011
I am very please with the mug. The colors are nice and the fonts are excellent. It was great that I could choose my own quote, although I wish they would allow one more line.

Katie's presents.
By
Shopper

(Mayfield, PA) - May 21, 2011
Yhe mug is great!! It came out beautiful!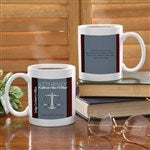 coffee mug personalization
By
Shopper

(Weaverville, CA) - January 13, 2013
Great cup, larger capacity than original thought. The only thing I wish was different was having more lettering available to put on the cup. I put my own words on the backside of the cup and did not have enough room for everything I wanted to say. There was plenty of area on the cup itself for more words, the company software for creating the personalization was the limiting factor. If you look at the pictures of completed cups, you can see that the software only allows words to be placed right in the middle of the cup, with more room on top and bottom......