great job
By
Shopper

(Indianapolis, IN) - February 13, 2013
I was nervous about ordering this at first but it was so nicely put together... Im sure my boyfriend is going to love this for valentines day! Im very satisfied with this product :)

Musician's gift to receive
By
Shopper

(Rimrock, AZ) - February 1, 2013
This is a wonderful gift for a person that is a guitar player (musician). Personalizing it made my partner not only happy but very touched. He wears it every day. Great gift!

One of my sides said: Music in my heart
Other side: my name and our anniversary date

Love the pick
By
Shopper

(Dayton, OH) - December 31, 2012
I was so pleased with the personalized silver guitar pick. It is excellent quality and the engraving was very nicely done. It made a wonderful gift for our church guitar/choral group director.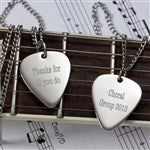 Perfect romantic little gift
By
Angie P.

(Holtsville, NY) - December 29, 2012 (
See all reviews by this customer
)
My boyfriend of 3 years absolutely loved this. It arrived 3 days early and was everything I could have hoped for. WIll DEFF USE THIS SITE EVERYTIME I NEED SOMETHING PERSONALIZED :)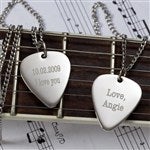 awsome
By
patricia T.

(clifton, NJ) - December 3, 2012 (
See all reviews by this customer
)
gave it to him for fathers day...hasnt taken it off yet...

gift for my guitar playing grandaughter's hs graduation
By
Shopper

(Channahon, IL) - July 13, 2012
Good service, but item is a bit pricey, also chain should be made available in different sizes.

Perfect!
By
Celeste A.

(Kent, WA) - July 11, 2012 (
See all reviews by this customer
)
This was the perfect gift for my husband. Music lovers and guitar players will love this gift!

Awesome
By
Amber P.

(Carrollton, KY) - July 9, 2012 (
See all reviews by this customer
)
I ordered this for my boyfriend for our 4th anniversary (which isn't for another month) but I found this and loved it and I had wanted to get him one for awhile anyway. Its much better looking in person then in the picture, the engraving is deep and you can read it very clearly. I will definitely be coming back to this site!!!!!!!!!!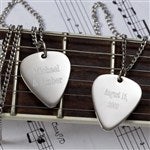 Awesome
By
Shopper

(Avenel, NJ) - June 22, 2012
OMG....just perfect. I was not expecting it to look as great as it did. I bought this just because I wanted to give my husband something for Father's Day from me, because he's just a great husband and dad. However,, this necklace was just awesome and made with a good metal. He even wears it everyday. Way To Go Personalization Mall!!!

Great Gift
By
Missy E.

(APO, AE) - May 20, 2012 (
See all reviews by this customer
)
Got his for my avid guitar player of a husband for our 2 year anniversary. He absolutely loved it. Couldn't have gotten a better gift.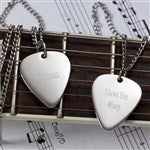 Very Cool!!
By
Shopper

(pawtucket, RI) - May 18, 2012
This is a very good idea and a great item. My husband thought it was the coolest!!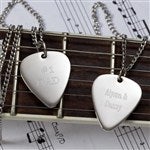 Really cool!
By
Shopper

(Lewisville, TX) - May 12, 2012
I ordered this for my dad as a wedding gift. He will love it!

AMAZING :)
By
Shopper

(Williamsburg, KY) - April 27, 2012
I really enjoyed this item. They did an amazing job with the engraving. They promptly shipped it to me and I have loved every second I have wore it. I think this necklace is a great momento or gift, I loved my purchase...and I hope that you will enjoy yours too!!! :)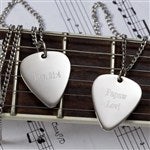 very pleased
By
Shopper

(E.Atlantic Beach, NY) - April 16, 2012
This item was a lil pricey but totaly worth it

Better than expected
By
Shopper

(Round Rock, TX) - April 9, 2012
I bought this as a novelty for my husband, but he is actually wearing and loving it!

Beautiful
By
Shopper

(Needham, MA) - February 11, 2012
I got exactly what I wanted, its beautiful and shiny and I know it will be perfect

The perfect Gift!!
By
Jane S.

(Orlando, FL) - January 12, 2012 (
See all reviews by this customer
)
I purchased this item for my guitar-playin boyfriend for Christmas. The pendant is absolutely beautiful and the engraving was done very nicely!! He loved it! :)

Fantastic!
By
Meagan E.

(Canada) - January 1, 2012 (
See all reviews by this customer
)
Omg! I ordered this for my boyfriend who plays guitar and he totally loved it. The chain was kind of manly so it didn't look at all feminine. But all I wish it had was a way to undo it like a latch instead of a full chain and having to put it over the head. Because it would suck if his head would of been too big. But the quality was great and I am very satisfied!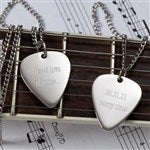 Amazing
By
Tina C.

(Coeur d Alene, ID) - December 16, 2011 (
See all reviews by this customer
)
This product came in earlier than expected and was exactly what I had ordered. Very happy with the product.

Loved it!! :)
By
Gina H.

(Falkville, AL) - December 15, 2011 (
See all reviews by this customer
)
Got this as a Christmas gift for my boyfriend, and he LOVES it!! :)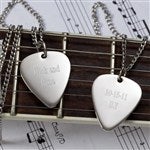 Mrs. Parks
By
Shopper

(Waldorf, MD) - December 14, 2011
Very nice! Excellent price. Wonderful engraving.

Excellent!!
By
Alexis D.

(Williamstown, VT) - December 9, 2011 (
See all reviews by this customer
)
I ordered this for my cousin who is learning to play guitar and it is simply lovely! Between the craftsmanship and the packaging, it's more beautiful than I could have hoped ~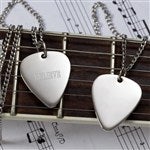 Product features
By
Julie L.

(Newton, MA) - December 8, 2011 (
See all reviews by this customer
)
My kids wanted this for dad. He is a guitar player and collects picks from concerts that we attend. We thought this would be a nice collectors item to wear and remember that his kids gave it to him. The personalization is perfect and the product is very good quality! Can't wait for him to open it on Christmas morning!

great
By
susan T.

(hazlet, NJ) - December 7, 2011 (
See all reviews by this customer
)
I loved this gift for my Granddaughter, she hasn't received it yet but I know she'll love it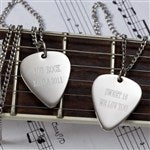 AMAZING
By
Shopper

(DeLand, FL) - November 2, 2011
Loved it!!! Loved it!!! Loved it!!! Not only was it exactly like the sample picture but I wasn't expecting the little box it came in, it was absolutely perfect :)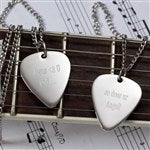 My 21 yr old loved it
By
Luana P.

(Menifee, CA) - October 25, 2011 (
See all reviews by this customer
)
I was unsure what to get my oldest son, who was turning 21 this year. I saw this guitar pick on a chain and it just called to me. Had it engraved with a personal message and as soon as he got it he put it on. Great gift idea for the guitar player.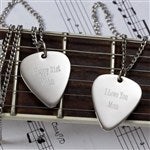 Amazing Piece
By
Lourdes M.

(Boca Raton, FL) - September 30, 2011 (
See all reviews by this customer
)
First, it amazed me the fact that i received it in less than a week.
Second, that is so cute, shiny exactly as the preview I created on the site.
This is for my Boyfriend, we are going to be 3 years now and he loves to play the guitar. His guitar is like the way he takes his stress of when he comes from work. I know that every time he sees it or play with it he will remember that I am there for him no matter what. Thanks Personalization Mall, now I know where to go for special and personal gifts.

Awesome Gift
By
Isabel S.

(Riverbank, CA) - September 25, 2011 (
See all reviews by this customer
)
I bought this as a wedding anniversary gift for my husband and he loves it so much! It was a great price and it looks really good.

Beautiful!
By
Shopper

(Honeoye Falls, NY) - September 14, 2011
Purchased these for me and my boyfriend's Anniversary. They are great! I love them! They are sturdy, the chain is strong and the clasp is strong as well. Also, it's a great deal considering the 24" chain is included! Will keep this website in mind for future personalization items :)

Great Quality
By
Shopper

(Brighton, CO) - August 27, 2011
The necklace came in a timely manner, and looked exactly like it showed in the pictures. It was a gift for my niece, and she knew right away that it was a guitar pick!

Get it!
By
Shopper

(Dallas, PA) - August 20, 2011
So worth the money for shipping and the gift. This is beautiful and the website is amazing, i would defiantly buy from here again, my boyfriend is going to love this!

I love it!!
By
Shopper

(Los Banos, CA) - August 6, 2011
I bought this necklace for my boyfriend for our anniversary and I love it. It's beautiful and better than i thought it was gonna be. Small chip in the corner of the pick but hardly noticable. I'm very happy with it. I haven't given it to him yet but I know he'll love it! Thanks :)

:)
By
Shopper

(Soperton, GA) - July 22, 2011
I got this for my boyfriend who loves laying the guitar and our anniversary was coming up... Its great:)

Beautiful
By
Joani J.

(concord, MA) - July 9, 2011 (
See all reviews by this customer
)
Ibought 2 of these (for my bf and his daughter), they love them! They never take them off and cried when I gave them to them. The perfect gift for my loved ones. Thank u so much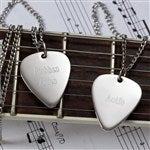 Geat item
By
Shopper

(Woodbridge, VA) - July 5, 2011
Great item. Has good weight to it. Very nice. And really fast shipping ordered it on Tuesday and received it on Thursday. Would order from here again.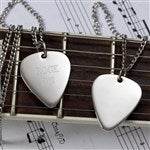 It's perfect!
By
Christine S.

(Spring, TX) - June 28, 2011 (
See all reviews by this customer
)
I had trouble finding a good guitar pick necklace for my boyfriend. He loves playing guitar and has tons of guitars at his house, so I thought why not buying this for him? I customized it and had to pay the one-day shipping because I'm short on time since my monthsary is in two days. The shipping was sooo fast and it was worth my money. The pendant is drop dead gorgeous. It has great quality and looks very promising. I love it. I love EVERYTHING about. Thank you so much, PersonalizationMall. I will order from you guys again. Very pleased. (:

Great gift for Dads
By
Shopper

(Ballwin, MO) - June 22, 2011
Got my husband this necklace for Father's day and he loves it. I put our daughter's name and date of birth on it. There are so many great personalized jewelry gifts for moms but this is the first I had seen for dads. Plus, he loves the guitar so it was really sentimental. He wears it every day.

sweet 16 necklace
By
Shopper

(Napa, CA) - September 17, 2013
I was really impressed how fast the necklace came in the mail. I just did not like the chain. I will buy a different one

For the Musician in the Family
By
Heather S.

(Lufkin, TX) - June 24, 2013 (
See all reviews by this customer
)
This was a Father's Day gift for my Dad. He is the praise leader at our church and it's an activity that means the world to him. So to celebrate that fact I got this engraved with the praise teams name. It looks great on him and he's worn it every Sunday so far. 4 stars were given because it does get smudges and fingerprints on it quite easily. Other than that though I love it!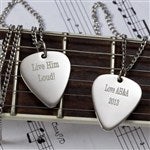 Great customer service
By
Elizabeth S.

(Herkimer, NY) - August 13, 2012 (
See all reviews by this customer
)
Before buying this product I read many reviews which were all positive. I was very confident that I was purchasing a quality product. My husband is a musician and love the guitar pick! Unfortunately that day while wearing it around the house the necklace just fell apart. The chain broke at the clasp. I contacted customer right away disappointed and concerned that I would have a difficult time fixing the issue. To my surprise they were very quick to respond. I sent them a photo of my broken item and withing a few days I had a full replacement. I think this is a great quality item and I was extremely pleased with the customer service I received.