Great gift for Dads
By
Shopper

(Ballwin, MO) - June 22, 2011
Got my husband this necklace for Father's day and he loves it. I put our daughter's name and date of birth on it. There are so many great personalized jewelry gifts for moms but this is the first I had seen for dads. Plus, he loves the guitar so it was really sentimental. He wears it every day.

sweet 16 necklace
By
Shopper

(Napa, CA) - September 17, 2013
I was really impressed how fast the necklace came in the mail. I just did not like the chain. I will buy a different one

For the Musician in the Family
By
Heather S.

(Lufkin, TX) - June 24, 2013 (
See all reviews by this customer
)
This was a Father's Day gift for my Dad. He is the praise leader at our church and it's an activity that means the world to him. So to celebrate that fact I got this engraved with the praise teams name. It looks great on him and he's worn it every Sunday so far. 4 stars were given because it does get smudges and fingerprints on it quite easily. Other than that though I love it!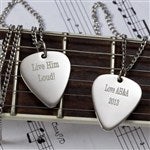 Great customer service
By
Elizabeth S.

(Herkimer, NY) - August 13, 2012 (
See all reviews by this customer
)
Before buying this product I read many reviews which were all positive. I was very confident that I was purchasing a quality product. My husband is a musician and love the guitar pick! Unfortunately that day while wearing it around the house the necklace just fell apart. The chain broke at the clasp. I contacted customer right away disappointed and concerned that I would have a difficult time fixing the issue. To my surprise they were very quick to respond. I sent them a photo of my broken item and withing a few days I had a full replacement. I think this is a great quality item and I was extremely pleased with the customer service I received.

Awesome gift!
By
Trisha C.

(Canada) - August 9, 2012 (
See all reviews by this customer
)
I was very impressed when I received this as a gift for my husband...however the guitar pick did pit and become tarnished. The customer service line were very helpful and sent me a brand new one...so far it looks to be ok..but time will tell I guess :)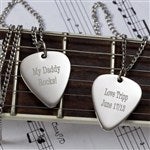 Nice
By
Shopper

(Hardinsburg, KY) - February 20, 2012
Very nice pendant looked awesome! Only complaint is the chain did not have a clasp and would not fit over my boyfriend's head.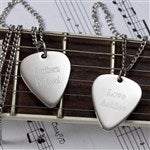 Give or take
By
Alexandria M.

(South Milwaukee, WI) - January 22, 2012 (
See all reviews by this customer
)
The picture made this look awesome! But the pick was a little thinner than I was anticipating and the chain a little thinner as well. The engraving isn't quite like the picture generated, but it works all the same. This was just a nice alternative to a dog tag, but I wish I shopped around a bit more. I plan on giving this to my boyfriend for Valentine's day, hope he likes it!!!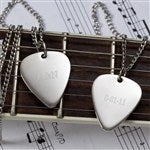 Slow delivery but good product
By
Shopper

(Fort Lee, VA) - January 16, 2012
The product is exactly what I delivered but it arrived about a week after the estimation.

Great gift, bad quality
By
Shopper

(Milford, DE) - November 11, 2012
My boyfriend absolutely loved this gift but it began to wear a lot and now has discolor. Great for guitar lovers but not something that last long for the price.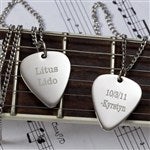 Pretty, but gets smudged easily.
By
Marissa S.

(Holland, MI) - February 20, 2012 (
See all reviews by this customer
)
The price is too high, but the pendent is pretty. However, it smudges easily and I think it got scratched as well. The engraving was done well, but it looks different from the picture. The chain isn't what I expected either. The shipping was very fast. I received it in two days. Overall, the quality could be better. The chain could be different and have a clasp. But the shipping was great.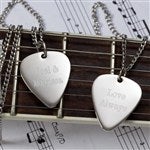 Not centered
By
Kristeen G.

(Wilmington, DE) - December 18, 2011 (
See all reviews by this customer
)
This is a gift that I bought for my significant other. It was great, loved the saying and he really enjoyed it. Maybe its me being very picky, but the engraving was noticeably not centered on one side. Bothered me, he didn't seem to care, not like its meant to be seen by everyone. It's something that I expect him to wear under his shirts. Would have been 5 stars if it was in the center.

Guitar necklace
By
Beatrice G.

(bloomington, IN) - November 25, 2011 (
See all reviews by this customer
)
Not happy with the quality vs the price was not worth it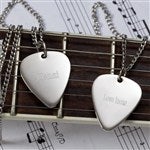 Matt afer a month
By
Shopper

(Canada) - December 27, 2011
Pretty good idea for a personnized jewellery.. but it has lost all its luster after a month. It is now completely matt. I would have like to pay more for a better metal quality.

Great at first, but tarnished VERY quickly!
By
Shopper

(New Braunfels, TX) - March 22, 2013
I ordered this for my husband for Christmas, and he loved it! I had seen some reviews where the shoppers stated that this tarnished quickly, but I'd secretly hoped they were wrong. I got it in December, and now, here we are in March, and the pick is so tarnished, my husband doesn't want to wear it! (I do not blame him...I'd be embarrassed, too)

Yes, it shipped quickly, and at first it looked well worth the money, but I realized that it was pretty much a waste of $50. Way too pricey for something that claims to have an anti-tarnish brass, but obviously doesn't. I'm very disappointed.

I'm glad I waited a few months before I reviewed it, and I got to see, truly, what I paid for.

Tarnished Guitar Pick
By
Christopher J.

(Media, PA) - September 10, 2012 (
See all reviews by this customer
)
I received this pick as a Christmas present this past December. I wear it almost all the time. (I take it off at night for bed) On the side of the necklace that touches my chest, part of the necklace has turned a copper/almost rust color. I asked for this necklace with the intention that the "anti-tarnish" finish would not allow this to occur. I LOVE the necklace, but was extremely disappointed by the tarnishing that happened. I have tried multiple jewelry cleaners, but with no success. I am an avid fan of PersonalizationMall.com, and a long-time customer. I will continue to purchase items from here, but with a little more discretion and caution.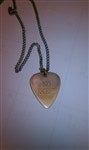 Tarnished--disappointed buyer!
By
Shopper

(Mountain Center, CA) - March 26, 2012
NOTE: It's better to wait AT LEAST a month or two before you write a review! As for me, it's been about 9 months, and it just came to me while browsing products.

Of course when my boyfriend received it, he absolutely loved it. I was so glad that he enjoyed the gift. Then, after 2 weeks, (I kid you not), the whole thing was tarnished. I'm not sure if I was embarrassed or upset. Unfortunately, I didn't have time to make a complaint!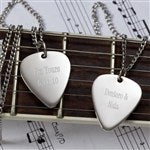 Disappointed
By
Janet L.

(Topeka, KS) - February 11, 2012 (
See all reviews by this customer
)
I ordered this for a 2 year anniversary with my boyfriend and after wearing it for a week, one side is wearing off. The site said that it was all stainless steel but obviously it's not! And he is allergic to most medals, the chain is fine but the pick itself is all sorts of messed up. I am very disappointed with this product. The picture shows it flawless, the side that says Happy 2 Years! is wearing down cheaply.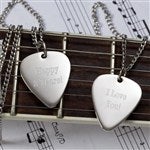 Don't be fooled by the picture.
By
Shopper

(Boiling Springs, SC) - February 9, 2012
Fast shipping, come in very nice case.

However it look nothing like the picture. Have you ever seen fastfood commercial? Where burgers and everything look fresh and delicious but in reality it's nothing like that? This is how I feel about this pendant. Even the font isn't the same font as the photo. I would not complain if this was 10-15 dollars, but 50 for something that maybe look little bit better than dog tag is extremely disappointing.

"hand-polished to a mirror-like finish. The pendant is patterned after an actual guitar pick (aka completely flat, no depth like one you see in the picture)" The description is perfect, just don't be fool by the picture like I did.