Loved it!! :)
By
Gina H.

(Falkville, AL) - December 15, 2011 (
See all reviews by this customer
)
Got this as a Christmas gift for my boyfriend, and he LOVES it!! :)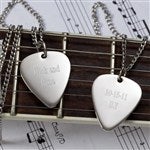 Excellent!!
By
Alexis D.

(Williamstown, VT) - December 9, 2011 (
See all reviews by this customer
)
I ordered this for my cousin who is learning to play guitar and it is simply lovely! Between the craftsmanship and the packaging, it's more beautiful than I could have hoped ~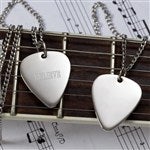 great
By
susan T.

(hazlet, NJ) - December 7, 2011 (
See all reviews by this customer
)
I loved this gift for my Granddaughter, she hasn't received it yet but I know she'll love it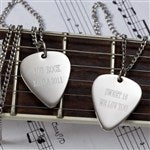 Guitar necklace
By
Beatrice G.

(bloomington, IN) - November 25, 2011 (
See all reviews by this customer
)
Not happy with the quality vs the price was not worth it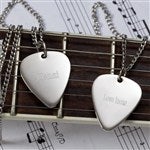 AMAZING
By
Shopper

(DeLand, FL) - November 2, 2011
Loved it!!! Loved it!!! Loved it!!! Not only was it exactly like the sample picture but I wasn't expecting the little box it came in, it was absolutely perfect :)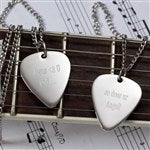 My 21 yr old loved it
By
Luana P.

(Menifee, CA) - October 25, 2011 (
See all reviews by this customer
)
I was unsure what to get my oldest son, who was turning 21 this year. I saw this guitar pick on a chain and it just called to me. Had it engraved with a personal message and as soon as he got it he put it on. Great gift idea for the guitar player.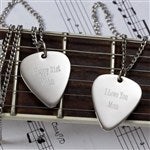 Beautiful
By
Joani J.

(concord, MA) - July 9, 2011 (
See all reviews by this customer
)
Ibought 2 of these (for my bf and his daughter), they love them! They never take them off and cried when I gave them to them. The perfect gift for my loved ones. Thank u so much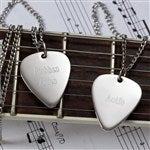 Geat item
By
Shopper

(Woodbridge, VA) - July 5, 2011
Great item. Has good weight to it. Very nice. And really fast shipping ordered it on Tuesday and received it on Thursday. Would order from here again.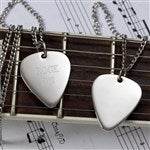 blown away
By
Mia E.

(Greensboro, NC) - August 10, 2014 (
See all reviews by this customer
)
when i opened the white box i felt as if someone just got me the best gift in the world, it was that good!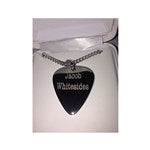 So Touched
By
Debra B.

(Algonquin, IL) - June 26, 2014 (
See all reviews by this customer
)
I purchased this for my Bother in Law. He played "If Not for You" at his daughters destination wedding in Punta Cana. He was so touched. He mentioned something about the guitar pick every day of our 7 day stay. He thought it was a very thoughtful gift! Thanks personalization for having a great quality product and FAST delivery!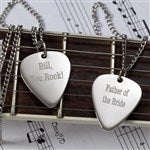 perfect christmas gift
By
Shopper

(Mount Morris, MI) - December 28, 2013
The necklace is beautiful! It arrived quickly and was ready to give on Christmas Day.
Thanks for the terrific gift!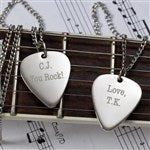 A beautiful and unique gift!
By
Amber R.

(Hazlehurst , GA) - December 11, 2013 (
See all reviews by this customer
)
I ordered two of these, one for my mother and one for my aunt, as a Christmas/memorial in honor of my Uncle who recently passed away. He was an amazing guitarist so I was thrilled to find such a unique gift to honor his talent and memory. I ordered them on Saturday and they were delivered the next Wednesday...I was surprised at the fast turn around especially for a gift that is personalized! They came in their own individual jewelry boxes, which was of a very good quality as well.The eengraving is perfect and the pick and chain have a nice weight and thickness that makes it look and feel way more expensive than it was. I am very happy and am looking forward to buying another unique personalized gift from this company.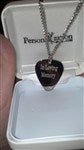 just right
By
Wendy J.

(Houma, LA) - December 1, 2013 (
See all reviews by this customer
)
Beautiful necklace. My girl loves it.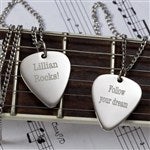 Perfect Daddy's Gift!!!
By
Haley A.

(Belle, WV) - November 20, 2013 (
See all reviews by this customer
)
My husband asked for a gift with the girls' initials on it. He plays guitar and I thought he might like this one. When I got in the mail I was super excited to show everyone because it is PERFECT! He is going to LOVE it!!!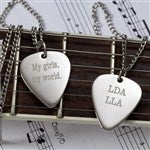 Awesome gift
By
Teresa C.

(Bedford, TX) - October 26, 2013 (
See all reviews by this customer
)
Thank you so much for the awesome guitar pick. Its gonna be a great Christmas present for the boyfriend who has everything.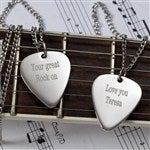 Beautiful!!
By
Crystal P.

(Martinsvile, VA) - July 23, 2013 (
See all reviews by this customer
)
I ordered this necklace as an anniversary gift for my husband, who plays guitar. When it arrived, , I opened it immediately to inspect it, and was very pleased at what I saw. It is a beautiful necklace!! I am glad I went with this choice and company. Our anniversary is next week, and I have been tempted to give it to him early, because it is too nice to be kept in a box. I am sure he is going to enjoy wearing it!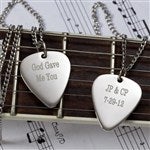 For the Musician in the Family
By
Heather S.

(Lufkin, TX) - June 24, 2013 (
See all reviews by this customer
)
This was a Father's Day gift for my Dad. He is the praise leader at our church and it's an activity that means the world to him. So to celebrate that fact I got this engraved with the praise teams name. It looks great on him and he's worn it every Sunday so far. 4 stars were given because it does get smudges and fingerprints on it quite easily. Other than that though I love it!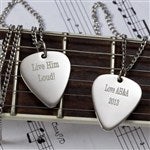 Great, beautiful product!!
By
Shopper

(Manchester, NH) - June 10, 2013
I ordere this necklace for my husband for Father's Day. It came out more beautiful than I ever thought it would. It's absolutely perfect :) it's so shiny and wonderfully done. I highly recommend it!!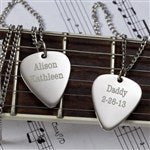 Love the pick
By
Shopper

(Dayton, OH) - December 31, 2012
I was so pleased with the personalized silver guitar pick. It is excellent quality and the engraving was very nicely done. It made a wonderful gift for our church guitar/choral group director.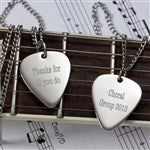 Perfect romantic little gift
By
Angie P.

(Holtsville, NY) - December 29, 2012 (
See all reviews by this customer
)
My boyfriend of 3 years absolutely loved this. It arrived 3 days early and was everything I could have hoped for. WIll DEFF USE THIS SITE EVERYTIME I NEED SOMETHING PERSONALIZED :)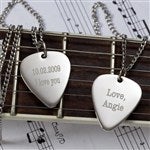 Great gift, bad quality
By
Shopper

(Milford, DE) - November 11, 2012
My boyfriend absolutely loved this gift but it began to wear a lot and now has discolor. Great for guitar lovers but not something that last long for the price.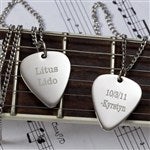 Tarnished Guitar Pick
By
Christopher J.

(Media, PA) - September 10, 2012 (
See all reviews by this customer
)
I received this pick as a Christmas present this past December. I wear it almost all the time. (I take it off at night for bed) On the side of the necklace that touches my chest, part of the necklace has turned a copper/almost rust color. I asked for this necklace with the intention that the "anti-tarnish" finish would not allow this to occur. I LOVE the necklace, but was extremely disappointed by the tarnishing that happened. I have tried multiple jewelry cleaners, but with no success. I am an avid fan of PersonalizationMall.com, and a long-time customer. I will continue to purchase items from here, but with a little more discretion and caution.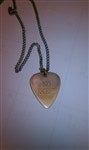 Awesome gift!
By
Trisha C.

(Canada) - August 9, 2012 (
See all reviews by this customer
)
I was very impressed when I received this as a gift for my husband...however the guitar pick did pit and become tarnished. The customer service line were very helpful and sent me a brand new one...so far it looks to be ok..but time will tell I guess :)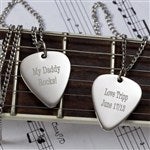 Awesome
By
Amber P.

(Carrollton, KY) - July 9, 2012 (
See all reviews by this customer
)
I ordered this for my boyfriend for our 4th anniversary (which isn't for another month) but I found this and loved it and I had wanted to get him one for awhile anyway. Its much better looking in person then in the picture, the engraving is deep and you can read it very clearly. I will definitely be coming back to this site!!!!!!!!!!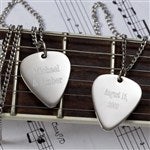 Great Gift
By
Missy E.

(APO, AE) - May 20, 2012 (
See all reviews by this customer
)
Got his for my avid guitar player of a husband for our 2 year anniversary. He absolutely loved it. Couldn't have gotten a better gift.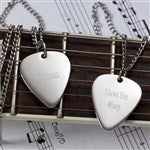 Very Cool!!
By
Shopper

(pawtucket, RI) - May 18, 2012
This is a very good idea and a great item. My husband thought it was the coolest!!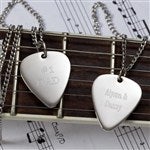 AMAZING :)
By
Shopper

(Williamsburg, KY) - April 27, 2012
I really enjoyed this item. They did an amazing job with the engraving. They promptly shipped it to me and I have loved every second I have wore it. I think this necklace is a great momento or gift, I loved my purchase...and I hope that you will enjoy yours too!!! :)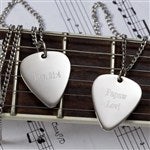 Tarnished--disappointed buyer!
By
Shopper

(Mountain Center, CA) - March 26, 2012
NOTE: It's better to wait AT LEAST a month or two before you write a review! As for me, it's been about 9 months, and it just came to me while browsing products.

Of course when my boyfriend received it, he absolutely loved it. I was so glad that he enjoyed the gift. Then, after 2 weeks, (I kid you not), the whole thing was tarnished. I'm not sure if I was embarrassed or upset. Unfortunately, I didn't have time to make a complaint!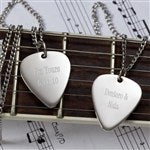 Nice
By
Shopper

(Hardinsburg, KY) - February 20, 2012
Very nice pendant looked awesome! Only complaint is the chain did not have a clasp and would not fit over my boyfriend's head.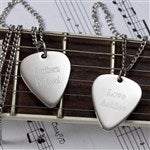 Pretty, but gets smudged easily.
By
Marissa S.

(Holland, MI) - February 20, 2012 (
See all reviews by this customer
)
The price is too high, but the pendent is pretty. However, it smudges easily and I think it got scratched as well. The engraving was done well, but it looks different from the picture. The chain isn't what I expected either. The shipping was very fast. I received it in two days. Overall, the quality could be better. The chain could be different and have a clasp. But the shipping was great.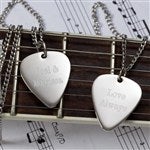 Disappointed
By
Janet L.

(Topeka, KS) - February 11, 2012 (
See all reviews by this customer
)
I ordered this for a 2 year anniversary with my boyfriend and after wearing it for a week, one side is wearing off. The site said that it was all stainless steel but obviously it's not! And he is allergic to most medals, the chain is fine but the pick itself is all sorts of messed up. I am very disappointed with this product. The picture shows it flawless, the side that says Happy 2 Years! is wearing down cheaply.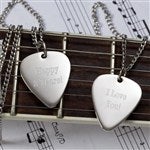 Give or take
By
Alexandria M.

(South Milwaukee, WI) - January 22, 2012 (
See all reviews by this customer
)
The picture made this look awesome! But the pick was a little thinner than I was anticipating and the chain a little thinner as well. The engraving isn't quite like the picture generated, but it works all the same. This was just a nice alternative to a dog tag, but I wish I shopped around a bit more. I plan on giving this to my boyfriend for Valentine's day, hope he likes it!!!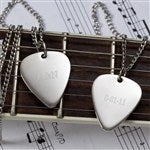 Fantastic!
By
Meagan E.

(Canada) - January 1, 2012 (
See all reviews by this customer
)
Omg! I ordered this for my boyfriend who plays guitar and he totally loved it. The chain was kind of manly so it didn't look at all feminine. But all I wish it had was a way to undo it like a latch instead of a full chain and having to put it over the head. Because it would suck if his head would of been too big. But the quality was great and I am very satisfied!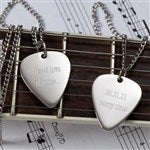 Great gift for Dads
By
Shopper

(Ballwin, MO) - June 22, 2011
Got my husband this necklace for Father's day and he loves it. I put our daughter's name and date of birth on it. There are so many great personalized jewelry gifts for moms but this is the first I had seen for dads. Plus, he loves the guitar so it was really sentimental. He wears it every day.

sweet 16 necklace
By
Shopper

(Napa, CA) - September 17, 2013
I was really impressed how fast the necklace came in the mail. I just did not like the chain. I will buy a different one

It's perfect!
By
Christine S.

(Spring, TX) - June 28, 2011 (
See all reviews by this customer
)
I had trouble finding a good guitar pick necklace for my boyfriend. He loves playing guitar and has tons of guitars at his house, so I thought why not buying this for him? I customized it and had to pay the one-day shipping because I'm short on time since my monthsary is in two days. The shipping was sooo fast and it was worth my money. The pendant is drop dead gorgeous. It has great quality and looks very promising. I love it. I love EVERYTHING about. Thank you so much, PersonalizationMall. I will order from you guys again. Very pleased. (:

:)
By
Shopper

(Soperton, GA) - July 22, 2011
I got this for my boyfriend who loves laying the guitar and our anniversary was coming up... Its great:)

Awesome
By
Nicki L.

(Hampton, VA) - November 18, 2013 (
See all reviews by this customer
)
Very impressed with the timeliness of everything. I will recommend this site to everyone I know

Silver Guitar Pick
By
marivel I.

(N las Vegas, NV) - July 12, 2014 (
See all reviews by this customer
)
Got this as a gift for someone I adore and he loved it thank you for having such awesome gifts for things that mean so much.

Don't be fooled by the picture.
By
Shopper

(Boiling Springs, SC) - February 9, 2012
Fast shipping, come in very nice case.

However it look nothing like the picture. Have you ever seen fastfood commercial? Where burgers and everything look fresh and delicious but in reality it's nothing like that? This is how I feel about this pendant. Even the font isn't the same font as the photo. I would not complain if this was 10-15 dollars, but 50 for something that maybe look little bit better than dog tag is extremely disappointing.

"hand-polished to a mirror-like finish. The pendant is patterned after an actual guitar pick (aka completely flat, no depth like one you see in the picture)" The description is perfect, just don't be fool by the picture like I did.