Great Gift
By
Patricia S.

(Willoughby Hills,, OH) - June 15, 2013 (
See all reviews by this customer
)
These coloring books were a perfect give for my 4 yr. old twin grandchildren when there little sister was born.

The loved them and they came with crayola crayons.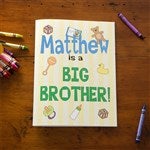 SO Cute!
By
Michelle B.

(Davie, FL) - June 3, 2013 (
See all reviews by this customer
)
Best present! I keep sending these coloring book to any friend who has a second child and everyone tells me how amazing it is for the older sibling :)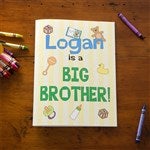 Cute for 6 year old
By
JEANELLE J.

(KATY, TX) - May 29, 2013 (
See all reviews by this customer
)
It is hard at times to find something a six year old child can love and have fun with when they become a new "big sister". I think my niece will love the fact that her name and her new sister's name is in the coloring book. There are funny parts in the book as well.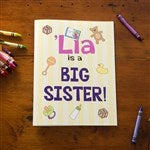 Coloring book
By
Stephan S.

(stamford, CT) - May 11, 2013 (
See all reviews by this customer
)
What a perfect gift! Really cute pictures to color as well as mazes to tackle. It also tells a cute story by keeping the names of the older sibling and newborn throughout the book!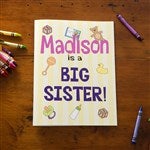 :)
By
Shopper

(Prairie du Rocher, IL) - May 8, 2013
Absolutely adorable! I would purchase another one of these for sure!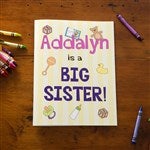 Great Gift
By
Monica L.

(Lockport, LA) - March 15, 2013 (
See all reviews by this customer
)
Item was just as described, makes a very nice gift for a big brother or sister and helps to include them in the arrival of the new baby. Gave this 4 stars only because I found it was kind of exensive for a coloring book especially with shipping. All in all very pleased with product and know Nathan will enjoy it.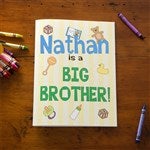 Awesome!
By
Shopper

(arleta, CA) - February 15, 2013
My cousin's son was so happy to see this book for himself at his future sister's baby shower! It was much loved and very creative! Plus it came with crayons!!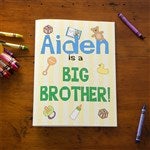 Super Cute!
By
Shopper

(Marietta, GA) - November 20, 2012
I ordered this for my 2 year old son as a gift when my daughter arrived. He loved it! Good gift for a good price! Was shipped very fast!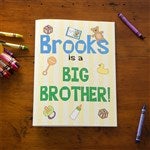 Super great gift
By
Shopper

(Denver, CO) - November 2, 2012
I wanted something unique to give my God Daughter when her little sister was born. She absolutely loved this. She's a smart little girl, so any ole gift would have been ignored quickly. But she was as happy as a clam and it gave her parents a wonderful way to help her to understand the arrival of her baby sister.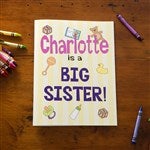 Great personnalized Big Brother book!
By
Chantal S.

(San Diego, CA) - September 22, 2012 (
See all reviews by this customer
)
I was impressed with the quality of this coloring book. It was expensive, especially when you add the shipping fees, but it has many interesting pages, each personnalized with either the Big Brother's name or the little brother's name. In fact, it is so well done that I hesitate giving it to the big brother who only scribbles and I fear will destroy the look! I may give it to him and not "encourage" him to color it!!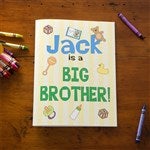 Love it!
By
Maria N.

(Union, NJ) - September 18, 2012 (
See all reviews by this customer
)
Everything I've purchased from PersonalizationMall.com has been of the greatest quality and this is no exception. The parents loved it as much (if not more) than the big sister.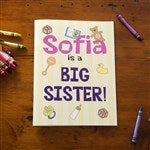 Adorable Add On
By
Jessica G.

(Yonkers, NY) - August 27, 2012 (
See all reviews by this customer
)
These are an adorable add on to a new baby gift. I only wish that there was an option for twin babies coming home since that is more and more frequent.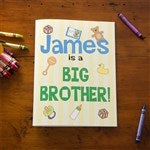 Loved This!!
By
Lauren H.

(Tuscaloosa, AL) - August 8, 2012 (
See all reviews by this customer
)
Loved this coloring book. We got it for my older daughter as a gift for when we go have the baby. Told a cute little story for the big sister and had the crayons already with it. Big Sister will get it in just a few more weeks but I know she will love it because it includes the older sibling in it and how she helps the parents welcome the new baby, that is what she is all about right now.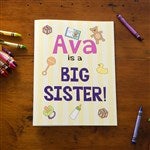 Great Gift
By
margo C.

(orland park, IL) - August 5, 2012 (
See all reviews by this customer
)
This was so adorable. The little girl I had this made for is expecting a little brother and it was such a cute and unique gift. I would totally get it again.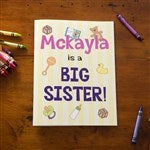 What a hit!
By
Shopper

(Willowbrook, IL) - August 2, 2012
Our 20 month old granddaughter has enjoyed this book so much more than I expected. She seems to identify very strongly with the story line which we read several times a day. Although she can't really color, she has colored every page with great enthusiasm! It also seems to have helped her understand her new role in her family structure. It has been a big hit!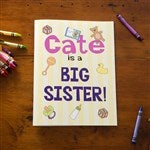 so cute
By
Jaclyn B.

(Malverne, NY) - August 1, 2012 (
See all reviews by this customer
)
this is the perfect edition to a shower gift (or something similar) for the mom-to-be to share with her first born/big sibling. The pages of the book are great quality, comes with crayola crayons, and really looks polished. Would definitely order this again and again.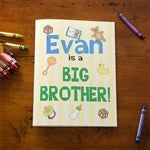 So Cute
By
Joy C.

(Palmetto, FL) - August 1, 2012 (
See all reviews by this customer
)
very cute big hit for the big sister at the baby shower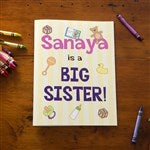 Adorable book!
By
Shopper

(Clarksburg, MD) - June 18, 2012
Perfect for toddlers and preschoolers. Bought this for my niece who just turned 3. Perfect coloring book and at the same time showing that she is a big sister now. And it comes with a box of crayons too.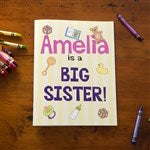 fantastic gift idea
By
Lisa B.

(East Stroudsburg, PA) - April 19, 2012 (
See all reviews by this customer
)
fantastic gift idea for the big sister or big brother. Loved how there is a story involved that uses the big sister/brother name and little brother/sister name. very cute!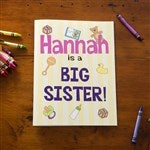 ADORABLE!
By
Shopper

(Desloge, MO) - March 18, 2012
This is a perfect gift to give a big brother or sister, when the new baby is getting gifts. I love the fact that it has their name in it, plus the name of their new baby brother or sister. The pages are so cute and it comes with crayons too........you won't be disappointed!!! A happy grandma!!!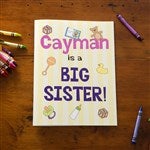 Amazing
By
Keri K.

(Caldwell, NJ) - March 2, 2012 (
See all reviews by this customer
)
This coloring book was the perfect gift for my daughter who is soon to be a big sister next month. She loves how the character looks like her and she couldn't believe her name and her sister's name were in the book. The shipping was very fast as well!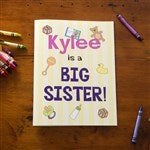 Great Big brother gift!
By
Maureen D.

(Philadelphia, PA) - February 22, 2012 (
See all reviews by this customer
)
This is the cutest coloring book! Something different to give the new proud big brother! It comes with 24 pack of crayola crayons too. Great gift idea, couldn't be happier with my purchase.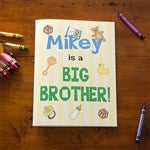 Perfect gift for sibling of a 'new baby'
By
Melanie P J.

(Morrow, GA) - January 29, 2012 (
See all reviews by this customer
)
If there's a brother or sister in a family with a new baby, I never send gifts to the new little one without including gifts for the older brother or sister. I believe it's SO important to not leave out the older sibling(s) when sending a box of surprises to a family with a new baby! These coloring books are perfect and I love the personalization throughout.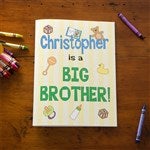 A Big Hit!
By
Shopper

(Midland, TX) - January 23, 2012
These books are so cute and were a big hit at the baby showers. Everyone thought they were so unique and wanted to know where I found something like that. While they are coloring books which work for even the youngest sibling, they also have puzzles and dot-to-dot activities which can be fun for older kids.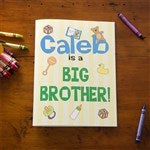 CUTE!
By
Camille L.

(Albertville, MN) - September 10, 2013 (
See all reviews by this customer
)
Really cute book for a big brother/sister to make them feel special when baby comes. Fun activities geared for kids a little older than the person I bought it for (she's 2 1/2), but still a really cute idea.

Coloring book
By
Shopper

(Hilton, NY) - October 1, 2011
This is so cute. I would buy this again and will.

Great gift for big sister/brother to be!
By
Shopper

(Beaumont, TX) - December 16, 2011
My daughter loved this! Great keepsake!

great big sis gift
By
Shopper

(FORT WAYNE, IN) - August 27, 2013
This book is adorable! Well done and I can't wait to give it to my neice when her new little sister arrives!

Awesome
By
Shopper

(Pittsburgh, PA) - January 10, 2014
What a great, well made book. The book is thoughtful, fun, and informative. It is a great way for big sisters/big brothers to feel excited about their new sibling.

I can't recommend it enough!
By
Tina S.

(Alvin, TX) - September 20, 2011 (
See all reviews by this customer
)
I've never seen anything like it, and everyone LOVES IT & ASKS WHERE I GOT IT!
More importantly, it's helping "mommy" prepare her four-year-old daughter (who has been the "only child" up until now, but is soon to become a "big sister") for the new baby's arrival. It offers enough details for her to understand what's going on all around her (Mommy's tummy is getting bigger! Let's prepare the baby's room!), and it's personalized with her name and the baby's name, which makes it extra special.
It's inexpensive considering:
1)how much it has helped with discussions about the new family member that's on the way and about the role of a big sister;
2)it's personalized; and
3)it's also a coloring book!
It's short, but that's a GOOD thing because a small child would lose interest if it were too long. She can color the pictures ("Crayola" crayons included!), but mommy has to read it to her, and the puzzles that are much too advanced for her, so this would also work for an older child. Plus- it's not sooo expensive that it's "only to look at." So if you want this for a "keepsake," you can order TWO of them and not break the bank.

Love it
By
Shopper

(Mount Ephraim, NJ) - December 13, 2013
This was a perfect gift for the new big sister. Quality is great. I am sure my daughter is going to love it!

Big Sister coloring book
By
Shopper

(Dix Hills, NY) - September 3, 2011
Her eyes lit up when she received it. Great price and to see her name & her brother's name in the book was rewarding.

SO cute
By
Shopper

(Gardiner, ME) - September 6, 2011
Very cute book for the upcoming Big brother/sister. Cute story. Would buy again.

Great present
By
Shopper

(Brighton, MA) - September 20, 2011
This was a great present for my nephew! He is 2 and a new big brother. he is not the best at sharing, so this was a fantastic way to show him different ways to help out Mom. It came within a couple of days and was a bit hit.

Perfect Gift !
By
Shopper

(Prince Frederick, MD) - December 6, 2013
This is a great gift for a new big sister or brother. With so much attention on the new addition, it is great to spot light the older sibling. The quality is great and I would recommend this to everyone.

very cute!
By
Michelle C.

(Quartz Hill, CA) - November 5, 2012 (
See all reviews by this customer
)
Only gripe was that it was bent up a little bit-

Great big brother/sister gift
By
Shopper

(teaneck, NJ) - January 28, 2014
I have given this gift along with a new baby gift a number of times, and the parents (and big siblings) have always LOVED it! It is a great way to include siblings when all the attention is on the new baby!

Super Cute!
By
Shopper

(Fort Wayne, IN) - January 28, 2014
Very cute gift idea! Purchased this for a friend of mine's daughter who is a new big sister. My friend said it was a hit! I would definitely purchase this again.

Great Gift!!!!!
By
Shopper

(New Orleans, LA) - September 21, 2012
I recently purchased this item for a friend's son who recently became a big brother. Even though he is 3 years old, he loved seeing his name and his new baby sister's name personalized throughout the book. This is a great gift for new big brothers/sisters!

What a great idea!
By
Shopper

(Mckinney, TX) - April 17, 2013
I got this for my neice who is a first time big sister. She loves it! Putting her name and the babies name really made it personal for her! Such great quality item too!