Great Big brother gift!
By
Maureen D.

(Philadelphia, PA) - February 22, 2012 (
See all reviews by this customer
)
This is the cutest coloring book! Something different to give the new proud big brother! It comes with 24 pack of crayola crayons too. Great gift idea, couldn't be happier with my purchase.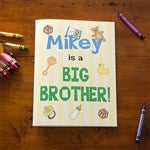 Perfect gift for sibling of a 'new baby'
By
Melanie P J.

(Morrow, GA) - January 29, 2012 (
See all reviews by this customer
)
If there's a brother or sister in a family with a new baby, I never send gifts to the new little one without including gifts for the older brother or sister. I believe it's SO important to not leave out the older sibling(s) when sending a box of surprises to a family with a new baby! These coloring books are perfect and I love the personalization throughout.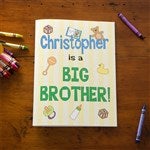 Book
By
Shopper

(El Dorado Springs, MO) - January 24, 2012
This is such a clever gift and I know the big brother will love it.

A Big Hit!
By
Shopper

(Midland, TX) - January 23, 2012
These books are so cute and were a big hit at the baby showers. Everyone thought they were so unique and wanted to know where I found something like that. While they are coloring books which work for even the youngest sibling, they also have puzzles and dot-to-dot activities which can be fun for older kids.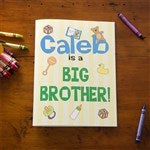 Great gift for big sister/brother to be!
By
Shopper

(Beaumont, TX) - December 16, 2011
My daughter loved this! Great keepsake!

excellent gift
By
Shopper

(Belmont, NC) - October 25, 2011
The quality of the book was amazing and the content was very appropriate. The child loved it.

Coloring book
By
Shopper

(Hilton, NY) - October 1, 2011
This is so cute. I would buy this again and will.

Perfect
By
KYLIE B.

(NEW IBERIA, LA) - October 1, 2011 (
See all reviews by this customer
)
This is the perfect gift. It was a hit. You can always find a book that says big brother or big sister but not only does this tell a Lil story, it relates to them and it's personalized with their names. The kids loved how they could interact with it also. Definately a hit and I can't wait to tell others about it.

Too Cute!
By
Julie M.

(North Street, MI) - September 30, 2011 (
See all reviews by this customer
)
I got these for my niece's 2 daughters - who now have a new baby sister - they are so cute and they loved them! I love this website!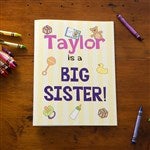 Great present
By
Shopper

(Brighton, MA) - September 20, 2011
This was a great present for my nephew! He is 2 and a new big brother. he is not the best at sharing, so this was a fantastic way to show him different ways to help out Mom. It came within a couple of days and was a bit hit.

I can't recommend it enough!
By
Tina S.

(Alvin, TX) - September 20, 2011 (
See all reviews by this customer
)
I've never seen anything like it, and everyone LOVES IT & ASKS WHERE I GOT IT!
More importantly, it's helping "mommy" prepare her four-year-old daughter (who has been the "only child" up until now, but is soon to become a "big sister") for the new baby's arrival. It offers enough details for her to understand what's going on all around her (Mommy's tummy is getting bigger! Let's prepare the baby's room!), and it's personalized with her name and the baby's name, which makes it extra special.
It's inexpensive considering:
1)how much it has helped with discussions about the new family member that's on the way and about the role of a big sister;
2)it's personalized; and
3)it's also a coloring book!
It's short, but that's a GOOD thing because a small child would lose interest if it were too long. She can color the pictures ("Crayola" crayons included!), but mommy has to read it to her, and the puzzles that are much too advanced for her, so this would also work for an older child. Plus- it's not sooo expensive that it's "only to look at." So if you want this for a "keepsake," you can order TWO of them and not break the bank.

Great Gift!
By
Cheryl K.

(Hemphill, TX) - September 18, 2011 (
See all reviews by this customer
)
I have had multiple calls wanting to know where I got this coloring book! Everyone thinks it's the neatest gift Ever!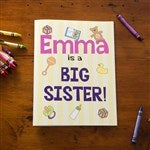 SO cute
By
Shopper

(Gardiner, ME) - September 6, 2011
Very cute book for the upcoming Big brother/sister. Cute story. Would buy again.

Big Sister coloring book
By
Shopper

(Dix Hills, NY) - September 3, 2011
Her eyes lit up when she received it. Great price and to see her name & her brother's name in the book was rewarding.

Great idea!
By
Angela S.

(Donalsonville, GA) - August 26, 2011 (
See all reviews by this customer
)
I loved this gift! It was a very nice gift to take to the big sister of our friends who recently had another baby! Often the older child feels left out, but she was so excited about this book!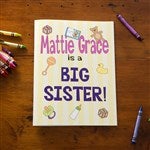 Great Gift
By
Heidi D.

(Freeman, MO) - July 18, 2013 (
See all reviews by this customer
)
Got this coloring book for my nephew, it was perfect! Very well made. personalization on every page. Only thing I would change is having an option for the age of the "Big Brother", the older brother in the coloring books is about 6 - 8 years old. Would have better fit the occasion with a younger big brother.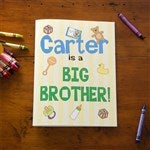 Great Gift
By
Monica L.

(Lockport, LA) - March 15, 2013 (
See all reviews by this customer
)
Item was just as described, makes a very nice gift for a big brother or sister and helps to include them in the arrival of the new baby. Gave this 4 stars only because I found it was kind of exensive for a coloring book especially with shipping. All in all very pleased with product and know Nathan will enjoy it.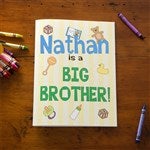 very cute!
By
Michelle C.

(Quartz Hill, CA) - November 5, 2012 (
See all reviews by this customer
)
Only gripe was that it was bent up a little bit-

Adorable Add On
By
Jessica G.

(Yonkers, NY) - August 27, 2012 (
See all reviews by this customer
)
These are an adorable add on to a new baby gift. I only wish that there was an option for twin babies coming home since that is more and more frequent.