Great item!
By
Samantha C.

(Canada) - November 26, 2012 (
See all reviews by this customer
)
So cute and practical! Will definitely keep the boys busy! Can't wait to give them to our ring bearers!

Ring Security
By
Shopper

(east elmhurst, NY) - November 10, 2012
These were just perfect!! High quality and all the boys were really excited. Comes with a full box of crayons as well!

Fantastic product
By
Katherine C.

(Crownsville, MD) - October 12, 2012 (
See all reviews by this customer
)
Great product, great story for a kid, would def buy again

Great Product!
By
Shopper

(Monroe, LA) - October 11, 2012
This book is great!

Unique Gift Idea
By
Maureen P.

(Chicago , IL) - October 1, 2012 (
See all reviews by this customer
)
This book was very helpful in explaining what was going to be happening
and what was expected of my nephew for this special event. Noah loved this book.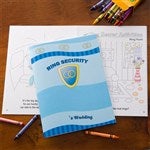 cousin will love it
By
Autumn P.

(fort worth, TX) - September 11, 2012 (
See all reviews by this customer
)
bought this to keep my cousin entertained during my wedding!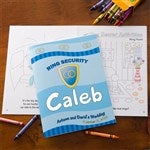 Ring Bearer Book
By
Kelly T.

(Fallsington, PA) - August 2, 2012 (
See all reviews by this customer
)
I was very pleased with the outcome of this book! Just perfect in every way :)

Loved this
By
Tiffany H.

(Fort Wright, KY) - July 23, 2012 (
See all reviews by this customer
)
Perfect little gift for our ring bearer. I can't wait to give it to him. He will love it! :)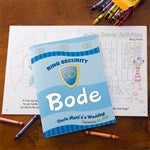 Ring Bearer Gift
By
Shopper

(Rocky Mount, NC) - May 12, 2012
I absolutely LOVE this personalized coloring/activity book for my ring bearer. He loves to read and color, so this book, personalized with his name and the names of me and my fiance is just perfect for him. I didn't realize it when I ordered, but the book also comes with a 24 pack of crayola crayons--even better!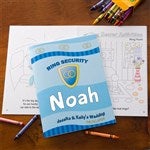 Great idea!
By
Shopper

(Rapid City , SD) - May 8, 2012
It is an awesome gift for our ring bearer! Great gift for little kids!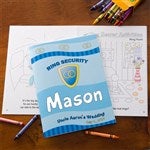 Ring Bearer Coloring Book
By
Shopper

(Oceanside, NY) - February 20, 2012
Adorable and great Quality!!!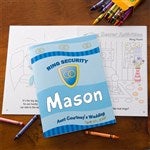 Love it
By
Nadja T.

(Willingboro, NJ) - November 9, 2011 (
See all reviews by this customer
)
i purchased for my son I know he'll love it great buy!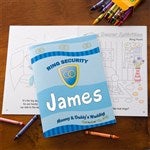 Perfect!
By
Shopper

(Fort Dodge, IA) - August 22, 2011
Adorable gift for your ring bearer!! Love it!!

Best buy! Fun and teaches wedding day job, too!
By
Jennifer F.

(Brooklyn, NY) - July 26, 2011 (
See all reviews by this customer
)
These turned out to be one of the best purchases for my wedding. I bought one of these and two of the matching ones for flower girls. I thought that they would be just fun, sweet gifts for the little ones. They were so much more than that! Each book has activities, a story & etc. all of which describe the child's wedding day duties. The child's name is worked in throughout, not just on the cover. We gave them at the rehearsal, and right away the kids were ready to color. (If I could do it over, I would have arranged to have them shipped so that the kids could have them 5-7 days before.) That night, their parents read it to them, and did the activities with them. When wedding day came, each kid was excited and ready to do their job! All smiles! No meltdowns! I was nervous to allow such a small child to hold the real rings, but after the lessons in this book, my little nephew was ready and proud to have such a responsibility. He kept telling his grandmother (and everyone else!) "I have to to do my job," and "the rings are my job."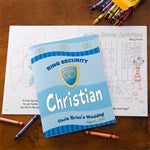 Ring Security, how perfect!
By
Shopper

(Wichita, KS) - July 11, 2011
Couldn't be happier with this book, can't wait to give it to our ring bearer!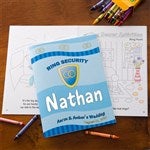 So CUTE!
By
Shopper

(N Topsail Beach, NC, NC) - July 8, 2011
When I got these books in the mail they were very nicely wrapped. The pagesare pretty sturdy- not flimsy easy to tear paper like most coloring books. The words in the story are big and this will definitely be a book in my nephews bookshelf for a long time. It also has puzzles and other games to keep them busy during the big day! It also comes with a 24 pack of crayolla crayons! Definitely a must if you have a flower girl or ring bearer between the ages of 4 and 8. I can't wait to give them to my nephews!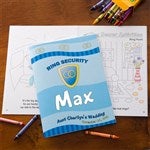 Everyone Loved Them!
By
Shopper

(Iuka, MS) - July 3, 2011
These coloring books were a big hit at my wedding. The parents liked that it was something the kids could play with, but they could also save for them later. And the kids loved that story was about them and had their own name in it!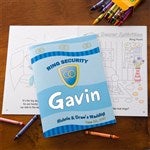 Absolutely Adorable!
By
Shopper

(Lynn, MA) - May 22, 2011
I ordered one of these for my ring bearer and I know he's going to love it. Not only does it perfectly match the Ring Security shirt, but it's also the perfect complement to the Flower Girl coloring books. The only kids at my wedding are the ones in the wedding party, and I know these books will keep them happy and busy throughout the reception. A great buy!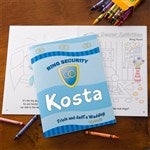 Adorable!
By
Blair K.

(Los Angeles, CA) - January 21, 2014 (
See all reviews by this customer
)
I absolutely love this coloring book. I bought it as part of a ring bearer gift. It turned out great. The only reason I didn't give 5 stars was that it came a little bent in shipping. Otherwise this is a great idea for a gift!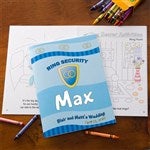 Unique Home Run
By
Jenny G.

(Huntington Beach, CA) - August 14, 2013 (
See all reviews by this customer
)
We have two ring bearers and ordered them each their own book. It's perfect for explaining the duties, is personalized so they each felt super special, and I was able to customize the look of the child in the book to look closest to each of them. All of the adults loved it too! What a great gift!!!
My only negative comment is that the way the book was packaged in an envelope with bubble wrapped crayons made the book get a little out of shape. Had it been sent in a flat box, the book could've laid flat instead of bent around bubble wrapped crayons.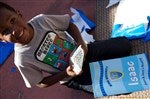 Perfect Gift for a Young Ring Bearer
By
Britney S.

(Owens Cross Roads, AL) - January 27, 2012 (
See all reviews by this customer
)
What do you get a 4-year old to thank him for being in your wedding? A personalized coloring book! It's not only a coloring book but it's also a story about what ring bearers do to prepare for the wedding! It's so cute!

The only complaint that I have is that page 10 is randomly a blank page? Weird.