Flower Girl
By
Shopper

(east elmhurst, NY) - November 10, 2012
Can't wait to give this to my flower girl. It is absolutely adorable!!!!!

Nice addition to the flower girl gift baskets
By
Shopper

(Crownsville, MD) - October 11, 2012
Great product! I had 2 young flower girls and a very young ring-bearer. I got them each a personalized story to go with their tote of gifts. They loved reading about themselves going down the aisle and the job they had to do. Cute story and activities. Printing and book quality turned out to be great also- had been concerned about the overall quality when all three books I ordered arrived about 3 days after ordering. Very pleased with the product! Highly recommend!!

Adorable!
By
Erin S.

(Wantagh, NY) - October 6, 2012 (
See all reviews by this customer
)
I cannot wait to give this to my flower girl niece in December. She will love this!

3 Very Happy Little Girls!!!
By
Cynthia T.

(Grosse Pointe Woods, MI) - September 30, 2012 (
See all reviews by this customer
)
As a favor for a friend, I ordered three of these coloring books for the flower girls in her daughter's wedding. They loved them. "Look! This book is about ME!" They're NOT inexpensive, but they are absolutely darling. Nice touch including 24 count boxes of Crayola crayons with them!

Wonderful Product!
By
Shopper

(Monroe, LA) - September 30, 2012
This book is adorable, well made, and reasonably priced! My flower girl will love it!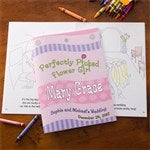 SSSSoooooo cute!
By
ashley M.

(raleigh, NC) - September 16, 2012 (
See all reviews by this customer
)
I think thia is the best idea for a flower girl... granted my flower girl is onlu 2 i don't know how much she'll get it but her mom is goong to love it Plus i think it's a good keepsake as well to remember her important role. The story line is so cute and i LOVE thay they included crayons ( and Crayola! Not the cheap waxy kind.)the prices was right for ot top! O would highly recommend this!!!!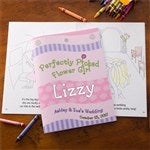 Great Gift!
By
Shopper

(Catonsville, MD) - August 21, 2012
Such a cute and creative gift. I can't wait to give this to our flower girl!

Flower girl coloring book
By
Shopper

(Canada) - August 6, 2012
I used this coloring book to ask my friend's daughter to be my flower girl... It's personalized touch and puns are indescribably catchy, and this item was just a complete HIT!!! Everyone loved it and my friend can't stop showing it off!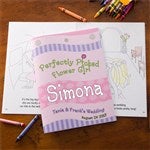 Perfectly Perfect present!
By
Carmela K.

(Woodinville, WA) - August 2, 2012 (
See all reviews by this customer
)
This item is ideal for the littlest members of the wedding party.Their name is featured throughout the wedding story being told in the book. Enclosed is a 24 pack of Crayola brand crayons for coloring the pages, or completing the occasional activity. This is definately worth every penny for the entertainment that it provides during the wedding activities. I also purchased the personalized "ring bearer" book which was a hit as well.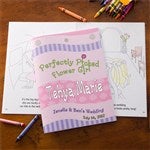 Awesome gift!!!
By
Shopper

(Lock Haven, PA) - June 12, 2012
These were perfect for my wedding!!! The flower girls absolutely loved them!!! They came in the mail very quickly. They are a great gift. So glad I purchased them!!!

So Cute
By
Cheryl M.

(Sedona, AZ) - June 9, 2012 (
See all reviews by this customer
)
This coloring book is adorable. Given as a shower favor, the two flower girls loved to see their names and were kept occupied rather than be bored. The fact that crayons were included made for one less trip to a store.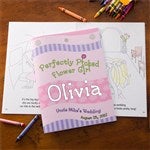 So cute!
By
Shopper

(Rapid City , SD) - May 8, 2012
This is the perfect gift for our little flower girl! And it's something made especially for her!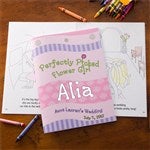 Delightful Gift
By
Jill T.

(Kailua, HI) - May 1, 2012 (
See all reviews by this customer
)
Splendid and practical gift for flower girls. Well priced and speedily delivered. Thrilled with purchase. Thanks!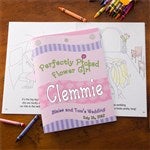 Adorable!
By
Shopper

(Mosinee, WI) - April 27, 2012
I got this for our flower girl to give to her as part of her thank you gift at the rehearsal dinner. The whole story is just so cute and I love how it has her name throughout the whole thing! The mom is a scrapbooker too, so this will be an excellent thing for her to keep and put in a scrapbook. I can't wait to give it to my little girl and see her face when she realizes the book is all about her!

So cute!
By
Kelly C.

(Shelby Township, MI) - April 23, 2012 (
See all reviews by this customer
)
I LOVED this book and the personalized option is GREAT! It is a perfect gift for the flower girl in your wedding.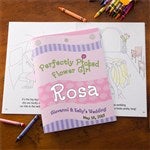 SO cute!
By
Shopper

(Lone Tree, CO) - April 16, 2012
I just received our books, ordered for our nieces who are flower girls and they are ADORABLE. My fiance flipped out when he saw I actually got their names in there and it was super easy. Thanks again for great value, creative product & quality. I love this website!

Perfectly Picked Present
By
Kayla W.

(Chesterfield, VA) - April 15, 2012 (
See all reviews by this customer
)
I bought this for my niece who's the flower girl in my wedding and couldnt be happier w this product! The storyline is great, the paper quality is better than any other coloring books I've seen, I looved that we not only put her name in it, but mine and my fiancées too! It came w a whole box of crayons (the good kind) and the games inside were really cute. And, it was an excellent price!! I looved this product and will definitely be buying from here again!!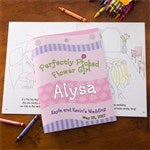 Adorable!!!
By
Shopper

(Naperville, IL) - April 9, 2012
A must-have for all flower girls!!!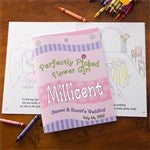 Perfect gift for my flower girl!
By
Shopper

(Middleton, WI) - March 2, 2012
I ordered this coloring book for my niece who is the flower girl in our wedding in about two months. I wanted to give her something special to have at her table spot at the reception, so I looked for a wedding coloring book. I just got it in the mail and it is adorable! She will just love it! It is just what I was looking for!

Excellent
By
Shopper

(Belleview, FL) - February 28, 2012
I wanted to get my niece an activity book to keep her busy while we are getting ready for wedding so when I saw this it was perfect! I love how the story is personalized with the flower girls name and whos wedding it is!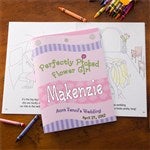 Great quality
By
Kimberlee A.

(Milwaukie, OR) - February 13, 2012 (
See all reviews by this customer
)
Arrived earlier than expected and is great quality! My flowergirl will love this!! Very pleased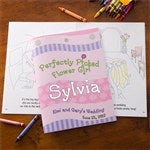 SUPER CUTE!!
By
Shopper

(Hudson, WI) - February 3, 2012
I absolutely loved this coloring book!! What a cool keepsake for our little flower girl to have to remember our wedding day and being a special part of it. I love that it goes through a whole story of being a part of a wedding, especially for kids that do not understand what a wedding day is like.

Something special for the flower girl to do!
By
Shopper

(Topeka, KS) - January 28, 2012
Very nice quality coloring book with 24 crayola crayons. Should be fun for the flower girl to do while waiting for pictures,etc.

Wonderful Gift
By
Shopper

(United Kingdom) - December 30, 2011
I bought 2 of these for my flower girls to keep them entertained throughout our wedding, they arrived quickly and in great condition. The only downside is as I live in England it was very expensive to ship here so a relative shipped them to me from the USA. Please reduce shipping internationally.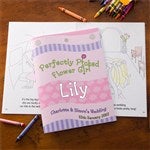 Awesome!
By
Nicole L.

(Central Islip, NY) - December 29, 2011 (
See all reviews by this customer
)
Our flower girl loved this coloring book. It even came packaged with a box of Crayola crayons! We gave it to her at the rehearsal dinner and it kept her busy all night. It also did a nice job at explaining what the job of the flower girl is.

Such a cute gift!
By
Elizabeth C.

(Niles, OH) - December 14, 2011 (
See all reviews by this customer
)
The coloring book is a perfect flower girl gift. It is even better in person and is such great quality. I would recommend it to anyone!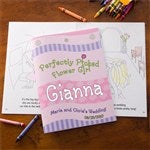 A Keepsake for a little girl
By
ROBERT H.

(YONKERS, NY) - October 8, 2011 (
See all reviews by this customer
)
My grandaughter is 8 and doesn't quit get the whole thing about her Mom getting married,she is in the wedding and I wanted her to read about all the things she was going through,the buying of the dress, the dinners, the rehearsal ect. this book was great, she read the whole thing her self, and loved that her name, her moms name and her new step-dads name were in this book, she could have fun with it, color it, do the puzzles ect., then have something to save , to remember the big day !!!!!

Most adorable gift for the smallest member of your bridal party!!!!
By
Shopper

(Garfield, NJ) - October 1, 2011
I was torn between getting them the personalized puzzle and the coloring book but I'm glad I went with the coloring book. It gives you so much more and for half the cost. It's adorable and interactive!! Definitely would recommend to anyone.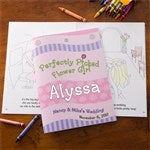 Perfect
By
Shopper

(Canada) - September 4, 2011
Everyone including the flower girl loved this item...great idea, good cost and good shipping. Thanks very much..!

Adorable!
By
Shopper

(Fort Dodge, IA) - August 22, 2011
Perfect gift for your flower girl! The personalization is awesome!!

Great Book!
By
Shopper

(Englewood, NJ) - August 22, 2011
Such a great idea. My flower girl is going to love it!

Best buy! Fun and teaches wedding day job, too!
By
Jennifer F.

(Brooklyn, NY) - July 26, 2011 (
See all reviews by this customer
)
These turned out to be one of the best purchases for my wedding. I bought two of these and one of the matching ones for a ring bearer. I thought that they would be just fun, sweet gifts for the little ones. They were so much more than that! Each book has activities, a story & etc. all of which describe the child's wedding day duties. The child's name is worked in throughout, not just on the cover. We gave them at the rehearsal, and right away the kids were ready to color. (If I could do it over, I would have arranged to have them shipped so that the kids could have them 5-7 days before.) That night, their parents read it to them, and did the activities with them. When wedding day came, each kid was excited and ready to do their job! All smiles! No meltdowns!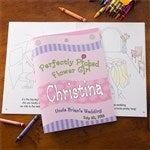 Best Flower girl gift
By
Shopper

(Groton, CT) - July 12, 2011
I thought this looked cute online, and it is adorable in person! Each page has something different about the wedding day and my flower girl's name is on almost every page. Definitely a perfect gift for a flower girl and something she'll hold onto for a while.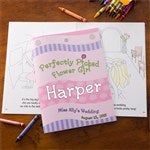 perfect gift
By
Shopper

(Wichita, KS) - July 11, 2011
this was truly the perfect gift for our 2 yr. old flower girl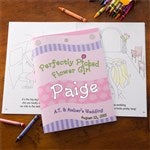 So very perfect for a little princess
By
Christina M.

(Corpus Christi, TX) - July 5, 2011 (
See all reviews by this customer
)
I bought two of these, one for each niece (ages 3 and 5) in my wedding. They are perfect and so very cute. Comes with a nice box of crayons too.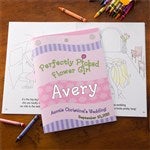 Everyone Loved Them!
By
Shopper

(Iuka, MS) - July 3, 2011
These coloring books were a big hit at my wedding. The parents liked that it was something the kids could play with, but they could also save for them later. And the kids loved that story was about them and had their own name in it!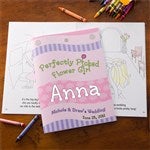 Great Gift
By
Shopper

(Vista, CA) - June 25, 2011
This gift was so unique and so cute. I can't wait to give it to my flower girl. Transaction was super quick and easy.

Engaging product
By
Shopper

(Wallingford, PA) - June 3, 2011
I purchased 2 of these activity books for the two flower girls who will be in my son's wedding. The charming personalization is throughout the book and really highlights the "important" position the little girls have in the wedding. They both have uncommon names and I'm sure their faces will light up when they see their names in print. I'm going to give them the books at the bridal shower to keep them entertained during the event. The books also came with a full 24 pack of Crayola brand crayons, not just some generic or lesser quality crayon. I'm very pleased with this engaging product.

Sooo Cute!!!!
By
Shopper

(Broken Arrow, OK) - May 27, 2011
I was so impressed with this and my flower girl LOVED it!!!!

Absolutely Adorable!
By
Shopper

(Lynn, MA) - May 22, 2011
I ordered two of these for my flowergirls and I'm thrilled with what I received. These coloring/activity books are adorable and have a personalized touch that any girl would love. They even come with a 24 pack of Crayola crayons -- not the standard cheesy blue/red/yellow/green packs that come with most coloring books -- and I know my flowergirls are going to love these.