Something special for the flower girl to do!
By
Shopper

(Topeka, KS) - January 28, 2012
Very nice quality coloring book with 24 crayola crayons. Should be fun for the flower girl to do while waiting for pictures,etc.

Wonderful Gift
By
Shopper

(United Kingdom) - December 30, 2011
I bought 2 of these for my flower girls to keep them entertained throughout our wedding, they arrived quickly and in great condition. The only downside is as I live in England it was very expensive to ship here so a relative shipped them to me from the USA. Please reduce shipping internationally.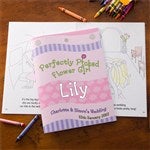 Awesome!
By
Nicole L.

(Central Islip, NY) - December 29, 2011 (
See all reviews by this customer
)
Our flower girl loved this coloring book. It even came packaged with a box of Crayola crayons! We gave it to her at the rehearsal dinner and it kept her busy all night. It also did a nice job at explaining what the job of the flower girl is.

Such a cute gift!
By
Elizabeth C.

(Niles, OH) - December 14, 2011 (
See all reviews by this customer
)
The coloring book is a perfect flower girl gift. It is even better in person and is such great quality. I would recommend it to anyone!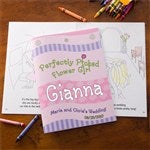 A Keepsake for a little girl
By
ROBERT H.

(YONKERS, NY) - October 8, 2011 (
See all reviews by this customer
)
My grandaughter is 8 and doesn't quit get the whole thing about her Mom getting married,she is in the wedding and I wanted her to read about all the things she was going through,the buying of the dress, the dinners, the rehearsal ect. this book was great, she read the whole thing her self, and loved that her name, her moms name and her new step-dads name were in this book, she could have fun with it, color it, do the puzzles ect., then have something to save , to remember the big day !!!!!

Most adorable gift for the smallest member of your bridal party!!!!
By
Shopper

(Garfield, NJ) - October 1, 2011
I was torn between getting them the personalized puzzle and the coloring book but I'm glad I went with the coloring book. It gives you so much more and for half the cost. It's adorable and interactive!! Definitely would recommend to anyone.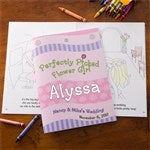 Perfect
By
Shopper

(Canada) - September 4, 2011
Everyone including the flower girl loved this item...great idea, good cost and good shipping. Thanks very much..!

Adorable!
By
Shopper

(Fort Dodge, IA) - August 22, 2011
Perfect gift for your flower girl! The personalization is awesome!!

Great Book!
By
Shopper

(Englewood, NJ) - August 22, 2011
Such a great idea. My flower girl is going to love it!

Best buy! Fun and teaches wedding day job, too!
By
Jennifer F.

(Brooklyn, NY) - July 26, 2011 (
See all reviews by this customer
)
These turned out to be one of the best purchases for my wedding. I bought two of these and one of the matching ones for a ring bearer. I thought that they would be just fun, sweet gifts for the little ones. They were so much more than that! Each book has activities, a story & etc. all of which describe the child's wedding day duties. The child's name is worked in throughout, not just on the cover. We gave them at the rehearsal, and right away the kids were ready to color. (If I could do it over, I would have arranged to have them shipped so that the kids could have them 5-7 days before.) That night, their parents read it to them, and did the activities with them. When wedding day came, each kid was excited and ready to do their job! All smiles! No meltdowns!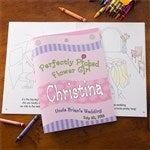 Best Flower girl gift
By
Shopper

(Groton, CT) - July 12, 2011
I thought this looked cute online, and it is adorable in person! Each page has something different about the wedding day and my flower girl's name is on almost every page. Definitely a perfect gift for a flower girl and something she'll hold onto for a while.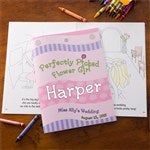 perfect gift
By
Shopper

(Wichita, KS) - July 11, 2011
this was truly the perfect gift for our 2 yr. old flower girl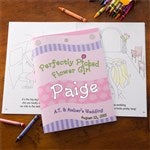 So very perfect for a little princess
By
Christina M.

(Corpus Christi, TX) - July 5, 2011 (
See all reviews by this customer
)
I bought two of these, one for each niece (ages 3 and 5) in my wedding. They are perfect and so very cute. Comes with a nice box of crayons too.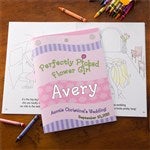 Everyone Loved Them!
By
Shopper

(Iuka, MS) - July 3, 2011
These coloring books were a big hit at my wedding. The parents liked that it was something the kids could play with, but they could also save for them later. And the kids loved that story was about them and had their own name in it!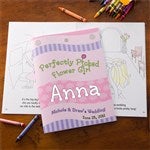 Great Gift
By
Shopper

(Vista, CA) - June 25, 2011
This gift was so unique and so cute. I can't wait to give it to my flower girl. Transaction was super quick and easy.

Engaging product
By
Shopper

(Wallingford, PA) - June 3, 2011
I purchased 2 of these activity books for the two flower girls who will be in my son's wedding. The charming personalization is throughout the book and really highlights the "important" position the little girls have in the wedding. They both have uncommon names and I'm sure their faces will light up when they see their names in print. I'm going to give them the books at the bridal shower to keep them entertained during the event. The books also came with a full 24 pack of Crayola brand crayons, not just some generic or lesser quality crayon. I'm very pleased with this engaging product.

Sooo Cute!!!!
By
Shopper

(Broken Arrow, OK) - May 27, 2011
I was so impressed with this and my flower girl LOVED it!!!!

Absolutely Adorable!
By
Shopper

(Lynn, MA) - May 22, 2011
I ordered two of these for my flowergirls and I'm thrilled with what I received. These coloring/activity books are adorable and have a personalized touch that any girl would love. They even come with a 24 pack of Crayola crayons -- not the standard cheesy blue/red/yellow/green packs that come with most coloring books -- and I know my flowergirls are going to love these.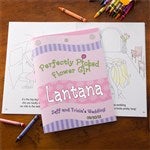 Very cute!
By
Shopper

(Los Angeles, CA) - January 21, 2014
I absolutely love this coloring book. I bought it as part of a flower girl gift. It turned out great. The only reason I didn't give 5 stars was that it came a little bent in shipping. Otherwise this is a great idea for a gift!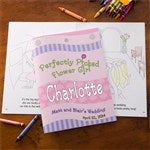 So Cute!
By
Jacqui C.

(Canada) - September 22, 2013 (
See all reviews by this customer
)
There is one page where the writing is a little smudged but other than that the book is awesome. Its such a cute idea!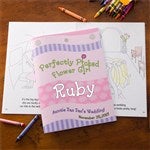 Great gift idea
By
Shopper

(Fowler, MI) - July 29, 2013
I purchased this personalized coloring book as a gift for my niece who LOVES to color. It was very easy to personalize and was shipped within a couple days! Very impressed. Only 4/5 stars because I wish you could write two people's names for who is having the wedding. (Ie. "Jane and Joe are getting married!" Instead of just "Jane is getting married!"

Loved it
By
Shopper

(Glen Oaks, NY) - July 23, 2013
I loved this gift.I thought is was the cutest thing ever. I just wish I was able to put the bride and grooms name in it and not just one.

Perfectly Picked Gift
By
Shopper

(Chicago, IL) - April 8, 2013
So cool! These turned out great! I hadnt realized that the book would be personalized throughout the story. My neices will love their very own special wedding coloring books and i'm hoping this will occupy them during the boring moments (e.g. while everyone is getting their hair done). Perfect gift for them...

donna
By
donna S.

(frederick, MD) - September 22, 2012 (
See all reviews by this customer
)
Awesome. Our ring bearer will love this. Crayons a nice touch