Beautiful Gift
By
Shopper

(East Hartford, CT) - October 6, 2012
Bought as a wedding gift and it's absolutely beautiful! Very high quality for an amazing price. Thinking about getting one for myself! :)

Wedding Gift
By
Lorraine O.

(Downey, CA) - August 12, 2012 (
See all reviews by this customer
)
Love it!!!! I am sure my godson and his new wife r gonna love this gift. If u r looking for unusual wedding gifts then Personalization mall.com is the place to shop.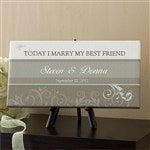 for close friends
By
Shopper

(Oceanside, NY) - August 2, 2012
What a great gift for someone getting married. Just so everyone knows, I found a tiny spec on this product and was worried. Company sent me a new one free, they totally took care of me. I trust them completely ;)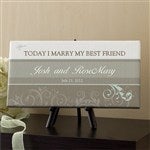 Very nice!
By
Shopper

(South Fulton, TN) - August 1, 2012
Ordered this for my daughter's wedding to place on the registry table. It is just what she wanted and it is a good quality product.

Wonderful Wedding Gift
By
Areli L.

(Missouri City , TX) - June 22, 2012 (
See all reviews by this customer
)
This made a unique personal gift for a newly wed couple. I will be returning to shop for future gifts!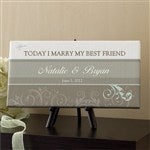 cute
By
Sandy W.

(Crosbyton, TX) - April 10, 2012 (
See all reviews by this customer
)
It is smaller than I expected but I should have looked at the details. Still, it is very cute and I cannot wait to give it to the newlyweds!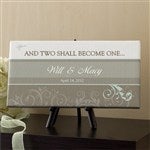 What a unique & pretty gift for weddings!
By
Shopper

(Southaven, MS) - February 3, 2012
It is so awesome to be able to come here & pick out a beautiful gift that I know that the person receiving it will use & display, rather than throwing it in a corner or drawer. It is special.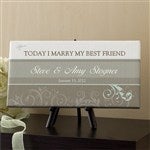 The best card I ever gave my husband
By
Joyce M.

(Norfolk, VA) - October 22, 2011 (
See all reviews by this customer
)
I wanted to do something different for our anniversary and this said it alll It is quite different but unique.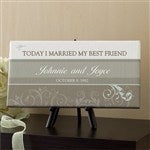 So Awesome!
By
Savanna P.

(Knox, IN) - September 3, 2011 (
See all reviews by this customer
)
This is such a unique touch to use at a wedding! We are going to use it by the card box or near the guest book. So sentimental and very classy! Cannot wait to see what people have to say about this!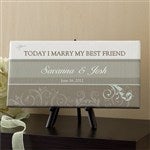 Such an awesome gift!!! Even more beautiful in person!!
By
Melissa G.

(Park Ridge, IL) - August 26, 2011 (
See all reviews by this customer
)
I wanted to get my best friend something extra special for her wedding shower and this was definitely it!! Her husband proposed to her with an idea from "Love Actually" (the scene where he stands outside her door with the cardboard signs and says "To Me You Are Perfect" at the end), so on this I put "To me, you are perfect" with their names and wedding date underneath - it was perfect and the colors are gorgeous (I went with gray and white because I wasn't sure which other ones would match her house or wall). Love this company, highly recommend - and the product came very quickly!!!

"Nicest gift we received"
By
Cherie J L.

(Cuyahoga Falls, OH) - August 9, 2011 (
See all reviews by this customer
)
This was a wedding gift for my Grandson and his wife. It is a beautiful canvas, so elegant - and the engraving is outstanding. The easel is sturdy, and really good-looking. I am never disappointed with my purchases!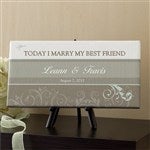 wedding
By
Antoinette L.

(Southold, NY) - August 8, 2011 (
See all reviews by this customer
)
Perfect extra gift for my granddaughter & her Husband!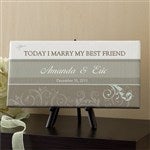 Nice!
By
Cindy B.

(Fargo, ND) - July 11, 2011 (
See all reviews by this customer
)
I purchased this for our guest book table- perfect size and looks great!

Awesome canvas
By
Shopper

(APO, AE) - July 8, 2011
I love the details on the canvas, thank you for the efficient service you provide!

Centerpiece for the wedding place card table
By
Christine K.

(Brooklyn, NY) - June 21, 2011 (
See all reviews by this customer
)
Nice size, personalized beautifully, a unique way of telling everyone how the bride and groom feel about each other

Cute For A Wedding Gift
By
Shopper

(Canada) - August 17, 2013
This is a sweet little canvas print that is perfect to be given as part of a wedding gift. I love how the entire wording can be personalized as I wanted to use a different saying for different couples. Viewing the product on my computer I was given the impression that it was sort of a brownish tan colour but the product was more of a sage green. Can't wait to see of the wedding couples I got it for like it!

Great gift for the price
By
Cindy W.

(Clovis, CA) - May 27, 2013 (
See all reviews by this customer
)
This is a great gift for the price. When you are looking for something that is personal and yet not in the immediate circle of the wedding members. I love personalized gifts though!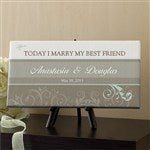 Smaller than I thought
By
Shopper

(Marshall, MN) - February 2, 2013
It was smaller than I was thinking it would be, however, I still like it.

Cute and Light
By
Shopper

(Alhambra, CA) - August 11, 2012
I liked my purchase but had I known that the back of the canvas art contained a huge logo print of "Personalizationmall.com," I think I would have retracted my purchase. I don't mind the logo that much but I don't believe it's appealing when displayed inside a 360 glass-viewing display case mounted on an easel. The logo should have been in smaller print and or at least mentioned under the description of the product. I think all purchasers should know this. However, the quality and screen print is definitely well done with minor white specs that I noticed on mine.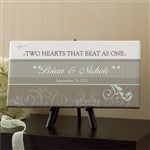 Purchased this for my sister's bridal shower
By
Shopper

(Eastpointe, MI) - June 21, 2012
This product is a bit small in size but really nice! Shipping was fast...I highly recommend PersonalizationMall.com!

Looks Nice
By
Shopper

(Sandy, UT) - December 17, 2011
It's smaller than I had thought, but it looks nice and it will make a nice gift.

Perfect!
By
Lori H.

(Green Valley, IL) - August 13, 2011 (
See all reviews by this customer
)
As Mother of the Bride, I wanted something a little different and with special meaning and significance to my daughter to add to her gift for her upcoming Bridal Shower. I stumbled upon this site and was thrilled to discover I could personalize this item with a saying that I knew would mean alot to my daughter and future son-in-law. It should be perfect on the easle at the Guest Book as people are entering the reception site. After the wedding festivities, the style and colors will go perfectly in their bedroom - a 2 for 1! LOVE IT!!!!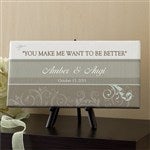 gift for wedding
By
Dana B.

(Plover, WI) - October 18, 2013 (
See all reviews by this customer
)
The front of the item is very nice and attractive. The back of the canvas is not. It would help the consumer to see the rear of the canvas also, as it contains the company name and a barcode. The canvas is actually stapled shut on the back.

Cancas Art
By
kimberly C.

(san diego, CA) - April 19, 2012 (
See all reviews by this customer
)
I thought the back would be already put on. But it is cute. I like it!!

off-center
By
Shopper

(Florence, KY) - December 21, 2011
The canvas was beautiful, except one thing - the last line wasn't centered. I called, personalizationmall sent another one free of charge. It had the same problem. They ended up crediting my next purchase for the amount of product. Although the item didn't come as I hoped, they were quick to credit back the money.