Mug set
By
Shopper

(White Plains, NY) - November 5, 2012
Excellent quality. Wonderful wedding shower gift for my daughter & son in law.

The Perfect Wedding Gift
By
Shopper

(Palmdale, CA) - September 21, 2012
The gift came in a timely manner. The cups were packed very nicely and the wrapping kit was very easy to put together. Its the perfect gift for the couple who has everything.

Beautiful Mugs
By
Shopper

(Doral, FL) - September 17, 2012
I just bought one for my self and another for my brother in law anniversary. They are so cute and good quality. Thank you so much.

Side by side personalized mug set
By
Shopper

(FLEETWOOD, PA) - September 10, 2012
As a wedding gift for a 50+ year old couple, both a second marriage, these mugs were "A Perfect Fit".
Along with their names and their wedding date and "A Perfect Fit" is exactly what I had written on their mugs.
The mugs were a hit! Between the unique style and the personalization of the mugs the couple and other guests thought it was the perfect fit, for a gift.
At this point they claim the mugs will be displayed only!
Thank you for your help, the speed of receiving them and cost, made this a super purchase.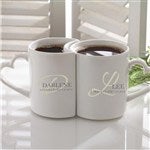 Nice
By
Jana S.

(APO, AE) - August 21, 2012 (
See all reviews by this customer
)
Turned out very nice.

Sid-by-Side Mugs
By
Shopper

(Baltimore, MD) - May 21, 2012
I ordered the mugs for my son and future-daughter-in-law's bridal shower.
They arrived in time, but one of the mugs was broken. I called immediately - was told another order would be sent, this was Thursday and the shower was
on that Saturday. I didn't expect to get them in time - BUT the mugs were
delivered Saturday afternoon - in time for the shower. I was completely and
pleasently surprised. Everyone loved the mugs - the future Mr. & Mrs. put
them on display right away and loved the story of how they arrived on time.
I cannot thank you enough - and the quality of the mugs is outstanding. What a great place to shop.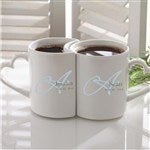 Side by Side Mug Set
By
Shopper

(los angeles, CA) - February 24, 2012
I fell in love with this mug set from the very beginning. They were an absolutely must have. I got it as a anniversary gift, and he loved it as much as i did. They are very cute. I love them, one of my favorites items from this website.

Great Gift!
By
Shopper

(Saint Louis, MO) - December 29, 2011
These mugs are super affordable and cute! They came really quickly in the mail and were exactly like we ordered them.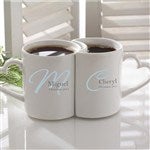 Great mugs
By
Karen D.

(Grand Island, NY) - December 27, 2011 (
See all reviews by this customer
)
Used these as a bridal shower gift for the bride and groom. They were well received and came out personalized quite nice.

Beautiful
By
Janice J.

(Saint Louis, MO) - December 22, 2011 (
See all reviews by this customer
)
Great gift idea, arrived within a few days actually as I ordered and loved it.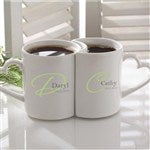 sweet
By
Mary M.

(Laurel, MD) - December 21, 2011 (
See all reviews by this customer
)
ordered this for my daughter and her new husband as a Christmas gift - the printing looks great and i think they're going to love this! thank you!

Great look
By
Naishadh V.

(Daytona Beach, FL) - December 17, 2011 (
See all reviews by this customer
)
Its best thing to give as a gift....

Wedding gift
By
Jessica S.

(Sun Valley, CA) - November 20, 2011 (
See all reviews by this customer
)
Great wedding gift! I had already ordered mugs liked these before, and they are just great for ocassions where you have to give a gift to a couple.

Perfect!
By
Shopper

(snellville, GA) - June 11, 2011
I bought this gift for a bridal shower. I wasn't sure how it was going to turn out, but when they came in, I loved them! The names were written perfectly and it looked great!

Gift box for 7.95
By Shopper (Banner Elk , NC) - December 11, 2013
The gift box is an absolute rip off. Don't bother.....cups are fine!

Helpful tips
By
Ana D.

(Hialeah, FL) - June 24, 2013 (
See all reviews by this customer
)
I loved this idea and the quality of the mugs is pretty good, my only disappointment is the color of the design that is not that strong, very pale. Other than that its pretty good.

Cute gift!
By
Harriet K.

(Snellville, GA) - August 16, 2012 (
See all reviews by this customer
)
I got this mug set for my parents anniversary since they love coffee! It's really cute and they liked it. The mugs are a bit on the small size though but still very lovely!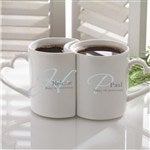 Great gift! ...But not so great gift box.
By
Shopper

(Mount Airy, MD) - July 20, 2012
The personalize mug set was just as I expected.  I was afraid that the color on the online preview would be different looking than what I would get, but I was pleasantly surprised when I saw that it was the same neon green as showed on my screen.

The one thing that I was not satisfied with in my order was the do-it-yourself gift box I paid extra for.  The first thing I looked for were directions on how to fold it into place... But it didn't come with any directions.  After a few tries I figured it out without too much effort, but it still would have been nice to have directions in the first place.

Also, the box they sent me was too big for just the one set of personalized mugs I ordered.  The gift box came with a few measly pieces of tissue paper ( I thing I got four pieces total).   So I had to buy extra tissue paper to compensate for all the extra room in the gift box so the mugs wouldn't slide around and risk breaking.

And the last thing I didn't like about the gift box was the fact that the websites address (personalization mail.com) is printed right on the to of the box lid.  I realize now that the website shows that the gift box has its logo on it, but I had missed seeing this at the time of purchase and thought that the box was just a plain, black and white formal box.  If I had noticed that the logo was printed right on the top of the lid I would have reconsidered buying this extra bit from the very start.  I don't want to pay a company to do their advertising for them,  and I certainly don't want their logo to be right on the top of a gift I'm giving to someone.  So in order to remedy this I had to wrap up the top of the box so as to hid it.

In conclusion, I was very satisfied with the personalized set of mugs that I ordered from this website.  But I would warn anyone considering paying extra for any of the gift box options -- it's not worth the money or bother.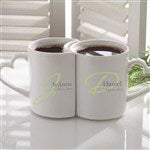 Great product!!
By
Shopper

(HOUSTON, TX) - September 6, 2011
Very good and fast service, good quality, i am pleased with my purchase.

Poorly Packaged
By
Stephanie S.

(Collierville , TN) - September 16, 2013 (
See all reviews by this customer
)
I give this item 3 stars, as when my gift recipient received this item, it was poorly packaged and broken. :( I do give kudos to PM though, when I called that day to inform them of issue, they immediately sent out a new one. Let's hope this one arrives safe and sound!

All in all, the recipients liked the gift. :)

very small
By
Suzan M.

(St. Augustine, FL) - September 28, 2012 (
See all reviews by this customer
)
love your products but this one is a bit disappointing. The coffee mugs are very small.