Grandparent's Anniversary
By Shopper (Acworth, GA) - June 20, 2013
Beautiful gift! I love how you personalize the little things about them with the picture...just wish there were a little more room to type on maybe 2 more lines.

Pretty
By
Shopper

(Brandon, FL) - February 3, 2013
Bigger than I thought (but that's my own fault for not "measuring it out") Other than that the wording was beautiful and the pic came out pretty well. (slightly darker than I would have liked but still ok) I would recommend this to anyone looking for anniversary present. I suggest using maybe a slightly "brighter" pic.

Love it!
I purchased this item for me and my boyfriend(soon to be fiance) for valentines day, i hope he like it but i know it will look great on our wall with family pictures around it!

Great Anniversary Gift for my parents
By
Shopper

(San Jose, CA) - December 20, 2012
The print quality and the texture of the canvas was great! It seems like it will last a long time. I only wish the customized words could be longer..

Paula
i like it

Nice
By
Jennifer O.

(Saint Louis, MO) - February 20, 2012 (
See all reviews by this customer
)
Nice personalized gift.

great
By Shopper (fort worth, TX) - February 6, 2012
so cute

Perfect Anniversary gift
By
Amita J.

(Santa Clara, CA) - February 3, 2012 (
See all reviews by this customer
)
After searching couple of websites I bumped onto this product and somehow felt this it's a perfect gift for my husband for our milestone "5th year wedding anniversary". Its quite hard to find perfect gift for men but this is absolutely right-on. My husband was quite impressed with it and so was I.
Would definitely recommend this product to friends. Good way to capture your journey.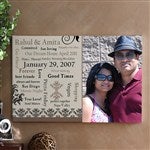 Our Life Together
By
RENEE W.

(Des Arc, AR) - February 1, 2012 (
See all reviews by this customer
)
It's really a pretty piece of art work. I do wish that all the words could have been personal but I still love it! It's a Valentine present for my husband. We just got married in October 2011.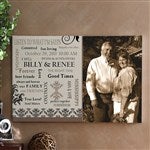 say it all with one gift
By
Amanda B.

(Winona, MN) - December 29, 2011 (
See all reviews by this customer
)
I bought this product for my dad and step-mom for their anniversary. It turned out great. I included things like their anniversary date, where they had their first date, their favorite restaurant, etc. Very happy with this product and many others on this site.

Neat product, not so good service
By
Shopper

(Fort Wayne, IN) - January 31, 2012
This product is very neat, although I could not adjust the photo placement as I would have liked. After placing the order around 9 pm, I called at 8 am the next morning and asked to add the frame to the order and I was told the product was already made and there was no way I could add the frame to the order. I would have enjoyed my product more with the frame and the company would have had another purchase from me.

Use your "best" photo
By
Shopper

(Riverside, CA) - January 3, 2012
Bought this for a friend as a wedding gift. Loved the idea, but the picture came out grainy and blurry (and I used one of their professionally done engagement photos). When you personalize the item and upload the photo it will tell you if the photo will not work, good, better, best. My photo was "better," but make sure you get it to say "best" before ordering. If "better" looked bad then I imagine "good" to look pretty bad.