Capture the moment
By
Shopper

(West Palm Beach, FL) - December 29, 2012
My mother in law was very pleased with the canvas pic I have her. She cried as soon as she opened the package. It was breath taking.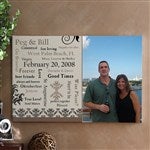 Beautiful Product & Amazing Value!
By
Joy O.

(Wauwatosa, WI) - December 28, 2012 (
See all reviews by this customer
)
I ordered this a week before Christmas and it arrived in 3 business days! My husband loved this as a Christmas gift and the rest of our family raved at the quality and uniqueness. It's classy, personal, and just a lovely addition to our home. We will cherish this always as a celebration of our love and all the special things that tell our story.

SPECIAL NOTE: the staff at Personalization Mall delivers incredible customer service! Everything I've ordered here has been top quality, great value, delivered incredibly fast, and the staff is wonderful about answering questions and accommodating requests. This is far and away the best site to shop with online. Highly recommended!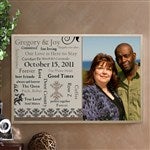 We love it!
By
Melissa K.

(Colorado Springs, CO) - December 26, 2012 (
See all reviews by this customer
)
I ordered this for my husband for Christmas, but honestly I was really a gift for me. I hung it in the living room about the TV. My friends all want to make one for themselves. I highly recommend this canvas. It came out exactly as the proof looked. I'm very happy.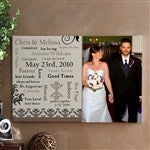 Love it!
By
Melissa K.

(Colorado Springs, CO) - December 26, 2012 (
See all reviews by this customer
)
I ordered this for my husband, but secretly it was for me. It is hanging in our living room now. It same out exactly as it looked in the proof.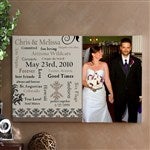 Our Life Together
By
Shopper

(Spring, TX) - December 20, 2012
I absolutely LOVE IT!! For the price you cannot beat the quality. It's beautiful....thank you!!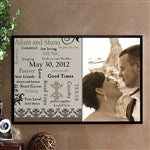 Loved It!
By
ANGELA S.

(HAMMOND, LA) - December 19, 2012 (
See all reviews by this customer
)
I was so impressed with this order, it arrived a couple of days after I ordered it, way sooner than I expected any personalized item to be delivered. It is beautiful and perfect in every way! I was so pleased with my experience I came back the day after it arrived to buy more gifts for family.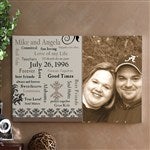 Overall I loved It
By
Shopper

(Ewing, NJ) - December 5, 2012
I purchased this for my parents. I loved it and they will too
when they receive it for Christmas. Only negatives, could use
one or two more character spacing per line. For example I wanted
to put World Travelers and had to put World Travels. Also the picture
was difficult to crop so it was a little off centered. Lastly, you do
have to work and move things around. If you are trying to place things
in chronological order, Line 1 is not always the first line.

Great one!
By
Shopper

(Sugar Land, TX) - December 5, 2012
This was a great gift to my wife. Amazing service. I have been working with Personalization Mall for the last 5 years and nothing but good service from them yet. Hope they add more creative gifts for celebrations to come in the future.

What a memory!
By
Geri A.

(Irmo, SC) - December 4, 2012 (
See all reviews by this customer
)
I am SO VERY HAPPY with this product and simply cannot wait to present it to my mom this Christmas. It's a perfect size and well-made. The image is soft and the presentation is lovely. Sadly, Dad passed away 7 months ago. This will be Mom's favorite gift! Thanks for helping Mom get through this holiday with a lovely memory beautifully preserved. :)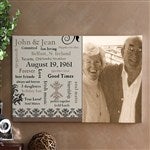 Great Canvas
By
Jeanette D.

(orangevale, CA) - November 26, 2012 (
See all reviews by this customer
)
Its our parents 60th anniv. I had some issues with the picture in trying to use their original black and white wedding picture and finally gave up and used a more current color one. Turned out great. Note that this is retangler not square and bigger than I even thought. Therefore, the easel that I order from Personalization did not fit and had to go to another store to get a bigger one.

Also the other issue is you are typing blindly the things that are about the people you are giving this too. For example we put in the names of all the daughters and some were the faded, some bold etc....its where on the list of 12 things falls and it doesnt tell you until you review and then changing them around - well you would have to write down where what placed if you want to move it to a certain position or bold vs faint. So it was a little fustrating.

My parents are going to love this!!! It really did turn out very nice.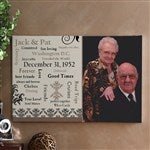 Our Life Together Canvas Art
By
Tiffany R.

(Hermiston, OR) - November 16, 2012 (
See all reviews by this customer
)
It shipped fast and is gorgeous. It is bigger in real life than the measurements make you think it is going to be. You know those gifts where the receiver knows that you love them? This is one of those gifts. My husband and I bought it for his parents and we'll never forget the looks on their faces.

For my daughter's wedding anniversary
By
Cherie F.

(Oakhurst, CA) - November 9, 2012 (
See all reviews by this customer
)
My daughter and her husband loved this! They said it was the most personal and heartfelt gift they had ever received. This made their 3rd wedding anniversary just wonderful.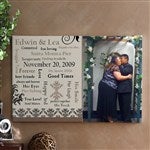 AMAZING!
By
EvaMarie C.

(Bronx, NY) - October 20, 2012 (
See all reviews by this customer
)
I ordered this for a co-worker of mine who is also a dear friend and we were throwing her a "work" bridal shower. IT WAS A HIT! When I first received it in the mail I was literally jaw dropped with how great it came out & it was so much bigger then I expected ( I guess I really didn't pay much attention to the measurements). It's unique, personal, beautiful, she loved it and was very touched. All the girls loved it too at the shower and wanted to know where I got it! I highly recommend if you want to go for a different & more personal gift for the couple to go with this canvas.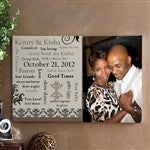 My Son & Daughter-in-law's 1st year of Happiness!!
By
Beverly C.

(New Bedford, MA) - September 28, 2012 (
See all reviews by this customer
)
They both loved their Photo Art Canvas with a favorite picture from their
wedding and " All " the special information that pertained, only to them !!!!
The quality of the canvas was wonderful and everything imprinted on the canvas was perfect !!!!
This was part of their gift and to them this will last a " Lifetime " !!!!!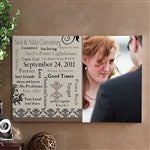 great gift
By
Shopper

(Columbus, OH) - September 8, 2012
wonderful.. my daughter loved it

Bridal Shower Gift
By
Kristin L.

(Andover, MN) - August 29, 2012 (
See all reviews by this customer
)
I gave this to my brother's bride to be at her bridal shower this past weekend and everyone thought it was AMAZING!! many people asked for your website which I gladly passed along! Thank you for so many options of awesome gifts, this was my first time ordering but I will be back again and again, EVERYTHING was perfection and shipping was fast!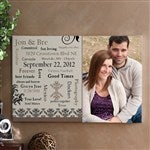 Love love love
By
nicole G.

(newton, NJ) - August 18, 2012 (
See all reviews by this customer
)
Absolutely love this canvas with our picture. I gave it to my husband for our anniversary and he loved it. The quality and clarity of it is amazing! I would highly recommend this to anyone. This is the second item that I have purchased from personalization mall and I am so happy with this store!

Wedding Gift
By
Dawn V.

(Massillon, OH) - August 10, 2012 (
See all reviews by this customer
)
Can't wait to give this to my Fiance' as a wedding gift. It is so personal and sentimental. It came quickly and is very nicely done!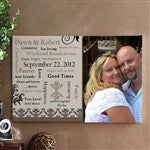 Great Anniversary gift
By
Tina G.

(Hesperia, CA) - August 7, 2012 (
See all reviews by this customer
)
I gave this to my parents for their Anniversary and they loved it. Great quality. I love all the products from Personalization Mall!

Amazing anniversary gift
By
Shopper

(Lancaster, CA) - July 31, 2012
I ordered this as a gift for my parents on their 30th wedding anniversary. They absolutely adored it and everyone who comes into their home always asked where it was made. I have ordered from Personalization Mall many times and I am always pleased but this is by far one of my favorites!!!

Beautiful
By
Shopper

(Andover, MN) - July 4, 2012
Wonderful quality.

One of a Kind Gift
By
Wendy F.

(Wenonah, NJ) - June 17, 2012 (
See all reviews by this customer
)
This gift was the talk of the shower. Everyone was commenting on it! Thanks for making it a great day for my sister-in-law. Will definitely buy again!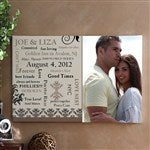 Amazing
By
Jennifer W.

(sumter, SC) - June 17, 2012 (
See all reviews by this customer
)
I ordered this as a wedding present and I am so pleased with the quality of the piece. It is much bigger than I thought it would be and the writing/picture came out perfect with no flaws on the canvas. We ordered it with out the frames and it still looks well done- you can tell the company puts care into their work! I would recommend this gift for anyone. I may just order one for my own home :)

Great gift! Highly recommend!
By
Christine W.

(Watertown, SD) - June 12, 2012 (
See all reviews by this customer
)
I was so pleased with this! It arrived very quickly, the quality was even nicer than expected for the price and it's just plain cool! This was an engagement/pre-wedding gift for my daughter and her fiance. Gave it to my daughter last evening and she just loved it. I wouldn't be at all surprised if she wanted to incorporate it into either the rehearsal dinner or wedding decor. I would not hesitate to order more things from this series or from PersonalizationMall. VERY impressed with the whole experience and product! THANK YOU!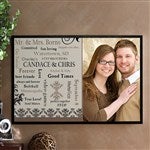 Absolutely beautiful!!
By
Kristin D.

(Lake Andes, SD) - June 11, 2012 (
See all reviews by this customer
)
I purchased this for a cousins wedding. It totally exceeded my expectations. The canvas was absolutely stunning. Teh bride and groom loved the canvas. They were in awe when they opened it.
The only issue I had was the personalization part. I gave the bride and groom a questionaire to fill out to help me pick the 11 phrases. The difficult part was filling in the blanks and figuring out which blank showed up where on the canvas. Of course you couldn't go back and just change words around. You had to exit the item and completely re-enter all the information. I believe it took me about 6 times to finally get the words where I wanted them on the canvas. Some of the words are also unchangeable, which were ok wording.
But after seeing the finished product, the extra work was worth it. You can't go wrong with this canvas.


Awesome Wedding Present
By
Mandy C.

(Hanahan, SC) - May 7, 2012 (
See all reviews by this customer
)
I bought this for a wedding present. It is amazing. The couple was so excited to receive it. Shipping is super fast, and the quality is better than you would believe! I LOVE this site. I do all my personalized shopping on here.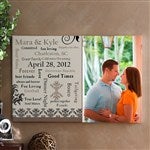 Perfect!
By
Shopper

(Antioch, CA) - May 4, 2012
I was so happy to see my product, it was even better that what I expected...loved it!

Great gift item
By
Dana P.

(Grand Blanc, MI) - April 20, 2012 (
See all reviews by this customer
)
I bought this for some friend's wedding. I can't wait to give it to them this summer. It turned out perfectly. This is the third time I've ordered this product for someone and everyone has enjoyed them.

Great Anniversary Gift!
By
Mike N.

(Braidwood, IL) - April 10, 2012 (
See all reviews by this customer
)
Very nice item, super fast shipping! made a great gift for my wife, she loved it!

Very cool! Bigger than expected!
By
Koena T.

(Corpus Christi, TX) - March 30, 2012 (
See all reviews by this customer
)
I received a personalized photo canvas from a very close friend. I thought it was so neat that I wanted to do one for my Mother. My canvas art was 5" x 5". When I saw this design, I just assumed it was 5" x 10". When it came it, it was HUGE! Great value!! Beyond my expectations!!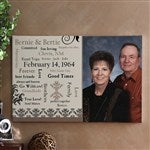 Turned out perfect!
By
Shopper

(Kennesaw, GA) - March 6, 2012
We just moved into a new home after getting married a few months ago and I was looking for cute stuff to go on the walls! This was perfect! The price was reasonable and the canvas looks great! People keep complimenting it and thought it was neat how everything was so personalized! My husband loved it :)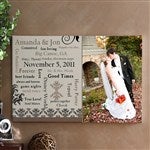 Our Life Together
By
Shopper

(Bensalem , PA) - March 4, 2012
I was extremely pleased with this product! The canvas is made of great quality and the item as a whole comes together so nicely. It's the perfect addition to any home!

Beautiful!
By
Shopper

(Plaistow, NH) - March 2, 2012
This came out so beautiful. It is so personalized and is really good-sized. I would definitely recommend!

great present
By
Shopper

(morganville, NJ) - February 28, 2012
My parents loved this - it was an anniversary present. I used all the items that meant something to them - where they got married, where they honeymooned, where they live (NJ & Florida) After I previewed the item, I changed the order of some of the words so that the ones I wanted front and center where now placed there. The only thing that could be improved is that it would be nice if all of the words were changeable. Some of the words are preprinted and can't be changed. But overall, A++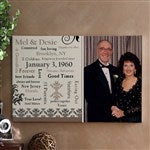 really good quality
By
Shopper

(Joliet, IL) - February 22, 2012
My husband and I love this photo canvas, it is so nice to read the texts which meant something to us...

Amazing Result!
By
Ashley G.

(Hayden, AL) - February 21, 2012 (
See all reviews by this customer
)
This turned out way better than I expected. It's a really nice size, and the picture looks amazing on it! VERY Happy with this!!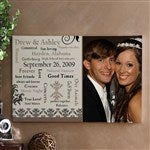 Beautiful!
By
Jessica H.

(Albuquerque, NM) - February 20, 2012 (
See all reviews by this customer
)
I ordered this for my fiance for Valentine's Day! He loved it and I love it as well! It came out perfect! I like how you can preview before purchasing as well. Customer service was kind enough to reach out and let me know that my first picture selection was not going to look the best and asked me to submit another one. I am very grateful that they did! Again, I absolutely love this piece. It is definitely not something that everyone has already! Very unique! I will be purchasing from this company again in the near future!

Just as advertised. Nothing short of 5 stars.
By
Veeraraghavan E.

(Sherman Oaks, CA) - February 19, 2012 (
See all reviews by this customer
)
I ordered this product for Valentines Day. Product looked great and my wife loved it. Cannot recommend it enough, especially for the price. Delivery was quick and on time.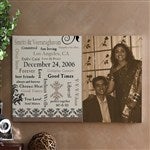 Love it!
By
Shopper

(Greensboro, NC) - February 15, 2012
Exactly as expected...even beyond! Quality is nice. You won't be disappointed.

Much better in Person
By
Shopper

(Dallas, GA) - February 13, 2012
I'm so excited about giving this gift to my significant other for our first Valentine's day together. This is a truly unique item. I love the medium size and quality. I would recommend this for any couple.