PERFECT gift
By
Laureen A.

(Orlando, FL) - February 12, 2012 (
See all reviews by this customer
)
this gift was perfect, beyond anything i expected! i couldnt wait untill Valentines day to have it opened. i was very impressed. the size was just right & the frame complimented it very well.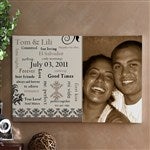 Unique and memorable gift!!!
By
Shopper

(North Platte, NE) - February 8, 2012
I gave this beautiful canvas piece to my sister and brother-in-law for their 16th Anniversary. I can't say enough about how wonderful the final product turned out. It is by far one of the best gifts I have given to anyone. The picture quality was fantastic. I just followed the advice of the ordering quality of the photo used and the rest was just personalizing. My sister absolutely loved it and she couldn't quit telling me. I was so excited to give it to her. You can't go wrong with this item, a real winner!

This Is AWESOME!!
By Shopper (Bay City, WI) - February 4, 2012
I bought this for our 1st Valentines Day. I knew I wanted to get something special and personal but couldnt find anything that didnt look cheap and boring until I saw this website. When I found this picture, I about died! It was absolutely perfect! I cant wait to see Korys face when he see this and reads our little 'inside' jokes! And affordable as well! Thank YOU!!!!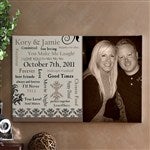 Unique Anniversary Gift
By
preeti S.

(sunnyvale, CA) - January 29, 2012 (
See all reviews by this customer
)
I gifted this wonderful piece having inscribed in it, our journey of one year of togetherness to my husband on our 1st wedding anniversary.He really liked it and its really a unique way of expressing love.The quality of picture is exceptionally good ... And adds value to your home decoration ... Thanks... We simply Loved It !!!!!!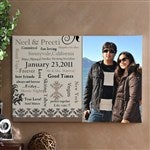 The picture canvas is awesome!
By
andi C.

(marion, NC) - January 29, 2012 (
See all reviews by this customer
)
I bought this as a valentines day gift a week ago and its really beautiful. The quality of the picture is very clear and the product turned out great! I already bought another gift haha. And it too is great. I would recommend this to anyone.

Anniversary genius!
By
Emily B.

(Salt Lake City, UT) - January 23, 2012 (
See all reviews by this customer
)
I created this for my boyfriend and my one year anniversary. Not only was this fun to create but the shipping was incredibly fast. My boyfriend almost came to tears when he saw it and now we have something to share that represents the wonderful year we've had together. I will definitely come back to personalizationmall for future gifs!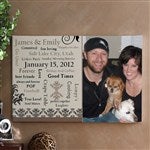 Great find!
By
Mandi E.

(Chubbuck, ID) - January 17, 2012 (
See all reviews by this customer
)
This was even better than expected. I"m so excited to give it to my husband for Valentine's Day!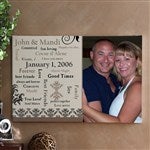 Great Anniversary Gift Idea
By
Scott S.

(Canal Winchester, OH) - January 13, 2012 (
See all reviews by this customer
)
This was a great addition to the gifts I got my wife for our 5-year wedding anniversary. It was a great way to add many one liners that represent special memories we have shared together. She absolutely loved it and it will remain a cherished decoration in our home for years to come.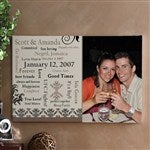 Great Anniversary Gift
By
Shopper

(Slidell, LA) - January 10, 2012
Very good quality. I was pleasently surprised at how nice this turned out. It is larger than I expected, but in a good way. I bought this for my husband for our 10 year wedding anniversary and loved how you could personalize it in so many different ways. Arrived rather quickly too. I paid for standard shipping and it arrived 3-4 days before it said it would.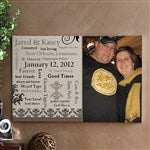 Very Cool Item
By
Jammie J.

(Wentzville, MO) - January 3, 2012 (
See all reviews by this customer
)
We got this earlier than expected, it also arrived well packaged. This is a really different and fun piece of art to add to your walls. I'm always looking for things that are 'different' and not ordinary. We are the first of our family and friends to get one of these and have gotten a lot of compliments on it! Well worth the money, something to have for years and years to come. We love it!

Very pleased
By
Shopper

(MOORE, OK) - December 31, 2011
This product really surprised my in-laws. They loved it. High-quality and the picture turned out beautiful. Thank you.

Love it!!
By
Shopper

(Sumter, SC) - December 23, 2011
This Canvas art is spectacular. I love how it turned out and everything about it, but one thing I wish the wording and design could have been a different color. However since that was not an option I really can't complain. I ordered mine with out the frame and it came with hooks to hang it. The detail on the canvas is some of the better ones I have seen. I would buy this canvas again and again for family and friends.

For boyfriends parents :)
By
Shopper

(Laurel, MD) - December 20, 2011
Me and my boyfriend bought this for his parents for this Christmas, I haven't received it yet but I hope they love it, I have confidence it will be wonderful :)
I worked really hard on getting the words in the right place. And the preview looks great! WE'LL SEE THOUGH!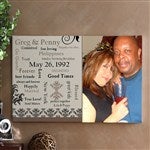 very happy customer
By
lisa B.

(thomaston , ME) - December 14, 2011 (
See all reviews by this customer
)
omg i am totally amazed at how beautiful this came out,if you are thinking about buying this DO IT it is sooooooo nice,you will not be disappointed !!! i was so impressed at the size and the clarity of the picture it is awesome!!! i ordered it at 10pm one night and it was shipped the next day !!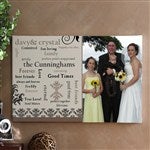 Very pleased customer
By
Bronwyn V.

(Grovetown, GA) - December 12, 2011 (
See all reviews by this customer
)
Loved, loved this item! I ordered it for my mom's birthday and I didn't expect it to arrive till the next week on Wed. (her bday was on Monday). But for some reason it arrived on Sat., Personalization Mall must have known I needed for Monday, lol. Mom absolutely loved it! Love the quality of the products, I am def a customer for life!

Great gift!
By
Dana P.

(Grand Blanc, MI) - December 10, 2011 (
See all reviews by this customer
)
I ordered two of these as Christmas presents. They arrived within a day and a half of ordering them and look exactly as the site says they will. I'm excited to order these for upcoming bridal showers. Great product!

amazing!!
By
Raquel W.

(South Jordan, UT) - December 2, 2011 (
See all reviews by this customer
)
I personalized this gift for my parents for Christmas this year and I absolutely loved it! When I recieved it in the mail in less than a week I was even more pleased with the way it turned out, its absoltuely gorgeous, I'm positive they are going to love it!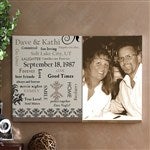 Beautiful!
By
Raquel P.

(Bronx, NY) - October 22, 2011 (
See all reviews by this customer
)
I bought this as gift for my boyfriend for our 2 year anniversary. I haven't given it to him yet but I love it!! Can't wait to see the look on his face! The picture is so clear on the canvas and the lettering is just great. Great gift idea!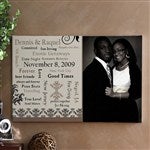 Gorgeous
By
Marissa D.

(Kirkland , WA) - October 15, 2011 (
See all reviews by this customer
)
I was surprised at the quality of this canvas considering how inexpensive it was. It was definitely a nice surprise for my husband on our second anniversary. I would use this site again in a second.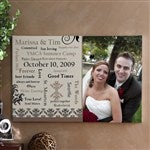 great buy
By
Shopper

(Levittown , PA) - October 10, 2011
This was a great gift. Everything was made perfect! great gift

Wonderful Wedding Gift
By
Shopper

(New Albany, OH) - October 6, 2011
Great quality - photo is around the edges of the canvas. My friends loved thier wedding gift and all of thier personalized words. Also is a good size - it is a little hard to tell but the picture is larger than appears.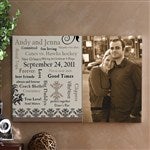 Perfect!
By
Carrie F.

(carrollton, TX) - October 4, 2011 (
See all reviews by this customer
)
resizing the picture was a little hard for me but the finished product was worth it and absolutely perfect for a person who has everything already! Was delivered very quickly and I will definitely be ordering more in the future! Thank you so much!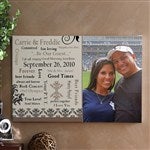 Great Wedding Gift
By
Sheri C.

(Bridgeton, NJ) - September 23, 2011 (
See all reviews by this customer
)
I bought this as a wedding gift for my sister and her husband and I have not even given it to her yet! I can't wait! They had a very small wedding and not a lot of pictures were taken so I think this will be very nice memory from their wedding! Thanks as always from one of you most satisfied customers!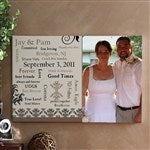 Great Momento
By
Shopper

(Fenton, MO) - September 18, 2011
When I gave this gift to my best friend at her wedding shower, everyone oohed and aahed. She loved the personalization and it turned out beautiful.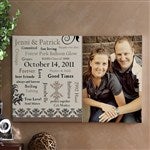 More than just a picture
By
Donna D.

(E Setauket, NY) - September 6, 2011 (
See all reviews by this customer
)
They say a picture says a thousand words but in this case personalizing this picture made it more like ten thousand words.....being able to personalize it with all our special activities, places,etc meant a lot to my husband. It was a first anniversary gift and he loved it. Quality was great but I knew that as I have ordered other canvas pictures before. (Two pointers on ordering.....after you put in all your personalization you need to preview it....I didnt like how certain words looked where they were placed so I moved them around. The only downside was I couldnt put our wedding date of September 5, 2010 as there was not enough space so I had to settle for September 2010. ) I am so pleased with my purchase!

Memory Maker
By
Hilarie W.

(Beaverton, OR) - August 22, 2011 (
See all reviews by this customer
)
I ordered this as a surprise anniversary gift for my husband and we are both thrilled with it. We love the clarity of the script, and the fact that it is a way of capturing personal, special memories of our life together. It is unique in that it is on canvass, and that it will be a keepsake to pass on to our children. One suggestion to buyers, try moving the words you use into different spots before finalizing your order, (example, switch line one with another line) as the size of the words are different for each line you fill in with your personalized words. Then view the results until you are happy with the location and size of each line of words you have used. This item makes a wonderful anniversary gift.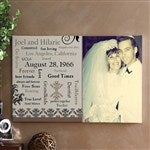 My parents loved it!
By
Shopper

(Torrance, CA) - August 21, 2011
I gave this to my parents for their anniversary and I put everywhere they've gone together on it and a picture from their wedding. When they got home they were so surprised and loved it! It looks so nice and professional and all of their friends are jealous! No one has anything like it!

Gorgeous Gift.
By
Shopper

(Rochester Hills, MI) - October 19, 2013
I made one of these for my husband for his birthday. The quality is wonderful, especially at this speed. As for design, I would have liked full control of the words entered, and maybe offer different colors for the brown bar at the bottom.

wedding gift
By
Sara M.

(Centreville, VA) - October 8, 2013 (
See all reviews by this customer
)
I ordered this canvas for my best friend's wedding. I was so happy with it when it came! The ONLY thing I was not crazy about, is at the bottom of the canvas on the side with the words, there is a space of tan at the bottom - it just doesn't look like it belongs. It would be PERFECT if that empty space at the bottom was removed. Other than that, though, I loved the canvas so much that I ordered the family version for my sister-in-law for her birthday :)

Pleased!!
By
Barbara P.

(Bay Shore, NY) - July 7, 2013 (
See all reviews by this customer
)
I like the photo very much. Really wish that the side with the wording was more centered. When u purchase the canvas with only the border is on the top and the bottom but for some reason when I add the picture is pushes the border on the top of the wording off the page. Other than that it is a great product. Really glad I got it framed. It added that extra excellence it needed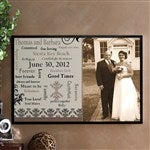 Anniversary Gift For Hubby
By
Joann D.

(Staten Island, NY) - July 5, 2013 (
See all reviews by this customer
)
I recently purchased this photo canvas as a gift to my husband for our 10 year wedding anniversary. As always, personalizationmall produced a great quality product at a great price!! My husband loved the gift and the scattered sentimental phrases I added that represent milestones in our relationship! I chose to do the picture in a sepia tone and I am so happy I did! The canvas has a beige undertone with black and different shades of brown font so the sepia gives it a very elegant look. Gave 4 stars only because I would have liked it even better if it were framed!! This was an option but the colors offered didn't match my decor. Without the frame it is still stunning, just a little smaller then I had imagined it would be! Overall, I would highly recommend it!

Grandparent's Anniversary
By Shopper (Acworth, GA) - June 20, 2013
Beautiful gift! I love how you personalize the little things about them with the picture...just wish there were a little more room to type on maybe 2 more lines.

Pretty
By
Shopper

(Brandon, FL) - February 3, 2013
Bigger than I thought (but that's my own fault for not "measuring it out") Other than that the wording was beautiful and the pic came out pretty well. (slightly darker than I would have liked but still ok) I would recommend this to anyone looking for anniversary present. I suggest using maybe a slightly "brighter" pic.

Love it!
I purchased this item for me and my boyfriend(soon to be fiance) for valentines day, i hope he like it but i know it will look great on our wall with family pictures around it!

Great Anniversary Gift for my parents
By
Shopper

(San Jose, CA) - December 20, 2012
The print quality and the texture of the canvas was great! It seems like it will last a long time. I only wish the customized words could be longer..

Paula
i like it

Nice
By
Jennifer O.

(Saint Louis, MO) - February 20, 2012 (
See all reviews by this customer
)
Nice personalized gift.

great
By Shopper (fort worth, TX) - February 6, 2012
so cute

Perfect Anniversary gift
By
Amita J.

(Santa Clara, CA) - February 3, 2012 (
See all reviews by this customer
)
After searching couple of websites I bumped onto this product and somehow felt this it's a perfect gift for my husband for our milestone "5th year wedding anniversary". Its quite hard to find perfect gift for men but this is absolutely right-on. My husband was quite impressed with it and so was I.
Would definitely recommend this product to friends. Good way to capture your journey.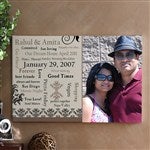 Our Life Together
By
RENEE W.

(Des Arc, AR) - February 1, 2012 (
See all reviews by this customer
)
It's really a pretty piece of art work. I do wish that all the words could have been personal but I still love it! It's a Valentine present for my husband. We just got married in October 2011.