For boyfriends parents :)
By
Shopper

(Laurel, MD) - December 20, 2011
Me and my boyfriend bought this for his parents for this Christmas, I haven't received it yet but I hope they love it, I have confidence it will be wonderful :)
I worked really hard on getting the words in the right place. And the preview looks great! WE'LL SEE THOUGH!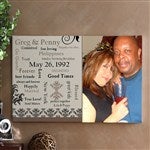 very happy customer
By
lisa B.

(thomaston , ME) - December 14, 2011 (
See all reviews by this customer
)
omg i am totally amazed at how beautiful this came out,if you are thinking about buying this DO IT it is sooooooo nice,you will not be disappointed !!! i was so impressed at the size and the clarity of the picture it is awesome!!! i ordered it at 10pm one night and it was shipped the next day !!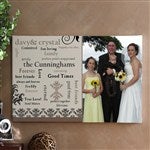 amazing!!
By
Raquel W.

(South Jordan, UT) - December 2, 2011 (
See all reviews by this customer
)
I personalized this gift for my parents for Christmas this year and I absolutely loved it! When I recieved it in the mail in less than a week I was even more pleased with the way it turned out, its absoltuely gorgeous, I'm positive they are going to love it!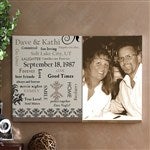 Beautiful!
By
Raquel P.

(Bronx, NY) - October 22, 2011 (
See all reviews by this customer
)
I bought this as gift for my boyfriend for our 2 year anniversary. I haven't given it to him yet but I love it!! Can't wait to see the look on his face! The picture is so clear on the canvas and the lettering is just great. Great gift idea!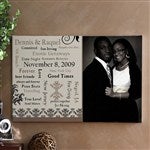 Gorgeous
By
Marissa D.

(Kirkland , WA) - October 15, 2011 (
See all reviews by this customer
)
I was surprised at the quality of this canvas considering how inexpensive it was. It was definitely a nice surprise for my husband on our second anniversary. I would use this site again in a second.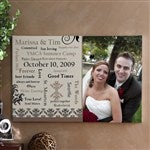 Wonderful Wedding Gift
By
Shopper

(New Albany, OH) - October 6, 2011
Great quality - photo is around the edges of the canvas. My friends loved thier wedding gift and all of thier personalized words. Also is a good size - it is a little hard to tell but the picture is larger than appears.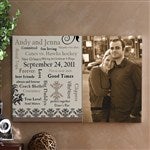 Perfect!
By
Carrie F.

(carrollton, TX) - October 4, 2011 (
See all reviews by this customer
)
resizing the picture was a little hard for me but the finished product was worth it and absolutely perfect for a person who has everything already! Was delivered very quickly and I will definitely be ordering more in the future! Thank you so much!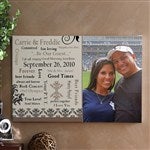 Great Wedding Gift
By
Sheri C.

(Bridgeton, NJ) - September 23, 2011 (
See all reviews by this customer
)
I bought this as a wedding gift for my sister and her husband and I have not even given it to her yet! I can't wait! They had a very small wedding and not a lot of pictures were taken so I think this will be very nice memory from their wedding! Thanks as always from one of you most satisfied customers!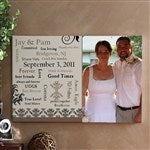 Great Momento
By
Shopper

(Fenton, MO) - September 18, 2011
When I gave this gift to my best friend at her wedding shower, everyone oohed and aahed. She loved the personalization and it turned out beautiful.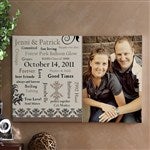 Memory Maker
By
Hilarie W.

(Beaverton, OR) - August 22, 2011 (
See all reviews by this customer
)
I ordered this as a surprise anniversary gift for my husband and we are both thrilled with it. We love the clarity of the script, and the fact that it is a way of capturing personal, special memories of our life together. It is unique in that it is on canvass, and that it will be a keepsake to pass on to our children. One suggestion to buyers, try moving the words you use into different spots before finalizing your order, (example, switch line one with another line) as the size of the words are different for each line you fill in with your personalized words. Then view the results until you are happy with the location and size of each line of words you have used. This item makes a wonderful anniversary gift.