Mum's garden stone
By
Shopper

(FAYETTEVILLE, AR) - November 6, 2012
This was my grandmother. I thought it would be solid in the back, however upon receiving it, I like it better than it isn't. She was so wonderful and is truly missed This will be noticed everytime I step outside. It is perfect!

Garden stone
By
Shopper

(Fort Worth, TX) - October 23, 2012
What an absolutely wonderful item! We love it on our garden. Larger than I though it would be. Very unique idea

Garden Stone
By
Cynthia F.

(Elma, NY) - September 5, 2012 (
See all reviews by this customer
)
I am so happy with this gift as were the couple I gave it to. Not only did it come quickly but it was perfect. The lettering is beautiful and it looks and feels like a real stone. Very good quality. So happy with this idea. I used it as part of the centerpiece for my sons "after wedding brunch" and then gave it to them to take home for their entrance in their garden. they loved it and it was quite a conversation piece the day of the brunch .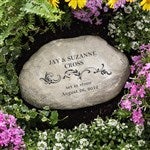 Wedding & HouseWarming Gift all-in-one
By
Donna S.

(Fairfield, OH) - September 3, 2012 (
See all reviews by this customer
)
When the bride to be opened this gift she was more than stunned. Her and hubby to be are also moving into their first new home as soon as they return from their honeymoon so this is a wedding and a house warming gift in one. Thanks for such a beautiful item. This gift did have good weight to it which was impressive. I am planning on ordering a similar one as a "memory stone" for my 2 younger sisters who have went on to Heaven before me. I want something special to see each time I come home and this will be a wonderful way to honor their memory.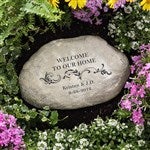 Nice product
By
Shopper

(Fowler, MI) - September 2, 2012
Great product for a great price!

Touched Their Heart
By
Shopper

(Holdrege, NE) - August 30, 2012
I gave this as a gift for friends that had a stillborn granddaughter. I just had the baby's name & birth date on it, with the sentiment "Forever in our hearts." They were touched by this gift, and the family even used it temporarily at her grave site until her monument was done.

Garden stone
By
Shopper

(Corona, CA) - August 20, 2012
We love it and I am sure the couple we are giving to will also. It is for their 50th wedding anniversary!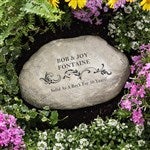 Perfect!
By
Linda K.

(Oceanside, NY) - August 17, 2012 (
See all reviews by this customer
)
Last year I purchased the Grandpa's Garden stone. And loved it. I waned a stone to memorialize my cockateil who passes away after 15 years. All the pet memorial stones had PAWS on them... As if there are no other types of pets.... Personalization Mall offers so much and I have NEVER been disappointed in the many products I have purchased. Although I couldn't order a pet memorial stone from them- it had paws on it- I was able to find a different stone I could personalize. It is PERFECT and looks exactly as it did in the personalized sample!!!
Thank you Personalization Mall!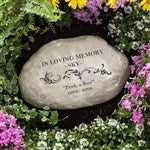 Just what I needed
By
KATHY K.

(COWANSVILLE, PA) - August 7, 2012 (
See all reviews by this customer
)
I purchased the stone for my cousin's 50th anniversary. I don't really care for the "traditional" 50th gifts. This is something they can walk past every day as a reminder of their special day and never have to dust. It looks great. Very pleased with how it turned out. I also packaged it like another customer did in a box with moss and silk flowers around it. I spray painted the box gold. Hope they are as pleased with it as I am.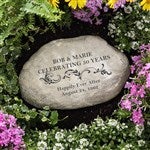 Solid like a rock
By
Michelle S.

(Lockport, NY) - August 2, 2012 (
See all reviews by this customer
)
Great gift idea for the couple getting married. Looks just like a real rock that has been engraved.

Special
By
Shopper

(Lafayette, LA) - August 2, 2012
I purchased this for a girlfriend who has everything, except this. She loves gardening and devotes a lot of time maintaining it. So when she decided to remarry, I knew this would be perfect, and it was. I was able to include the scripture she chose for her wedding. Yes indeed, very special.

Great gift!`
By
Denise S.

(Johnstown, NY) - August 2, 2012 (
See all reviews by this customer
)
I purchased this for my best friend who recently became engaged. She and her fiance have a beautiful garden, adorned with flowers and unique stepping stones. They absolutely love this newest addition- I had it engraved with their names, "We're engaged!" and date the ring was placed on her finger.

Great gift for preschool teacher
By
Carol C.

(Richmond, VA) - August 2, 2012 (
See all reviews by this customer
)
I had searched high and low for a personalized stone that was of great quality and reasonably priced. This gift was a great addition to the garden at my daughter's daycare. A nice momento from the graduating class!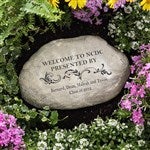 Elegant gift for green thumbs!
By
Shopper

(Davis, CA) - August 1, 2012
Sturdy, heavy, and classy for the price! The engraving is well done! Great purchase and gift for my friend's wedding who has a green thumb! :)

PERFECT WEDDING GIFT !!!!
By
Shopper

(Clinton , MA) - July 29, 2012
The bride called me immediately upon receiving & opening this gift.
She was in tears, couldn't thank me enough, saying what an absolutely thoughtful, wonderful gift this is, so absolutely beautiful and knew the groom would love it as much as she does.
I could not be more pleased with my choice of wedding gift for this super couple.

Great Gift Idea
By
Shopper

(Wheatfield, IN) - July 22, 2012
I bought this for a house warming gift and they loved it. It was really nice and was exactly as it appears. I would order it again!

Beautiful Stone
By
YOVONNE G.

(Indianapolis, IN) - July 10, 2012 (
See all reviews by this customer
)
We were amazed about the quality of this product. It was heavier and larger than we originally thought it would be. I am very glad I purchased this. Thanks PM.com!

Perfect
By
Shopper

(quincy, MA) - June 29, 2012
I ordered this for a wedding present, it came out flawless and absolutely how I wanted. Quick shipping, great notifications via email. The stone is absolutely fabulous.

Great product and service
By
Shopper

(Plano, TX) - June 17, 2012
Exactly as ordered and a great product. Order was easy to place and shipping was very fast.

Retirement Gift
By
Shopper

(Wernersville, PA) - June 12, 2012
I actually purchased this stone to put by a tree we were dedicating in honor of my daughter's teacher who retired. I was impressed with the "real" look of the stone as well as the bit of weight that will help to keep it in place by our tree. It looks beautiful and was so much more resonably priced than a bronze plaque. The teacher loved it as did all of the other parents!!!

Big Hit
By
Cotha H.

(Middlesboro, KY) - May 15, 2012 (
See all reviews by this customer
)
Was even nicer looking than the picture. I put the stone in a basket with moss and flowers around it (similar to the picture) and it was a big hit at the wedding. The bride told us it was her favorite gift.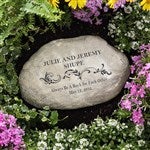 Great idea for multiple occasions!
By
Rhonda S. G.

(Tompkinsville, KY) - May 14, 2012 (
See all reviews by this customer
)
This is a great mock stone (hollow). I purchased two of these. One for my husband and I as the Perfect Two. And one for our pet we lost last month. Both look great! Great quality and heavy! I can't wait to get my flower garden area ready to place them. Thanks again PM for the quick shipping, great service, and wonderful products!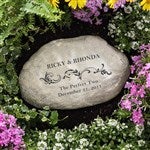 Excellent quality product.
By
Carol C.

(Bow, NH) - May 12, 2012 (
See all reviews by this customer
)
High quality product. Nice size. Beautiful gift for our home garden. We are very happy with this item!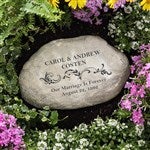 So perfect
By
Kaye B.

(Amarillo, TX) - April 21, 2012 (
See all reviews by this customer
)
Arrived quickly and was just PERFECT! --- just like everything else I've ever ordered from you. It looked like a large heavy rock but was hollow and surprisingly light-weight. It'll be an awesome addition to my daughter-in-law's garden this spring. If I had grandkids yet, I'd order one for each with their name and birthdate and line them all up in my garden. I hope you still carry these when I do have grandkids!

They loved it!
By
Shopper

(Altavista, VA) - April 9, 2012
Gave to my niece for her shower gift and I spelled her husband's name with a C instead of a K for Kris! They thought it was so nice they put it on the porch instead of outside because they did not want the weather to damage it.I am so pleased with my purchase. Thank you for having such unique gifts for wedding couples! It arrived on time and you have excellent customer service. I will be back time and time again!

The Newlyweds Loved It
By
Mary C.

(Springfield, IL) - March 26, 2012 (
See all reviews by this customer
)
Very nice. It's even better looking than in the picture! Thank you!

HIGH QUALITY
By
Kathleen N.

(Newport, DE) - March 6, 2012 (
See all reviews by this customer
)
THE PERSONALIZED GARDEN STONE LOOKS GREAT. THE STONE WAS REALLY WELL PACKAGED FOR DELIVERY. I AM SURE THE SHOWER GIFT WILL BE CHERISHED. THE PRICE WAS REALLY FAIR CONSIDERING THE HIGH QUALITY.

A perfect corner stone for a flowerbed
By
Shopper

(Maysville, NC) - February 20, 2012
We have a nice flowerbed in front of our house and it's a perfect addition to make it feel more like home.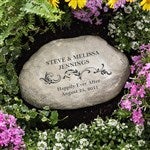 Great Wedding Gift
By
Susan B.

(Escondido, CA) - February 4, 2012 (
See all reviews by this customer
)
I just love this garden stone. It arrived so fast. I would order again from this site.

Amazing! Great Gift!
By
Barbara M.

(Bothell, WA) - January 30, 2012 (
See all reviews by this customer
)
I am so pleased with this amazing personalized stone, it is for a 50th Wedding Anniversary. What a perfect gift for people who have everything. Great quality. Thank's!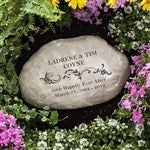 Personalized stone
By
Sarah H.

(Junction, TX) - January 24, 2012 (
See all reviews by this customer
)
I actually changed the words in memory of a young person, and put it on her gravesite. I thought it was very ideal for that purpose also, as well as for a marriage or anniversary. The workmanship and the stone were superior!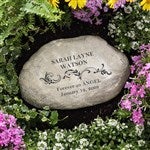 Better than I'd hoped!
By
margo B.

(tyler, TX) - January 20, 2012 (
See all reviews by this customer
)
Loved this item! It was larger than I thought it would be. Even though it's actually only a "half" rock (hollow underneath), it was much heavier than I thought it would be. It lays nice and flat, too. It doesn't look like resin, it really does look real! Product arrived earlier than anticipated and that was great, too!

merchandise
By
Marian H.

(Metamora, IL) - December 2, 2011 (
See all reviews by this customer
)
I ordered a personalized stone for my husband for Christmas. It was delivered much quicker than expected and it perfect. I'm very happy with your service and will definitely order from you again.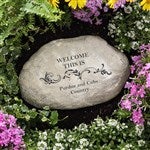 One of the best gifts I've ever given!!!!
By
Shopper

(Joliet, IL) - November 20, 2011
There are no words to describe how fantastic this garden stone was! It was a wedding gift for a family member and they just loved it! I highly recommend this company!!!!

Perfect!!
By
Shopper

(Rochester, MN) - November 11, 2011
The memorial stone was more that I expected. I have always been pleased with the products and the speedy delivery

anniversary stone
By
Shopper

(Warren, OH) - November 1, 2011
quick delivery, very nice, gift for my daughter's anniversary

Remembrance
By
Geri A.

(El Monte, CA) - October 8, 2011 (
See all reviews by this customer
)
Loved the item. Arrived promptly and is a beautiful tribute to my wonderful husband.

Touching
By
Jacqueline V.

(Ronkonkoma, NY) - September 27, 2011 (
See all reviews by this customer
)
I sort of "tweeked" the reason for getting this, but the result was amazing! Just loved it!!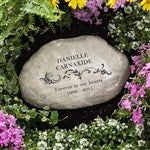 Lovely Anniversary Gift
By
Shopper

(Jackson, MI) - September 27, 2011
Ordered this for my parent's 65th wedding anniversary for their garden.
They absolutely love it and I could not believe how quickly it arrived!
I thought the quality was excellent & would definitely order again.

Great gift
By
Shopper

(Marinette, WI) - September 21, 2011
The item was pretty much as pictured, except I thought it was actually going to be round like a rock but it is flat so it has to lay flat. A previous review said the words were just painted on but the words are actually indented and painted which was nicer than just painted on. I was pleased with the quality of the item and Jen & Mel loved it. This is not my first order from PersonalizationMall and it will not be my last. They have very nice quality items. I would recommend this Garden Stone as a gift for any occasion.