Cute.
By
Shopper

(Pittsfield, MA) - April 27, 2012
Really cute, but should be bigger.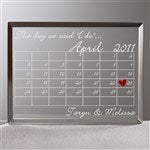 Small but cute!
By
Crystal O.

(Hopkinsville, KY) - April 20, 2012 (
See all reviews by this customer
)
Just received my product. I bought it for my friend and i'm sure she will love it. I kinda wish i had one of my own. It was on the smaller side but very cute so i can't complain. I ordered my product on Tuesday and received on Friday! Very fast and with tracking!!! Will buy again from personalizationmall!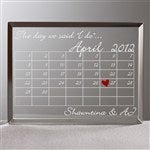 Nice but a little small
By
Thad S.

(Houston, TX) - April 19, 2012 (
See all reviews by this customer
)
The Keepsake is a very nice and looks great. It's a little on the small side. The first item send from Personalization Mall was wrong. I did not check the item before handing it to my wife as a gift. The dates and Names were incorrect. Personalization Mall did replace the item however the embarrassment of handing a incorrect anniversary gift had already taken place.

That being said, I like the item and would recommend it.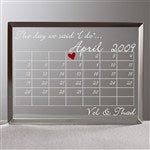 Great product just small
By
Shopper

(Owasso, OK) - April 15, 2012
I got this item when it was on sale for $9 and some change... I have always looked at it an loved it when I would get on this website (which is my favorite place to buy things) but I never bought it until it was on sale and glad I waited... although it is beautiful and is a really cool conversation piece... I was disappointed in the size... wish it was bigger... I was very surprised when I opened it. But I do Love it! and I will be using it as a wedding shower decoration!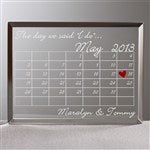 Excellent Excellent Excellent!
By
Erica L.

(Linden, NJ) - April 15, 2012 (
See all reviews by this customer
)
My newest addition to the family is my aunt, just married to my uncle. She and my uncle were so happy to receive this and were both on the verge of tears of how beautiful this is. Not only was i thoughtful for getting them something, but they both loved how their wedding date was on the glass! They set the glass right in a open cabinet. Thank you personalizationmall.com I love your website! I ordered so many things from here and I continue to as well!! EVERYONE BUY THIS ITEM IT'S SO BEAUTIFUL!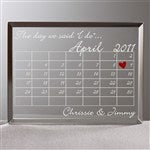 CUTE!
By
Cheryl P.

(Hackettstown, NJ) - April 10, 2012 (
See all reviews by this customer
)
I love how this looks, just wish it was a little bit bigger. I recommend it for all the wives out there who has a husband that "forgets" dates...he will never forget this one...I put it on the desk!

Great Anniversary Keepsake
By
Victoria H.

(Kansas City, MO) - April 8, 2012 (
See all reviews by this customer
)
I Love this litttle keepsake. It's very exquisite and unique. My anniversary is coming up and wanted something different to get my husband, this is perfect. The only reason I didn't give it 5 stars is it could be a little bigger.

Small but Cute!
By
Alyssa V.

(Tucson, AZ) - April 7, 2012 (
See all reviews by this customer
)
I ordered this item for my friend's who recently got married. The size of the item is small but perfect. The only thing I didnt like about it was the red heart on the item. It looks more like a sticker they just placed on there. Other than that, everything was great! My friend's loved the gift!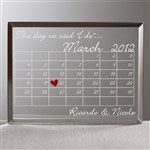 Shower gift
By
Camille E.

(Milford, NE) - April 3, 2012 (
See all reviews by this customer
)
Is a really cute idea! But a lot smaller tha I was thinking.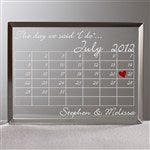 Beautiful eye catcher
By
Todd I.

(Boonsboro, MD) - March 30, 2012 (
See all reviews by this customer
)
Although this item is considered a paper weight, I would consider it more of a conversational eye catcher! Purchased before our wedding, but, everyday since, and I feel everyday after, it will continue to bring a smile everytime it's looked at :) Not too big, and not too small. I would highly recommend it to be kept where it can be seen EVERY single day.

Perfect for bridal party it brought smiles
By
jackie N.

(red lion, PA) - March 24, 2012 (
See all reviews by this customer
)
I wish it was bigger or came with a stand but other then that it was very nice. My sister loved it as a her early wedding gift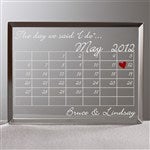 Well accepted
By
Donald B.

(Garland, TX) - March 23, 2012 (
See all reviews by this customer
)
My wife was quite impressed as was I. Nice touch, very clean and good looking.

Very memorable
By
Shopper

(Pasadena, TX) - March 20, 2012
I love the idea and the concept. I was slightly disappointed in the actual size.

Nice wedding gift
By
Shopper

(Brook Park, OH) - March 16, 2012
The keepsake is nice but a bit smaller than I anticipated.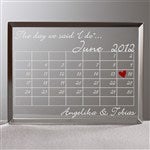 Nice keepsake
By
Shopper

(Catawissa, PA) - March 13, 2012
I purchased this as part of a wedding present for friends. The description and picture is accurate. I was a little surprised with the size, I thought it would be larger but it is still very nice and I'm sure my friends will love it.

the day we said i do
By
Patrick L.

(San Gabriel, CA) - March 10, 2012 (
See all reviews by this customer
)
the product turns out smaller in size that i expected.

OK
By
Linda S.

(Lawrence, KS) - March 3, 2012 (
See all reviews by this customer
)
Nice item. Small, as mentioned, but as described. I was a bit disappointed that the etching around the calendar days was not clean cut. It was a little blurred. Not enough to return, considering the time constraint of the wedding date, but a bit disappointing. Just got this as something to wrap with a card and check for wedding gift.



Cute
By
JACQUELINE S.

(CICERO , IL) - March 2, 2012 (
See all reviews by this customer
)
This was bought for a coworker. She recently got married i saw this item online and fell in love. I received it very quickly. When it came i handed it directly to her. It came wrapped in a nice box when she opened it she fell in love and so did i. I did feel it was small but for the price i was perfect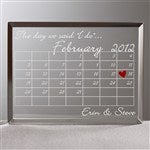 I Do Keepsake
By
Shopper

(pasadena, MD) - February 26, 2012
This item arrived quickly, the month/year were accurate and the names spelled correctly. However, I expected the heart to be engraved on the "day" of the wedding and it wasn't. The heart is a sticker that can be peeled off and I found that to be very disappointing.

It is still a nice gift.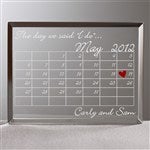 The day we said "I do"
By
Evelyn M.

(Altamonte Springs, FL) - February 24, 2012 (
See all reviews by this customer
)
I expected it to be a little larger, but it still is a very nice item for the price. ;-)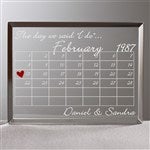 Beautiful
By
Shopper

(Manila, AR) - February 22, 2012
Smaller than i expected, but beautiful and good quality

Anniversary Gift
By
Shopper

(WALDORF, MD) - February 21, 2012
I got this more my boyfirend on our anniversary as only boyfriend and girlfriend. We are not married yet, but I wanted to get him something that showed I cared about how long and how special it means to me that we have been together. So I ordered this and it was a really neat gift. HE LOVED IT!! He looks at it all the time. He goes on and on about how special it is to him. Something so small. It is the thought that matters most. The only flaw(s) I had with it was that it was SOOOO tiny. I did not expect for it to fit in my palm...and I have VERY tiny palms (I am 5'0; weight only 105 lbs). And It seems like the red heart should have not been on the front side of the item. It was not lined up with the etched heart on the backside of the item. Oh well. As long as he loved it I guess. This is my second ordered gift from here and he has loved both!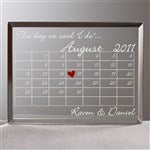 glass calendar
By
Shopper

(Tewksbury, MA) - February 18, 2012
It's a lot smaller then I expected but very cute! looks classy!

Very Cute
By
Mallory K.

(Tinker AFB, OK) - February 16, 2012 (
See all reviews by this customer
)
I ordered this for my husband for Valentine's Day, and it arrived a week early! It is very cute and well crafted. I just wish it was bigger. The red heart also looks like a sticker more than something etched on. But overall, it's a very nice, original thing to buy someone.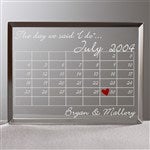 Wedding Date
By
Cynthia M.

(chestertown, MD) - February 14, 2012 (
See all reviews by this customer
)
I thought this would be bigger than it actually is. It is about the size of a 3x5 card. But it is very beautiful and now to keep it where someone will not knock it down.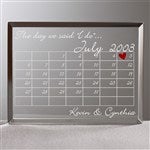 Cute
By
Andrea H.

(Staten Island, NY) - February 10, 2012 (
See all reviews by this customer
)
I liked the idea of this gift for my sister. I figured she can put it ontop of her fire place or in her china closet. Def take note of the size- it is small. I guess its the thought that counts.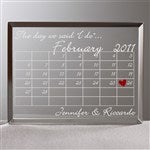 Cute keepsake for a wedding
By
Silvia S.

(Hickory, NC) - January 30, 2012 (
See all reviews by this customer
)
It is really cute but I was expecting it to be bigger. It's more like a paper weight for a desk.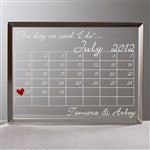 Wedding Present
By
Mara F.

(Dothan, AL) - January 20, 2012 (
See all reviews by this customer
)
I thought it would be a little bigger, and I thought the heart would be done all the way through not just on the surface. Other than that I like this product, it is an adorable idea for a wedding present or valentines gift.

Cute Keepsake
By
Sheree S.

(Peoria, AZ) - January 17, 2012 (
See all reviews by this customer
)
I bought this as a gift for a bridal shower. I am pleased with my purchase, however, just as others have noted, it is very small...almost like the size of an index card.

It is a thick, acrylic type material and the etching is very neat and precise. I know my friend will love it!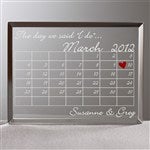 satisfied
By
brandy S.

(odessa, TX) - January 16, 2012 (
See all reviews by this customer
)
Item was smaller then I had thought it would be but I had read that on a review before I purchased it so I was aware it could be, Other then that, I LOVE IT. Its beautiful, all names spelt correctly, and to me, its a perfect anniversary gift!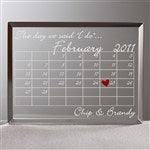 Wedding Keepsake
By
Sandy H.

(Glendale, AZ) - January 15, 2012 (
See all reviews by this customer
)
Nicely done, heavier than expected.
The only disappointment is the fact that the red heart is a paper sticker which wasn't disclosed in the description. It would be so much nicer if this were a small red glass or plastic piece, or just nothing at all. The sticker seems to detract from an otherwise lovely piece.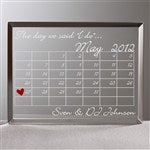 With out the Red Heart
By
Melinda N.

(longview, TX) - January 10, 2012 (
See all reviews by this customer
)
this is a very nice product I just feel the red heart looks very out of place.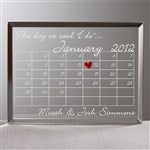 Cure
By
Shopper

(Blairsville, PA) - December 23, 2011
Cute little desk reminder of your big day, I'm going to pair it with a gift card for a Christmas gift

Very Nice
By
Shopper

(Edinburgh, IN) - December 20, 2011
The product is beautiful and very well crafted. I purchased this for a friend who was recently married and for my hubby and I. I would have given it 4.75 stars had the option been available. It is really nice. Just a tad bit smaller than I hoped. The detail, however, and the product is just wonderful. It makes an adorable keepsake.

Cute
By
Shopper

(Calumet City, IL) - December 11, 2011
cute.. a little smaller than I expected but still very cute

Anniversary gift
By
Shopper

(Simi Valley, CA) - December 3, 2011
Excellent product, what you see is what you get. I had next day delivery, and it turn out to be a 2 day to delivery. I know that once the item is shipped, is out their hands and yet, they took care of me the best they could. I'm 100% satisfied with their product, and customer service.

our calendar
By
Shopper

(Hialeah, FL) - November 16, 2011
Good quality. Good presentation. Good service. My wife was surprised with it. She liked it a lot. I will recommend it.

Very cute, but a little smaller than I thought
By
Shopper

(Petersburg, VA) - October 31, 2011
This product is adorable and as usual, Personalization Mall has created an adorable product. I bought this for some friends that were just married. I wanted to get them something different.

I know the measurements are on the description but it is small. Still cute as ever, but small.

Adorable!!
By
Shopper

(Kilgore, TX) - October 1, 2011
Rather cute and adorable. Way smaller than expected, but still made a great present!!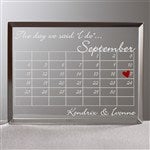 Something unexpected
By
Shopper

(Wildomar, CA) - September 26, 2011
This was a little smaller than I thought it would be, but it is just adorable.
Good quality! I'm sure my niece will like it.