A little disappointed
By
Shopper

(Armada, MI) - July 22, 2012
The item is beautiful but small. I knew it wouldn't be big but it's even smaller than I expected. Except for the small size the item is beautiful and packaged safely.


Satisfied
By
Brandy C.

(Lake Ozark, MO) - June 16, 2012 (
See all reviews by this customer
)
I love this item and it's a great touch on our bookshelf. HOWEVER, pay attention to the size noted. It is much smaller than I thought it was going to be because I didn't pay attention to the measurements listed.

Nice Token for Special Day
By
Shopper

(Troy, OH) - May 9, 2012
This item is a bit smaller than I expected. (Yes, I know it has measurements.. and I recommend you cut a piece of paper out to get an idea of size!) It is a nice shower gift or something to add to your wedding gift/money. I think it would even be a nice wedding cake topper.

Very Tiny
By
Shopper

(Lincoln, NE) - April 30, 2012
This is beautiful but I wish it was bigger. It fits in your hand!! I haven't given it to the bride yet, but I hope she likes it!

Smaller than I expected!!!
By
Lisa M.

(Accokeek, MD) - April 13, 2012 (
See all reviews by this customer
)
the keepsake was beautifully engraved but it was SO SMALL!!! it is very hard to read without the colored paper behind it! But it was nice.

Gift for our parents
By
Shopper

(Louisville, KY) - April 9, 2012
My fiance and I bought two of these-one for each set of parents. I have no doubt that they will love them. The product itself is smaller than we anticipated, but the engraving turned out great. The red heart is nothing more than a sticker placed on the surface, which was a little disappointing. The sticker was frayed on the edges slightly. The sticker is my biggest issue, as I wonder how it will hold up over time. Overall, this is a nice gift, and hopefully a great keepsake for our parents to remember our special day!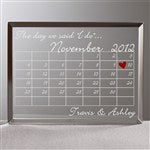 Size
By
Vonda M.

(Oklahoma City, OK) - April 1, 2012 (
See all reviews by this customer
)
I didn't expect the item to be so small,the picture is very deceiving.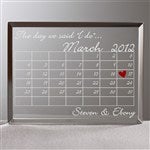 plaque
By
Shopper

(peoria, AZ) - March 25, 2012
thought it would be bigger then it was.

Nice, but small
By
Rodolfo C.

(Dallas, TX) - February 23, 2012 (
See all reviews by this customer
)
The picture is deceiving, it actually looks much larger in the preview on here, but it's really a little bit smaller than a 4x6 picture. It's basically a paper weight idea. But it still came out nice.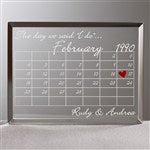 Much smaller than expected
By
Shopper

(Studio City, CA) - February 20, 2012
I like the quality of this item (as with all of the products I've purchased on PMall), but I expected it to be much larger. The actual size is comparable to a small cell phone. After receiving it, I looked at the photo on the website, and the size is represented quite accurately. In fact, the item is photographed next to wedding or engagement rings beside it to demonstrate its size. However, I suppose I didn't pay close attention when I ordered it. I guess since this item is a full calendar month, I expected the size to be like a 5x7 photo. While I personally feel that the small size takes away from its appeal, the quality of it is literally flawless!

Nice,delicate but small!!!
By
Shopper

(Redmond, WA) - February 3, 2012
I got it for my upcoming anniversary.i liked it but i expected it to be little bigger.it comes in a nice packaging delicately n safely placed and also looks nice and personal,but size is the only down side of this product.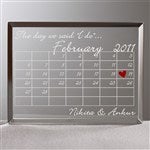 August 31, 2011
By
Terri P.

(hebron, MD) - January 22, 2012 (
See all reviews by this customer
)
The product is alot smaller then the picture makes it seem and the red heart is nothing more then a metallic sticker that kids play with needless to say when i got it i was severly disapointed but after having it for a few months its a valuble addition to my collection of wedding things. I also hate that i bought it for $19.99 and its been on sale for $13.99 ever since I bought it :(

831 Means "I Love You"
8 Letters
3 Words
1 Meaning <3 <3 <3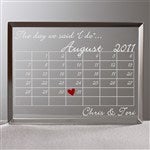 Good
By
Shopper

(Waterford, MI) - January 2, 2012
Very nice idea - but would be a 5 star item if we're larger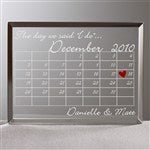 Adorable
By
PAUL S.

(ORANGE, CA) - December 31, 2011 (
See all reviews by this customer
)
I love the quality of this, but really small. My own fault for not looking at measurements.

Nice, but small, I didn't note actual dimensions
By
Shopper

(Ottawa, OH) - December 11, 2011
Nice for a thoughtful personal gift. Can hold in the palm of your hand.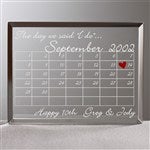 Features
By
Shopper

(Oakland Park, FL) - November 14, 2011
I gave this item to a friend for their wedding gift. I liked the gift ever since I saw it online however I also thought it would be a bit bigger. It is small and a cute gift but I think it would be nice for different size options.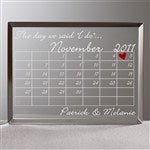 Nice but Small
By
Jenny Y.

(Crosby, TX) - September 2, 2011 (
See all reviews by this customer
)
Pay attention to the dimensions. I did not, and I am a little disappointed in how small the item is. Other than that, it is a nice piece that I will cherish forever.

Smaller than I expected but still beautiful!
By
Michelle M.

(Fox Lake, IL) - August 29, 2011 (
See all reviews by this customer
)
I really love this. I thought it would be great to display on a mantel or shelf in the home but when I got it, it seemed a bit small. I still think it would be a great desk accessory. High quality item. Great gift!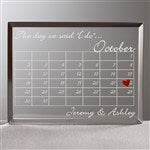 Smaller than I expected
By
Jeannie N.

(Albuquerque, NM) - August 27, 2011 (
See all reviews by this customer
)
I loved the idea of this, I didn't realize it was as small as it was, I just got excited over the item and didn't read the measurements, totally my fault. It was a nice item and the couple loved it.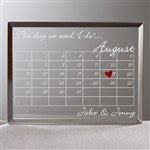 Beautiful piece but smaller than expeted
By
Shopper

(CORAL SPRINGS, FL) - August 23, 2011
This piece is absolutely gorgeous and a unique gift for a newly married couple. However, it is much smaller than expected and that made myself and others underappreciate the beauty and uniqueness of it. If it were maybe the size of a sheet of paper, it would be more appreciated.

products feature i don't like
By
cora L.

(Camden, IN) - August 16, 2011 (
See all reviews by this customer
)
You should put the year the on it as well as the day . I thought that would be on it.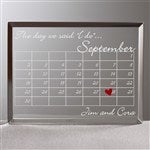 Size was not expected
By
Aneisha A.

(Bronx, NY) - August 14, 2011 (
See all reviews by this customer
)
I brought this as a wedding gift. I expected it to be a lot larger than it was. Fortunately my friend loved the gift.

Cute
By
Shopper

(Sunland, CA) - July 5, 2011
This wasn't as big as I thought it would be and I thought it was made of glass. I didn't read the full description. It's still very cute and I like it. A cute little gift for my wedding anniversary.