Great and special wedding gift.
By
Shopper

(Oro Valley, AZ) - September 30, 2013
It was smaller than I expected, but as a paperweight on a desk it's perfect. The bride and groom loved the gift. Personalization looks great. I am glad I ordered this.

A simple reminder gift
By
Shopper

(Charleston, SC) - September 27, 2013
I brought this gift for two couples I knew that were getting married and I couldn't be there for the wedding. They absolutely loved the personalization of the picture that I used (from their engagement photos)! It was a unique gift that was also very personal. It was perfect!

Love it!
By
Jessica D.

(LaFayette, NY) - September 20, 2013 (
See all reviews by this customer
)
This is the third personalized wedding day calender that I have purchased and it still is my top wedding gift choice! It's so perfect.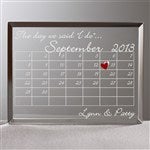 beautiful
By
toni W.

(philadelphia, PA) - September 17, 2013 (
See all reviews by this customer
)
Brought this for my husband for our anniversary. HE LOVED IT!!! He put it in his home office and before doing so, could not help looking at it over and over again and examining every part of this beautiful and unique piece. Anytime a macho man like my husband love this, than it would be a great gift for anyone.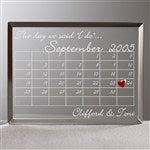 Great
By
Shopper

(Albuquerque, NM) - September 2, 2013
my friend said he loves it because it is a good way for him not to get in trouble with his wife for not remembering their anniversary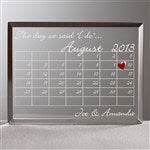 Even my son thought it was neat
By
Lynn B.

(Hollister, MO) - August 26, 2013 (
See all reviews by this customer
)
Very cute, I am very happy with this product. Everyone wanted to know how and where to get them.

A Perfect Gift
By
Shopper

(Birmingham, AL) - August 17, 2013
Unique; easy to design and order; reasonable price; rapid service; always appreciated; will never be discarded--this is a perfect gift!

Excellent!
By
Shopper

(Lake Worth , FL) - July 23, 2013
Beautifully done.

Very happy with purchase
By
Wayne E S.

(Watertown, MA) - July 20, 2013 (
See all reviews by this customer
)
The wedding and anniversary keepsake that I purchased recently is the third such gift I have purchased for friends. Every time, the recipients are thrilled with the unique gift. It definitely makes a happy and lasting impression. Recommend it as a gift for anyone celebrating a wedding or anniversary.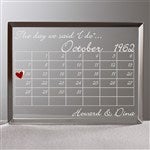 Wedding Gift
By
Ronald L. H.

(Indianapolis, IN) - July 15, 2013 (
See all reviews by this customer
)
Awesome alternative when the bride is keeping her last name.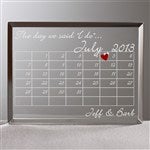 Outstanding
By
Marlon F.

(Guttenberg, NJ) - July 8, 2013 (
See all reviews by this customer
)
The Price
The Quality

Superb!!!!!!!!!!!

anniversay gift
By
Shopper

(pelham, NY) - July 3, 2013
My husband is a difficult person to buy for and this personalized gift is just perfect for our 10th anniversary gift love your items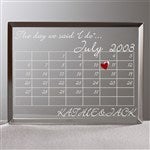 Never Disappoints Us
By
Shopper

(Mechanicville, NY) - June 30, 2013
Your company does an outstanding job of designing, marketing, and delivering all its products. We have never been disappointed with a gift. Customers must remember to study the dimentions of the gift before ordering it so that they know its size.

Couple was Very Pleased
By
Shopper

(Rockledge, FL) - June 18, 2013
Even the husband made a comment about this gift. It was very personal with the date of their 25th anniversary in a red heart. Arrived promptly.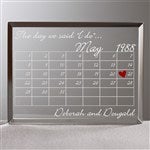 Wedding gift
By
Shopper

(Hanover, MD) - June 9, 2013
I purchased this as a wedding gift. They loved it!

Excellent service and product
By
Kathleen S.

(Akron, OH) - June 9, 2013 (
See all reviews by this customer
)
Cute gift that I will be giving my parents for their 65th wedding anniversary.
It is exactly as described and I think they will enjoy it.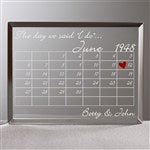 Beautiful...
By
Katrina G.

(Trinity, TX) - June 1, 2013 (
See all reviews by this customer
)
I was married on July 7, 2007, a very special wedding date. This is a lovely momento of that day. It is very good quality and shipped promptly.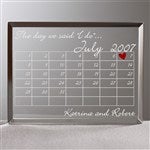 A Great Wedding Gift
By
Shopper

(Locust Grove, GA) - May 20, 2013
My new daughter in-law really liked this gift. I have not looked at the actual gift.

Perfect small gift
By
Kristin T.

(North Plainfield, NJ) - May 13, 2013 (
See all reviews by this customer
)
I received this at my bridal shower and thought it was so cute! I recently ordered one for my coworker who is getting married next weekend. It's the perfect gift to give someone as a small token to wish them well. Arrived in a good amount of time and looks perfect. Cant wait to give it to her today :)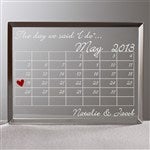 Nice!
By
Stacia T.

(Phoenix, AZ) - May 6, 2013 (
See all reviews by this customer
)
Great anniversary gift!!

The Day We Said I Do Personalized Keepsake
By
Shopper

(Canada) - May 3, 2013
Super super nice, what a great gift for Wedding Memories (Bridal Shower). Excellent excellent service.

Happy Bride
By
Shopper

(Redford, MI) - April 23, 2013
This was a wedding gift for a bride. I could not attend the wedding so I have the gift mailed directly from the this company. When she received it she loved it. Thank you!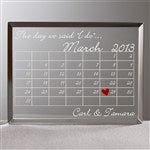 Bridal Showers
By
gloria A.

(Hurlock, MD) - April 13, 2013 (
See all reviews by this customer
)
I have given this as a bridal shower gift several times. Everyone loves it!!!!!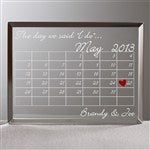 Fabulous
By
Shopper

(West JORDAN, UT) - March 25, 2013
This is a very nice heavy paperweight so remember it's about the size of two credit cards. Personalization makes it look thoughtfully expensive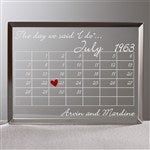 Special Day
By
Shopper

(Jersey City, NJ) - March 16, 2013
its cute and u can use it as a paper weight.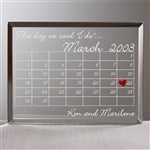 Beautiful Keepsake of a Very Special Day
By
Shopper

(Jacksonville, FL) - March 12, 2013
Beautiful Calender with special day marked with heart. Simple, yet elegant.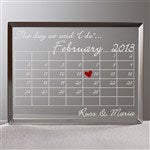 I Love this product
By
Laura L.

(Plant City, FL) - March 2, 2013 (
See all reviews by this customer
)
I can see the dates to plan for my wedding. I am so happy with this.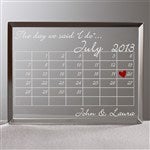 A day to remember
By
Shopper

(Baltimore, MD) - February 12, 2013
The personalized keepsake is beautiful !! It is a classy constant reminder of the day we took our vows in marriage. Item is perfect.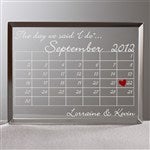 Very sentimental.
By
TAMMY K.

(MINNEOLA, FL) - February 10, 2013 (
See all reviews by this customer
)
This was the perfect valentine gift. It arrived exactly like the picture shows.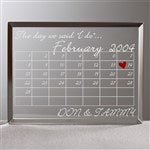 very nice
By Shopper (Drew, MS) - February 7, 2013
I really like this item I ordered it for a friend.

A Great Reminder
By
David C.

(Decatur, GA) - February 5, 2013 (
See all reviews by this customer
)
Got my my wife this for one of her little anniversary presents and she loved it. A great reminder of our wedding day.

It's small but actually looked a lot classier than I thought it would. It was delivered in just a few days and was excellent value for money.

The only slight problem is that because the engraving is white it can be difficult to see. We put a piece of black card on the back and it looks terrific now.

I would recommend this.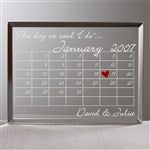 Great Wedding Keepsake
By
Lisa S.

(Clearwater, FL) - January 14, 2013 (
See all reviews by this customer
)
This is a great keepsake. I purchased one after I got married in 2009 and just recently a friend got married and it was the first thing that I thought to get her as a keepsake for her own wedding. Perfect size to sit along side a framed wedding photo.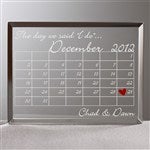 Afforable
By
Shopper

(Spring Hill, FL) - January 13, 2013
Most of us are on a super tight budget these days. With the 14 and some change price I was able to afford to purchase a unique gift. This product is adorable and will last forever! In fact I hope to be purchasing some more at this price. So glad that I found this website! Thank you,


beautiful gift, a little small
By
Shopper

(Henrico, VA) - December 25, 2012
beautiful but a little smaller than I expected, but I should have read the product specs more closely

Always Remembered!
By
Shopper

(Temple Hills, MD) - December 22, 2012
This was a perfect "special" wedding gift. The couple loved it.

Anniversary Gift
By
Shopper

(Mandeville, LA) - December 16, 2012
My wife and I just celebrated our 6th wedding anniversary. She was thrilled when she opened this, and thought it was a very well done and thoughtful gift. It is a keepsake, so it is smaller than some of the other items I have purchased on Personalization Mall, but it was exactly what I expected.

Such a nice idea!
By
Shopper

(Coram, NY) - December 13, 2012
Was very pleased with this "keepsake". Can't wait to give it to the newlyweds!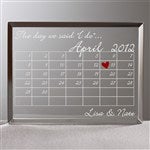 Great anniversary gift
By
Christina B.

(San Mateo, CA) - November 17, 2012 (
See all reviews by this customer
)
This is a great anniversary gift for any couple. I bought one for my sister in law & her husband for their 52nd anniversary, & one for my girlfriend & her husband for their 50th anniversary this year. They absolutely loved it. It made them feel special to get something so pretty & unique that they knew was special ordered just for them. I liked this item so much I even ordered one for my husband & I for our 5th anniversary this year. I have ordered other items from you, so thank you for the great & unique products you offer, but especially for the swift & great customer service, which is rare these days.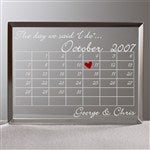 Great!
By
Shopper

(Newark, CA) - November 3, 2012
Yet a bit small but great none the less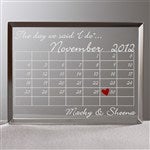 wedding
By
Shopper

(watervliet, NY) - October 21, 2012
very nice - was just as it was pictured - gave it to my son as a gift for rehearsal dinner -