Nice,delicate but small!!!
By
Shopper

(Redmond, WA) - February 3, 2012
I got it for my upcoming anniversary.i liked it but i expected it to be little bigger.it comes in a nice packaging delicately n safely placed and also looks nice and personal,but size is the only down side of this product.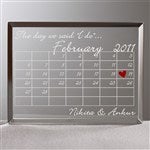 August 31, 2011
By
Terri P.

(hebron, MD) - January 22, 2012 (
See all reviews by this customer
)
The product is alot smaller then the picture makes it seem and the red heart is nothing more then a metallic sticker that kids play with needless to say when i got it i was severly disapointed but after having it for a few months its a valuble addition to my collection of wedding things. I also hate that i bought it for $19.99 and its been on sale for $13.99 ever since I bought it :(

831 Means "I Love You"
8 Letters
3 Words
1 Meaning <3 <3 <3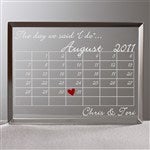 Good
By
Shopper

(Waterford, MI) - January 2, 2012
Very nice idea - but would be a 5 star item if we're larger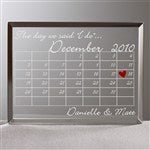 Adorable
By
PAUL S.

(ORANGE, CA) - December 31, 2011 (
See all reviews by this customer
)
I love the quality of this, but really small. My own fault for not looking at measurements.

Nice, but small, I didn't note actual dimensions
By
Shopper

(Ottawa, OH) - December 11, 2011
Nice for a thoughtful personal gift. Can hold in the palm of your hand.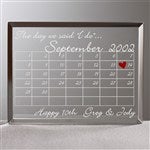 Features
By
Shopper

(Oakland Park, FL) - November 14, 2011
I gave this item to a friend for their wedding gift. I liked the gift ever since I saw it online however I also thought it would be a bit bigger. It is small and a cute gift but I think it would be nice for different size options.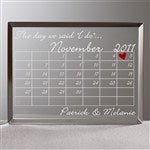 Nice but Small
By
Jenny Y.

(Crosby, TX) - September 2, 2011 (
See all reviews by this customer
)
Pay attention to the dimensions. I did not, and I am a little disappointed in how small the item is. Other than that, it is a nice piece that I will cherish forever.

Smaller than I expected but still beautiful!
By
Michelle M.

(Fox Lake, IL) - August 29, 2011 (
See all reviews by this customer
)
I really love this. I thought it would be great to display on a mantel or shelf in the home but when I got it, it seemed a bit small. I still think it would be a great desk accessory. High quality item. Great gift!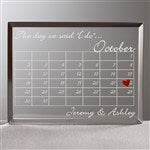 Smaller than I expected
By
Jeannie N.

(Albuquerque, NM) - August 27, 2011 (
See all reviews by this customer
)
I loved the idea of this, I didn't realize it was as small as it was, I just got excited over the item and didn't read the measurements, totally my fault. It was a nice item and the couple loved it.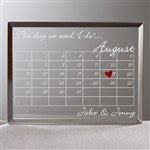 Beautiful piece but smaller than expeted
By
Shopper

(CORAL SPRINGS, FL) - August 23, 2011
This piece is absolutely gorgeous and a unique gift for a newly married couple. However, it is much smaller than expected and that made myself and others underappreciate the beauty and uniqueness of it. If it were maybe the size of a sheet of paper, it would be more appreciated.

products feature i don't like
By
cora L.

(Camden, IN) - August 16, 2011 (
See all reviews by this customer
)
You should put the year the on it as well as the day . I thought that would be on it.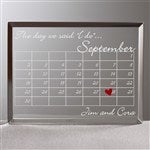 Size was not expected
By
Aneisha A.

(Bronx, NY) - August 14, 2011 (
See all reviews by this customer
)
I brought this as a wedding gift. I expected it to be a lot larger than it was. Fortunately my friend loved the gift.

Cute
By
Shopper

(Sunland, CA) - July 5, 2011
This wasn't as big as I thought it would be and I thought it was made of glass. I didn't read the full description. It's still very cute and I like it. A cute little gift for my wedding anniversary.