our calendar
By
Shopper

(Hialeah, FL) - November 16, 2011
Good quality. Good presentation. Good service. My wife was surprised with it. She liked it a lot. I will recommend it.

Very cute, but a little smaller than I thought
By
Shopper

(Petersburg, VA) - October 31, 2011
This product is adorable and as usual, Personalization Mall has created an adorable product. I bought this for some friends that were just married. I wanted to get them something different.

I know the measurements are on the description but it is small. Still cute as ever, but small.

Adorable!!
By
Shopper

(Kilgore, TX) - October 1, 2011
Rather cute and adorable. Way smaller than expected, but still made a great present!!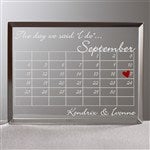 Something unexpected
By
Shopper

(Wildomar, CA) - September 26, 2011
This was a little smaller than I thought it would be, but it is just adorable.
Good quality! I'm sure my niece will like it.

very cute
By
Shopper

(Phoenix, AZ) - September 25, 2011
The product was much smaller than what I was expecting but still turned out very cute!

Beautiful Keepsake
By
Shopper

(Mitchellville, MD) - September 20, 2011
This is beautiful and a great gift. It was smaller than it looked but very nicely done.

Small size.
By
Shopper

(Hialeah Gardens, FL) - August 20, 2011
The design was exactly as shown in the picture, and it's very well done. Very fast shipping, and nice gift boxes. However, I thought the calendar was larger. It's small.

Very Nice Keepsake
By
Shopper

(Ft Mitchell, KY) - August 18, 2011
The Day We Said I Do Keepsake is very nice. However I thought it was going to be bigger than it really is. I hope the that Bride likes it. I am giving it to her at the Bridal Shower next week.

The Day We Said I Do
By
Denise R.

(Gainesville, FL) - August 9, 2011 (
See all reviews by this customer
)
Very beautiful. I ordered 3 things and this one was my favorite. Much smaller than I expected but that was my fault - I should have looked at the size listed instead of assuming it was bigger. Wish they put the year on it as well.

What I didn't like
By
Shopper

(Rathdrum, ID) - August 5, 2011
The picture gives you the impression there is a frame around it,
but there is not. Very nice..smaller than expected..very nice tho!

Cute Concept
By
Shopper

(Atlanta, GA) - August 5, 2011
Loved the idea, quality was good, just thought it was going to be a little bigger in size.

Cute wedding gift
By
Shopper

(Chestnut Ridge, NY) - July 30, 2011
Very cute wedding gift but no year was on it. Although they ask you for the year on the form. It would be nice to include the year as it is a calendar.

Perfect Gift
By
Marla A.

(Xenia, OH) - July 25, 2011 (
See all reviews by this customer
)
I absolutely loved this item. It is a perfect gift. Although, I was expecting it to be a little larger, I prefer the size that it is. Very different. Very original. The bride was very pleased.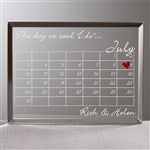 Nice but too small
By
Shopper

(Plantation, FL) - July 24, 2011
It's a nice cute little gift, but I think it's a little toooooo small

Personalized Keepsake
By
Shopper

(dix hills, NY) - July 20, 2011
I just received this item in the mail today and I'm very impressed. The engraving is great and it arrived in perfect condition. Be careful of the measurements though, I thought it was going to be much bigger than it actually is (I went off of the picture and didn't even read the measurements lol) Also it's a block, so the red heart is on the front and the engraving is behind it, so from a different angle (other than face forward) the heart looks a little off, but mine just peels off so I fixed that myself. This is such a beautiful product, and would fit on any desk, table, counter, etc. perfectly. I am once again very impressed with personalizationmall.com and will order more items in the future :)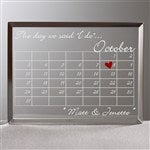 Displayed in the Living Room with related photos
By
Shopper

(Indian Trail, NC) - July 16, 2011
Have enjoyed for many years your wonderful Wedding and Birthday products, yearly, and the proof in the positive reactions of the receivers of the gifts.
A great Customer Service, efficient and personal.

Outstanding
By
John K.

(Albany, OR) - July 11, 2011 (
See all reviews by this customer
)
Arrived very expeditiously and is a terrific keepsake for our daughter and her soon to be husband. The Red Heart in the picture looks like it is engraved and colored red, not just a sticker. I'm going to actually color the engraved heart with red fingernail polish and remove the red sticker heart on the front.
As always the service is fantastic from PM and I love doing business with them!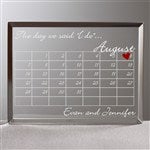 Anniversary momento
By
Maureen R. D.

(Camden, NY) - July 11, 2011 (
See all reviews by this customer
)
They are lovely. The problem is that the box they are in is so tight fitting you have to rip the box to get it out. I ordered several but after fighting to get the first one out I did not check the others as I had to destroy the box to get it out. VERY disappointed. I wonder how they ever got it into the box! PM is usually wonderful about the packaging but they get an "F" on this one!

Unique Anniversary Gift
By
Thomas C.

(Henrico, VA) - July 5, 2011 (
See all reviews by this customer
)
My wife and I celebrated our 13th anniversary recently and "The Day We Said I Do" Personalized Keepsake was the unique gift that I gave my wife. She really loved the gift because she had never seen anything like it. She took it to work to show to her co-workers. I have a reputation for giving her unique gifts and PersonalizationMall.com allows me to do that. The service is excellent and shipping is always prompt. I will continue to remain a loyal customer.