Great Product
By
Barbara W.

(Wood Dale, IL) - December 13, 2009 (
See all reviews by this customer
)
I ordered this for my boss who is recoving from Cancer surgery. He is a great boss and this will surely make his Chrismas a little nicer. The quality is great as well as the price.

It only took a couple of days for me to receive it. I would recommend this to everyone who has a person that is hard to shop for.

love it.
By
Wafaa H.

(Waltham, MA) - December 9, 2009 (
See all reviews by this customer
)
Very satisfied with the purchase.

So fabulous, I'm ordering several more!
By
Kathleen M.

(Irvine, CA) - November 14, 2009 (
See all reviews by this customer
)
What a beautiful gift this is going to make, I can hardly wait to give it; in fact, I am ordering several more.

Pen & Case Set
By
Patricia S.

(islip terrace, NY) - October 1, 2009 (
See all reviews by this customer
)
The first one I ordered the writing was very light I called and I sent a Picture in and they immediately replaced it. The next one I recieved was perfect.
Thank you.

BEYOND WHAT I EXPECTED
By
Shopper

(Montrose , PA) - July 6, 2014
Love the product. Looked great and were the perfect gift. The recipients were thrilled. The only isue which made the difference between 4 and 5 strs was the case engraving. If was bigger, maybe twice the size would have been 5 plus stars. Other than that small issue would definitly reccomend them as gifts and will buy again!!!!!

Very Professional n detail
By
Lorez W.

(saint Louis, MO) - June 16, 2014 (
See all reviews by this customer
)
This product was very rich looking, especially with the name on the outside of the case. The pen on the inside was very nice n professional looking. The color of the wood case was nice.

Good but marred
By
Daniel D.

(Anchorage, AK) - April 8, 2014 (
See all reviews by this customer
)
This item is was I expected but a little marring on the wood of the pen. A little more care and quality control would make this a perfect gift.

Very pleased
By
Shopper

(Lewisville, TX) - January 6, 2014
While I do wish the name was deeply engraved, I was happy with the pen set and my college bound son loved it.

Beautiful
By
Jack W.

(Carlsbad, CA) - December 21, 2013 (
See all reviews by this customer
)
A really pretty pen. The engraving on the box could have been a little more pronounced. It was kind of dim. Not so on the pen. Absolutely gorgeous.

Great Reward Gift
By
Shopper

(MIDDLETOWN, OH) - March 24, 2013
Looks much more costly than it is

nice personalized gift
By
Shopper

(San Antonio, TX) - February 24, 2013
pretty pen. nice gift.

A nice gift
By
Shopper

(Wenatchee, WA) - January 14, 2013
Overall, the sets I ordered are very nice. The font was much smaller than I expected on the case and was the same size as on the pen. Would have liked a larger font size to be used on the case. That said, still a nice gift that will become a keepsake.

It is nice
By
Shopper

(HOT SPRINGS, AR) - March 6, 2012
There was a 3-day delay for the delivery (for no apparent reason) they didn't say anything. But if finally arrived. It is beautiful, thank you

Great gift!
By
Laurie D.

(Thibodaux, LA) - December 22, 2011 (
See all reviews by this customer
)
This came out beautifully, although the script on the pen holder is a little smaller than I expected. Overall, it's elegant and a great gift for almost anyone.

very nice quality
By
Belinda Y.

(INDIANAPOLIS, IN) - December 12, 2011 (
See all reviews by this customer
)
The pen and the case were very nice, the engraving on the case was really nice, the engraving on the pen is a little hard to read, but otherwise Im very pleased.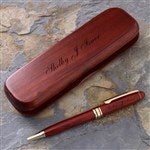 great price great gift
By
sandra P.

(Sedona, AZ) - September 2, 2011 (
See all reviews by this customer
)
it was very easy to find what i wanted, good selection. i was pleased with the quality.

CLASSY PEN
By
RACHEL R.

(RONCEVERTE , WV) - June 8, 2010 (
See all reviews by this customer
)
THE WOOD AND ENGRAVING ON THIS PEN LOOK GREAT. THE ONLY PROBLEM I HAD WAS THAT THE PEN'S AND BOX'S WOOD WAS A DIFFERNT COLOR. DID NOT MATCH EXACTLY BUT THE PEN ITSELF SEEMS TO BE HIGH QUALITY.

Great gift!!
By
Kelley N.

(Martin, TN) - May 6, 2010 (
See all reviews by this customer
)
Purchased as a special gift for a college graduate earning his doctorate degree. Very nice!!

Classic
By
Melissa H.

(Elizabeth, NJ) - January 12, 2010 (
See all reviews by this customer
)
I bought this pen as a Christmas present. He loved this pen and wont even let anyone else use it. This was a very good buy.

Great Christmas Gift
By
Lori H.

(Portsmouth, RI) - December 27, 2009 (
See all reviews by this customer
)
The quality of the pen and box was amazing. The rosewood used was top quality. The ink used in the pen was not your typical blue or black. Therefore, I would recommend using a true blue or black ink.

Nice
By
Tina K.

(St Louis, MO) - June 17, 2014 (
See all reviews by this customer
)
I purchased this as a Father's Day gift for my fiance' from my daughter. It is very nice and he loved it because I was able to personalize it. It don't feel it was worth the price I paid for it though.

Messing print
By
Shopper

(Providence Forge, VA) - January 16, 2014
When I received the item the gold paint was smeared all over the box. Too late to return, it was a gift. Tried my best to wipe off the paint, worked a little.

Comfortable to hold, and great writing
By
Christine W.

(Erie, PA) - December 12, 2013 (
See all reviews by this customer
)
Personalization on the box was disappointing. The letters are not visible enough. Very light engraving on the box. The pen engraving was better.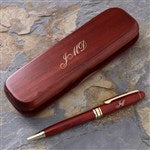 Pen loose in cradle
By
Shopper

(Emeryville, CA) - April 20, 2013
The pen is much thinner than the slot inside its wooden box, so it rattles every time one moves the box. This bad fit can be an irritation.

ok, but...
By
Shopper

(Laguna Woods, CA) - May 6, 2012
Case and pen look lovely, but error was made in not capitalizing the person's title after the name even though I correctly entered it into site. It is liveable, not not what I hoped for. Would not order online again since it becomes a hassle to fix and return.

Unhappy
By
Shopper

(Old Westbury, NY) - June 23, 2011
I found the execution of the work to be unsatisfactory. It was hard to read the name of the company (on the case) and the name of the person (on the pen) - because the color used for those names did not stand out well on the Rosewood. A different color, which would contrast better against the Rosewood, would be a big improvement for both the the case and the pen. Furthermore, the name on the pen could not be read unless the pen was removed from the case - because the position of the pen's clip, which could not be adjusted, woul not allow the pen to be aligned within the case in a way which could display the person's name while it was within the case. To see the name on the pen, the pen must be removed the case.

The item itself is great - irritating stickers are not
By
John W.

(Allston, MA) - May 31, 2010 (
See all reviews by this customer
)
This item is really quite nice, and arrived exactly as ordered. I was considering ordering from this company again for several other gifts, but the thing that's going to keep me from doing that is the fact that they plastered an annoying promotional sticker to the underside of the pen case. I thought it would be no big deal, but the adhesive on that thing was so persistent that I ended up ruining the varnish trying to clean it off. So, either you settle for a nasty sticky patch on the bottom, or you spend an hour trying to clean it (and possibly trying to make the damaged varnish into something that looks intentional).

It's possible that the heat and humidity played a role in making the adhesive worse, but still - why even put the sticker on there at all? They've already got my money, and nobody but me is going to see the thing. They have to know that everybody's just going to tear the things off (or try). Please, Personalization Mall, stop ruining great products with useless stickers! You'll even save money, I bet!

Personalization
By
Patricia D.

(Woodville, OH) - May 27, 2010 (
See all reviews by this customer
)
The personalization was not straight on the pen set.

pen review
By
Steven S.

(Charlotte, VT) - March 19, 2010 (
See all reviews by this customer
)
again, great service, fast delivery.....the pen looks nice and the case looks great but the pen doesn't write very smoothly.

Unhappy with pen rattling in box at any movement!
By
kathy W.

(ellisville, MS) - December 16, 2012 (
See all reviews by this customer
)
The case is nice as is the monogramming but the pen rattles loudly inside the case due to it not fitting properly. One standard groove was made inside the case to hold the pen and the pen being thinner at one end is loose and rattles against the wooden box even with the lid closed. Very annoying.

a bit disappointed
By
Billie B.

(Dallas, TX) - October 13, 2009 (
See all reviews by this customer
)
My only complaint about this product is the personalization itself. I ordered three pens to give to three different people in the same family. One looks great, but the other two you can barely read.