Excellent service and excellent product
By
Shopper

(Oswego, KS) - August 11, 2011
Good quality product for a reasonable price. Was shipped quickly. Made for a great surprise!

phenominal
By
LISA T.

(FORT WASHINGTON, MD) - August 6, 2011 (
See all reviews by this customer
)
this was so perfect and so different and i am so grateful to have been introduced to this company. they have met and exceeded all expectations on all 20 of my orders

Great banner
By
Robert K.

(Antelope, CA) - August 5, 2011 (
See all reviews by this customer
)
The Banner is large enough to fit a single car garage. Make sure you have a good photo since this banner will last a long time.

Awesome--Great Quality and Great Price
By
Shopper

(Littleton, CO) - August 4, 2011
You will not find anything of this quality for this price that is personalized. The photo is awesome--I am so excited to surprised my in-laws with this banner for their 50th anniversary. I searched all over the web and thought this banner was too good to be true. I was pleasantly surprised--it's fantastic.

Exceptionally High Quality
By
Shopper

(Hammond, LA) - July 30, 2011
We purchased this banner for our parents 50th anniversary we placed the order on a Friday night and were pleasantly surprised that the item shipped on Monday.
We received the banner on Thursday and upon opening the banner were pleased with the high quality of the picture and banner. We are very thankful and recommending this site to all we know.

Wow!
By
Jennifer F.

(St. Paul, MN) - July 25, 2011 (
See all reviews by this customer
)
I am so impressed with the high quality of this item. I am so excited to display this for my parents' anniversary party! The order arrived in only a couple of days. Awesome!

Loved it!!!
By
Candice P.

(Paulina, LA) - July 25, 2011 (
See all reviews by this customer
)
I love this company, I have ordered many items from here for gifts, parties, and even personal items. I have never been disappointed. Everything is excellent quality and arrives very fast. This banner was no different, excellent quality....set the tone of the party!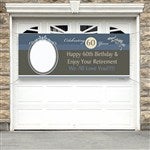 Very Nice
By
james G.

(Lake Havasu City , AZ) - July 17, 2011 (
See all reviews by this customer
)
I liked it very much really good for price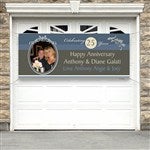 Exactly what I wanted.
By
Shopper

(Ventura, CA) - July 16, 2011
Very pleased with the quality and style of this banner.

Exactly as promised
By
Jim M.

(Arlington, TN) - July 16, 2011 (
See all reviews by this customer
)
Ordered this for my parents 50th wedding anniversary. It was very well constructed, delivered very quickly and as promised. I am extremely pleased with all of my purchases from Pesonalizationmall.com. Thank you for making it so easy and delivering quality products at great prices!!!

Premium banner and quality service - delievered fast!
By
Billy Jim C.

(San Francisco, CA) - July 11, 2011 (
See all reviews by this customer
)
I was overly satisfied with my recent banner purchase! The banner quality was higher than I expected. I ordered it less than a week before I needed it delivered for my grandparents 65th wedding anniversary. I called customer service and they confirmed it would arrive on time. It did indeed. My grandparents, aunts, uncles, cousins, brothers, sisters and parents were impressed with the banner's picture quality and its nice color scheme. Thanks so much for making my grandparents wedding anniversary special!

Wonderful!
By
Julie T.

(Gaithersburg, MD) - July 11, 2011 (
See all reviews by this customer
)
I ordered this for my husband's parents' 50th anniversary. The quality is great. Everyone complimented me on it and I was sure to tell them where I got it. I ordered in and had it in 4 business days. I couldn't believe it. It was definitely a wonderful conversation piece at the party. Thank you, PersonalizationMall for a great banner.

Wonderful !!!!
By
wendy M.

(hampstead, NC) - July 8, 2011 (
See all reviews by this customer
)
THANK YOU SO MUCH!!! I couldn't believe from the time I ordered the Anniversary Banner to the time I received it was only five days!!! I was not expecting such a nice banner for such a great price! I showed it to my co-workers and they are thinking about getting one for their parents 50th anniversary too! LOVE IT!!! Thanks again!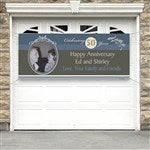 Anniversary Banner
By
Debbie S.

(Omaha, NE) - July 3, 2011 (
See all reviews by this customer
)
Pleasantly surprised! The quality was awesome on the picture, and it turned out beautifully! Cant wait to display it across the porch on the day of the party! They are going to love it! Thanks again for another top notch item! You always come thru for me!

Better than expected
By
Shopper

(Eolia, MO) - July 2, 2011
I ordered this banner for our annual fish fry which also was our daughters 25th anniversary.It was really a hit.Several people wanted to know where I got this.Really nice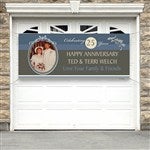 Absolutely Wonderful!
By
Elaine C.

(Fayetteville, NC) - May 31, 2011 (
See all reviews by this customer
)
I love the banner I ordered! First and foremost, the delivery time was outstanding. I received the banner a few days after ordering at a minimal shipping fee. The quality of the banner and the detail of the uploaded picture on the product was absolutely wonderful. I would not hesitate to order from this company again. I am thouroughly pleased with my product!

Good Quality
By
Shopper

(Canyon Cntry, CA) - May 10, 2014
The banner looks even better than I expected! Very good quality. I highly recommend. My only tip is: fix any imperfections in your picture before you send it. Imperfections will be HUGE in the photo! I used an old picture of my parents and there were some nicks I could have easily fixed if I had noticed them. :(

super fast
By
eleanor V.

(Secaucus, NJ) - March 29, 2013 (
See all reviews by this customer
)
Fast shipping and very beautiful

Have color options for the words we selected- blue does not show up well on gray
By
Tandy and Robert S.

(Coplay, PA) - September 23, 2012 (
See all reviews by this customer
)
I loved the banner and so did my sister and brother-in-law who were married 40 years. Lots of compliments and the service was great. Ordered it on a Sunday night and received it on Wednesday afternoon. It appears to be made really well and it's sturdy. They hung it in the banquet room where they had their 40th wedding anniversary get-together. They are going to hang it in their house also. Everyone loved it.