50th Anniversary
By
Shopper

(Crawfordville, FL) - August 19, 2011
I sent this to my friends for their Anniversary and they loved it

PATRICK LOREY
By
Shopper

(FOUNTAIN VALLEY, CA) - August 13, 2011
THE PERSONALIZED CROSS THAT I PURCHASED FOR OUR GOOD FRIENDS, WAS MORE BEAUTIFUL THAT IT SHOWES IN YOUR PICTURE. I WAS EXTREMELY PLEASED AND I WILL SURLY RECOMMEND YOUR PRODUCTS TO ALL MY FRIENDS.

Highly Recommend
By
Crystal L.

(Colorado Springs , CO) - August 9, 2011 (
See all reviews by this customer
)
I bought this for my husband & he actually loved it (As did I!!) It's a great gift & it's absolutely gorgeous :)

beautiful cross
By
Shellie S.

(Crowley, TX) - August 9, 2011 (
See all reviews by this customer
)
I have bought this cross for myself first and was so happy with it now it is something special that I do for anniversaries of people that are closest to me. I am so glad that I found Personalization Mall's website everything that I have bought has exceeded my expectations for sure!

good craftsmanship!
By
Shopper

(Jamestown , NY) - July 29, 2011
This cross is absolutely beautiful! The personalization is beautiful and the cross itself is very well made! This will be cherished forever!

Nice product
By
Shopper

(Manhattan, KS) - July 27, 2011
I purchased this as a gift for my sister and brother-in-law for their 25th wedding anniversary and sent it to them directly. She was very impressed with how nice it looked and the quality of the wood. The preview photo really helped in deciding to purchase. I'd recommend this as a nice gift for any anniversary.

Anniversary Cross
By
Carl S.

(San Diego, CA) - July 26, 2011 (
See all reviews by this customer
)
We were So Very pleased with our order. It came so quickly and the work is outstanding. Really a beautiful gift and we are so pleased with it. We will certainly order more from you.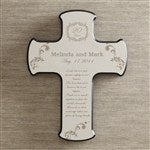 Great gift
By
Charles M.

(Decatur, AL) - July 23, 2011 (
See all reviews by this customer
)
Found this product to be very well crafted and a excellent 50th anniversary gift for friends.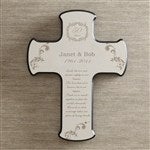 Our anniversary cross
By
Shirley G.

(Peoria, AZ) - July 16, 2011 (
See all reviews by this customer
)
It is so beautiful!!!! I just love this item!!!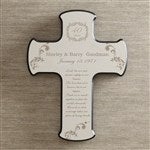 Very Beautiful!
By
Shopper

(Powder Springs, GA) - July 8, 2011
The cross is very beautiful and I cannot wait to give it to friends for their 50th Anniversary!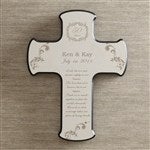 60th Anniversary gift
By
Shopper

(New Braunfels, TX) - July 7, 2011
The cross turned out very nice. I was very impressed and I received it very fast.

Happy 25th
By
Maureen R. D.

(Camden, NY) - July 5, 2011 (
See all reviews by this customer
)
I have 4 25th anniversary family and friends to celebrate this year. This cross is beautiful and will go with any color scheme. Very pleased.

Cross
By
Christine K.

(Sunderland, MD) - July 1, 2011 (
See all reviews by this customer
)
Very Nice piece.. Would buy again!!!! Thank you.. Just what I was looking for!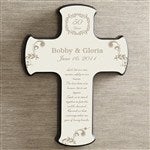 Absolutely Perfect Keepsake Gift!
By
Shopper

(Mission Viejo, CA) - June 30, 2011
I was looking to get my sister & brother 'n law a special gift for their 30th Anniversary. I googled "30th Anniversary" gifts and this website came up. So glad it did! Found this perfect keepsake Cross which they can hang in their home with a precious Christian poem reflecting the 30 years of their marriage. Wasn't sure of the quality and size but ordered it anyway - the price was reasonable too. WOW! I received it in 2 days and was so pleased with both. I thought it might be too small but it wasn't. It is perfect for hanging on their wall by the bedside or entry way of their home. It's the sentiment that counts and I know my sister will LOVE this. She and her husband will have this "Keepsake" for years to remember their 30th Anniversary. So happy I ordered this and will order again for other family and friends!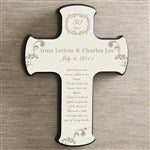 Great Experience
By
Shopper

(Pennsboro, WV) - June 30, 2011
This item arrived exactly as advertised and on time. My wife loved it and that's what mattered the most.

Personalized anniversary cross
By
Shopper

(San Tan Valley, AZ) - June 22, 2011
I was extremely pleased with my purchase. It shipped fast and was boxed well. It looked even more beautiful than in the picture. I was glad I could choose the anniversary number at the top, since I couldn't find any gifts anywhere that said 35th. The quality of this product was excellent. It was a very special gift for my parent's anniversary! They truly LOVED it!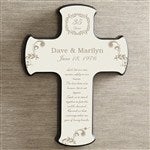 Perfect Gift
By
Julee H.

(Huntertown, IN) - June 18, 2011 (
See all reviews by this customer
)
Purchased for my sister/brother in law 20th wedding anniversary. They loved it! - Had it hanging on their wall within the hour. Personally - I would prefer some more color but once hung up on wall - surronded by pictures, it looked perfect. Super quick delivery. I got exactly what it shows and will buy again for the next lucky couple.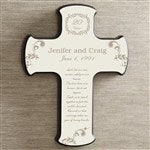 Great Product!
By
Ken B.

(Bloomingdale, IL) - June 17, 2011 (
See all reviews by this customer
)
This product is beatiful!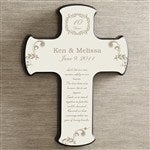 That perfect gift
By
Shopper

(Windsor, CO) - June 14, 2011
My mother-in-law and father-in-law just loved this. They are Christian so I knew the cross would be welcome on their walls and they loved the commerative ingraving. They called and thanked my husband and me again and again.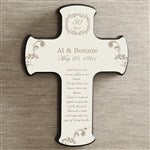 Loved It !!
By
Deanna H.

(Filley, NE) - June 13, 2011 (
See all reviews by this customer
)
I haven't yet seen the Anniversary Blessing Cross, because I had it shipped directly to our son and daughter-in-law. However, the word from them is that they LOVED IT! I have a pretty good idea of what it looks like, because I was able to preview it, just like you see it here only larger, before I ordered it. That was a very helpful feature.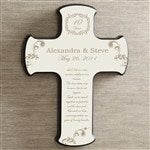 50th Anniversary Gift
By
Keith K.

(Pelham, AL) - June 6, 2011 (
See all reviews by this customer
)
I kind of procratinated on getting a gift for my Aunt & Uncle's 50th Anniversary and waited what I thought was too long. I took a chance ordering this cross in the hopes it would get to me soon enough. In fact it got here way faster than I thought and it was perfect. Everything as I imagined. I know that my Aunt & Uncle will love it for many years to come. Thank You Personalizationmall.com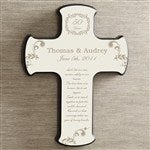 BEAUTIFUL!
By
R. JOHN L.

(ALEXANDRIA, LA) - June 5, 2011 (
See all reviews by this customer
)
The cross is beautiful and the engraving, too. The couple that we bought this cross for their 35th wedding anniversary will LOVE it! THANKS!!

Anniversary Cross
By
Shopper

(Pringle, PA) - May 30, 2011
The cross was beautiful. It is painted a high gloss white on wood. Very nice quality! The recipients LOVED it!! In my own stupidity, I just wish I had put the date written out instead of numerical (4/4/81 vs. April 4, 1981 in scrolled writing). I was in a hurry and didn't read the instructions well enough. My Mom was so pleased with the product when I showed it to her, she is, as we speak, on her computer ordering an item for her friend of over 75 yrs!!! for her 82nd birthday! That is a testimony in itself!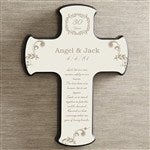 aniversity cross
By
Robert A.

(Cuyahoga Falls, OH) - May 14, 2011 (
See all reviews by this customer
)
total surprice on how good the quality was.total shock is the better word.
total great.
thanks

Anniversary Cross
By
Susan G.

(Bristol, PA) - May 12, 2011 (
See all reviews by this customer
)
We ordered this to mark our 5 year mark. We love it and it's hanging in our home.

Anniversary cross
By
Armand V.

(Fontana, CA) - May 8, 2011 (
See all reviews by this customer
)
I was impressed with the quality, my wife was touched with the prayer.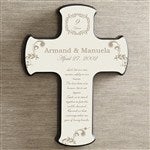 Edges of product
By
Pheona H.

(Alvarado, TX) - May 22, 2014 (
See all reviews by this customer
)
It's nice, however, the edges in picture make it appear that edges of
cross are beveled. But it's nice.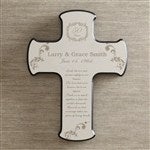 just what we need
By
Ronald B.

(Baltimore, MD) - August 3, 2013 (
See all reviews by this customer
)
This cross was what my wife and I need at this time. The cross because we are Christians and the words are great my wife thought that I created them myself. The words was put together to keep us inline and remember what marriage is about. This is a great design and perfect size to hang on the wall under our wedding gift. I am telling my male friends about it and to get these items for their anniversary as well.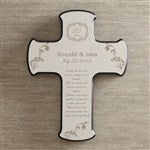 Anniversary Gift
By
Shopper

(Alexandria, VA) - May 31, 2013
I purchased this gift for a young couple celebrating 5 years...the verse is perfect for a couple trying to stay committed to marriage! The quality is well made of wood, I think the inscription could be a darker color, closer to black ink instead of grey to stand out more...but I love it still! It's beautiful!

Loved it!
By
Shopper

(Albuquerque, NM) - May 17, 2013
My parents loved this item. Brought them to tears!

50th gift
By
Shopper

(Singer Island, FL) - February 16, 2013
Product was very nice and an appropriate gift. The gift box was crushed at one end detracting from the presentation; however, no complaints about the product.

Beautiful
By
Bobbi S.

(Sacramento, CA) - January 15, 2013 (
See all reviews by this customer
)
I was so pleased with this item,purchased for dear friends from Church. They hung up as soon as they unwrapped it and are so pleased..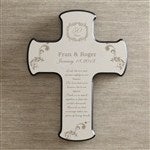 Lovely anniversary gift
By
Shopper

(Crystal Lake, IL) - January 14, 2013
Brought this as an anniversary gift for my parents.it turned out wonderfully and they loved it!

Beautiful Anniversary Gift
By
Shopper

(Wylie, TX) - January 6, 2013
Bought this cross for my parents 40th anniversary. It was a simple elegant piece for them to remember the occasion. Product looked exactly like preview.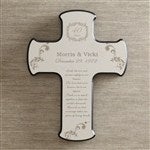 simple gift
By
Connie J.

(Whittier, CA) - December 2, 2012 (
See all reviews by this customer
)
this is for a gift to celebrate 50 years of marriage. no gifts were suggested but this will be a nice momento of the day. it is made of wood and i think it will be just fine for what i paid. i was honestly a little disapointed when i opened the box not sure what to expect. it just seems a little cheap but don't get me wrong it is still a nice gift.

Very pretty but not 100% perfect
By
Shopper

(Parma, OH) - July 30, 2012
I ordered this as an anniversary gift, and was very pleased at how fast it shipped (I paid extra for the rush). Overall it's a beautiful product, but mine was not exactly perfect. The verse was put on slightly crooked. You can tell that the spacing on each side of the verse are not equal. Granted, I'm an artsy person, so this type of thing never escapes my eagle eye. Given that we didn't have time to return the item for a new one, we still gave it to the couple in hopes that they won't notice the slight imperfection. The fact that the verse is written in cursive helps hide the imperfection. Will it stop me from ordering again? No. I'm sure it was just a fluke. But I think a little bit better QC could be employed here.

nice
By
Cindy L.

(Aurora, MO) - April 22, 2012 (
See all reviews by this customer
)
It was well made. Would have been better if it was more colorful. The writing was a light grey and blended in with background. Fast shipping.

As expected. Well done.
By
Shopper

(Newtown Square, PA) - November 12, 2011
Very fast shipping. Product exactly as pictured.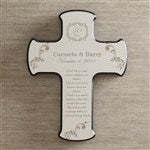 Not what I expected
By
Shopper

(San Mateo, CA) - October 31, 2011
For some reason I thought the front was made of mirror, not laminate. That's my own fault since I didn't read the description carefully.
Paid for 2nd day shipping, received it the next day which was great. Item looked good, no mistakes.
Tip: Some people might not like having their name on a cross, it might remind them of a tombstone/grave stone.

nice anniversary gift
By
marie N.

(kearny, NJ) - August 27, 2011 (
See all reviews by this customer
)
really cute gife , my husband loves it.