Very Satisfied
By
Alan R.

(Circle Pines, MN) - March 24, 2013 (
See all reviews by this customer
)
These were delivered very quickly and the quality was all that I expected. It's sure to be a hit with our guests. Very satisfied!

Perfect pics!!!
By
Jenny R.

(Staten Island, NY) - March 22, 2013 (
See all reviews by this customer
)
Love the guitar pics we personalized for our rocked out wedding. They were sent quickly and they are perfect!! Love this site. Will def be buying more personalized items from here following my wedding. Thank you PM!!

Wedding picks
By
Shopper

(Clarkdale, AZ) - March 11, 2013
I really love these picks! They came out perfect. It was hard to find the right photo to use because it was cropping it too much but I finally found this picture and it was just right. My fiance is going to be playing the guitar as I walk down the aisle to him so I think these picks are going to be perfect for our wedding favors. Nice quality and looks great!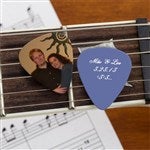 Perfect for our theme
we are getting married at the Hard Rock Hotel in Downtown Chicago, so these are perfect to lay on the tables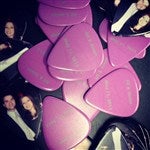 Adorable and Perfect gift!!
By
Shopper

(Oskaloosa, IA) - January 23, 2013
Item came as I ordered it, quickly, and great quality as always!

Love it
By
Shopper

(Cornville, AZ) - January 2, 2013
I would have preferred being allowed more letters since the names I needed were long and the balance isn't right. I should have chosen a larger font. The pic on the front turned our just right and I know they will love them. Thank you.

Excelent
By
Jeremy S.

(Rushford, MN) - December 27, 2012 (
See all reviews by this customer
)
I was very impressed by the quality of this product! The picture was very clear and you can't see any printed lines or anything. I would recommend to anyone who is a guitar lover. We had these laying out on our tables at our wedding reception.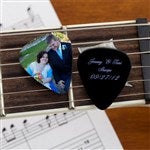 Guitar picks
By
Joann F.

(Kentwood, MI) - December 21, 2012 (
See all reviews by this customer
)
great little item love it thank you

Pick Pics
By
Shopper

(Pleasant Grove, UT) - November 6, 2012
These turned out great! Such a clever idea, and super inexpensive. Quality picks (I'll actually use them). Our wedding guestbook is a guitar that people will sign, so this was a perfect wedding favor. We love them!

Great product!
By
Kat W.

(Chicago, IL) - October 8, 2012 (
See all reviews by this customer
)
Full color quality was great! Text on second side was bold, and well spread out and larger than the preview, which made me happy as it was easy to read. Shipping was very fast also.

RockinRowanWoman
By
Theresa R.

(Winfield, MO) - October 2, 2012 (
See all reviews by this customer
)
Got these Picks as a 22nd Anniversary gift for my husband.
He Loved them!!!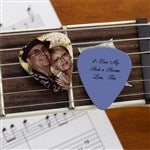 fun
By
Paula S.

(Denver, CO) - August 31, 2012 (
See all reviews by this customer
)
we love our guitar picks

Love these picks!!!
By
Liza Z.

(Bergenfield, NJ) - August 24, 2012 (
See all reviews by this customer
)
I ordered these picks for my wedding as a fun little favor for the guests. I put a picture of my fiance and I on one side in "sepia" and chose light blue color for the other side, along with the text, "I PICK YOU! Jon & Liza, 9.15.12," in brown. THEY CAME OUT AMAZING!!!!!!!!!!!!! My wedding colors are brown and blue, so the colors are perfect. It is just such a nice product -- the picks are nice and sturdy, the picture looks great, and the text was done perfectly. My fiance and I play in a band together, so my plan is to put them out in a pretty bowl near the guestbook, and put a sign in a frame that says, "Take Your Pick!" with a picture of us playing in our band. :) Love it! Totally worth it. Might buy 100 more!!!! Also, the preview picture that the site gives was very accurate -- so if you are wondering whether the actual product will look like the preview picture, I would say for me it was extremely accurate and gives you a great idea of what they will come out like!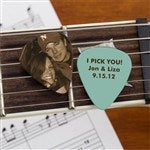 Personalized Guitar picks
By
Shawnna T.

(Mechanicville, NY) - August 17, 2012 (
See all reviews by this customer
)
These cane out so awesome! They were so much better than we expected. We got them for favors for our wedding and they were a big hit!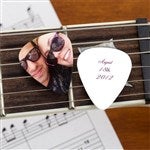 Amazing Gift!
By
Katrina G.

(Wilmington, DE) - July 6, 2012 (
See all reviews by this customer
)
I was pleasantly surprised by the wonderful quality of these guitar picks. The picture came out crystal clear and the colors were very bright. The block font was perfect. They were also delivered very fast. I will definitely order from you guys again! Thanks!!

Awesome Graduation Party Favor!
By
Shopper

(St Clair Shores, MI) - June 27, 2012
We are completely thrilled with the quality of this product! These pics are so awesome! The photo side is beautiful, the lettering is easy to read and they really have substance to them! Can't wait to surprise our son and our guests at the party with these personalized pics!!!

AWESOME UNIQUE party favor
By
Darlene M.

(West Hills, CA) - May 6, 2012 (
See all reviews by this customer
)
We got these for one of the party favors for my daughter's graduation party... when they came she was sooo excited! They look great and are so unique. Can't wait for everyone at the party to see them!!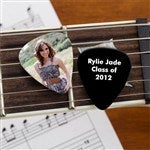 Beautiful
By
Casheena D.

(Madison, AL) - April 29, 2012 (
See all reviews by this customer
)
I was really concerned about getting a bad quality picture on the picks, but they were GREAT. Picture perfect :) Very unique wedding gift and I highly recommend!

awesome!
By
Jennifer L.

(St. Louis, MO) - April 20, 2012 (
See all reviews by this customer
)
these turned out better than i expected, even! Wonderful, fast, friendly service! In fact, I even came back and ordered another 100 for my wedding!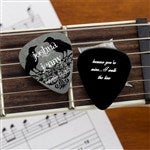 Guitar players please
By
Shopper

(Westampton, NJ) - April 14, 2012
Can't wait to have my son and his guitar-playing friends see these adorable guitar picks! Personalized with the names of the upcoming newlyweds and their picture...sure to be a fun keepsake.

Awesome wedding favors
By
SHANNON S.

(MOUNT HOLLY, NC) - March 5, 2012 (
See all reviews by this customer
)
I was absolutely shocked at how great these turned out!! I was so pleased I ordered a second batch. However the color description is off. Sky blue is more green/teal if I would have known that I would have picked blue. But I love how the picture turned out. Everyone will love these!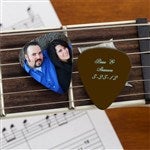 Super Cool!
By
Holly M.

(Edmond, OK) - February 21, 2012 (
See all reviews by this customer
)
I am so happy that I ordered these guitar pics! I designed 4 different ones and they all look amazing!! I definitively recommend these for party favors, wedding favors, or any band that wants their own personalized pics!!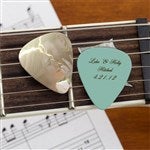 Perfect Gift Idea!!!
By
BrandyGail M.

(Ellettsville, IN) - January 17, 2012 (
See all reviews by this customer
)
I purchased the custom guitar picks as a gift for my husband for Christmas. I put a sexy photograph of me on it from a pinup girl session I did. He absolutely loved it. I joke and say "he can still play with me, even when I'm old and gray!". They are a great gift idea for a fiance, girlfriend, wife & any other spouse to another! <3 I had so many friends ask where I got them and they want to do it themselves! The standard shipping was also pretty quick. I got them faster than I expected. The quality is awesome. They are very heavy and the photo quality is great. My husband actually plays guitar and he said they are very close to the gauge of pick he uses, so he will use the picks I got for him. He likes Dunlop Tortex Orange .60mm picks and this pick is 90mm, pretty close in size. I aboslutely LOVE them! I am so happy I did it. He likes to show all of his friends ;P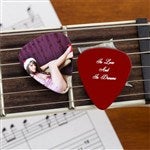 How Could You NOT Love This!?!?!?!
By
Blayne E.

(New Albany , IN) - December 29, 2011 (
See all reviews by this customer
)
If you don't love this you have to be off your rocker!!! I had ordered this for a loved one for Christmas, along with so many other gifts. His main focus was the picks that I had made! It of course was a picture of him and I on the front and on back was a quick quote of our song. We are in a band and play all over the United States together, but some shows I can't make it, and he will play solo. His statement to me was "Even if your not with me I can at least see you smiling at me from the stage . . . . . on my pick" So this gift was more than worth it. You could even say it brought us closer. If I could rate these 100000 stars I would. But they only let me rate is 5 :(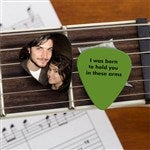 Great Gift
By
Shopper

(Springfield, IL) - December 27, 2011
I made a mistake in my note that I had put on them but they were still a big hit!

ChristmasPresent
By
Emily R.

(Ipswich, SD) - December 19, 2011 (
See all reviews by this customer
)
I ordered these for one of my husband's christmas gifts and he absolutely loved them!!

Uh-may-zing!!
By
Shopper

(SAN DIEGO, TX) - December 19, 2011
I absolutely loved these picks! And the price was unbelievable! Glad I made the purchase!

The picture and name is very clear.
By
Shopper

(Gray, KY) - December 11, 2011
The picks arrived in excellent shape,none were chipped. The picture was very clear, not blurred at all,the name was legible.The price was very reasonable. A unique gift.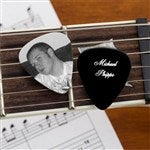 Nicholas & Makayla
It's a christmas present for my lovely boyfriend<3

awesome!
By
Shopper

(Athens, GA) - December 4, 2011
The guitar picks are great quality and we love the look and feel of them. They will be the perfect touch in our our wedding reception decor. I only wish we could fit more text on the back-- with more font size and style options.

LOVE THEM!!!
By
Hope D.

(Canada) - November 17, 2011 (
See all reviews by this customer
)
Two words: LOVE THEM! I'd highly recommend these to anyone. Before we ordered a bunch for our wedding favors...I ordered a couple of them the first time and they were everything that we were hoping they would be. Both my fiance and I loved the way they looked. Great quality pics.

Don't even debate it.....you'll love them too!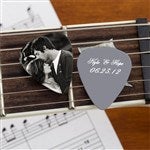 Huge Hit!!
By
Lauren L.

(Acworth, GA) - November 16, 2011 (
See all reviews by this customer
)
My husband and I purchased a bunch of these guitar picks to give out at our wedding reception and everyone LOVED them! We have received request to get more and had people ask where we got them! They are a great value and came out looking Great!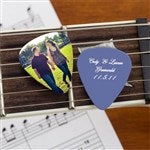 Just what I was hoping for!!
By
Shopper

(Bellevue, NE) - November 12, 2011
I got these for my guitar playing husband! He LOVES them! I was so happy they turned out so good! The editing options put a new spin on one of our old favorite wedding photos! It's a good quality pick also.. He is keeping one for keepsake and the other 19 I got will eventually be used to swoon me! :) Happy shopping! I recommend these for sure!!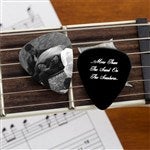 Very Good!!
Very Good

surprise for the groom
By
Brenda S.

(Birmingham, AL) - October 24, 2011 (
See all reviews by this customer
)
We are very please with the guitar picks. As the groomsmen approach the front of the church each will hand one off to the groom as they shake his hand. They're small enough that the groom can easily slip them into his pocket. The guys are excited about this special token. Thanks for such a great gift!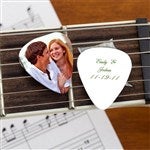 great gift!
By
Sherry R.

(Mentor, OH) - October 17, 2011 (
See all reviews by this customer
)
This was a gift and it was great! I know they will love it!

Quality
By
john S.

(morgan city, LA) - October 10, 2011 (
See all reviews by this customer
)
I really liked the guitar picks. Our picture printed had great color and picks look durable enough to actually use ( though we won't lol). My order arrived in 6 days which was great because we found these last minuit.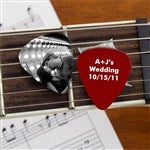 Wedding rehersal gift
By
Beth S.

(RUBY, SC) - October 8, 2011 (
See all reviews by this customer
)
I wanted something to give as a rehersal dinner gift for my sons wedding. I was amazed at how easy it was to place the order and how quick I received the guitar picks. I can't wait to give them out!!

Great!
By
Shopper

(Murray, KY) - October 1, 2011
I was unsure of what to get my boyfriend for our one year anniversary. It is in November, so I didn't want to get anything too expensive or anything too big (Christmas being a month away). He loves to play guitar, so this was just perfect! Great for the occasion and not too much! It is something that is from the heart, yet thoughtful. They are great quality and came in over a month early! The picture was clear and the quote I added on the back is legible. I think he will love them! I have been thinking about getting another order of them personalized for my brother for Christmas. Overall, very happy.

Love this
By Shopper (Pikeville, NC) - September 25, 2011
I am amazed at the quality of this guitar picks. My husband loved the personal touch to them.