Great!
By
Shopper

(Murray, KY) - October 1, 2011
I was unsure of what to get my boyfriend for our one year anniversary. It is in November, so I didn't want to get anything too expensive or anything too big (Christmas being a month away). He loves to play guitar, so this was just perfect! Great for the occasion and not too much! It is something that is from the heart, yet thoughtful. They are great quality and came in over a month early! The picture was clear and the quote I added on the back is legible. I think he will love them! I have been thinking about getting another order of them personalized for my brother for Christmas. Overall, very happy.

Love this
By Shopper (Pikeville, NC) - September 25, 2011
I am amazed at the quality of this guitar picks. My husband loved the personal touch to them.

Wedding Guitar Pick Favors
By
Shopper

(Charleston, WV) - September 25, 2011
These were absolutely adorable and we cannot wait to give them away at our wedding!

Guitar picks
By
Jennifer F.

(Edison, NJ) - July 31, 2011 (
See all reviews by this customer
)
the picks are great quality and the picture is very clear!!! We love them!!!!! They were such a great price too!! We are definitely buying more!!!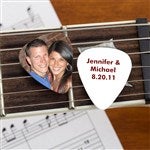 timely and perfectly produced
By
Shopper

(Berkeley Springs, WV) - July 16, 2011
This was an awesome online shopping experience! Not only did they deliver the perfect product (customized with little time to spare) but the delivery was as promised! Thanks again for your help in celebrating our daughter's marriage!

Speedy service
By
Shopper

(Spencer, WI) - July 12, 2011
Picture on guitar pick was so clear and centered perfectly! Order arrived so quickly after order placed.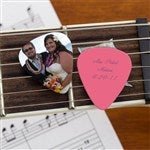 Gorgeous items!
By
Gregory H.

(Rosenberg , TX) - July 11, 2011 (
See all reviews by this customer
)
The guitar picks turned out way better than we expected! Thanks!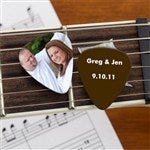 awesome.
By
Shopper

(LaFollette, TN) - July 10, 2011
The picks looked great, had amazing detail and they weren't fuzzy or blurred. Not to mention, it didn't take but a couple of days to get them in. I would for sure order again from this website.

Such an excellent gift idea for the guitarist in your life!
By
Angela B.

(Campbell, CA) - July 4, 2011 (
See all reviews by this customer
)
I always have trouble finding great gift ideas for my husband. I got these for our wedding anniversary. He was so impressed by what a great and thoughtful gift this was. The picture was clear and the picks are medium weight (what he uses). I would totally recommend this! It arrived 2 days after I ordered it, and I didn't pay extra for shipping.

SO amazing! Better than I ever expected!
By
Gregory H.

(Rosenberg , TX) - July 2, 2011 (
See all reviews by this customer
)
We just got our picks in and they are so gorgeous! They are better than we ever expected! Thanks for everything!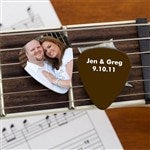 LOVE THESE!!!
By
Jessica A.

(Sacramento, CA) - May 3, 2011 (
See all reviews by this customer
)
These turned out perfectly!! Exactly like the way I designed them, no mistakes or miscuts, the colors are perfect!! Well worth every penny and more! Thanks!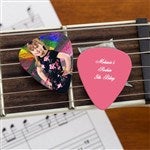 Awesome wedding favors
By
Rebecca B.

(Mesa, AZ) - July 7, 2013 (
See all reviews by this customer
)
They are even better than they appeared to be online. The only thing is the emit an aroma when stored in a bag or tuppperware.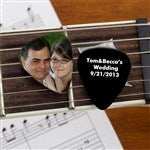 Very Cute
By
Shopper

(Clovis, CA) - May 20, 2013
I purchased the picks as a thank you for the band members at our wedding. I think they'll be a hit!

Satisfied
By
Shopper

(Grand Rapids, MI) - April 2, 2013
These are very cute. Our pictures came out perfectly. The only negative is how small the print came out. The cursive is a lttle hard to read. Otherwise, LOVE THEM.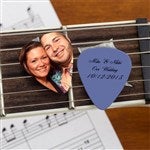 Not Consistent
By
Shopper

(Lakewood, CA) - November 15, 2012
I placed the same order twice because I needed double the maximum number I could select of the picks but the order I placed first was not saved and they could not look up the file I had just sent for the order, a little weird seeing as they'd have it for printing so why couldn't they use the file again? Anyways I ordered the same thing, with the same picture, and the second batch came out a lot lighter and kinda cheaper looking than the first. I don't see why when sending the same picture the printing cam out to different and I was a little unhappy about it but I didn't have the time to go through trying a complaint and getting a replacement batch. Just be forewarned their printing quality is not consistent.

Pretty but stinky
By
Shopper

(Ocala, FL) - March 24, 2012
They look perfect, but give off an odd odor.

guitar pick wedding favor
By
Stephanie A.

(Mills River, NC) - March 19, 2012 (
See all reviews by this customer
)
This turned out really great! I got it for a wedding and the bride and her family love it.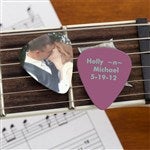 Great Picture - Font choice could be better
By
Shopper

(Omaha, NE) - February 25, 2012
We purchased these guitar picks for our wedding day gifts for our guests and are very happy with them. The picture quality is great on the guitar pick! I suggest that the company get better choices for font. The picture quality is great, the font quality needs improvement.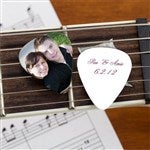 Happy but Text Issue
By
Callie T.

(Lincoln, NE) - January 24, 2012 (
See all reviews by this customer
)
I was very happy with my guitar pics, except for the text printed on the back. The text was definitely not as small as the preview image makes you believe. The text was much larger and much closer to the edges of the pick. This issue didn't make me dislike my final product, I just wish I would have known the text would have been larger then I could have cut back on text. Otherwise I was very pleased with my product, the picture was fit perfectly and am very excited to give them as favors at our wedding!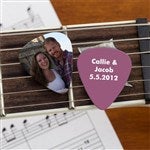 Great product
By
Shopper

(Canada) - September 24, 2013
The guitar picks arrived one week after I ordered them... extremely fast shipment, however the blue was not the color that I thought it would be. I was expecting the shade that showed on my computer and it came in a Royal blue. Other than that, I was extremely happy with the purchase!

shipping too much for such a light item!
By
Shopper

(Los Angeles, CA) - October 9, 2011
Too tiny, too many. Should allow five different pictures for the twenty pieces or one picture for five instead of twenty. Should be free shipping for such a light item even if express mail.