Very happy!
By
Shopper

(Louisville, KY) - August 18, 2014
I'm always happy with my orders from Personalized Mall! It ships very quick and always delivers high quality products! I will continue to shop here! Great, unique gift ideas!

Beautiful frame...excellent customer service!
By
Linda L.

(Chestnut Hill, MA) - July 25, 2014 (
See all reviews by this customer
)
I am very happy with my purchase and would definitely purchase from personalization mall again and again!
Love their products!

Love it!
By
Katelin B.

(Lincoln Park, MI) - March 22, 2014 (
See all reviews by this customer
)
Purchased for my mother in laws birthday. She absolutely loved it.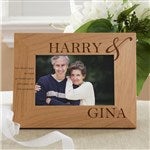 Wedding Picture Frame
By
Jean P.

(Powhatan, VA) - March 22, 2014 (
See all reviews by this customer
)
As always, I am thrilled with the quality of my purchase. The frame is sturdy, engraving is beautiful, glass is a nice thickness, & I love that I was able to personalize not only the names, but the verse. I love PersonalizationMall.com!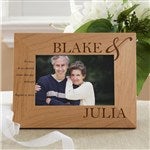 Very pleased with this frame!
By
Shopper

(Dingess, WV) - February 17, 2014
Great frame and good price. My boyfriend loved it as his Valentine's Day gift.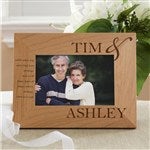 Beautiful frame
By
Noreen P.

(Centereach, NY) - December 22, 2013 (
See all reviews by this customer
)
We just had our pictures taken professionally for the first time since our wedding 26 years ago. I wanted a special frame and this one was perfect.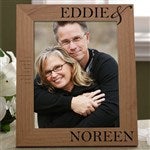 Beautiful and unique
By
Shopper

(Lenoir City, TN) - September 24, 2013
I ordered this frame for my son and daughter-in-law and personalized it with the verse they had inscribed in their wedding bands. I cannot wait to give it to them at Christmas and I think it will mean a lot to them. I am so pleased with the quality and overall look of the product. Some people had mentioned that the smaller print is too small but I "spread" the words out so there were fewer words on each line and I chose the 8x10 frame. (I don't know if that makes a difference in the size of the letters or not but it looks great!) I could not be happier with this frame. Thank you for offering such a great product!!!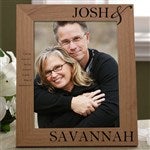 My Boyfriend Loves It
By
Lisa S.

(Far Rockaway, NY) - May 8, 2013 (
See all reviews by this customer
)
My boyfriend is no big fanatic, when it comes to gifts like these, he thinks they are very silly, as some other Men may think. However, he loved it. I'm wondering if the personalization is what got him, because he loves me so much. And to see our names, he just loved it. It's made of a sturdy wood and feels as good as it looks, so NO deception here. It's the real deal. Make a great impression with this frame. You won't regret it.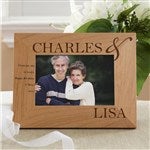 Top Quality Product!
By
Donna T.

(Pulaski, VA) - January 13, 2013 (
See all reviews by this customer
)
I ordered this frame for both of my children (and their spouses). I received the frames very quickly and they look great! My husband had no idea that I had ordered them. He opened the package, saw the engraved names, (he is a woodworker) and said, "Wow....these look nice!" I highly recommend ordering this product. I can't wait to give them to our children for Christmas this year....only problem? Christmas is 11.5 months away!

Stunning and Great Quality
By
Shopper

(fort wayne, IN) - November 29, 2012
I set this on the coffee table arrangement and my husband seen it first thing and LOVED it. It kept saying how awesome it was. It really is good quality for the low cost.
We are happy customers!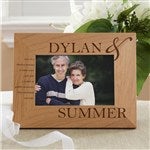 Great Engagment gift!
By
Cherrie L.

(Hampton, CT) - November 28, 2012 (
See all reviews by this customer
)
This is for a couple in Australia! I love how it came out!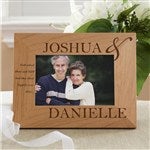 A Gift That Won't Be Duplicated
By
Shopper

(Gower, MO) - August 7, 2012
Why purchase a gift off a registry when you can order from PersonalizationMall.com and completely surprise someone?! I ordered a picture frame with the bride and grooms names, Corinthians 13:13 ("but the greatest of these is love") and included their wedding date and couldn't have been happier with the results. The quality was excellent and made a very personal, unique gift for a sweet young couple. I found this website while looking for a special gift to give my son and his bride for their wedding (a beautiful wedding clock with the verse) and was so pleased that I intend to continue to purchase more items in the future. I've not been disappointed yet and strongly doubt that I will be. Plus I'm always amazed at how quickly I receive my order!!

Beautiful!
By
Doris C.

(Erie, PA) - August 2, 2012 (
See all reviews by this customer
)
I ordered this for my husband for our first anniversary. I ordered his favorite picture of us in "sepia" & placed it into the frame. ABSOLUTELY BEAUTIFUL! We both loved the frame so much. It is so attractive. My husband has it in his office. He likes it so much. Very happy with everything I have ordered from Personalization Mall.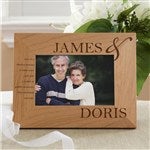 Great Product
By
Shopper

(Rochester, MN) - July 23, 2012
Great quality, fast delivery - loved the frame, will no doubt consider more in the future!

Frame
By
BRUCE M.

(CEDAR HILL, TX) - July 1, 2012 (
See all reviews by this customer
)
The couple I ordered this for loves the frame. So happy.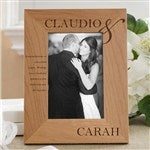 great gift
By
Shopper

(Attica, KS) - March 23, 2012
I gave this frame to two different couples. Both loved it. Personalization Mall was great as always. Shipping is fast and everything is always beautiful.



Great Anniversare gift
By
Shopper

(Orland Park, IL) - January 21, 2012
I bought this as a gift for a 50th Anniversary and was very pleased. I think my friends will be too.

wonderful!!
By
Shopper

(Los Banos, CA) - January 20, 2012
Ordered this product and received an email just 2 days later saying it had shipped. I love the fact it allowed me to write my own message to be engraved on the frame and also loved that it showed me an example of how it would look before I placed my order. I received the frame a few days ago and am very pleased, I will definitely be back in the future to shop again.

Really Cute!
By
Shopper

(Darien, IL) - January 20, 2012
Received items very quickly and they are wonderful! They are going to make awesome gifts for our parents!

Wedding gift
By
Shopper

(Johnston, RI) - January 1, 2012
absolutely loved the personalized frame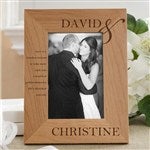 classic frame
By
Bethany C.

(Mason City, IA) - December 30, 2011 (
See all reviews by this customer
)
The craftsmanship on this frame exceeded my expectations. The frame is very simple but the names carved on the frame are very well done! Loved this simple frame :)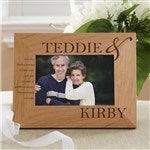 Nice frame, she loved it
By
Shopper

(Saint Cloud, MN) - December 27, 2011
Got this for my wife for Christmas and she loved it, it arrived quickly and was very nice.

Great Engagement Gift!
By
Karen S.

(Montgomery, AL) - November 22, 2011 (
See all reviews by this customer
)
This is the perfect engagement gift! The quality is excellent and I loved being able to personalize a message from us to our kids on their engagement day! It will be a great way to remember such a special day.

Excellent quality
By
Shopper

(Newport, NH) - October 30, 2011
The item arrived, looking just like the proof did on screen! Excellent quality and value. Personalization Mall has become a favorite place to shop for special occasions--a great selection of products to chose from.

Awesome
By
Shopper

(Atlanta, GA) - October 4, 2011
The personalized frame I ordered is better than I imagined. I am more than pleased with my purchase.

Wow!
By
Shopper

(Beaverton, OR) - August 13, 2011
Ordered on a Monday mid-day and got notified of it's shipment 24 hours later! Arrived on the west coast by Thurs... Plenty of time to wrap for the bride & groom! Came out EXACTLY like it showed in the online proof - so be sure to adjust fhe words and spaces you use in any personalization )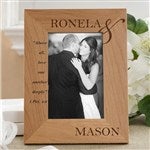 Amazing
By
Shopper

(Fort Worth , TX) - July 29, 2011
This frame was amazing it was just what i wanted and expected doesnt look cheap it looks very nice

Classic frame
By
Shopper

(Lancaster, SC) - July 19, 2011
This was purchased as a wedding gift for a couple who believe simplicity is the key--and they adored it. It isn't gaudy or flashy, but is a beautiful way to celebrate a beautiful occassion.

Anniversary gift
By
Pam W.

(Central, SC) - July 18, 2011 (
See all reviews by this customer
)
This turned out beautifully, was great price and it shipped within 24 hours of when I ordered it, AMAZING. Was an anniversary gift for my daughter and son in law and it turned out great, I will shop this site again!

Beautiful Gift
By
Shopper

(Blythewood, SC) - July 16, 2011
I ordered this frame for my mom & her husband when she recently remarried. They got married on the beach, and I used a picture of them with lots of landscape - it was perfect, since the frame has a "natural" look about it. I used 1 Peter 4:8 as the quotation ("Above all, love each other deeply.") It was a very nice gift. The shipping was super-fast, as it always is with PersonalizationMall.com. Thanks!

Awesome Frame
By
Shopper

(Seaford, DE) - July 11, 2011
This frame with the personal note for my mother is the gift for her for my wedding day. Great buy and turned out great!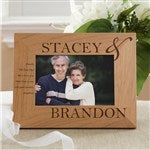 wedding gift
By
Shopper

(Copperas Cove, TX) - August 11, 2014
very nice frame and prompt shipping!

The Perfect Couple Personalized Frame
By
Shopper

(Fayette, IA) - December 2, 2013
I always am amazed by personalization mall's ability to show me the product I will be receiving and matching it so perfectly. Good work team!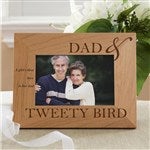 Very cute!
By
Elizabeth S.

(Holly Springs, NC) - April 23, 2013 (
See all reviews by this customer
)
Very nice craftsmanship. Always pleased with gifts from this site. Packaged well, gift boxes are a great touch. This is my "go-to" site for unique gifts!

perfect
By
Shopper

(Lisle, IL) - April 21, 2013
This product was exactly was I expected. It looked professional and sleek. Would definitely recommend.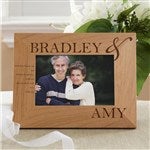 Beautiful frame
By
Patricia F.

(Pearl River, NY) - August 21, 2012 (
See all reviews by this customer
)
I loved this frame and so did the recipients! The wood is very well finished and the names were beautifully done. My only small complaint was that the optional saying printed just a touch too small, but I would still give the frame 4 1/2 stars, but it didn't give me that option, so I made it 4.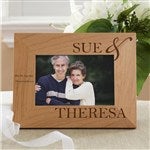 Great gift!
By
Shopper

(Reisterstown, MD) - February 4, 2012
Product was as described and met expectations. My friends loved them.

Personalized frame
By
Leann T.

(Greenwood, IN) - January 16, 2012 (
See all reviews by this customer
)
Just as expected. The frame was impressive. I would definitely recommend personalization.com.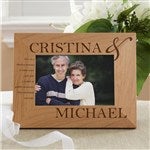 Had to have a second one sent to me.
By
Melanie A.

(Wichita Falls, TX) - October 11, 2011 (
See all reviews by this customer
)
I received the order in a very fast time and was pleased with that. However, when i received the picture frame, the name on the bottom was way lighter in color than the top one. I had to take a picture of the frame and email it. The lady on the other end of the phone was very helpful and kind. Great customer service! I received the second frame and the writing on the left side was jagged. I kept it because it was a gift that I purchased and I must say. My boyfriend really like it. So. all and all, it worked out.

Very pleased
By
Shopper

(Little Neck, NY) - July 29, 2011
I ordered this as an anniversary gift for my husband and I was very pleased with the frame. The personalization of our names looks great! The only reason I didn't give this item 5 stars was because the frame came with a slight dent in the top right corner. I'm not sure if this was due to the shipping but other then that I was very happy with the frame.