Great value
By
Shopper

(Florence, SC) - July 5, 2011
Great product which arrived on schedule. My husband loved the monograming. Perfect gift for a male.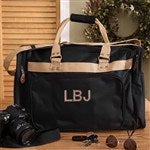 Love The Bag
By
Jean L.

(Noblesville, IN) - July 1, 2011 (
See all reviews by this customer
)
We had a trip we had to go on. The bag came in time for my husband to enjoy. It ended up to big enough to hold mine and his clothes for the two day trip we made. The craftsmanship is well done. I love the monogram on the front. It makes it more personal. I would recommend anyone should buy it if they are looking for a big enough bag to hold all your belongings for a three day trip. It is amazing and so many roomy pockets.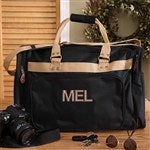 great weekend bag!!
By
andrea B.

(mahopac, NY) - June 27, 2011 (
See all reviews by this customer
)
the perfect bag. great quality and great value.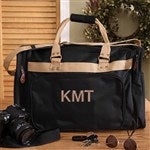 GOOD JOB!
By
Cheryl R.

(Bedford, OH) - June 26, 2011 (
See all reviews by this customer
)
Quick delivery,quality merchandise,large lettering,overall an attractive bag.My husband LOVED it he uses it for his work,made for a very nice "Father's Day" Thank you! :)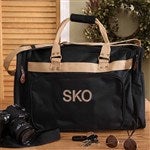 Perfect Father's Day gift
By
Terri T.

(Louisville, KY) - June 25, 2011 (
See all reviews by this customer
)
He LOVED IT!! This is a quality bag & it's a nice size too.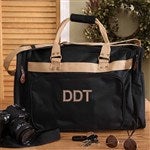 Just what I hoped for Father's Day
By
Lisa J.

(Beaverton, OR) - June 23, 2011 (
See all reviews by this customer
)
The bag was good quality, pretty simple, but he doesn't need a lot of flash. It is a good size for overnight travel. Thank you!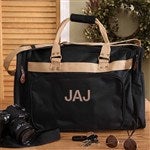 Loved by all!
By
Shopper

(N. Charleston, SC) - June 22, 2011
We purchased these bags for the groomsmen in my son's wedding and EVERYONE loved them. They were a great value and were beautiful. We couldn't be happier.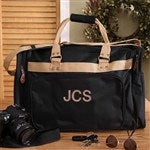 Twins 21st Birthday
By
Robin S.

(Albany, NY) - May 31, 2011 (
See all reviews by this customer
)
Having no children myself, I didn't know what to get as gifts for my friend's son and daughter, who are twins, for their 21st birthday. After hours of searching for ideas, among other sites, I came across Personalization Mall. Still unsure of what to buy, I did know that I wanted to purchase from Personalization Mall. End result...Deluxe Weekender Monogram Duffel Bag for both of them.

But I am also picky when it comes to gift giving. And although the bag looks nice in the picture, I was still leery of what I would receive and unsure if the twins would like their gifts.

Anyway, I placed my order on Tuesday, Wednesday it was shipped and I received it on Friday. I was pleasantly surprised too! The bag is large and has plenty of room. The monogram is VERY nice and quite frankly, IT IS what makes the bag!

Bottom line is...the twins both loved them! So now I will be purchasing more as gifts for future birthday's and even Christmas.

Thank you so much Personalization Mall!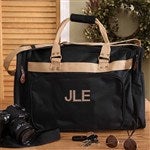 Lost in the Joplin Tornado
By
Eva R. L.

(Baldwyn, MS) - May 27, 2011 (
See all reviews by this customer
)
The item arrived in great shape and was perfect for a new college student who planned on walking on to the track team in Joplin, MO. But now his home is gone, as well as all of his belongings and graduation gifts. Once he has a new place to live, I'll be reordering so that he can carry on.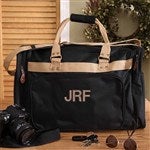 Great Grad Gift
By
Shopper

(Lincolnton, NC) - May 20, 2011
As soon as I opened the box, I knew my nephew was going was going to love it. The monogramming is excellent. I love this store.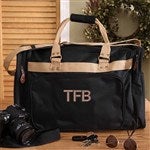 Monogram Duffel Bag
By
M B.

(Kingman, AZ) - May 8, 2011 (
See all reviews by this customer
)
I received this monogram duffle bag as a gift. Not only were the letters embroidered, the quality of the bag is superb. Thanks for a durable and versatile bag. I will use this in the office, while traveling, and in the gym!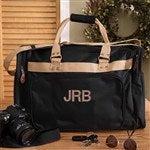 Great!!
By
Shopper

(Deltona, FL) - May 4, 2011
Wow, what a quick turnaround on this engraved bag!! It's a graduation gift and I am picky with my gift giving, but when I received my order and saw the engraving and the bag qualtiy I was very pleased with my order.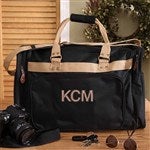 Weekend Duffel Bag
By
Shopper

(Roseville, CA) - April 19, 2011
Great! He loved!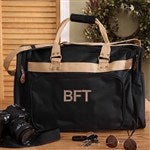 Good deal
By
Shopper

(Golden, CO) - April 11, 2011
I baught this as a gift for my boyfriend who has been traveling a lot for his job in the miltary. He loves it and so do I. It works perfect as a carry on for plane rides, or fits nicely under bus seats. When it first arrived i had to unzip all of the pockets and let it air out for a few days because it had a very strong oder. It aired out and was fine after that though. A very nice product for the price.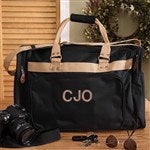 Great Product!
By
Shopper

(Fallbrook, CA) - March 21, 2011
I ordered this for a Retirement Present for my best friend. Once received I decided I wanted one for myself! Great Value, Great Product and Great Service!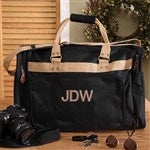 He loved it!
By
Chakelle F.

(Fayetteville, AR) - February 21, 2011 (
See all reviews by this customer
)
I bought this bag for my boyfriend's valentine's day gift and HE LOVED IT!! I loved it also. The personalization of the bag was QUALITY !! The bag is a nice regular duffel or tote bag size and he can travel with it to and from my dorm or he can use it for travelling. I just love the fact that the bag LOOKS so EXPENSIVE, when in truth you don't pay a lot for it! It's very reasonable for what I paid! I advise it as a great buy! Thanks PM!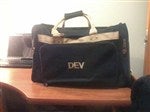 Wonderful Weekender Duffel Bag
By
Shopper

(O Fallon, IL) - August 3, 2014
Very nice product. Good quality and the perfect size for air travel.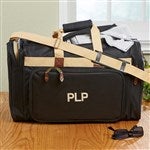 Grandson loves duffel
By
Shopper

(Naples, FL) - July 27, 2014
The weekender duffel was a real hit with my grandson who is headed off to his Freshman year in college next month. He was pleased that his name is prominently displayed on a small piece of luggage that will serve him as he travels on visits home or to baseball games as he is on the varsity team!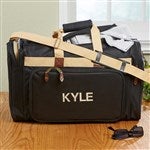 A great buy
By
Madeline W.

(Augusta, GA) - July 12, 2014 (
See all reviews by this customer
)
I purchased this real nice gym bag for my son. He loves it. The bag is real roomy and sturdy. The company did a great job in the monogram of his initials. This is the right size for him. It really is a beautiful gym bag.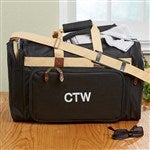 Excellent Travel Bag
By
Sharon R.

(Portland, OR) - May 19, 2014 (
See all reviews by this customer
)
I have a puppy (Chad) that travels with us every where we go. I bought this bag to put his toys, travel bowls, food, blankets, bell's for hotel door (He rings a bell when he has to go outside) leashes, seatbelts.....you name it! It has side pockets for extra water bottles and his ID. (he's in training to be a service dog) This bag is light weight, easy to fold up when not in use....and last very easy to clean!
PERFECT!!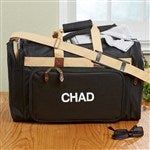 Just as Depicted
By
k S.

(Valrico, FL) - February 22, 2014 (
See all reviews by this customer
)
Nice quality - good for a personalized gift. Turn around time excellent.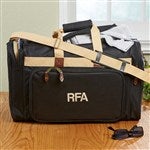 perfect gift
By
Shopper

(hartford, CT) - February 19, 2014
I bought this as Valentine present. He loved it and it came on time, great bag plus personalization. Can't go wro ng.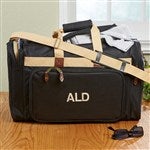 Awesome bag
By
Angela M.

(Atlanta, GA) - February 15, 2014 (
See all reviews by this customer
)
I have a ton of bags. They were either too small or too big for a long weekend get-away. This bag is perfect. It can fit all of my clothes, shoes and girlie things. It has lots of extra pockets, so I can store electronics, like my Kindle. I loved it so much that I purchased another for college age son who frequently travels.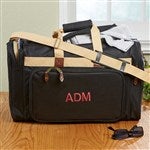 Great gift
By
Shopper

(Cedar Hill, TX) - January 31, 2014
I bought this as a retirement gift for my dad and he absolutely loved it. We went eith the khaki lettering.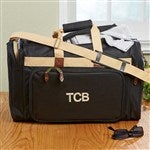 Durable duffels!
By
Diana G.

(St. John's, FL) - December 26, 2013 (
See all reviews by this customer
)
We had 3 happy (adult)sons Christmas morning when they opened their bags! They look great with the monograms, are the perfect size and are quite durable. Thanks for the quick delivery and great service.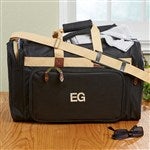 excellence
By
Shopper

(Savannah , GA) - December 15, 2013
I got my purchase in a timely manner and I know my father will love his gift.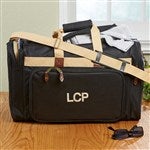 Excellent!
By
Shopper

(Perry, GA) - December 13, 2013
Just the right item for my son who travels!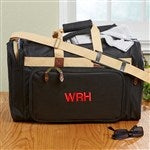 All the zippers have broken
By
Shopper

(Glenwood Springs, CO) - September 26, 2013
I bought this duffel bag as a birthday present for my son. The zippers broke one after another and the zipper pulls fell off. Perhaps, stronger zippers would be better, especially since the bag is advertised for $49. The daffel bag was hardly used and still the zippers broke and would not zip.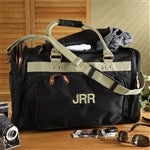 Weekender duffle bag
By
Shopper

(Lynchburg, VA) - August 20, 2013
this was the first time shopping at Personalization Mall. I purchased the bag as a birthday gift and was very impressed with the quality of the bag and the fast delivery. the recipient was also very pleased.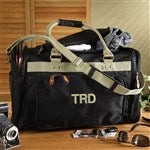 Terrific gift for a male in your life!
By
Mary O.

(Troy, MI) - August 16, 2013 (
See all reviews by this customer
)
I bought this bag several times: for a boss as a retirement present and for my twin nephews who gradated from Vanderbilt. They all loved it. It's a perfect laptop-size bag or over-nighter.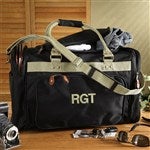 My husband loves this
By
Tamela S.

(Smithfield, NC) - August 10, 2013 (
See all reviews by this customer
)
My husband loved this for his birthday. Quality of bag is great!!!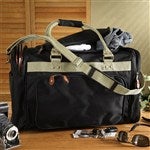 Big Hit!
By
Rose Mary L.

(Lockhart, TX) - June 30, 2013 (
See all reviews by this customer
)
I bought this duffel bag along with the hanging garment bag for my son's 28th birthday. He LOVED it! He lives out of state so I didn't get to see these items, but he said the quality was very good. I have been a customer for many years and I order many gifts from Personalizationmall.com. I can always expect my gifts to be well received and I have been very pleased with everything I have ordered. The customer service is also the best!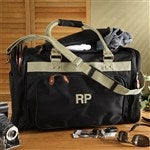 Better than expected
By
Shopper

(West Carrollton, OH) - June 4, 2013
The bag is a great size, material is high quality and the monogram initials added a touch of class that made the bag extra special. I was proud to give this to my nephew as part of his high school graduation gift. He can use it for his college books or a weekend travel bag.

This bag appears to cost much more then it really did. Great buy!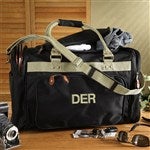 Gift for Grandson
By
Deanna W.

(Las Vegas, NV) - May 5, 2013 (
See all reviews by this customer
)
I bought this duffel bag for my grandson who is graduating from High School. He plans on taking a trip this summer before he starts college. He was very thrilled with it and said it is just perfect. I have not seen it myself but the way my grandson raves about it I can only give it a 5.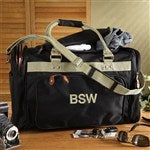 GREAT WEEKENDER
By
Liz V.

(Houston , TX) - April 21, 2013 (
See all reviews by this customer
)
I ordered this for my son to take and short trips and he loves it...very nice quality and the perfect size!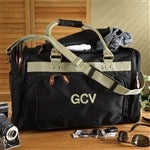 Great 50th Bday Gift
By
Shopper

(Ooltewah, TN) - March 12, 2013
Got this 'last minute' 50th birthday gift for the Boss' 50th bash. Came in time and was a hit. The bag is nice and masculine, but the straps could be of a little higher quality. Would purchase this item monogrammed again.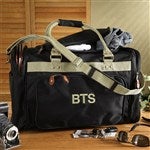 Great!
By
Linda S.

(Forney, TX) - March 11, 2013 (
See all reviews by this customer
)
Excellent quality & bigger than I expected. Great item for traveling.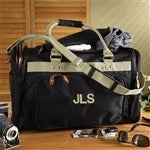 everything i expected
By
Shopper

(COLUMBIA, IL) - February 20, 2013
i purchased this for my better half who is a business traveler, and while he hasnt used it yet, he loves it! it is the perfect size, great quality and overall a very classy bag!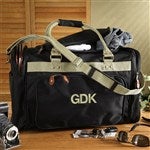 Great weekender bag
By
Shopper

(Stockbridge, GA) - February 13, 2013
This is a very well constructed bag. Is larger than it looks. Great for college students.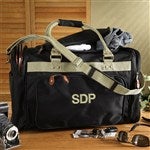 Great Weekender!
By
Shopper

(Eagle, ID) - February 12, 2013
Ordered for my husband as he's always putting his stuff in my bag...urr...anyway, I opened it up and so far it looks great; just big enough to throw in an extra pair of clothes; a jacket and his shaving kit for a night away from home. We do a lot of exploring and spend frequent nights away from home; this should be great for him.