Very Personal, Very Meaningful
By
Shopper

(Thousand Oaks, CA) - January 15, 2013
I bought this after our rabbit died, for my partner. She was our first pet so her passing was very emotional, but this poem and picture made such a great memory of our adorable bunny. Very much worth the money.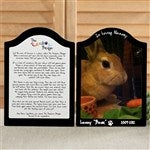 Great memorial picture and poem
By
Shopper

(Roswell, GA) - January 15, 2013
The picture and poem look wonderful.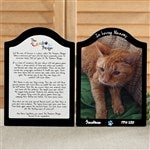 Such a thoughtful Gift
By
Shopper

(Philadelphia , PA) - January 2, 2013
I had used this site before to get a gift for my grandfather for Father's Day, which is why after my best friends dog died I came here right away to find the perfect Christmas gift for her. She was Thrilled with her gift it could not have been more perfect, it defiantly helped her cope with the situation a little better! I recommend this gift to anyone who lost a pet.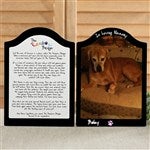 Pet Memorial
By
Emily E.

(Onalaska, WI) - December 27, 2012 (
See all reviews by this customer
)
This turned out so well. The poem is wonderful and fits the family dog and my mom so well. Nice and sturdy so it'll hold up well Thanks so much.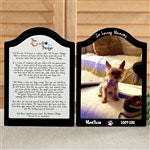 Love It
By
Shopper

(Havertown, PA) - December 5, 2012
Comes exactly as you see it.

Wonderful!
By
Amy D.

(Watertown, CT) - September 11, 2012 (
See all reviews by this customer
)
I purchased this to remember my cat, Pumpkin who passed away a few weeks ago. Each time I look at it, I smile as I'm reminded of all the times she made ME smile! It's a wonderful tribute to her and I highly recommend this to anyone who's looking for a special way to remember their beloved pet.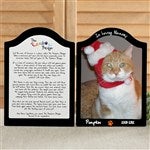 Good Memories
By
Shopper

(Orange, TX) - September 2, 2012
This is a very nice way to remember your pet. We love it and look forward to the rest of our family remembering our dog through it.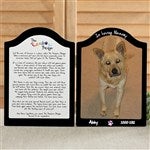 great picture frame and poem
By
Rene U.

(Salt Lake City, UT) - August 17, 2012 (
See all reviews by this customer
)
I have yet to see this item expect in pictures from my sister inlaw. She recently lost her kozmoe. But from the pitures and what she said to us she loves it so much.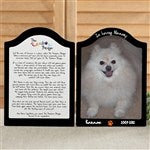 Impressive Plaque
By
Daniel P.

(Powell, TN) - August 16, 2012 (
See all reviews by this customer
)
Ordered after reading the touching poem & product reviews, immediately after sudden passing of family dog. Item arrived 2 days after order, was in perfect condition, and I believe, will offer some comfort to grieving family. Thanks to Personalization Mall for helping during difficult times, and for providing heartfelt, touching items to honor and keep the spirit alive, of our beloved 4-legged family members.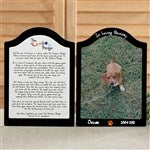 Amazing Pet Frame
By
Mary J.

(Henderson, NV) - July 24, 2012 (
See all reviews by this customer
)
The most beautiful pet frame ... picture is vibrant and beautiful.. the rainbow sentiment is beautiful..

I totally recommend this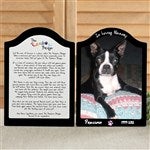 Wow!
By
Wayne L.

(Oak Creek, WI) - July 11, 2012 (
See all reviews by this customer
)
I ordered this on Monday and received it on Wednesday. And it looks beautiful. My daughter and her family were so happy. They lost their pet on Monday. This brought a bit of comfort to them.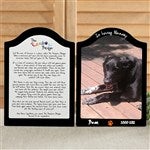 Photo Keepsake
By
Carol P.

(Houston, TX) - July 1, 2012 (
See all reviews by this customer
)
...my good friend's companion, American Bulldog puppy, passed way too early in his little life and it touched me deeply. When I came across "Pets In Heaven Personalized Photo Plaque" I ordered right away. The quality was even better than I expecited and delivery was really quick. I look at 'King' everyday now next to my computer! Thank you for your product and such a special gift for all of us who experience the lose of a beloved pet.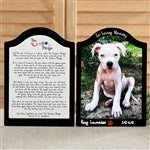 Very Beautiful, more than I expected
By
Shopper

(Midland Park, NJ) - June 12, 2012
This is a really great product.. I bought this for my mother after our dog had passed, and ended up getting one for myself as well. The quality is great..more than I expected. Its a really nice way to display your pets picture and remember them. I love the Rainbow bridge poem as well. Great product for the money!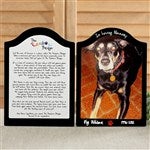 Excellent quality!
By
Shopper

(Fremont, OH) - June 12, 2012
great product! excellent quality and customer service! fast delivery! A terrific keepsake!

A Moving Tribute To a Family Pet
By
Gordon D.

(Ventura, CA) - April 29, 2012 (
See all reviews by this customer
)
I am absolutely delighted with my purchase. What a beautiful tribute to our family cat! A moving poem in the left frame and then Mocho's cherished photo alongside it at the right. It really does help heal our broken hearts. Beautifully crafted and every detail is perfect. Thank you for a job well done.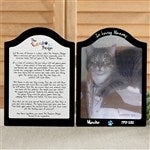 Nice quality
By
Shopper

(Meadowbrook, WV) - April 1, 2012
Nice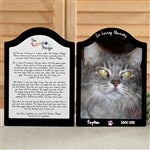 Beautiful !!!
By
Shopper

(Philadelphia, PA) - April 1, 2012
I am extremely satisfied with the quality of this product. You will love it as well.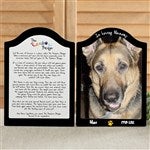 Beautiful
By
Shopper

(Pinehurst, NC) - March 18, 2012
I personally have not seen this, but my parents absolutely LOVED it. They said it turned out beautiful and were very impressed. What I like about this site, you're able to see how your product looks before you buy it. Other personalized product websites do not have that feature. The Rainbow Bridge poem has been around for years and its one of my favorites. This is a wonderful gift for someone who has lost a pet, or even for yourself.

Everything & More That I Expected!
By
Lyndie K.

(Pittsburgh, PA) - March 4, 2012 (
See all reviews by this customer
)
My beautiful Bella Blue passed away and the Rainbow Bridge poem is very important to me. I love all the colors and how smooth the surface is. I really loved how fantastic her picture looked! I also enjoyed the part where you can choose a color for the paw print. This product is of great quality and I think the price is wonderful. I have this product right next to her urn.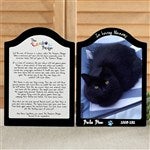 photo plaque
By
Shopper

(Big Rapids, MI) - February 24, 2012
I am very happy with my pet photo plaque. Very nice looking and special. I would highly recommend this plaque. Shipping was fast and packaging was great.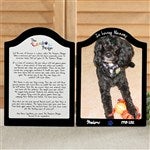 Great Memorial Piece
By
Leah S.

(Plymouth, WI) - February 12, 2012 (
See all reviews by this customer
)
I ordered this for my mother-in-law and father-in-law for their beloved Skeeter! Great poem I tear up everytime. Great quality its sturdy and has a nice shine to it. Would HIGHLY recommend this photo plaque. RIP SKEETER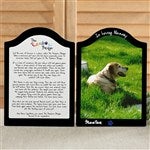 Perfect Memorial
By
Shopper

(Centerville, GA) - January 21, 2012
This is a wonderful gift for someone who has lost a beloved pet. It looks much better than the pictures.

A beautiful gift
By
Mary E.

(Fernandina Beach, FL) - December 29, 2011 (
See all reviews by this customer
)
My daughter gave this to my son as a Christmas gift and it was SO appreciated by him. My son doesn't live with us anymore so when Molly died, he did not have a chance to say goodbye. This is a very touching memorial of her life and he loves it. You folks did a really nice job. Thank you so much.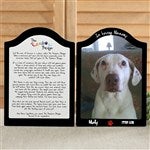 Lovely
By
Mary Z.

(Burnt Hills, NY) - December 29, 2011 (
See all reviews by this customer
)
I was very pleasantly surprised when this arrived. The picture online does not do it justice, our Jazzy's picture came out beautifully and it was very nice quality especially for the price.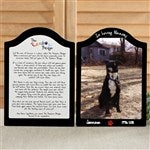 Very Nice Product
By
Christina P.

(Cadiz, OH) - December 20, 2011 (
See all reviews by this customer
)
My mom recently lost her boxer, and has been missing him more than ever the past couple of months, so I thought I would order her this personalized plaque for Christmas. When it arrived, it was more than I expected. I am very happy with it and I am sure that she will love it when she sees it.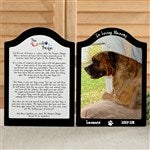 So happy with my choice
By
Catherine D.

(Algonquin, IL) - December 16, 2011 (
See all reviews by this customer
)
I searched for awhile looking for the perfect way to honor our family pet, Coal. When I came across this I knew it was what I wanted. I presented it to my husband, Coal was his best buddy, and he loves it. It sits on the table right next to him and he sees it every day. This is a well-made quality item that is one of a kind. You will not regret this purchase.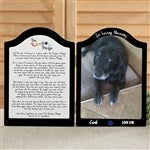 Our Beloved Dog Buddy
By
Shopper

(Abington, PA) - November 15, 2011
The frame is gorgeous. I thought it was going to be a little larger but the words in the poem is just perfect and the clarity of the photo of our Buddy was gorgeous. I recommend Personalization Mall to everyone. I have ordered from here before and was thrilled. Now as hard as it was to order this frame with Buddy's photo in it, I am very pleased with the outcome. I have the frame standing next to his urn. He will be in our hearts forever.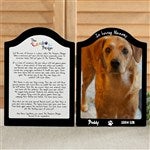 Photo Plaque
By
Cassi M.

(Lincoln, NE) - October 18, 2011 (
See all reviews by this customer
)
I am very pleased with the product I received. It is very well made and will make a perfect gift. Every time I ordered a product through you it has always arrived in a reasonable time and never damaged and well put together. I will continue to buy from you as needed.

Great Memorys
By
Shopper

(Breckenridge Hills, MO) - October 7, 2011
Bought this for my father who lost his dog, best friend to cancer. He was really down and someone had told him about this poem and he loved it I was looking for a frame to print and put the poem in and came across this site. Best place every has great stuff and he loved it I bought him one for his desk and one for home I didnt know how great it would turn out till I got it in the mail. I would for sure buy again from this site.His rott is now in a better place and no longer suffering>>>>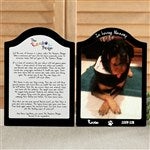 Wonderful plaque!
By
Debra G.

(Highland, IN) - September 6, 2011 (
See all reviews by this customer
)
I purchased this for my sister who recently lost her beagle after 15 years. She was taking it very hard so I wanted to give her something that would make her smile... this plaque did just that. After the tears were gone she hugged me and said that it was beautiful. The picture printed right on the frame is wonderful!! I couldnt have asked for a better product. Thank you for making this loss a little bit easier for my sister.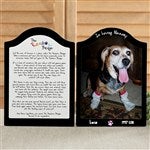 Treasured Memory
By
Shopper

(Swisher, IA) - August 2, 2011
This Photo Plaque turned out beautifully. The photo I choose of my dog had her eyes showing red in them and they were able to take the red out and the finished product looked great and so much more natural. I loved the poem, "The Rainbow Bridge"

Love how it turned out!
By
Nicole W.

(Gresham, OR) - July 26, 2011 (
See all reviews by this customer
)
This is just what I was looking for. Something to remember our beloved pet for the years to come. It's the perfect size so it fits right on our mantel above the fireplace and the poem is so meaningful. I love it!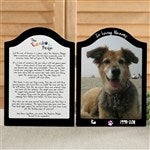 Very Nice!
By
Shopper

(Oxford, MS) - July 23, 2011
We are so pleased with our frame. It's the perfect tribute for our beloved 14 year old dachshund. Thanks for having exactly what we were looking for.

Pleasantly Surprised
By
Kristin P.

(Muskegon, MI) - July 11, 2011 (
See all reviews by this customer
)
Whenever I order anything online, I always try to prepare myself for the worst and assume it's not going to look nearly as good as the photo online. In this case, it was exactly as it is online! I thought it was just a photo frame that you slip a photo into, but the photo is printed right on the shiny black frame and looks really nice! The family that I gave it to was very touched by the thought and I know they loved it. I'm definitely bookmarking this website for the future!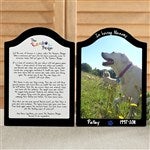 A wonderful gift to a grieving friend
By
Angela H.

(Greenbrier, TN) - June 16, 2011 (
See all reviews by this customer
)

I just opened this and it looks wonderful. I can't wait to give it to our son's girlfriend who recently was walking her dog as it ran into the path of a car. We will miss seeing this extraordinary face. Thanks for a the perfect remembrance.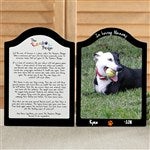 Memorial frame
By
Amy T.

(Houma, LA) - February 10, 2014 (
See all reviews by this customer
)
This came in quick and is so precious. I love it!

Beautiful photo frame
By
Shopper

(Lancaster, SC) - January 14, 2014
The frame is beautiful with my dogs picture and the Rainbow bridge but the font on the poem is hard to read.

Sir CharLee is proud.
By
Kelley M.

(Shepherdsville, KY) - May 28, 2013 (
See all reviews by this customer
)
I lost my maine coon best pal of 20 years on May 10. I got this because of the Rainbow Bridge saying. its beautiful and does CharLee justice in death. I luv it. thanks.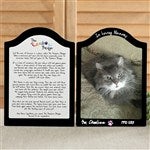 Dog Memorials
By
Pat T.

(Council Bluffs, IA) - March 23, 2012 (
See all reviews by this customer
)
Very nice memorials that are easy to design. They help keep our pets alive forever!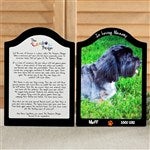 Lovely but hinges not so lovely.....
By
Barbara C.

(Metairie, LA) - January 7, 2013 (
See all reviews by this customer
)
I gave this to my best friend for christmas, After she openend it she passed it to her Mom to see. This is when the hinges came apart- the 2 pieces were separated by cheap hinges. Personalization Mall sent me another one but it was not sent very quickly as I will have to mail it to my friend now since she lives out of town, I just got it Friday Jan 4th and they should have offered to ship it to her. I also had to send a photo before they took it back.....

Its a great looking piece it just is cheaply made......If you want it in 2 pieces then order it....