Beautiful Birthday Bag
By
Shopper

(Atco, NJ) - March 19, 2012
I ordered this bag for my Granddaughter's birthday and used it to put her presents in. It turned out really cute....everyone loved it! The quality of the material is top notch and she will get many years of use from it.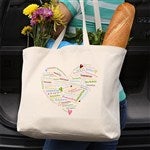 Loved it!
By
Cheryl R.

(Schaumburg, IL) - March 19, 2012 (
See all reviews by this customer
)
I bought this as a gift for a co-worker. She loved it!!! We carry work between offices and she immediately moved everything into this bag!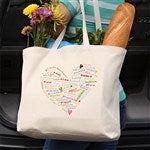 Perfect bridesmaids gift!!
By
Corrin K.

(Toledo, OH) - March 4, 2012 (
See all reviews by this customer
)
I purchased 8 of these as gifts for my bridesmaids and used words that reminded me of them along with their names. They turned out even better then I imagined they would! The hearts look beautiful on the bag and the bag itself is really durable material that I think they'll be able to use for a long time. Not just to carry their essentials the day of my wedding. I can't wait to give them to my girls in October!!

So Many Options Make Me Look Good
By
Veronica J.

(Schuylkill Haven, PA) - February 23, 2012 (
See all reviews by this customer
)
The thing I like most about the Heart of Love collection is the ability to commemorate so many different names and/or events on one item. There are 8 text lines available. I was so pleased with the Heart of Love pillow I purchased for my granddaughter that I ordered this tote for my daughter. Personalization Mall added a gift note and shipped it to her in TX. I can hardly wait to hear her reaction when the package arrives. I'm pretty sure it will be a hit. Thanks again, P-M, for making me look good!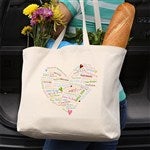 Very cute
By
Shopper

(brooklyn, NY) - February 21, 2012
I gave this bag to each of my bridesmaids filled with flip flops, water, pashminas, snacks, etc. for the wedding day. They all loved the bag -- it's as understated as a personalized bag can be. I got one for myself too; I love using it because it reminds me of how lucky I am to have a husband I love AND incredible girlfriends who helped make my wedding day unforgettable.

The Best Gift
By
Shopper

(Marquette, MI) - January 30, 2012
I have ordered 3 of "Her Heart of Love" personalized canvas totes. I just love them. Should order one for myself. A good way to tell someone that you love them. And delivery is outstanding.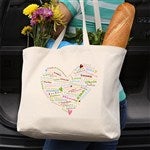 I LOVE this LOVE tote!
By
Kathleen S.

(Springfield, IL) - January 24, 2012 (
See all reviews by this customer
)
I had it printed with the names of each person in our family, and our last name. The kids LOVED it - everyone at work has complimented me on it. It's been quite a hit! I think I'll be making one for Grandma for Mother's Day! It would be even great to put pet names on for those with 'furry kids!'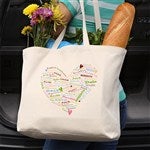 Wonderful
By
Kris T.

(Paso Robles, CA) - December 29, 2011 (
See all reviews by this customer
)
I was thrilled with the quality of the bag and Grandma loved that it had all of her 8 grandchildrens names displayed so beautifully! I highly recommend all products from this website!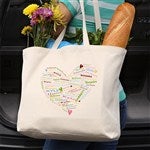 Perfect for the woman who has everything
By
Lily P.

(Miami, FL) - December 29, 2011 (
See all reviews by this customer
)
What do you get the woman who has everything? Another tote always comes in handy. And if you have a friend, a mom, a niece, whose heart you want to touch, do it by telling them so on this adorable tote bag. Nicknames? write them down! Endearments - say it with a heart! My niece and my goddaughter LOVED this tote.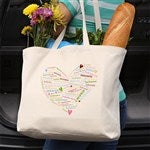 Beautiful
By
Montserrat G.

(Miami, FL) - December 19, 2011 (
See all reviews by this customer
)
I just love this tote!!!

Quality Product
By
Bryant D.

(Upper Marlboro, MD) - December 15, 2011 (
See all reviews by this customer
)
It's a very sturdy bag and the design with all the names of the family turned out great. I'm very glad to have made this purchase.

Exceeded expectations!
By
Shopper

(Spout Spring, VA) - December 11, 2011
This bag is adorable! I purchased it for my mother with all of her grandbabies names included on it. It is very generously sized... a lot bigger than I expected it to be! I see her carrying her books from work to home and back (she's an accountant) in this bag!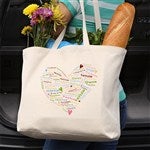 Looks Great
By
Shopper

(Bradenton, FL) - December 10, 2011
Quality is wonderful and the personalization on it really makes this a special gift.

Brought as a gift for my daughter
By
Shopper

(Memphis, TN) - December 6, 2011
I love personalizationMall.com I brought three canvas tote bags they all came out great, and I received my bags fast. The bags are heavy great for school or just shopping.

great bag
By
Shopper

(West Chester, PA) - December 3, 2011
This bag is much nicer than I anticipated and it is huge (perfect for carying beach items, books, or groceries). The material is nice and strong so it should last a long time. Instead of putting 8 names, I made one with words related to my wedding to make a cute beach bag for my destination wedding! I love this bag!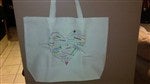 Adorable
By
Theresa C.

(Highland Lakes, NJ) - December 1, 2011 (
See all reviews by this customer
)
I bought this for my lovely sister...Its a precious gift

Great Quality
By
Shopper

(Livonia,, MI) - November 14, 2011
The quality of this bag and the beautiful way the heart encompasses all the names really was impressive!

Perfect on-the-go bag for young ladies!
By
Tamar F.

(Osceola, IN) - November 11, 2011 (
See all reviews by this customer
)
I purchased 4 of these bags ... 2 for my daughters (8 1/2 & 12 years old) & 2 for their friends (10 & 12 years old). They LOVED them! It was fun choosing the words to personalize them with. Used their names, nick-names, qualities that stand out, sister/daughter/friend, etc. The bags are a great size & heavy duty. Love that I could preview each bag & rearrange the words to make it look just right! Each girl felt pretty special to have their own personalized bag but still have it match their friends! My girls used them for a weekend away & it was perfect for their clothes. Great item!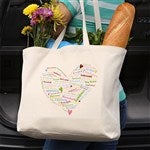 Nice Nice Bag!!
By
Shopper

(Tempe, AZ) - November 8, 2011
Love this bag....bought it for my Mom's 70th Birthday. She is an avid reader and goes to the library at least once a week and WAS carrying her books to and from in a plastic bag compliments of the library. Needless to say, she needed a more sturdy bag! I personalized it with 8 specific entries relating to her kids names, grandchildren names, We Love you!, and books and read. The bag is sturdy and a great size. Best part was that you get to see what it is going to look like BEFORE you purchase. Will look for things from this company in the future!!
Worst thing was that the bag only came in this color, which is fine--but I would have liked to pick out a different color, such as my Moms favorite color!

A gift well recieved
By
Carol G.

(Delray Beach, FL) - October 16, 2011 (
See all reviews by this customer
)
I gave as a birthday gift to a special teenager. She took it out of the box and put her clothes in it and went to her first day of work at her new job. She loved it. Arrived in perfect time.

Perfect
By
Shopper

(Palmdale, CA) - September 27, 2011
Better than described

Great gift for grandma!
By
Shopper

(Joliet, IL) - September 20, 2011
Great gift for Grandma. Nice quality and useful, too!

Just as ordered!
By
Debra H.

(Wichita, KS) - September 19, 2011 (
See all reviews by this customer
)
The heart of love tote arrived in 3 business days and looks great! It's a nice, roomy, heavy canvas tote with my M-I-L's grandkids and great grandkids names on it...I'm sure she is going to love it! It's not only cute, but practical too! Great service great product great price...couldn't ask for more!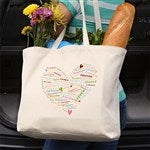 Darling bag -- roomy and versatile, clever personalization
By
Sally S.

(SIlver Spring, MD) - September 19, 2011 (
See all reviews by this customer
)
I ordered this bag for a friend's birthday and I am very pleased! I have mailed it off and am sure she is going to love it. Instead of entering eight different names in the available blanks, I entered her name every time, so that her name appears all over the bag in the various colors and fonts. (See my "preview" photo attached to this review. Then try this yourself, and have a look at your own preview). The preview was an exact representation of the way the finished product appeared. The bag is a great size, the material is very high quality, and the printing looks wonderful. Very happy with this purchase!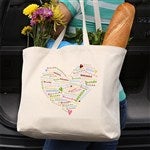 LOVE IT!!
By
Christine G.

(Deerfield Beach, FL) - August 31, 2011 (
See all reviews by this customer
)
I have ordered several items from Personalizationmall...and LOVE everything I've gotten!!....so do ALL the gift recipients!

Love this!!!!!
By
Shopper

(Pittsburgh, PA) - August 30, 2011
I just love this bag. I have gotten so many compliments on it. The make and design of it is so awesome.

Best Gift Ever!!!!
By
Shopper

(College Park, MD) - August 30, 2011
I bought this gift for someone who I just adore. She got a new job and now has to take public transportation. This bag was perfect. I could personalize it; show my love via the heart; and its functional. Doesn't get much better than that!!!

Unique Creativity
By
Shopper

(Matteson, IL) - August 5, 2011
I love this company and will return again and again. They are efficient and timely. This unique gift is another example of a creative personalized message.
The friend who received this gift simply loves it.

Heart of Love tote
By
Shopper

(Vernon, VT) - August 2, 2011
Bought this for my mother - she absolutely loves it! All the names of her children and grandchildren. She states its large enough to carry everything in it.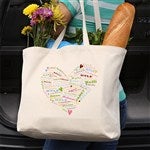 Love all loved ones names on bag
By
claudia R.

(inman, SC) - July 29, 2011 (
See all reviews by this customer
)
Got this bag for myself..got husband,children and grandchildrens names on it.
Daughters and friends Luv it!
Used all eight lines for names..perfect!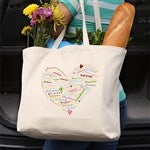 Awesome Bag!
By
Kathy T.

(Pleasant Valley, NY) - July 23, 2011 (
See all reviews by this customer
)
My husband and I will be going on a cruise. Needed a nice light, easy to pack, long shoulder strap bag to carry to beach and other fun excursions. I listed all the islands we will be visiting plus our names on the bag. It turned out GREAT! I know I will be the only one with this bag. Will fit all your sun in fun items and even all your souvenirs. LOVE IT!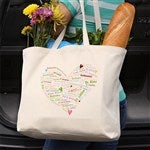 birthday gift
By
Shopper

(McCormick, SC) - July 16, 2011
Sent this item along with the T-shirt..It got rave reviews and I was asked if it was ok to copy my idea to be sent to another family member

Super Proud Aunt
By
Maureen R. D.

(Camden, NY) - July 5, 2011 (
See all reviews by this customer
)
I just became a great-aunt for the 3rd time and wanted something to display all the nieces and nephews...42-newborn. I love it!

Fun Gift
By
Shopper

(FLORAL PARK, NY) - July 3, 2011
I'm giving this bag to my sister and I know she will be delighted to have and to use.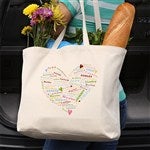 Wonderful Renew Vows Cruise Gift
By
Shopper

(Riverdale, GA) - June 6, 2011
My husband of nearly 20 years and I will celebrate our anniversary in a couple of weeks with a few close friends and family. This tote bag with all our names will be a wonderful addition to this event.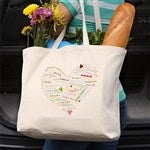 Great bag
By
Shopper

(Mount Laurel, NJ) - June 4, 2011
Gave this as a gift. It was a nice size and the heart with the names turned out perfectly

Great gift
By
Shopper

(Norcross, GA) - May 31, 2011
Thanks for the great service!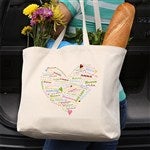 Great Mother's Day Gift
By
Shopper

(Valrico, FL) - May 25, 2011
I purchased this for my mother with all her grandchildren's names on it and she absolutely loved it! Thought it was a unique gift that she could also call a "brag bag". :-)

So precious!
By
Shopper

(Fort Mill, SC) - May 16, 2011
I gave this to my Mom for Mother's Day this year and she absolutely went nuts over it. I had my Dad's name, my name, their dog's name, and my dog's name (which is their grandchild at the moment, ha ha) and it was just perfect!

Practical and Meaningful
By
Shopper

(malibu, CA) - May 16, 2011
We use linen bags for grocery shopping; the addition of this sturdy and spacious bag with the logo of our loved ones names inside that heart is a great idea!