Best Gift Ever!!!!
By
Shopper

(College Park, MD) - August 30, 2011
I bought this gift for someone who I just adore. She got a new job and now has to take public transportation. This bag was perfect. I could personalize it; show my love via the heart; and its functional. Doesn't get much better than that!!!

Unique Creativity
By
Shopper

(Matteson, IL) - August 5, 2011
I love this company and will return again and again. They are efficient and timely. This unique gift is another example of a creative personalized message.
The friend who received this gift simply loves it.

Heart of Love tote
By
Shopper

(Vernon, VT) - August 2, 2011
Bought this for my mother - she absolutely loves it! All the names of her children and grandchildren. She states its large enough to carry everything in it.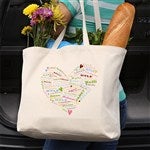 Love all loved ones names on bag
By
claudia R.

(inman, SC) - July 29, 2011 (
See all reviews by this customer
)
Got this bag for myself..got husband,children and grandchildrens names on it.
Daughters and friends Luv it!
Used all eight lines for names..perfect!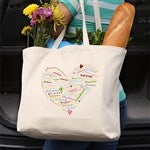 Awesome Bag!
By
Kathy T.

(Pleasant Valley, NY) - July 23, 2011 (
See all reviews by this customer
)
My husband and I will be going on a cruise. Needed a nice light, easy to pack, long shoulder strap bag to carry to beach and other fun excursions. I listed all the islands we will be visiting plus our names on the bag. It turned out GREAT! I know I will be the only one with this bag. Will fit all your sun in fun items and even all your souvenirs. LOVE IT!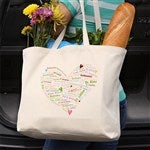 birthday gift
By
Shopper

(McCormick, SC) - July 16, 2011
Sent this item along with the T-shirt..It got rave reviews and I was asked if it was ok to copy my idea to be sent to another family member

Super Proud Aunt
By
Maureen R. D.

(Camden, NY) - July 5, 2011 (
See all reviews by this customer
)
I just became a great-aunt for the 3rd time and wanted something to display all the nieces and nephews...42-newborn. I love it!

Fun Gift
By
Shopper

(FLORAL PARK, NY) - July 3, 2011
I'm giving this bag to my sister and I know she will be delighted to have and to use.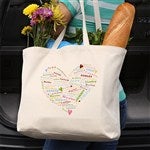 Wonderful Renew Vows Cruise Gift
By
Shopper

(Riverdale, GA) - June 6, 2011
My husband of nearly 20 years and I will celebrate our anniversary in a couple of weeks with a few close friends and family. This tote bag with all our names will be a wonderful addition to this event.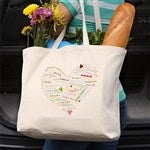 Great bag
By
Shopper

(Mount Laurel, NJ) - June 4, 2011
Gave this as a gift. It was a nice size and the heart with the names turned out perfectly

Great gift
By
Shopper

(Norcross, GA) - May 31, 2011
Thanks for the great service!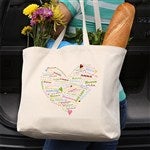 Great Mother's Day Gift
By
Shopper

(Valrico, FL) - May 25, 2011
I purchased this for my mother with all her grandchildren's names on it and she absolutely loved it! Thought it was a unique gift that she could also call a "brag bag". :-)

So precious!
By
Shopper

(Fort Mill, SC) - May 16, 2011
I gave this to my Mom for Mother's Day this year and she absolutely went nuts over it. I had my Dad's name, my name, their dog's name, and my dog's name (which is their grandchild at the moment, ha ha) and it was just perfect!

Practical and Meaningful
By
Shopper

(malibu, CA) - May 16, 2011
We use linen bags for grocery shopping; the addition of this sturdy and spacious bag with the logo of our loved ones names inside that heart is a great idea!

Love this website
By
Shopper

(Wentzville, MO) - May 16, 2011
Mom loved it! Large and great quality for a great price

Extataic
By
Misha P.

(Silverdale, WA) - May 14, 2011 (
See all reviews by this customer
)
My husband and I purchased this tote for my mother-in-law. We had all our names on there, and they were done beautifully. When my mother-in-law recieved it, she let me know immediately that she LOVED it. It was just the perfect thing for her. I loved how you can preview your purchase exactly as it will appear and how quickly the items were shipped. I love that you can track your order to the very doorstep it is delivered to. I especially love the prices. They are not over the top and I consider them to be extreamly reasonable for the products they offer. I will definately shop this site in the future, and definately would love to order the tote for myself.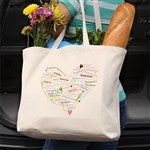 Great gift idea!!
By
Shopper

(Telferner, TX) - May 13, 2011
I really love this bag - I gave one to each of the mothers in my family for Mother's Day and everyone loved them - my only regret is that I didn't order myself one - I will have to place another order to get one. Great gift for anyone that uses tote bags alot like my family does.

Satisfied
By
Shopper

(Lawrenceville, GA) - May 13, 2011
I was completely satisfied with this bag. The quality was more than I expected and the details looked exactly like the online picture!

Mom loved it
By
Jennifer H.

(Waterville, ME) - May 12, 2011 (
See all reviews by this customer
)
This canvas bag was a lot larger than I imagined. The quality was excellent as well. I loved the colors in the names and it tickled my mother to see all her grandchildren's names listed.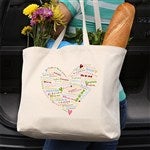 Fantastic Bag - Grandma Loved It!
By
Shopper

(Oklahoma City, OK) - May 12, 2011
This is a great bag - perfect size, and I entered one of the names as "Gram Loves" - - which made it say "Gram loves Taylor" "Gram Loves Danielle", etc. all over the bag - it was the perfect gift for Mother's Day!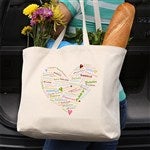 Thoughtful gift
By
Kim H.

(Fort Myers, FL) - May 12, 2011 (
See all reviews by this customer
)
Very nice canvas bag. My mom loved the bag personalized with her name, Mom, Gram and Greatgram. Couldn't find this in stores. Fast shipping. Couldn't ask for a nicer gift.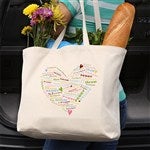 great quality-great price
By
Shopper

(Lees Summit, MO) - May 9, 2011
I was so impressed with this bag-great quality, and beautiful colors-it was a hit for mother's day!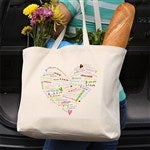 Cute bag
By
Shopper

(Lake Orion, MI) - May 9, 2011
I gave this bag to my mother and my mother in law for Mother's Day and they both LOVED it. THe size of the bag is great and the material is very sturdy. THe printed area is nice size and turned out very nice :)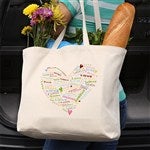 Great Gift
By
Shopper

(Lonsdale, MN) - May 7, 2011
This is a terrific Mother's Day gift. The names make it so personal. Mom can use it for a book bag or take it to the grocery store to pack groceries. It is roomy enough to hold anything. I was very pleased.

Love It!!!
By
Shopper

(Cape Fair, MO) - May 3, 2011
Incredible quality! Arrived very quickly. I am going to order one for myself now!