Wonderful
By
Kris T.

(Paso Robles, CA) - December 29, 2011 (
See all reviews by this customer
)
I was thrilled with the quality of the bag and Grandma loved that it had all of her 8 grandchildrens names displayed so beautifully! I highly recommend all products from this website!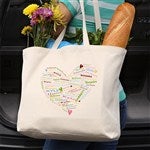 Perfect for the woman who has everything
By
Lily P.

(Miami, FL) - December 29, 2011 (
See all reviews by this customer
)
What do you get the woman who has everything? Another tote always comes in handy. And if you have a friend, a mom, a niece, whose heart you want to touch, do it by telling them so on this adorable tote bag. Nicknames? write them down! Endearments - say it with a heart! My niece and my goddaughter LOVED this tote.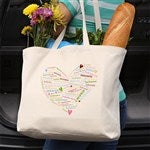 Exceeded expectations!
By
Shopper

(Spout Spring, VA) - December 11, 2011
This bag is adorable! I purchased it for my mother with all of her grandbabies names included on it. It is very generously sized... a lot bigger than I expected it to be! I see her carrying her books from work to home and back (she's an accountant) in this bag!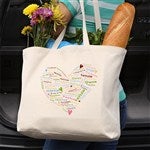 great bag
By
Shopper

(West Chester, PA) - December 3, 2011
This bag is much nicer than I anticipated and it is huge (perfect for carying beach items, books, or groceries). The material is nice and strong so it should last a long time. Instead of putting 8 names, I made one with words related to my wedding to make a cute beach bag for my destination wedding! I love this bag!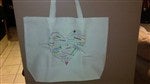 Perfect on-the-go bag for young ladies!
By
Tamar F.

(Osceola, IN) - November 11, 2011 (
See all reviews by this customer
)
I purchased 4 of these bags ... 2 for my daughters (8 1/2 & 12 years old) & 2 for their friends (10 & 12 years old). They LOVED them! It was fun choosing the words to personalize them with. Used their names, nick-names, qualities that stand out, sister/daughter/friend, etc. The bags are a great size & heavy duty. Love that I could preview each bag & rearrange the words to make it look just right! Each girl felt pretty special to have their own personalized bag but still have it match their friends! My girls used them for a weekend away & it was perfect for their clothes. Great item!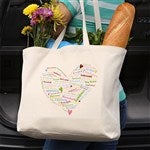 Just as ordered!
By
Debra H.

(Wichita, KS) - September 19, 2011 (
See all reviews by this customer
)
The heart of love tote arrived in 3 business days and looks great! It's a nice, roomy, heavy canvas tote with my M-I-L's grandkids and great grandkids names on it...I'm sure she is going to love it! It's not only cute, but practical too! Great service great product great price...couldn't ask for more!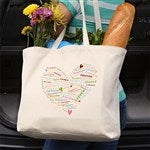 Darling bag -- roomy and versatile, clever personalization
By
Sally S.

(SIlver Spring, MD) - September 19, 2011 (
See all reviews by this customer
)
I ordered this bag for a friend's birthday and I am very pleased! I have mailed it off and am sure she is going to love it. Instead of entering eight different names in the available blanks, I entered her name every time, so that her name appears all over the bag in the various colors and fonts. (See my "preview" photo attached to this review. Then try this yourself, and have a look at your own preview). The preview was an exact representation of the way the finished product appeared. The bag is a great size, the material is very high quality, and the printing looks wonderful. Very happy with this purchase!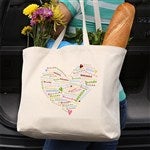 Heart of Love tote
By
Shopper

(Vernon, VT) - August 2, 2011
Bought this for my mother - she absolutely loves it! All the names of her children and grandchildren. She states its large enough to carry everything in it.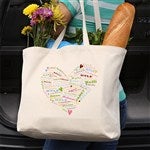 Extremely fast delivery!
By
Trude Y.

(Franklin, TN) - August 1, 2011 (
See all reviews by this customer
)
Liked the quality and the delivery time was sensational! Since this was an anniversary gift from fellow workers, it worked out great that all of our names fit on the bag. We loved that it would be a useful item as well as humorous.

Love all loved ones names on bag
By
claudia R.

(inman, SC) - July 29, 2011 (
See all reviews by this customer
)
Got this bag for myself..got husband,children and grandchildrens names on it.
Daughters and friends Luv it!
Used all eight lines for names..perfect!