Perfect Shower Gift
By
Shopper

(Middlebury, IN) - April 26, 2014
I purchased this for my son and future daughter-in-law's bridal shower. She loved it. Awesome, unique gift. Quick turn around.

Exactly what I wanted
By
Shopper

(Florissant, MO) - April 14, 2014
This came out exactly as I expected it to.

Perfect engagement gift!
By
Shopper

(Canada) - April 7, 2014
I love the way this came out. It is exactly how it is advertised. It is simple and elegant and fits in a lot of different decors. Also, the size is perfect; it is not too big and overwhelming in a room. Love, love, love!

Great Anniversary gift!
By
Kristin A.

(Panama City , FL) - April 5, 2014 (
See all reviews by this customer
)
I just gave this to my friends for their 20th Anniversary. They absolutely loved it! My girlfriend had tears in her eyes as she was reading it! Now I want one for my husband and I to cherish! I am always satisfied with the purchases I make from Personalization.com! I have been a loyal costumer for years!

Just Do It! You will love it!
By
Gail F.

(LANCASTER, CA) - April 3, 2014 (
See all reviews by this customer
)
I ordered this canvas for my niece's Wedding. I received it yesterday! I was so pleased. It is perfect!! They will love it! It really does look like your preview! Great quality! They are fast and shipped quickly!

25th Anniversary for family
By
Shopper

(La Quinta, CA) - March 20, 2014
Perfect gifts to celebrate the 25th anniversaries of two wonderful couples who just happen to be family too. They loved their gifts and were touched by the personalization. Definitely look forward to the next occasion where we can give this really fun gift again.

50th wedding anniversary gift
By
Shopper

(Munhall, PA) - March 11, 2014
This picture was the perfect anniversary present for my brother and sister-in-law. It was exactly as shown and I am sure they are going to be thrilled with it.

Anniversary Gift Lovingly Received
By
Shopper

(Clearwater, FL) - March 8, 2014
Had this made for son & daughter in laws anniversary. They absolutely loved it. The personalization for them is what made it so special. It shows all that means so much to them and everyone can see the highlights of their life together.

Perfect Gift
By
John M.

(Boise, ID) - February 22, 2014 (
See all reviews by this customer
)
My wife absolutely loves this. Looks great in our living room. She read it and thought of memories from all the quotes I put on it.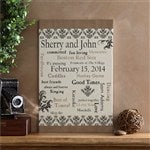 Awesome
By
Shopper

(enfield, CT) - February 20, 2014
I have purchased many items from this company, I have never been disappointed. This item is great and my husband loved it.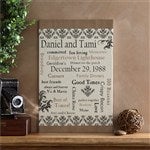 LOVE the product, wished it came in more colors
By
Beth K.

(Shawnee, KS) - February 18, 2014 (
See all reviews by this customer
)
My title says it all. The product itself is very nice, high quality and would make a great gift. This one I bought for my husband for Valentine's Day. I do, however, wish that there were other color options such as green, blue, maroon as that would be true personalization to fit in with colors in our house. Good product, decent price, quick delivery time as usual.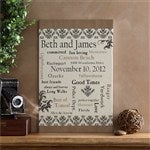 Perfect!
By
Shopper

(Wayland, NY) - February 10, 2014
When I saw this I knew I HAD to get it! I had never seen anything like it before and my spouse absolutely loved it! The perfect gift for Valentine's Day- means so much more than any flower or candy!

Beautiful
By
Shopper

(Dania Beach, FL) - February 9, 2014
This was a gift for my daughter and son-in-laws FIRST anniversary! They both loved it and my daughter cried. This was a great gift and idea.

Sam & Sarah
By
Sabra N.

(Evans , GA) - February 7, 2014 (
See all reviews by this customer
)
I created this for a friend of my son's and his fiance'. It was a house warming/shower gift for them. They will be getting married at the end of March. They were very surprised and very excited about receiving this gift.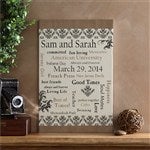 NICE!!!!
By
Shopper

(Mancelona, MI) - February 4, 2014
This is exactly as promised. Just be sure you review the item after you chose your wording that will go on the canvas!! I had Good Times and The Best of Times on the canvas........:( Nobody cares though! My significant other LOVED the canvas....he didn't even notice that I had duplicated the wording either. Many compliments when I shared it on facebook page too :) You won't be sorry for choosing the "canvas with your own wording" for someone special in your life!!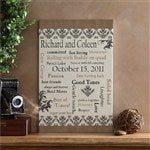 Perspnalized Canvsa
By
Shopper

(Vernon, CT) - February 1, 2014
Fantastic gift and a great way to keep cherished memories.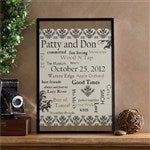 Perfect
By
Vicky H.

(Anchorage, AK) - January 24, 2014 (
See all reviews by this customer
)
I love the personalized canvas print! Thank you for a product that is done professionally and looks great on the wall!

Perfect anniversary gift
By
Shopper

(Bixby, OK) - January 20, 2014
This gift is the perfect thing to get my parents who have everything. When you make it so personal it really feels like it comes from the heart. They're going to love it.

30 years together.
By
Brenda F.

(Parkville, MO) - January 11, 2014 (
See all reviews by this customer
)
I was looking for a Christmas ornament for our grandchildren and this caught my eye. I gave this as a gift to my husband on our 30th Christmas. I love that you can insert so many personal words that mean something to just him (us). I was very pleased and loved the quality. I would recommend this product to anyone that would like to say "I Love You" in a very special way.

We loved our Canvas Print
By
Shopper

(Dublin, CA) - January 8, 2014
This was lovely. Such a neat idea and well made. I have received many compliments. Thank you

Great Product
By
Karen A.

(East Syracuse, NY) - January 7, 2014 (
See all reviews by this customer
)
I am very pleased with this unique item. Personalized it to fit our family, and it is wonderful. Great quality, and received it sooner than expected. Very pleased.

I LOVE IT.....
By
Laura R.

(Greenwood, IN) - January 1, 2014 (
See all reviews by this customer
)
Thank you for creating such an awesome and perfect product to sell. My husband and myself do not open up our personal gifts at Christmas time until all the family goes home. This year I wanted for us to open up the gift together so everyone could enjoy it! It was a hit and yes indeed everyone loved it as did both my husband and myself.

well crafted
By
Shopper

(Lake Zurich, IL) - December 31, 2013
the perfect gift for the couple who has everything. if you're stuck on a gift for your parents, grandparents, brother, sister, aunt & uncle or inlays - this is it. It's been a huge hit every time I've given it! The recipient loves the personal thought that you put into the phrases and words you adorn the canvas, and you're assured they have NOTHING like this in their home!
'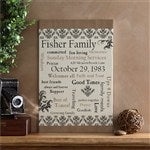 Joe and Colleen
By
Shopper

(Morehead, KY) - December 27, 2013
They absolutely loved it. Most thoughtful gift!

Starting your life together
By
Evelyn H.

(Whittier, CA) - December 24, 2013 (
See all reviews by this customer
)
This is my first purchase throught this website. I was so amazed at all the different personalized items you have . I was pleased with the efficent way your site made purchase easy and the way it came packaged Very neat and secure Thanks again

40th Anniversary Gift
By
Shopper

(La Quinta, CA) - December 20, 2013
Perfectly lovely, colors, quality, size all just wonderful. Our friends love their gift and we look forward to future gifting opportunities.

Great wedding gift
By
Katherine B.

(Bedford, TX) - December 18, 2013 (
See all reviews by this customer
)
I purchased this for my sister and her fiancé as a wedding shower gift. I'm looking forward to what's sure to be an emotional reaction from them as they read through the personal details woven into this canvas. It was fun coming up with the different phrases knowing that this would be a great keepsake for them to remember their dating years & wedding day.

Taylor and Zach
By
STEWART GLENN S.

(Millington, TN) - December 18, 2013 (
See all reviews by this customer
)
This was a Christmas gift and I am very pleased. One of the features I like while creating the canvas is the way you can preview and go back and forth with editing until you are satisfied with the layout.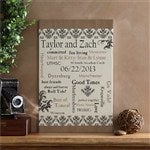 Personalized Canvas Print
By
Michael C.

(Burlingame, CA) - December 16, 2013 (
See all reviews by this customer
)
I recently ordered your personalized canvas print for my wife on our first wedding anniversary.

The canvas was completed and shipped to me in record time! I wrapped it up, chilled a bottle of champagne, and gave it to my wife. Needless to say, she was ecstatic!

The quality and workmanship are phenomenal, and the personalization make this product extemely special. She immediately hung it on the wall in our bedroom.

Everyone who has seen the print has commented on just how perfect it is, and how it tells the story of our lives together so far!

Of course with all the favorable responses from my bride, family, and friends, it begs the question: What am I going to get my wife on our second anniversary?!

Bridal Shower Gift
By
Shopper

(new tripoli, PA) - December 15, 2013
Once again service and product excellent. Like to shop often.

amazing!
By
Shopper

(Marion, NC) - December 12, 2013
We received this as a gift and were amazed that everything about our lives could be displayed so wonderfully to be treasured forever.The craftsmanship was great, art was beautiful. A great gift for those that value life shared with that extra special person and the memories you build together. Thank you.

A wonderful keepsake
By
Linda M.

(Island Heights, NJ) - December 11, 2013 (
See all reviews by this customer
)
I love this ....I've made 2 so far for friends and family....it is always appreciated....it shows well too....takes a bit of time to get everyone's birthdate straight....but what a wonderful idea to commemorate a couple's life together....thanks so much for such an affordable gift to create....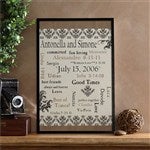 Anniversary canvas
By
Shopper

(Kingsport, TN) - December 10, 2013
Loved the quality of the anniversary canvas. Always enjoy shopping with personalization mall because they are easy, quick and still provide quality items!

Life Together Canvas - 40th Annv
By
Gene_Kathey A.

(La Quinta, CA) - December 7, 2013 (
See all reviews by this customer
)
Love it....purchased as a gift. Our friends were thrilled and loved all of the sentiments. We liked being able to add the personal detail and would definitely order this product again. Size, color and quality excellent.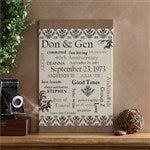 LOVE IT!!
By
Janine M.

(New Lexington, OH) - December 6, 2013 (
See all reviews by this customer
)
You can't go wrong with Personalization Mall! I've ordered from them several times and am always amazed by the beauty and quality of their products. These gifts are classy enough to give to anyone. And the shipping is unbelievably fast. I ordered a canvas on the Sunday before Thanksgiving. It shipped on Monday and arrived on Friday.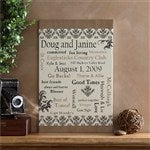 canvas print
By
Shopper

(Montour, IA) - November 25, 2013
Love being able to create these for special people,just wish we could get alittle more colorful!! Create brighter alittle more fun and playful for gifts!!!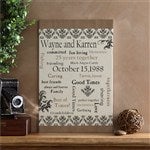 Awesome!
By
Shopper

(Twin Falls, ID) - November 22, 2013
This will be the best personalized gift ever! Good quality and fast shipping. Just preview your text thoroughly before ordering.

beautiful personalized gift
By
Christopher M.

(Shelby Township, MI) - November 19, 2013 (
See all reviews by this customer
)
I bought this as a gift for my mother and step father's 25 wedding anniversary. It was done beautifully and was delivered to their home 4 days after I placed the order! Every product I have ordered from personalizationmall.com comes swiftly and perfectly. I am considering buying this again as an engagement gift for my cousin and her fiance and as a Christmas gift for my sister and her fiance.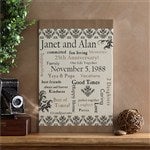 Great! Beautifully made!
By
Amy R.

(Brooklyn, NY) - November 16, 2013 (
See all reviews by this customer
)
It doesn't look cheaply made. It's beautiful. I know my friend is going to love it!

What a great personlized wedding gift!
By
paula S.

(Bloomington, IL) - November 15, 2013 (
See all reviews by this customer
)
I gave this as a wedding gift and the couple loved it! I know them well enough I was able to personalize it with everthing that meant something to them.