Great Gift
By
Janet T.

(HINSDALE, IL) - August 3, 2014 (
See all reviews by this customer
)
Did this for my parents 50th Anniversary and love the way it came out. Can't wait to give this to them, I am sure they will love it! Great gift and quality.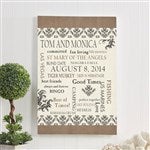 25th Anniversary Gift
By
Shopper

(metairie, LA) - August 1, 2014
Our best friends are celebrating there 25th anniversary. They are having a renewal. I wanted to get something different for them. I came across this printed canvas and thought, how nice. I added my own personal thoughts to what this couple would love to see on canvas. It arrived just like I ordered it and I know our friends are going to be so pleased and happy with this gift.
I said all the things that are special and memorable to them. What a nice idea. I'm so glad I purchased this item.

Perfect Gift
By
Shopper

(Chattanooga, TN) - July 25, 2014
I bought this as an after 'wedding gift' for my daughter. It arrived quickly and was exactly as I ordered. The newlyweds loved it!

NICE!!
By
Shopper

(Vassar, MI) - July 14, 2014
I did this because I wanted something Personal in the house. Being able to add things that ment something to us is what sold it. The quality is great , the colors nutural so it goes with everything. I will be getting more of these for Christmas gifts this year.

Perfect Anniversary Gift
By
Heather A.

(Bainbridge Island, WA) - July 14, 2014 (
See all reviews by this customer
)
Canvas makes it unique, frame was simple but well made. Personalization was perfect, allowing me to put not only important milestones but several phrases we've come to use in 23 years of marriage. And I was able to expedite delivery. My husband loved this and it is something to cherish reminding us always of this anniversary.

The Perfect Shower/Wedding/Anniversary Gift
By
Shopper

(Chico, CA) - June 30, 2014
I purchased this for my future daughter-in-law's bridal shower, and I have to say it was the hit of the shower, besides the bride to be and my son absolutely loved it. If you want to get someone special a meaningful present, this is it!

Nice for our 1st Anniversary
By
Shopper

(Hutchinson, KS) - June 30, 2014
I got this for my husband and put all our special moments on it and he got teary eyed when he opened it! I would recommend this for a special gift. It came quicker than anticipated and was packaged in bubble wrap. LOVE love love this site!

Wedding shower hit!
By
sally A.

(williamsburg, VA) - June 30, 2014 (
See all reviews by this customer
)
My daughter-in-law to be was absolutely thrilled with this gift! She displayed it at her shower and said it was the best personal gift she had received. Everyone in the family wants a personalized canvas! Thank you!

Unique gift!
By
Shopper

(Meridianville, AL) - June 29, 2014
Love this item!! It is uniquely personalized!!

Grandparents Loved It!
By
Sarah G.

(Savage, MN) - June 29, 2014 (
See all reviews by this customer
)
I bought this for my grandparents' 65th wedding anniversary. It is high quality and beautiful - they absolutely loved it! I also appreciate how quickly it came. I ordered it on a Thurs and, thinking I had another week until their party, I didn't have it rush delivered. However, I was a week off and the party was that Sunday. Luckily they are so quick and efficient with their creation and shipping that it still came on Saturday. So impressed!

Oh Yeah!!!!
By
Shopper

(Enfield, CT) - June 27, 2014
I am really impressed with this product!! It went beyond my expectations. This could be the perfect gift for anyone. It is sweet and sentimental without being too sappy. My boyfriend loved it and he actually felt bad that he didn't come up with such a creative idea. I've ordered from here before and have never been disappointed. This order is my best one yet. Quality is awesome and it just looks so darn good. This is the perfect gift because it is beautiful, thoughtful, without going crazy and being too mushy. You can NOT go wrong with this product.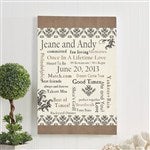 Extremely Pleased
By
Kimira J.

(Smyrna, GA) - June 27, 2014 (
See all reviews by this customer
)
This canvas looks just like it's described and appears on the website. It's of great quality and the canvas and frame are sturdy. It really is a beautiful piece of work to have as a commemoration of the special places and things of a couple.It's also a very unique item. I looked on several websites before makin this purchase, and I didn't see anything even similar. The only negative is that I wish it was offered in an even larger size. 12x18 is ok, but 16x20 would be even better! I can't wait to hang it in my new house, and for people to oohh and ahh over it!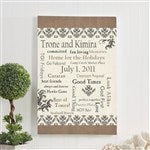 They loved It!
By
Shopper

(Hiram, GA) - June 20, 2014
This gift was for my parents, who just celebrated their 50th wedding anniversary. They called me the next day following after they received the canvas. They told me they loved it and had already put it on their wall. They said that it was unique and the words on it fit their relationship and marriage. I used a coupon and the item was also on sale. It was so worth the price, even if I wouldn't have been able to get it at a discounted price. I have used Personalization before for other items. But let me just say, I will be using them again in the future.

Awesome quality and fun!
By
Shopper

(Knoxville, TN) - June 16, 2014
Fun

The hit of the 40th anniversary party
By
Linda B.

(Groton, MA) - June 15, 2014 (
See all reviews by this customer
)
The recipients and all the guests loved this canvas. The quality was better than I expected, although I've come to expect the best from Personalization Mall. I will definitely buy this again for others.

Could not be more perfect or unique!
By
Jamie H.

(Wilmington, NC) - June 8, 2014 (
See all reviews by this customer
)
Brilliant item! Absolutely loved customizing this canvas for my husband and I using shared memories from our dating days and our happy life together. Great item!! Great price!!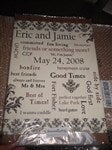 Great Idea !!
By
Patricia F.

(Albrightsville, PA) - June 3, 2014 (
See all reviews by this customer
)
This item is a hit !! My husband loves it. Such a great idea.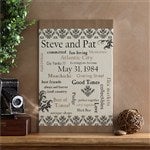 VERY NICE GIFT!!
By
DOROTHY T.

(LEBANON, PA) - June 2, 2014 (
See all reviews by this customer
)
I WAS PLEASANTLY SURPRISED THE WAY THIS ITEM TURNED OUT. IT IS LOVELY.
PURCHASED IT FOR AN ANNIVERSARY GIFT, PERSONALIZED IT WITH IMPORTANT WORDS AND
DATES. WHILE EVERYONE GETS THEM SOMETHING SILVER FOR THEIR 25TH ANNIVERSARY, MY
IS AN ORIGINAL AND MEANINGFUL.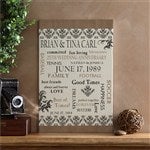 Awesome Personalized Canvas Print
By
Shopper

(Gresham, OR) - June 2, 2014
Wonderful Gift to keep memories forever! I love it!
It arrived on time and met all my expectations and more!
Thank You So Much!

Amazing
By
Jasmin P.

(cartersville, GA) - May 31, 2014 (
See all reviews by this customer
)
I love this canvas. I got it for my husband for our anniversary. He even really liked it. Its a great way to remember special moments in your life as well to share them with others.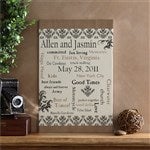 Return Customer
By
Linda K.

(Plymouth, MI) - May 27, 2014 (
See all reviews by this customer
)
As usual I was very happy with my purchase.
I love that you can preview the purchase before you buy anything. You know exactly what you are getting.
I recommend this site to anyone looking for a personalized gift .

Wedding Gift
By
Jared A.

(Dracut, MA) - May 17, 2014 (
See all reviews by this customer
)
The product was exactly the way I ordered it and the way they had described it to me.Shipping and turn around time was spot on.And the site was so user friendly and easy to use to personalize anything out of there huge selection of products.I would and have recommended this site to a lot of my friends.

Even more amazing than expected!
By
Reina G.

(Los angeles, CA) - May 12, 2014 (
See all reviews by this customer
)
This item is amazing. I think it is just so personal and looks even better in person! Great buy! Very pleased.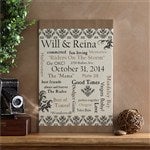 Personalized canvas print
By
Shopper

(mercer, WI) - May 11, 2014
The Canvas Print came exactly as pictured. It was delivered with in 48 hours of ordering. I think it is the perfect wedding or anniversary gift.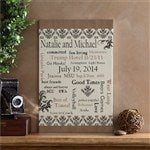 Perfect Shower Gift
By
Shopper

(Middlebury, IN) - April 26, 2014
I purchased this for my son and future daughter-in-law's bridal shower. She loved it. Awesome, unique gift. Quick turn around.

Exactly what I wanted
By
Shopper

(Florissant, MO) - April 14, 2014
This came out exactly as I expected it to.

Perfect engagement gift!
By
Shopper

(Canada) - April 7, 2014
I love the way this came out. It is exactly how it is advertised. It is simple and elegant and fits in a lot of different decors. Also, the size is perfect; it is not too big and overwhelming in a room. Love, love, love!

Great Anniversary gift!
By
Kristin A.

(Panama City , FL) - April 5, 2014 (
See all reviews by this customer
)
I just gave this to my friends for their 20th Anniversary. They absolutely loved it! My girlfriend had tears in her eyes as she was reading it! Now I want one for my husband and I to cherish! I am always satisfied with the purchases I make from Personalization.com! I have been a loyal costumer for years!

Just Do It! You will love it!
By
Gail F.

(LANCASTER, CA) - April 3, 2014 (
See all reviews by this customer
)
I ordered this canvas for my niece's Wedding. I received it yesterday! I was so pleased. It is perfect!! They will love it! It really does look like your preview! Great quality! They are fast and shipped quickly!

25th Anniversary for family
By
Shopper

(La Quinta, CA) - March 20, 2014
Perfect gifts to celebrate the 25th anniversaries of two wonderful couples who just happen to be family too. They loved their gifts and were touched by the personalization. Definitely look forward to the next occasion where we can give this really fun gift again.

50th wedding anniversary gift
By
Shopper

(Munhall, PA) - March 11, 2014
This picture was the perfect anniversary present for my brother and sister-in-law. It was exactly as shown and I am sure they are going to be thrilled with it.

Anniversary Gift Lovingly Received
By
Shopper

(Clearwater, FL) - March 8, 2014
Had this made for son & daughter in laws anniversary. They absolutely loved it. The personalization for them is what made it so special. It shows all that means so much to them and everyone can see the highlights of their life together.

Perfect Gift
By
John M.

(Boise, ID) - February 22, 2014 (
See all reviews by this customer
)
My wife absolutely loves this. Looks great in our living room. She read it and thought of memories from all the quotes I put on it.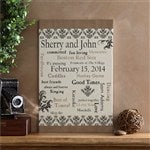 Awesome
By
Shopper

(enfield, CT) - February 20, 2014
I have purchased many items from this company, I have never been disappointed. This item is great and my husband loved it.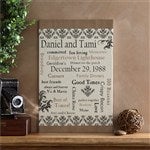 LOVE the product, wished it came in more colors
By
Beth K.

(Shawnee, KS) - February 18, 2014 (
See all reviews by this customer
)
My title says it all. The product itself is very nice, high quality and would make a great gift. This one I bought for my husband for Valentine's Day. I do, however, wish that there were other color options such as green, blue, maroon as that would be true personalization to fit in with colors in our house. Good product, decent price, quick delivery time as usual.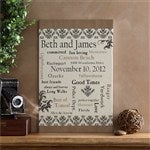 Perfect!
By
Shopper

(Wayland, NY) - February 10, 2014
When I saw this I knew I HAD to get it! I had never seen anything like it before and my spouse absolutely loved it! The perfect gift for Valentine's Day- means so much more than any flower or candy!

Beautiful
By
Shopper

(Dania Beach, FL) - February 9, 2014
This was a gift for my daughter and son-in-laws FIRST anniversary! They both loved it and my daughter cried. This was a great gift and idea.

Sam & Sarah
By
Sabra N.

(Evans , GA) - February 7, 2014 (
See all reviews by this customer
)
I created this for a friend of my son's and his fiance'. It was a house warming/shower gift for them. They will be getting married at the end of March. They were very surprised and very excited about receiving this gift.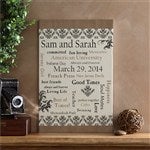 NICE!!!!
By
Shopper

(Mancelona, MI) - February 4, 2014
This is exactly as promised. Just be sure you review the item after you chose your wording that will go on the canvas!! I had Good Times and The Best of Times on the canvas........:( Nobody cares though! My significant other LOVED the canvas....he didn't even notice that I had duplicated the wording either. Many compliments when I shared it on facebook page too :) You won't be sorry for choosing the "canvas with your own wording" for someone special in your life!!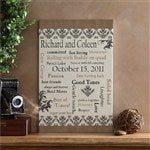 Perspnalized Canvsa
By
Shopper

(Vernon, CT) - February 1, 2014
Fantastic gift and a great way to keep cherished memories.