Unbelievable service
By
Susan H.

(Forest, VA) - January 6, 2013 (
See all reviews by this customer
)
With a bathroom remodel in progress, an approaching Christmas and a New Years Eve wedding in the plans, I totally forgot to order the one gift I wanted for my daughters. So, 8 days before Christmas, I sat down at the computer to see what I could do. I ordered two custom monogrammed garment bags. I cannot believe they arrived a few days later, were perfect and wonderful quality. I will definitely recommend this site!!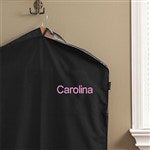 A touch of class
By
Sarah L. H.

(Beaver Falls, PA) - January 1, 2013 (
See all reviews by this customer
)
This garment bag is very sturdy and the personalization added just a touch of class! For under $40, you can't ask for better quality. I was very pleased and would definitely recommend it to others.

pleased
By
Shopper

(Harrisville, RI) - December 6, 2012
item exceeded expectation

Bless
By
Mary M.

(MONROEVILLE, PA) - October 27, 2012 (
See all reviews by this customer
)
I brought this for my husband because I got tired of him carrying one that was torn. He was happy when he open the box.It looks very nice. Thank-You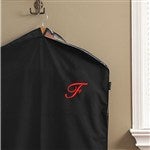 Great product & quick shipping!
By
Shopper

(Birmingham, AL) - August 2, 2012
Very satisfied!

Sturdy construction!
By
Shopper

(Crestwood, KY) - August 1, 2012
Strong material makes this garment bag a good protection for suits! We purchased as groomsmen gifts and the garment bags were a hit!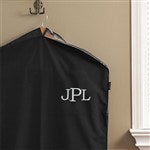 Great and Practical Bag
By
Shopper

(Arlington, VA) - July 29, 2012
This is a great bag at a great value! I envision that it will last a long time, hold a lot of clothes and the monogram came out great! Very practical!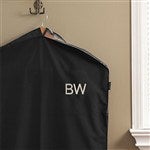 great product
By
Shopper

(Houston, TX) - June 3, 2012
sturdy, nice monogram. would definately recommend.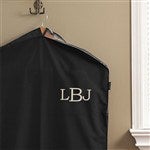 Love it!
By
Andrea L.

(Oriskany Falls, NY) - March 27, 2012 (
See all reviews by this customer
)
Bought it as a gift for a friend. It'll be great for horse shows to keep her outfits clean and organized! She was very pleased with how it looks!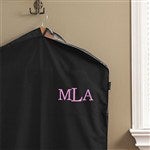 sold another one
By
Cindy H.

(Cuero, TX) - March 16, 2012 (
See all reviews by this customer
)
I gave this to my friend for her birthday and when her husband saw it he immediately ordered one for himself!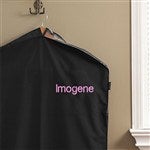 Great product!
By
Darcey O.

(Eugene, OR) - March 13, 2012 (
See all reviews by this customer
)
I was looking for a nice garment bag for my chorus costume. At shows most of the garment bags all look alike so I was thrilled to get one with my name on it. The bag is plenty big enough, nice quality, great personalized craftsmanship and I am proud to take it on trips.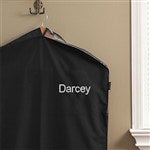 Great gift!
By
Tyler W.

(Port Arthur, TX) - February 19, 2012 (
See all reviews by this customer
)
This was a great gift I got my boyfriend. He was really excited. Great quality for such a low price!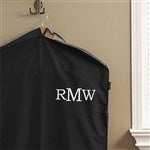 Garment Bag Review
By
Ann G.

(Broken Arrow, OK) - February 5, 2012 (
See all reviews by this customer
)
The ordering process was fast and easy. Delivery was excellent and the quality of the product was excellent.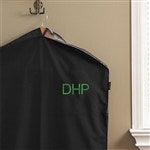 Great Garment Bag
By
Linda B.

(Souht Lebanon, OH) - January 10, 2012 (
See all reviews by this customer
)
Love it! Perfect for the type of traveling I do and is really nice looking.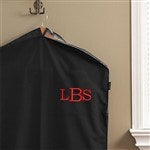 Monogrammed Garment Bag
By
Shopper

(Trussville, AL) - December 15, 2011
Looks really nice. got it for my college student to take clothes back and forth. Haven't used it yet, but it looks like good quality (it's a Christmas gift.)

Garment bag
By
Shopper

(Cleveland, TN) - October 25, 2011
I totally recommend this bag for anyone who travels alot!!! I bought one for my Dad.... and I loved it so much that I decided to get my Mom one too!! THANK YOU :)

Men's Garment Bag
By
Mark K.

(Marlton, NJ) - October 7, 2011 (
See all reviews by this customer
)
I had a monogramed garment bag in the past but after years of traveling, it was not worth repairing. So I resorted to using Department Store provided bags with their name on it. Everyone knew my name wasn't Macy.
This bag is of high quality and well worth the money. Great for a few days of travel, whether for casual or business meetings.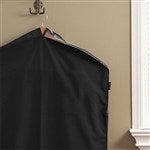 Great Suit Bag
By
Melinda S.

(West Union, SC) - January 28, 2013 (
See all reviews by this customer
)
I bought this bag to travel with for my business suits. Being female, I usually take more than I need. Very well made and I loved the monogramming. Very quick turn around time also. Thanks!!!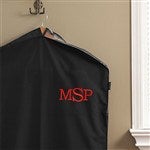 Perfect
By
Barbara G.

(Belchertown, MA) - December 19, 2012 (
See all reviews by this customer
)
Purchased this lightweight garment bag for my granddaughters baton costumes. It is perfect! The personalization is very nice and delivery time was exceptional.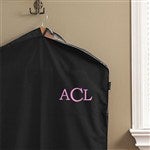 GMK
By
Gloria K.

(Fayetteville, GA) - December 5, 2012 (
See all reviews by this customer
)
The garment bags are very sturdy. In fact, a little heavier than I anticipated but quality beyond expectations for the price.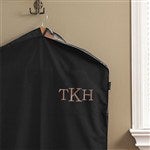 Nice Bag
By
Shopper

(Memphis, TN) - June 18, 2012
I bought the bag as a Father's Day gift. My boyfriend has started traveling for work and was in need of such a bag. The stictching color I chose was the metallic silver, it pops but doesn't call for too much attention. The material of the bag is durable so he'll be able to have it for years. He loves it and especially since it is personalized just for him. Great for gift giving or personal use!!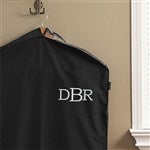 Nice Looking Bag
By
Peter P.

(Staten Island, NY) - November 5, 2011 (
See all reviews by this customer
)
Appears sturdy, letters looked good and matched the picture on-line. Can hold more than one suit. Very satisfied.

Not happy at all!
By Shopper (COTTONDALE, AL) - December 1, 2012
Bag has loop at bottom for fold-over to carry. No loop or attachment at top. Was told by customer service that I should hold hangers and loop when bag is folded. Seems kind of awkward/cumbersome. Purchased two, one as a gift. I don't like the idea of giving someone something that I am not pleased with, but it can't be returned because it's personalized.

Comme ci Comme ca
By
Shopper

(frederick, MD) - May 18, 2012
Durable fabric. Should wear well but have not used it yet. Drawbacks are that there are no pockets anywhere which would make this much more attractive and no clamp to hold hanger hooks. Monogram very nice. Speedy service.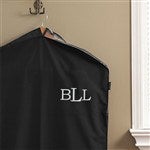 This is more like a liner
By
Shopper

(Olathe, KS) - December 29, 2011
Very cheap looking