Great Gift
By
Joel H.

(Darlington, MD) - November 18, 2012 (
See all reviews by this customer
)
Great idea for our head coach. Just enough room to make it very personal. Only thing I would add is white as a background color. Coaches loved the frames.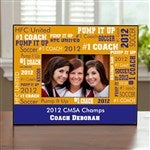 Excellent coach's gift!
By
Emily F.

(Canton, MI) - November 4, 2012 (
See all reviews by this customer
)
I LOVE this frame! I bought 2 for the soccer coaches, and they loved them! They are in team colors, they are personalized, and they are incredible. Very quick ship, too. Could not be happier!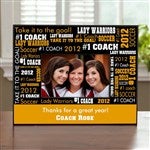 Nice quality frame.
By
Brenda F.

(Brighton, MI) - November 2, 2012 (
See all reviews by this customer
)
I am very happy with the way the frame turned out. It really looks sharp!!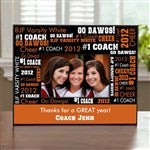 great frame
By
Dawnette B.

(Warren, OH) - August 21, 2012 (
See all reviews by this customer
)
this frame is awesome, i love how we can choose our colors & apply the text...turned out great!! gave this to my daughter's softball coach & everyone at the party loved it & wanted to know where we got it from!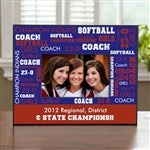 Great Gift Ideas!!
By
Rachael G.

(Ishpeming, MI) - April 25, 2012 (
See all reviews by this customer
)
I am pleased beyond words. I looked at many websites and there was nothing compared to what I purchased from personalizationmall.com. My son personalized them for his wrestling coaches and it let him express what they have done for him in the last 9 years!! AWESOME!!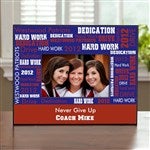 Beautiful picture frame
By
Dawn D.

(Old Bridge, NJ) - March 12, 2012 (
See all reviews by this customer
)
It was just what I was looking for. It was a great gift for my son's basketball coach. We were really proud to presnt to him at the end of the season.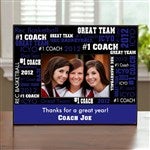 Satisfied Customer
By
Tanya P.

(Severn, MD) - March 3, 2012 (
See all reviews by this customer
)
I purchased this item for my daughter's bball coach. It was beautiful! We loved it! She loved it. It was here within a week. A perfect gift for a wonderful coach. The price was great! The craftsmanship was nice. I always order from this site and I am always pleased!!!!!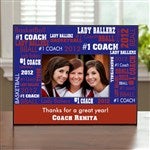 great coaches gift!
By
Dawnette B.

(Warren, OH) - February 28, 2012 (
See all reviews by this customer
)
Love, love, LOVE this! It was everything I hoped it would be.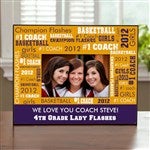 great gifts
By
Shopper

(Canada) - February 7, 2012
I wanted something different to give to the basketball coach this year. I went onto personalizationmall website and found the perfect gifts. I ordered them, they were shipped and received within days. The coach is going to be thrilled when he receives this picture frame.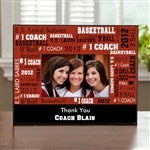 cheer frames
By
sandie D.

(philadelphia, PA) - December 28, 2013 (
See all reviews by this customer
)
I loved making the frames for my daughters cheer coaches .everything went smooth and the delivery went fast

THE PERFECT GIFT
By
Shopper

(Island Lake, IL) - March 23, 2014
These photo frames made the perfect gift for 3 coaches who are retiring. The color is vibrant and has great craftmanship.

Thank you for your quick response time as well!

Perfect Gift
By
Shopper

(Arlington, TX) - November 20, 2011
I ordered one for each of my kids' coach. They looked even better in person! All of the parents were remarking about how nice it looked. A perfect answer to the never-ending search for something unique. I selected one with the red top and black bottom and the other was blue top with black bottom.

Nice quality
By
Shopper

(San Marino, CA) - December 13, 2013
I was pleasantly surprised with the nice quality of the frame. I would recommend it for sure.

Loved it!
By
Shopper

(Foresthill, CA) - June 17, 2014
This thing turns out great. I highly recommend it. My coach asked "How did they do that?"

Constructed Wrong
By
Neil N.

(West Warwick, RI) - July 10, 2012 (
See all reviews by this customer
)
The front of the frame looks great. Everything appears as I expected. However, the folding arm that would allow the person to sit the frame on the desk was fastened upside down. This wouldn't prevent the person from hanging the frame, but it eliminates the option of sitting it on a desk or a dresser. I would like a refund.

All-Star Coach Personalized Frame
By
Karen T.

(Skiatook, OK) - September 26, 2011 (
See all reviews by this customer
)
I was very pleased with the frame I purchased. It was even nicer than I thought it would be. The quality was exceptional and my daughter loved it! Instead of using it for a coach, I personalized it with her sport, her position, school colors and name, and her senior year. It makes a great gift.

Perfect!
By
Shopper

(South Elgin, IL) - April 23, 2014
Perfect coach gift! Easy to create, arrived quickly, inexpensive and everyone loved it!

Frames for Coaches - AWESOME!
By
Lisa M.

(North Olmsted, OH) - April 6, 2012 (
See all reviews by this customer
)
I bought three of these frames for end-of-year gifts for our hockey coaches. I really like how the website shows you what the frame will look like before you buy it. That allowed me to switch the color scheme and rearrange some words. I thought the frame was going to be cool, but when I opened the box I was even more impressed than I thought I would be! The quality of the frames is great, and the colors are bright! I paid a little extra for 2-day delivery and it came just as promised. The coaches that received the frames were thrilled with them, as were the parents.

Great Senior Gift!
By
Shopper

(Skiatook, OK) - April 20, 2013
This is the second time I've ordered this frame as a Senior gift and I love it! It is top quality and very personal. The recipients loved it! I will probably be ordering it again.

Quality Product!
By
Dawn V.

(Riverside, CA) - March 23, 2012 (
See all reviews by this customer
)
The frames are beautiful. They are nicer than I expected.
Would definitely recommend these for a coach gift!


Awesome gift for a Coach
By
Shopper

(Saint Louis, MO) - March 20, 2012
This brought a few tears from the Coach's eye after receiving. Everyone asking where I got this frame! Great gift!

amazing picture frame!
By
Shopper

(DANIEL ISLAND, SC) - May 8, 2013
I was looking for something personal that I could give to my daughter's gymnastics coaches for the end of the year (after several years, she is not going back in the fall, so I wanted to do something nice). mine was not a traditional idea in the respect that I did not type in a school name, ect. I did, however, type in #1 coach, some cute phrases, the year and the name of the gymnastics studio. I did it in the colors of the gymnastics leotard (black and purple). it came less than a week after I ordered it! I was surprised that it shipped out so fast. when I got it I was amazed at how beautiful it was! it is large-8x10-and the words were so nice! I put my daughter's pic in the middle and it was so beautiful! I know they will love it. very personal and elegant without costing a fortune! I could not be happier with the way it turned out! thanks for doing such a great job Personalization Mall!!

Great gift
By
Valerie T.

(Lindenhurst, IL) - August 5, 2013 (
See all reviews by this customer
)
This was the second time I ordered these frames for my daughter's softball coaches. Both times everyone loved them...the coaches, players and parents. The quality is great!

Great gift
By
Shopper

(Vallejo, CA) - May 8, 2012
Frame is of really great quality. Actual frame looks better than on website. Gave a very personal touch. The coach loved it! Highly recommend.

All-Star Coach Personalized Frame
By
Shopper

(Pittsburgh, PA) - June 11, 2012
Ordering the All-Star Coach Personalized Frame was the perfect gift for my daughter's coach. It arrived promptly and was beautifully crafted. I would recommend purchasing this gift for all coaches to capture those special memories, even if the coach is one to have everything. This gift was the talk of the party and very much appreciated.